You would be hard pushed to find anyone who doesn't find our solar system both mesmerising and beautiful. The sheer wonder at its origin and scale has kept us captivated for centuries, so why not surround yourself with its everlasting beauty with these 6 out of this world space wallpapers?
If you're anything like me, you would love nothing more than to become an astronaut and explore the universe - imagine how jaw-dropping it must be to see the earth from space. It would be one of the greatest experiences of your life and whilst it may not be a simple task to become a trained astronaut, you can certainly still marvel at the beauty of our universe from the safety of your own home!
Whether you are a space lover, science advocate or have little budding astronauts of your own, you'll be sure to find a space wallpaper that will capture your imagination…
Gravitate towards great ideas in your home office
Mural in photo: Wonders of the Nebulae
A great way to inject life into your home office would be to use a stunning nebular inspired wallpaper mural. The stunning colours and swirling gases dotted with bright stars will energise and motivate your mind.
Space wallpapers are perfect for adorning your walls with life and colour, especially if you struggle to choose a pattern or design. The dark elements in this particular wallpaper would pair perfectly with white furniture for your desk and storage cabinets for a beautiful contrast. There is something almost frighteningly beautiful about staring out into the vast void of space…
Supermassive space fact: Astronomers exploring a giant cloud of gas and dust at the centre of the Milky Way made a surprise discovery – the cloud was packed full of ethyl alcohol, or ethanol, the type we use to make alcoholic beverages. It contains enough alcohol to supply every person on the planet with 300,000 pints of beer per day for the next billion years! (www.skyatnightmagazine.com)
Make your workplace out of this world
Mural in photo: Spiral Galaxy M74
Space wallpapers are perfect for giving your workspace an atmospheric feel. This spiralling galaxy image is the perfect pattern to have a wall where your staff must stay motivated and alert. The soft, spiralling arms filled with muted gold and purple gas, speckled with bright pops of stars will not overwhelm your senses or distract you when you need to concentrate.
This style is particularly useful if you have a relatively small wall space which you would like to fill without over-powering the entire room. The muted colours will match any colour scheme, especially if you have white tables and chairs! You can make your very own space station!
Supermassive space fact: Ridley Scott's Alien franchise's tagline "In space, no one can hear you scream," is true. The universe's most extreme events, from colliding planets to supernovae, would occur silently for an observer. Researchers use a technique called 'data sonification' that converts radio waves, plasma waves, and magnetic fields into audio tracks so we can "hear" space. (www.spaceandbeyondbox.com)
Grow their curiosity with a space wallpaper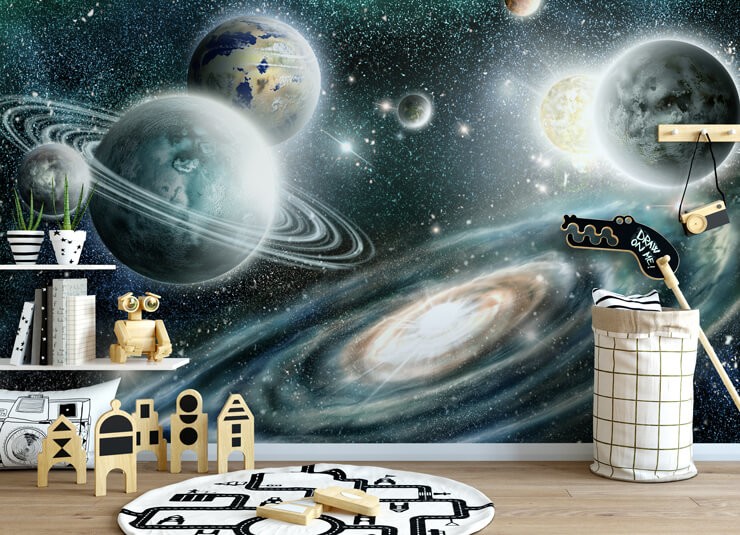 Mural in photo: Deep Spaceflight
Do you have budding astronauts in your home? Then why not blow them away with a stunning planet inspired wallpaper in their bedroom? The blue/grey tones and bold planets and the spiralling galaxy will transform their room into their very own spaceship! Easily styled, this striking Deep Spaceflight wall mural would match with white accessories, such as a rug, shelving and even a laundry basket!
Encourage their love of the solar system with the simple task of installing this beautiful space inspired wallpaper and who knows, maybe one day they will be taking the next giant leap for mankind!
Supermassive space fact: The largest asteroid to hit Earth was twice as big as the rock that killed off the dinosaurs. The destructive space rock was somewhere between 12.4 and 15.5 miles wide. The Vredefort crater was birthed 2 billion years ago when the largest asteroid ever to hit Earth impacted the planet. A new study suggests the gargantuan space rock was even bigger than previously predicted. (www.livescience.com)
Blast off into another world!
Mural in photo: Galactic Universe
If you have a spare room or a reading corner you are looking to transform into its own little world, then this stunning space wallpaper would be perfect. Imagine settling down with your favourite book, ready to be transported into another world, you can literally adorn your walls with another world!
The gorgeous combination of the purple and blue nebulae surrounded by glorious orbiting planets makes this wallpaper simply stunning. Accessorised easily with a purple and grey colour scheme, this Galactic Universe wallpaper mural will take everyone's breath away.
Supermassive space fact: There are thought to be 100 million black holes in the Milky Way, a large fraction of which may be wandering through the Milky Way. This year, scientists using the Hubble Space Telescope spotted a rogue black hole in our galaxy which is only 5,000 light-years from Earth and is seven times the mass of the sun. (www.livesceince.com)
Transform your bedroom into a starry sky escape
Mural in photo: LH 95 in the Large Magellanic Cloud
The night sky will always amaze us. Imagine looking up into the night sky and seeing a plethora of twinkling stars, you can literally look into the past when you look up into the night sky. Falling asleep under the stars is everyone's fantasy, so why not adorn your bedroom walls with a star inspired wallpaper?
This way you can sleep under the stars every night but from the comfort of your warm, cosy bed! The dark blue and black colours would pair wonderfully with white furniture and cool, grey bedsheets.
Supermassive space fact: Ever since the Big Bang, most objects in space have been moving away from one another. As regions of space are whizzing away from one another the first population of stars to form in the Universe are now too far away for us to ever hope of spying on them, even by using the best present or future telescope -this means there are stars we will never be able to see. (www.nightskymagazine.com)
Never have a boring boardroom again!
Mural in photo: Tarantula Nebula Large Magellanic Cloud
Boardrooms never need to be boring again! A wonderful way to add a slice of wonder to a meeting room is to install a stunning, swirling nebulae wallpaper mural. The rich, brown and beige tones are a welcomed alternative to bright blues or purples. This space wallpaper would pair wonderfully with dark wooden furniture and black accessories.
A space inspired wall mural is a beautiful and low-cost way to make any area look and feel beautifully decorated. The mesmerising swirling gases and stunning brown hues are all you need to transform your room into a place everyone is happy to be.
Supermassive space fact: If you can spot the Andromeda Galaxy with your naked eye, you are in fact looking at something that is 14.7 billion, billion miles away! (www.spaceandbeyondbox.com)
Have you found yourself blown away by these 6 out of this world space wallpapers? Let us know in the comments below which is your favourite!