As predicted by the likes of Vogue and House Beautiful late last year, interior designers are turning to the wild side and injecting bold tropical prints into home designs. These fantastic nature-inspired patterns have introduced a completely fresh, new look for interior design. It's all about investing in a bold jungle wallpaper and opting for simple, tasteful décor.
Swayed by the 2016 fashion catwalks where Marc Jacobs and Prada displayed palm-printed bomber jackets and Hawaiian shirts, tropical wallpaper, in particular, is taking the design trend by storm. Although quite a daring trend, tropical wallpaper has arrived in many designs!
Here we show you a selection of some of our favourite tropical wallpapers and how you can make it work in your home. Embrace this on-trend tropical look and be-leaf in yourself! We're sure you will go coconuts for what we have in store…
Delve into a tropical jungle
Mural in photo: Exotic Jungle Canopy
No need for spending thousands on a holiday that will be over in a week. Avoid the stress of lugging your suitcase around and getting bitten by the local insects. Enjoy a tropical feel every day in the comfort of your own home!
This exotic Jungle Canopy wallpaper takes you straight to tropic lands! This stunning jungle mural really embraces this hot trend. It completely maximises it's potential by using bright, bold tropical wallpaper prints. 
For the ultimate jungle experience, add plants in various pots around your room. Or if you're dreadful at looking after plants, this colourful jungle mural allows you to achieve a natural and fresh look without the worry of killing any little, green-leafed friends!
Tropical wallpaper that connects you to your wild side
Mural in photo: Tiger Hide and Seek
Do you love the idea of tropical, palm leaf wallpapers but want something with a twist? Then this daring Tiger Hide and Seek mural is for you. If you have a wild side and are keen to impress your guests, this striking tiger wallpaper will make their jaws drop!
It's time to embrace your inner Shere Khan and be the king of the jungle in your own home! This eye-catching tiger mural would look fantastic in most living spaces, but would especially fit in a bachelor-pad bedroom or living room. To ensure this jungle mural is the star of the show, paint the surrounding walls in a simple, classic shade such as white or light grey. Choose minimalist décor or pieces that embody the very on-trend industrial look.
Tropical wallpaper perfect for an Instagram backdrop
Mural in photo: Pink Jungle
Make your home Instagram-worthy with this gorgeous Pink Jungle wallpaper. This tropical mural has been one of our most popular wallpapers to date! It's so on-trend as well as versatile that you'll struggle to decide which room you want to install it in the most!
Is your bedroom or bathroom a blank canvas and you want a striking feature wall? This jungle wallpaper will definitely add some colour and vitality to any room. As soon as you install it, you'll be dying to use it as a backdrop for your next Instagram selfie!
Due to the dark greens and light pink in the mural, experiment with shades of dark and light! Mix and match your choice of décor and find a combination of dark green, light pastel pink and mint. Don't be afraid to throw more pattern in. Introduce patterned room accessories such as a rug or footstools. Regardless of this, do not add more pattern to the surrounding walls. Keep it simple. Use paint, such as white, to ensure the palm tree wallpaper is the focal point of the room.
Subtle tropical wallpaper
Mural in photo: Green Palms
Do you want to incorporate this tropical interior trend into your existing decor? Go for leaf wallpaper with various shades of greens for interest. This relaxing Green Palms mural adds a crisp, fresh tropical look to any space. This makes it a calm and tranquil backdrop for most rooms but especially for a study or office. It's a simple way of bringing the outside in and creating a relaxing environment for you to think clearly. 
If you want to create a more understated tropical feel to a room, first consider the size of print for the size of your room. Read our guide on making a small room look bigger. Don't allow a large leaf print to swallow your tiny room but rather embrace a smaller leaf pattern to tailor to your home's best attributes. 
Mural in photo: Exotic Summer Leaves
This stunning Exotic Summer Leaves mural is a fantastic example of how and where large leaf patterns should be embraced. This room is large and has incorporated very simple décor. This again ensures that the mural is at the centre of attention. Keep the surrounding walls simple and soothing to create the ultimate feeling of calmful bliss.
Vintage style tropical wallpaper
Mural in photo: Tiger in a Tropical Storm
French post-impressionist artist, Henri Rousseau, created these stunning paintings dating back to the 1800s. Available from our eclectically ranged Bridgeman fine art gallery, these works of art are now back in fashion and bang on the tropical trend.
If you love surrounding your home in beautiful pieces of art, any of our Henri Rousseau wallpapers will be perfect for you. This unique jungle wallpaper looks great set amongst white walls. But don't play it too safe! Add colour by carefully choosing throws, carpets, candle holders or plant pots in vibrant greens, reds or oranges. By doing so, you will splash in a sophisticated selection of colour to complement your wonderful Rousseau wall mural.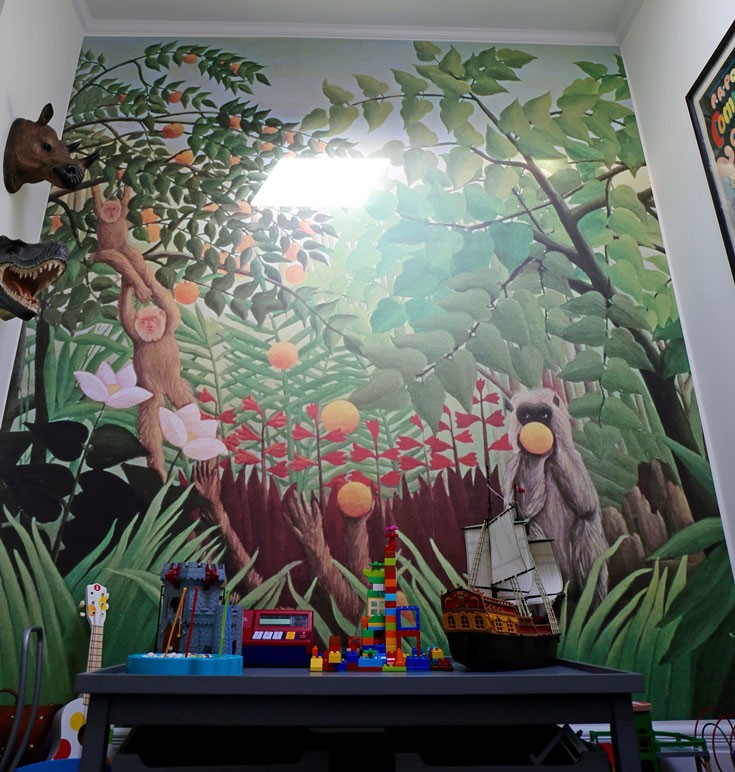 Check out this customer's photo featuring Rousseau's 'Exotic Landscape' tropical wallpaper. They had the fantastic idea of installing this jungle-inspired jungle in their child's playroom. It looks amazing with the animal head wall art!
These golden ornaments will be the pine-apple of your eye
Once you've decided on your terrific, new wallpaper, explore new ornaments to reflect that tropical feel!
When it comes to tropical-inspired interior design, it's all about having a bit of fun! It's time to opt for tropical ornaments that will make you feel like you've been transported to distant, sultry lands…
These gorgeous golden pineapple ornaments from Wayfair are ideal in creating your own paradise island. They really will be the cherry (or should I say pineapple) on top of your new tropical room!
If you still haven't found what you were looking for, why not search our extended range? Or, comment below to share your ideas and inspire others on this gorgeous interiors look…