In recent years, navy and gold wallpaper has flourished in interior design and has taken pride of place as one of Pinterest's favourite colour schemes. It holds a strong position in the two-colour combinations family: black and white, pink and grey and now, navy blue and gold! After all, these two colours have been two peas in a pod for years. The name 'navy blue' speaks for itself.
This colour blue was named 'navy' when navy officers began to wear blue uniforms in the mid-1700s. Golden brass buttons were sewn onto the uniforms and, of course, the navy and gold look was born! Maybe not for interior design reasons... but it has certainly given us a fantastic colour combination to enjoy for years to come!
Although the gold on our wallpapers is printed and doesn't offer a shimmery gold effect, we have some great alternatives to get excited about. Read on to get a taste of what we have in store and how to embrace a sophisticated navy and gold wallpaper look in your home…
Enjoy a golden sunrise every morning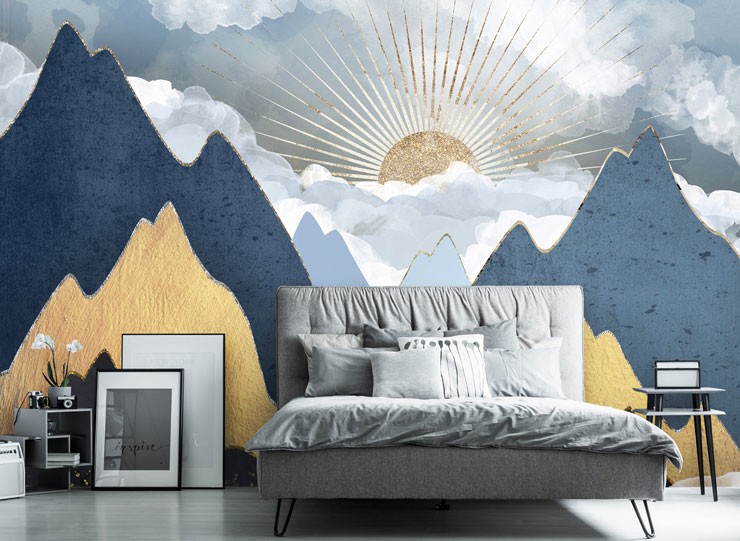 Mural in photo: Bright Future II
If you're anything like me, you'll absolutely fall in love with this golden sunrise wallpaper. The warming tones blended with mountainous ranges will feel like you are rising into a beautiful sanctuary. This particular design by SpaceFrog Designs gives an abstract spin to a landscape view that still holds all of the beauty and awe you would get from a realistic image.
Combined with cool grey fabrics and matt black furniture, you can create a truly stunning bedroom interior with minimal effort for maximum style.
Create the ultimate on-trend home with navy and gold marble wallpaper
Mural in photo: Blue Swirl
If Art Deco reminds you of your granny's house and you're more into the on-trend marble style, look at this mesmerising blue swirl mural. You may not have noticed, but this beautiful navy gold wallpaper isn't actually a marble-effect wallpaper. In fact, it's a stunning watercolour design!
Our fantastic marble wallpapers are absolutely stunning. Yet, unlike this blue swirl wallpaper, natural marble don't offer a navy and gold option. So, we've basically cheated and found a watercolour design that gives a perfect navy blue and gold marble effect (we won't tell if you don't). The subtle gold hints threading through this hypnotic mural are tasteful and not overwhelming. Imagine pairing this stunning watercolour wallpaper with gold décor lamps and tealight holders - gorgeous!
Elegant navy and gold flamingos for your living room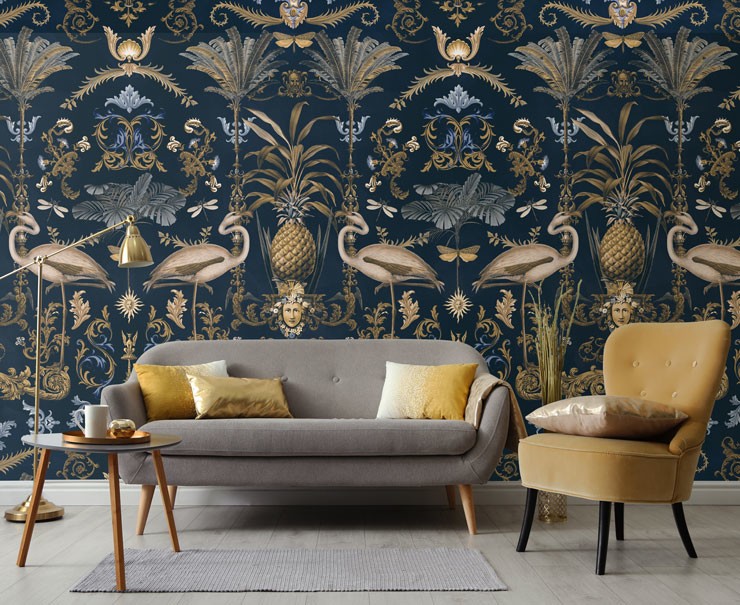 Mural in photo: Ornamental Flamingo Blue
Who wouldn't want to bring in a touch of elegance into their home? Whether you want to add warmth to your interior design or if you love the idea of a tropical inspired wallpaper but don't want a design that is too vibrant - this beautiful ornamental wallpaper, designed by Andrea Haase, is a great way to embrace a navy and gold inspired colour scheme with a tropical twist!
Navy and gold bathrooms for a touch of decadence
Mural in photo: Underwater Dream VI
The bathroom isn't just a practical space. It's where many of us like to get some time alone and unwind in beautifully scented bath bubbles. So why not invite a navy and gold wallpaper in your washroom to add a touch of decadence into the space?
One of our most popular navy wallpapers, this Underwater Dream VI has been used in customers' bathrooms, dining rooms, restaurants and more! Another SpaceFrog Designs creation, this stylish octopus wallpaper has a shade of navy in it which could also be perceived as teal.
Ooze elegance with an art deco design
Mural in photo: Art Deco Blue Gold
If you love the idea of navy and gold wallpaper and want a design which has a sleek modern look, an Art Deco wall mural is for you. This detailed Art Deco Blue Gold wallpaper designed by Andrea Haase is a great combination of deep blue hues and golden detail. This stunning patterned wall mural is a bold navy wallpaper that will make a statement in any room, but we think. It would create the perfect feature wall in your hallway.
Wow your guests as soon as they enter your home by combining this stunning wallpaper with gold items, such as candle sticks, tables and even a chair!
Try a dramatic twist with your navy and gold wallpaper
Mural in photo: Steampunk
If you're looking for navy and gold wallpaper but want to think outside the box, this striking Steampunk design is perfect! The navy background as host to many golden and bronze cog sand skulls will add a dramatic twist to your interior. This statement steampunk wallpaper would look ideal with light wood furniture and wicker items, such as a rug and even your cushion covers.
Choose light blue bedsheets for a beautiful contrast to the dark look of your wallpaper and as mattering of dark brown cushions. These carefully chosen room accessories will accentuate the mixture of bronze and golden tones apparent in this stunning wallpaper.
Autumnal tones will keep your room feeling cosy
Mural in photo: Winter Nature Dark
For those of you who love the warm and cosy feeling of the autumn season, this wallpaper combines autumnal designs with a rich navy and golden hue. This stunning wallpaper favours the golden effect to create a striking and elegant wall mural design. Perfect for styling with deep blue bedsheets and natural wood furniture with dashes of white and cream, you'll be sure to love this design all year round.
Artistic and calming navy and gold wallpaper for the bedroom
Mural in photo: Blue Mist
One of our designers Elisabeth Fredriksson has a fantastic range of on-trend, Scandi-raw wallpapers. They celebrate abstract art as well as the very popular concrete-industrial vibe. This raw Blue Mist wall mural is a perfect example of navy and gold wallpaper at its best!
As mentioned earlier, navy tones can be overwhelmingly dark. It takes skill to paint a navy wall and not darken up a room. Fredriksson cleverly combined dark navy and gold shades with a light grey backdrop. This helps to achieve the much-desired navy gold look without casting a room into darkness. Find tasteful gold décor to stress the misty, metallic gold used in the mural.
Choose tasteful golden lamps, cushions or even a gold blanket to place at the bottom of your bed. Why not? Use this stylish navy and gold wallpaper as a backdrop for your bedhead and your room will be a blissful yet trendy haven…
Perfect gold décor to add that last crucial touch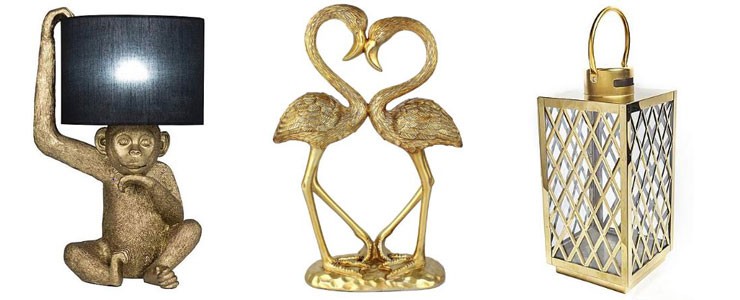 Speaking of tasteful pieces to bring out the gold tones in your wallpaper, Dunelm offers fun and fabulous gold décor for your home. Adaptable for your bedroom, lounge or dining rooms, these gold-effect ornaments will add a refined touch to any room.
Image source: Decorpad.com via Pinterest
This well-designed living room is a perfect example of introducing gold ornaments into your home. These golden accessories give a subtle nod to the entire navy and gold theme. But beware! Don't overdo that gold! There's a fine line between classy gold accessories and a tacky over-bombardment of them: more Del Boy and Rodney rather than Audrey Hepburn in Breakfast at Tiffany's!
Have we inspired you with our navy and gold wallpaper ideas? Let us know in the comments below if you will be trying out the blue and gold combination in your home!