Mehr ist mehr, wenn es um maximalistisches Design geht. Ein Konzept, das Clean und Minimal scheut. Ein Stil, der Unordnung einlädt und Schnickschnack willkommen heißt. Das ist richtig, wir bewegen uns weg von reduzierten Designelementen und der Kunst, alles, was nicht zu Ihrer Ästhetik passt, in einem Schrank zu verstecken.
Bei Maximalismus geht es um Ausdruck, und zwar um die freieste Art. Aber es gibt einen schmalen Grat zwischen maximal und chaotisch. Wie findet man also die Balance, um Harmonie statt Chaos zu schaffen?
Ihre Wände sind die Leinwand eines jeden Raumdesigns, also stellen Sie sicher, dass Sie zuerst die richtige Grundlage schaffen. Von der Auswahl der besten Tapete bis hin zur Einstellung der Stimmung mit Farben gibt es eine Menge zu bedenken, bevor Sie die Schichten aufbauen.
Here are some of our top maximalist interior dos und don'ts um Ihnen den Einstieg zu erleichtern!
Wählen Sie kräftige, satte Farben
Mural in photo: Ultra Violett Rosen Dunkel Floral
Sind Sie bereit, auf die dunkle Seite zu wechseln? Verabschieden Sie sich von reinen weißen Farbpaletten und wagen Sie sich an etwas viel Satteres, Tieferes und Reichhaltigeres heran. Wenn Sie schon immer kühne Farbtöne wie Lila geliebt haben, sind sie dieses Jahr definitiv in.
Eine weitere Möglichkeit, Farben in Ihrem Zuhause zum Singen zu bringen, ist die Übernahme des zweifarbige Kombination, locking in two leading shades as the stars of the show. Mix and match your walls according to the direction of your windows, combine contrasting paints with your wallpaper, or brave doors, beams and ceilings.
Vergessen Sie nicht die Texturen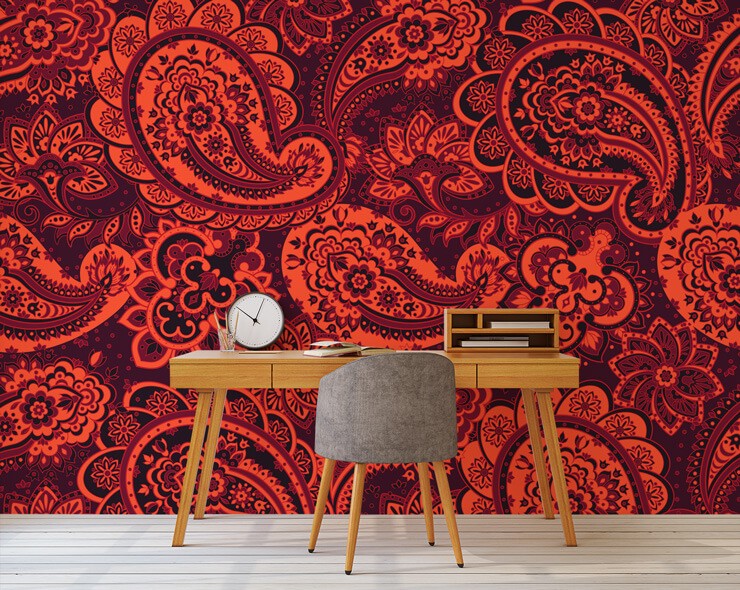 Wandbild auf Foto Feuriges Rot Exotische Muster
If there's one thing you absolutely must not overlook, it's the power of touch and texture. This is something that brings any interior design concept together. But it matters even more in maximalist design, because it helps to differentiate your layers, transforming 'things' into multidimensional markers to show depth and dimension.
Otherwise, your room runs the risk of looking lifelessly flat. And with maximalism, that means lifelessly flat and messy, which is a double no-no.
You can achieve a textured effect with a lot of patterns, including retro-Paisleymuster, florals, animal print, tile print or marble. If you're layering, try to select fabrics that are tactile in nature so they appeal to all the senses.
DO blend different periods and styles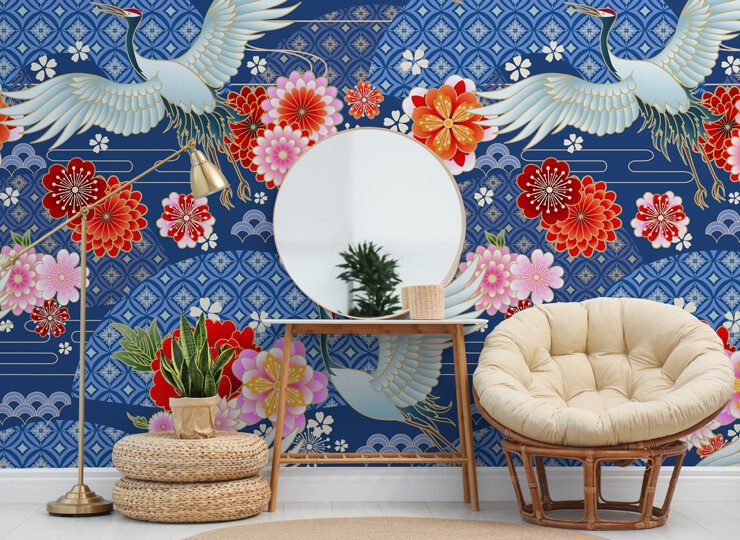 Wandbild auf Foto Hypnosekraniche und Blumen
Maximalism is sort of like an interior designer's time machine. You can travel to any decade, period or era, and you can bring it all together in one design story. The key to doing this like a pro is to blend everything seamlessly.
Regencycore kann mit Art Deco gemischt werden, und Mid-Century Mod kann mit 17 Chinoiserie wallpapers - wie dieses orientalisch inspirierte Hypnotic Cranes-Wandbild, das Altes und Neues miteinander verschmilzt.
Es lohnt sich auch, die Geschichte Ihrer Einrichtung zu kennen. Zum Beispiel war Chinoiserie im 17. und 18. Jahrhundert bei der Aristokratie sehr begehrt, erlebte aber in den 1920er Jahren ein weit verbreitetes Comeback, dann wieder in den 1950er und 60er Jahren. Dieser Stil von Tapeten oder Stoffmustern passt also wahrscheinlich zu viel mehr, als Sie denken!
DON'T skimp on maximalist design
Mural in photo: Jugendstil-Land
One of the biggest tips for making maximalism work is to have a healthy budget for your décor. Filling every space in your room is the heart of this design concept. But that's not to say you should cram your home with junk!
Everything you buy needs to be considered because layering poor quality items on top of other poor quality items touches on hoarder territory, and your décor will look like an afterthought.
If you're doing a maximalist makeover on a budget, the trick is to get the foundation right. A busy wallpaper ensures your space appears 'filled', even when it isn't. Something with a surface pattern design like this vintage style Nouveau Country mural by Art Nouveau-inspired Nici Gabriel ist das perfekte Beispiel für "busy and beautiful" in Aktion.
Experimentieren Sie mit Tapeten
Wandbild auf Foto Grüner Affe Puzzle
Ready to dive headfirst into your first maximalist design project? Then don't hold back. This is the time for bold experimentation. Those crazy cool wallpapers you've admired for ages but always feared… now is your chance to embrace them.
Approach your wallpaper selection with unflinching conviction. If you like it, be daring enough to give it a go. Start small with a feature wall if you don't want to go too hard, too soon. Then build the rest of your room around this main focal point.
Having one central area to base your creativity makes it easier to layer as you go, slowly writing a stylish narrative that keeps it classy, not messy.
Diese einzigartige Grüner Affe Puzzle Tapete von Schnittmuster-Designerin Julia Fonnereau is a great backdrop to go behind your sofa or to adorn your fireplace. It features shades of green, providing a soothing link to nature. So no matter how busy things get, you'll feel calmed by the humble hues of the outdoors.
Haben Sie keine Angst vor dem Zusammenstoß
Mural in photo: Midnight Bouquet
Got your heart set on a few different patterns and prints? Love jungle? But also can't resist the vintage florals? There's no need to be exclusive to just one. In fact, clashing patterns in wallpapers and textiles is one of the signatures of maximalist design.
Natürlich sollten Neulinge mit Vorsicht herangehen, da zu viel Klirren am Ende nur verworren aussehen kann. Vermeiden Sie also die wilde Attacke eines Kindes in einem Süßwarenladen. Gehen Sie überlegt vor und denken Sie sorgfältig über Ihre Lieblingsstile nach.
Wenn Sie nicht weiterkommen, sind intensive florale Motive ein guter Ausgangspunkt. Das liegt daran, dass florale Fraktale untrennbar mit der Natur verbunden sind, dass sie mit ihren sich wiederholenden Mustern Trost spenden und in fast jeder Umgebung funktionieren.
Whether your space is masculine, feminine or androgynous, an trendige florale Fototapete kann es zum Leben erwecken.
DO invest in wall art!
Metal print in photo: Unterwasser-Traum VI
Um das Beste aus Ihrem vertikalen Raum zu machen, experimentieren Sie mit Wandkunst. Dies ist die perfekte Gelegenheit, um verschiedene Stile, Farben und Muster auf professionelle Weise miteinander zu kombinieren. Es gibt so viele wunderbare Kombinationen, die Sie ausprobieren können.
Plus, wall art is a way to add meaningful layers, by investing in pieces that resonate with your lifestyle, your personality, your way of thinking. The art we choose for our homes provide a window into our souls and can be great talking points with guests, while having a timeless longevity that doesn't buckle to changing trends.
Discover our brand new metal prints online and choose from a range of designer imagery (currently only available in the UK).
Are you a veteran of maximalist design in the home? Tell us in the comments below what your top interior styling tips are for getting this concept right!