Här på Wallsauce bygger vi ständigt upp vår stora samling av väggmålningar. Målet? Att se till att ni har det bästa valet av tapetmålningar som passar er stil - oavsett vad den är!
Du kanske har lagt märke till vår kollektion av designtapeter. Här finns en rad begåvade fotografer, illustratörer och grafiska formgivare från hela världen. De kanske inte är de mest kända skaparna där ute, men vi har noggrant valt ut dem enbart på grundval av deras färdigheter och huruvida deras mönster kan överföras som skräddarsydda väggmålningar.
Det kan vara svårt att leta efter denna oupptäckta och speciella talang, särskilt eftersom det finns så många underbara konstnärer där ute! Därför har vi gått samman med Rise Design and Shine för att anordna den här tävlingen.
Rise Design and Shine är ett gemenskapscentrum för konstnärer som undervisar, inspirerar och vägleder dem som vill uppnå sina affärsmål. Med sin koppling till en hel rad konstnärer tänkte vi att det skulle vara den perfekta följeslagaren för att genomföra en tävling för vår nästa kollektion av designtapeter.
Uppdraget: Naturen kallar
Efter att ha sålt tusentals väggmålningar till en mängd olika kunder och företag under sex år vill vi (åtminstone) tro att vi vet ett och annat om väggmålningar. Med hjälp av våra år av kunskap om vad som verkligen fungerar för att fylla en vägg skapade vi uppdraget för nästa kollektion av designtapeter.
Allt vi begärde av konstnärerna var:
- Utforma två väggmålningar på temat natur.
- Båda modellerna måste ha ett samband med varandra.
- De två designerna kommer båda att ingå i den vinnande kollektionen.
- Tänk på att du ska utforma något som kommer att se bra ut på alla formade väggar.
Naturligtvis skulle vi inte be om allt detta utan en belöning! Vinnaren kommer att få ett avtal med oss och tjäna pengar på all försäljning från sin samling.
Din röst för nästa tapetkollektion
Vi behöver din hjälp! Det tog oss ett tag att göra en urvalslista - det var mycket konkurrens! Men vi tror att vi har valt ut det som ni kommer att älska... Vi vill bara att ni låter oss veta vilken konstnär från denna lista som ni skulle vilja se ingå i vår kollektion av designertapeter.
Scrolla ner för att se de nominerade bidragen och rösta genom att kommentera längst ner i blogginlägget. Allt du behöver säga är det fullständiga namnet på den konstnär du vill se på Wallsauce-webbplatsen!
Konstnärerna
1. Andrea Haase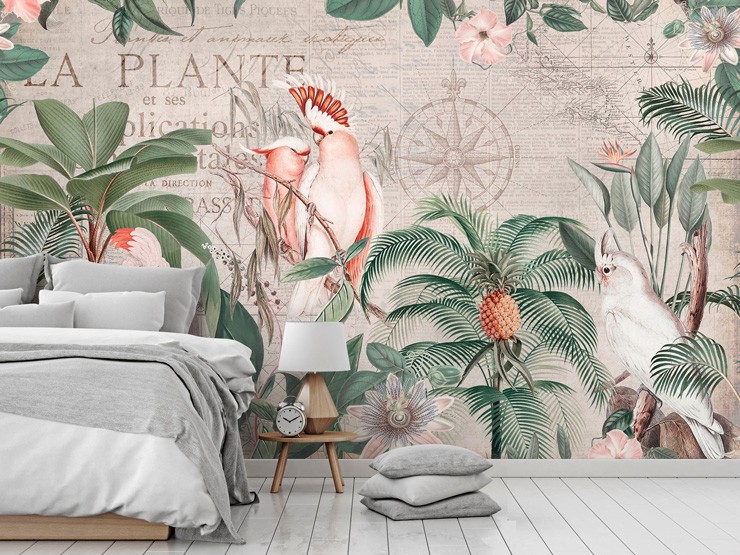 "Med en examen i inredningsdesign (som i Tyskland snarare är en ingenjörsexamen, men som handlar om design) ville jag vara mer kreativ. Så jag återgick till det jag alltid har älskat att göra: att skapa målningar, illustrationer och snart även foton. För att försöka hitta min väg reste och arbetade jag över hela världen i nästan 10 år, sedan tillbringade jag ett tag i den spännande staden Berlin.
Idag bor och arbetar jag i norra Tyskland, nära Östersjön, som författare och för flera företag inom väggkonst och heminredning. Min stil är mångsidig, jag älskar att kombinera alla möjliga olika tekniker och diktioner i mitt arbete."
2. Bryony Halsted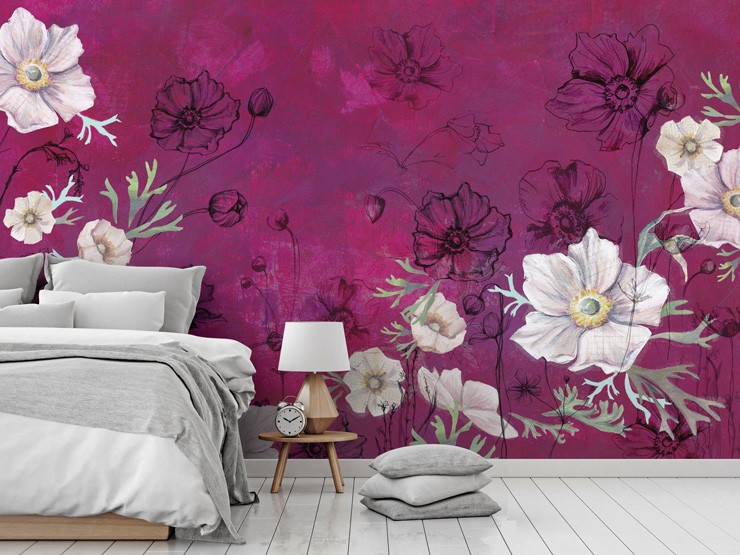 Bryony bor på landsbygden i Staffordshire och har studerat illustration och visuell kommunikation vid Wolverhampton och BCU i Storbritannien. Hennes arbete har alltid varit texturerat och handarbetat, med mycket teckning och collage. Alla mönster utgår från små blyertsstudier och skissboksutforskningar, som vanligtvis innehåller inslag av noggrant arrangerade pappersrester som hon gärna sparar och integrerar. Ständig inspiration kommer från hennes kärlek till den brittiska landsbygden och från det fantastiska utbudet av blommor i hennes föräldrars trädgård.
Hennes väggblommor har sitt ursprung här. Andra influenser kommer från hennes intresse för historia och arkeologi.
3. Danielle Nelisse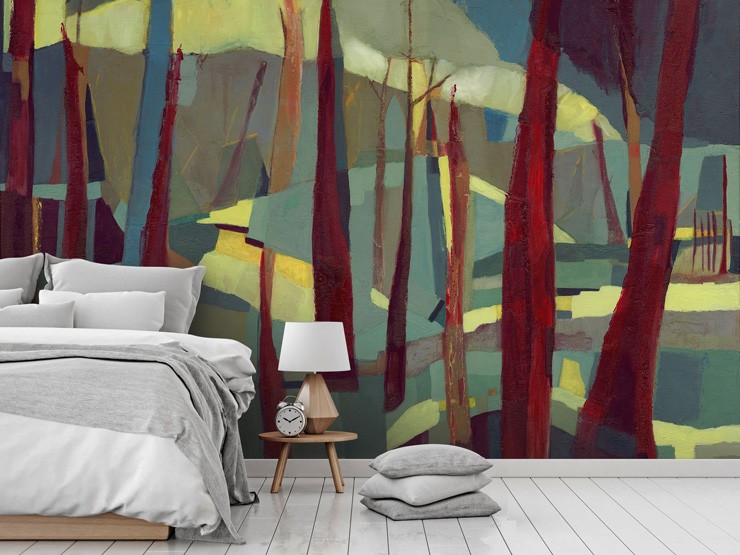 Danielle Nelisse är konstnär, privatdetektiv och invandringsadvokat. Nelisse är känd för sin äventyrsanda både i livet och på duken och tar risker med sin konst, ofta genom att experimentera med starka färger.
Nelisses målningsserie "Wildfires" inspirerades när nio skogsbränder samtidigt omgav hennes konstateljé i södra Kalifornien. Medan hon stod i sin konstateljé och skapade de första målningarna på två dukar sida vid sida, blev himlen mörk av förkolnad aska och hennes familjemedlemmar hörde av sig via telefon för att försäkra sig om att hon mådde bra. De massiva skogsbränderna fick i flera dagar näring av heta Santa Ana-vindar som blåste in från öknen. Hittills har hon färdigställt nio målningar om skogsbränderna och lyckligtvis har hon inte beordrats att evakuera sin konstateljé - åtminstone inte ännu.
4. Jackie Tahara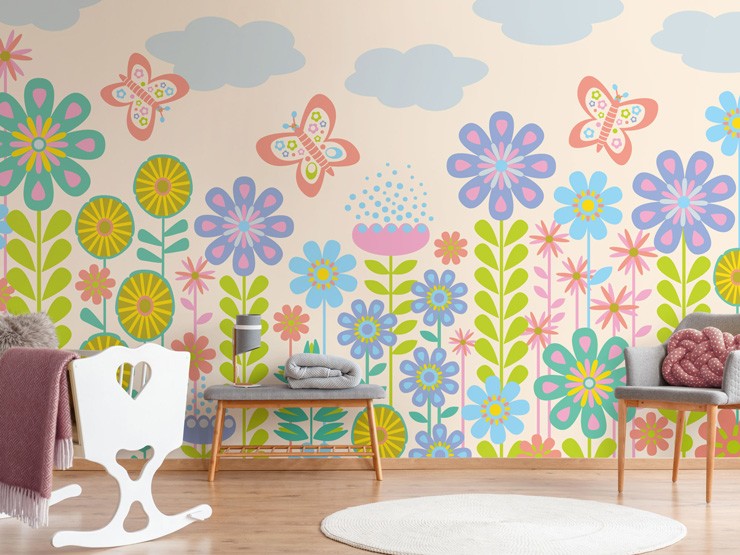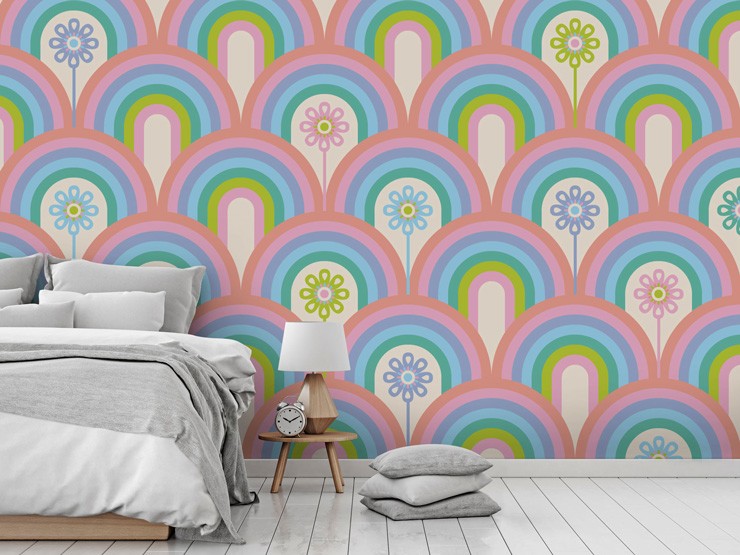 Jackie Tahara, grundaren av UnBlink Studio, är en ytmönsterdesigner som bor i vackra Victoria, Kanada, där hon är lyckligt omgiven av berg, skogar, stränder och Stilla havet. Hennes arbete är inspirerat av hennes naturliga omgivning, retrodesign från 50-, 60- och 70-talen, skandinavisk design och allt hon upplever under sina omfattande internationella resor.
Eftersom Jackie ville att hennes väggmålningar skulle förvandla ett barnrum till ett magiskt fantasilandskap fyllde hon "Butterfly Garden" med fladdrande fjärilar och folkinspirerade blommor och "Rainbow Floral" med fantasifulla ränder och pigga blommor, båda i ljusa, varma och soliga färger. Dröm sött!
5. Kate England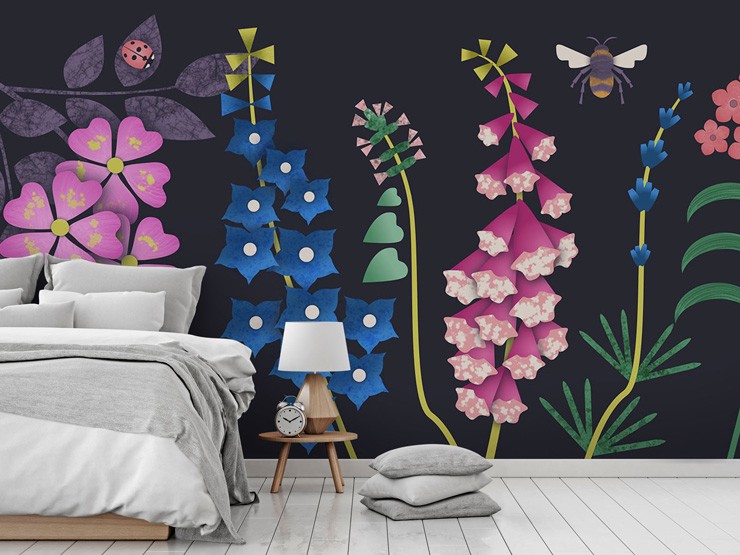 "Jag skapar färgglada, uttrycksfulla och livfulla illustrationer med inspiration från 1950-talets skandinaviska design, mytologi, kartor, mina barndomsminnen, teknik, folkkonst och naturens magiska värld. Min signatur stil kombinerar ren grafik med texturer och mjuka, stämningsfulla färgnyanser. Jag tillbringar för närvarande min tid mellan Stockholm och London."
6. Katy Clemmans
Katy Clemmans är en designer med många olika roller - hon är en BAFTA-nominerad grafisk designer med många års erfarenhet av att designa och animera för TV både i Storbritannien och runt om i världen. Hon är licensierad fotograf och Katy gör även design för tryck - botaniska illustrationer och mönster är några av hennes favoritämnen.
Katys design för Wallsauce består av vackra och delikata blomstermotiv som vävs in i livfulla och dramatiska akvarellfärger och detaljer, vilket skapar unika väggbeklädnader. Kombinationen av organiska texturer och grafiska silhuetter ger en ny syn på det klassiska naturtemat.
7. Kelly Kratzing
"Hallå! Jag är en australiensisk ytmönsterdesigner som älskar att skapa sofistikerade, intrikata mönster för heminredning, väggkonst och pappersvaror. Jag skapar varje konstverk för hand från min hemmastudio med hjälp av Prismacolor-pennor, vattenfärger och fina bläckpennor. Jag hämtar inspiration från allt runt omkring mig, men jag har en verklig passion för naturen, särskilt den unika australiska faunan och floran.
Jag hoppas att dessa mönster fångar både naturens subtilitet och extravagans och att de integreras vackert i ditt hem och lockar in dig med detaljerna."
8. Lori Perez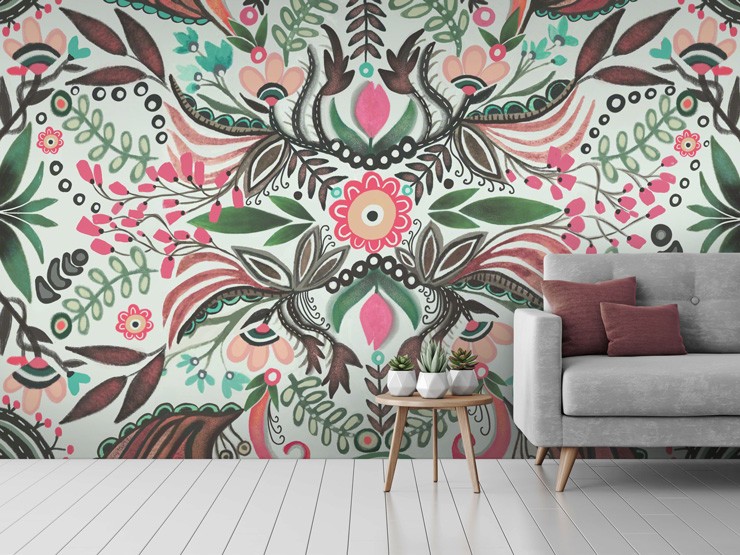 "Hälsningar! Jag heter Lori Perez. Jag gick från att vara gymnasielärare till att bli designer av ytmönster efter nästan tio år som lärare för att släcka min kärlek till måleriet. Jag tycker om att använda så gott som alla målerimedier men mina favoriter är pigmentoljestickor och akvarell. Min konst påverkas av allt som blommar och växer och mitt guamanska arv.
Mina bilder präglas av en kombination av underverk av tillväxt och rörelse som fångas i blommor och fjärilar, en oceanisk stamkänsla av naturen och livets mirakel och fortplantning."
9. Neelam Kaur
Neelam, som bor i Indiens huvudstad New Delhi, är en ytmönsterdesigner/illustratör som älskar att skapa upprepade mönster och illustrationer för barn och för pappersprodukter, inklusive gratulationskort.
"Dessa mönster är inspirerade av den tropiska djungeln. Jag är född och uppvuxen i den frodiga tropiska delen av Assam i Indien, och jag har inspirerats av liknande färgpaletter, främst grönt och rosa, eftersom det är mina favoritfärger och jag känner att det också stämmer överens med den friska naturen."
byneelamkaur.wixsite.com/neelamkaur
10. Tenyo Marchev
"Jag är en självlärd grafiker. Jag började som grafisk formgivare 2010 men de flesta av mina fans sa att jag inte bara är formgivare utan även konstnär och det är därför jag försöker göra konst och digitala verk och jag har stor framgång på båda områdena. Mitt mål är att skapa något annorlunda, iögonfallande och att göra människor glada."
www.instagram.com/art.design.works/
11. Uta Krogmann
Uta Krogmann är en illustratör, ytdesigner och grafisk designer baserad i Tyskland. Hon gick på konstskola som barn och slutade aldrig att utforska allt kreativt hon kunde få tag på. Hon utbildade sig till grafisk designer och utformade genomarbetade skyltfönster för streetwear-märken. Hennes passion för illustration ledde till att hon började fokusera på mönster för heminredning och brevpapper samt böcker för barn och vuxna.
För den här läckra tapetkollektionen hämtade hon inspiration från den stora variationen av löv och blommor i regnskogen och det rika djurlivet som finns där. Stämningen är mystisk och förtrollad.
12. Yani Mengoni
"Jag heter Yani Mengoni och är frilansande ytmönsterdesigner och illustratör. Jag kommer ursprungligen från Argentina men bor nu i Australien med min man och tre barn. Ända sedan jag kan minnas har jag älskat att rita. Mina mönster skapas alltid för hand innan jag lägger till färger i illustrator eller photoshop. De flesta dagar kan jag hittas vid mitt skrivbord där jag glatt ritar bilder. Jag vill att mitt arbete ska vara en del av att berätta en historia.
Min "Soul Birds Collection" handlar om fåglars symbolik och betydelser. Jag är öppen för beställningar, samarbeten och licensmöjligheter."
www.instagram.com/yanimengonidesigns
13. Michael Zindell
Som professionell designer har Michael haft förmånen att designa olika föremål för hemmet och personligt bruk. I sitt arbete utforskar han många material och former, men hans favoritaspekt av design är "påverkan". Han tycker om att göra saker som ger vardagsmänniskan ett "WOW-ögonblick".
"Skapandeprocessen har alltid varit min flykt, som att åka till en främmande plats och utforska och se saker med ett nytt perspektiv. Med den här serien av väggmålningar vill jag förmedla denna eskapism vidare, med bilder som är baserade på naturen, men genom fantasins och förundrets lins".
michaelzindell.myportfolio.com
Skulle du vilja se en av dessa konstnärer ingå i kollektionen av designtapetstapeter hos Wallsauce? Använd kommentarsfältet nedan för att ge oss namnet på din favoritkonstnär senast den 31 maj 2019. Observera att endast en röst per person kommer att räknas. Glöm inte att kryssa i rutan och anmäla dig till vårt nyhetsbrev för att bli först med att få reda på vem som vinner!