För drygt 12 månader sedan tillkännagav vi Kelly Kratzing som vinnare av vår tävling om designtapeter. Hennes vackert delikata blommiga väggmålningar pryder nu väggarna i många hem runt om i världen.
Vi var så imponerade av bidragen förra året att vi beslutade att öppna upp möjligheten för andrapristagare: Michael Zindell, Andrea Haase, Danielle Nelisse, Katy Clemmans, Tenyo Marchev och Yani Mengoni. Du kan se alla deras tapetkollektioner i vår designerkategori.
Efter förra årets framgångsrika tävling för att hitta nästa tapetkollektion bestämde vi oss för att göra ett nytt försök att hitta ett nytt gäng begåvade konstnärer. Efter att ha samarbetat med de underbara människorna på Make it in Design, "hemmet för allt du behöver veta om hur man blir en framgångsrik ytmönsterdesigner", har vi fått ett underbart överflöd av bidrag som vi (inte helt enkelt!) har minskat ner till den här korta listan. Men nu är det din tur att ta över. Vi ber dig att rösta på din favoritdesigner från vår lista.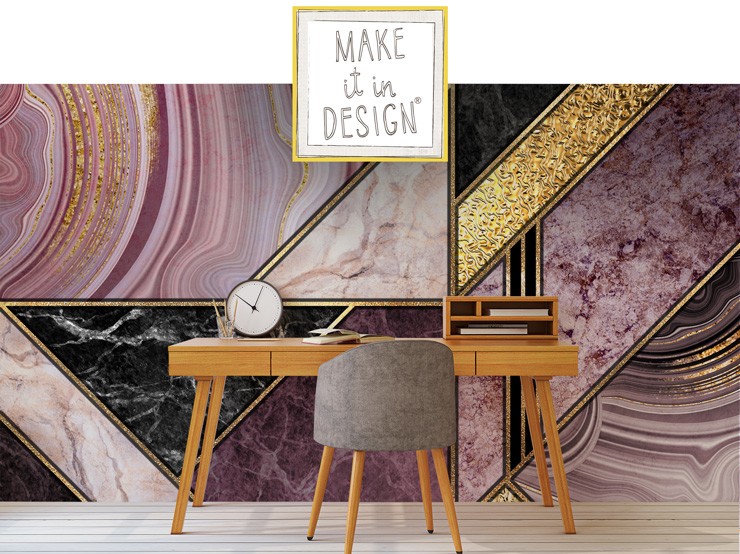 Uppdraget: Vad är din era?
Historien upprepar sig alltid. Det som går runt de inre trenderna kommer alltid tillbaka. I årets tävling gav vi konstnärerna i uppdrag att välja sin favoritepok och basera sin design på denna tidsperiod.
Allt vi begärde av konstnärerna var:
- Utforma två väggmålningar baserade på en epok
- Båda modellerna måste ha ett samband med varandra.
- De två designerna kommer båda att ingå i den vinnande kollektionen.
- Tänk på att du ska utforma något som kommer att se bra ut på alla formade väggar.
Naturligtvis skulle vi inte be om allt detta utan en belöning! Vinnaren kommer att få ett avtal med oss och tjäna pengar på all försäljning från sin samling. Baserat på förra årets framgång hoppas vi också kunna välja några andrapristagare med ett liknande avtal.
Din röst för nästa tapetkollektion
Vi behöver din hjälp! Det var en riktig utmaning att begränsa bidragen till denna lista - konkurrensen var hård! Men vi tror att vi har valt ut det som ni kommer att älska... Vi vill bara att ni låter oss veta vilken konstnär från denna lista som ni skulle vilja se ingå i vår kollektion av designtapeter.
Scrolla ner för att se de nominerade bidragen och rösta genom att kommentera deras namn längst ner i blogginlägget.
Nici Gabriel
Den österrikiskfödda Nici Gabriel har inte alltid haft en karriär som konstnär. Hon studerade affärsinformatik och arbetade bland annat som IT-projektledare. Efter att ha fått två barn insåg hon att hon fattat några felaktiga beslut i sitt arbetsliv och återupptäckte sina kreativa färdigheter som gått förlorade under uppväxten. Hon lärde sig allt man behöver veta om ytmönsterdesign genom flera onlinekurser innan hon utvecklade sitt eget märke och sade upp sig från sitt dagjobb. Hennes färgstarka och mångsidiga portfölj är inspirerad av hennes liv med familjen och naturen på landsbygden.
Efter att ha valt jugendstilen för tävlingen sa Nici: "Det var ett självklart beslut eftersom jag bodde många år i Österrike. Ett av mina mönster är ett geometriskt blommönster med bågar och slingor på några ringblommor och en reflekterad magisk blomma. Den andra är inspirerad av klöver och malva i min naturliga trädgård. Rullar och bågar ger den den nödvändiga eleganta känslan av art nouveau."
Catherine Worsley
Catherine Worsley är kreativ chef för Northern Lights Creative och hon älskar att skapa dynamisk och levande design i sin studio i Yorkshire. Hon älskar att experimentera med olika stilar och leka med färger och motiv - hennes främsta mål är att skapa design som får människor att le. Hennes design har dykt upp på olika produkter både i Storbritannien och USA.
"Jag älskar absolut Art Deco! Mönstren från den tiden är så lyxiga och förflyttar dig omedelbart till den epoken då det kändes som om allt var möjligt. Jag har försökt förmedla den känslan med mina mönster genom att använda djärva motiv, jag vill att den som tittar på dem ska känna sig inspirerad, tröstad och framför allt glad! Jag har valt en färgpalett med varma toner som skulle passa i många olika miljöer."
www.northernlightscreative.co.uk
Julia Fonnereau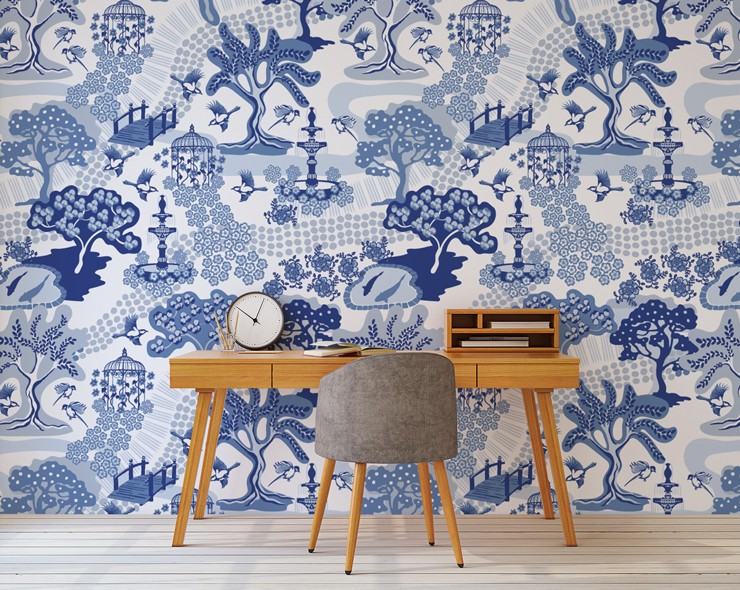 Julia Fonnereau är en brittisk konstnär och mönsterdesigner från Hertfordshire. Efter att ha haft en karriär inom konstutbildningar fokuserar hon på att skapa sina egna konstverk och utveckla en portfölj av ytmönsterdesign. Julias val av epok för tävlingen var den georgianska perioden, med fokus på fascinationen för dekorativ konst från Orienten.
"Ta dig tillbaka till slutet av 1700-talet. Du har förnämliga gäster som kommer på te och du ser fram emot att visa upp din nya väggdekoration. Det senaste modet är chinoiserie-stilen och du har sett till att skapa en stämningsfull iscensättning. Du älskar mönsterens frivola och roliga karaktär som vackert kompletterar din helt nya teservis med pilmönster!"
Rebecca Johnstone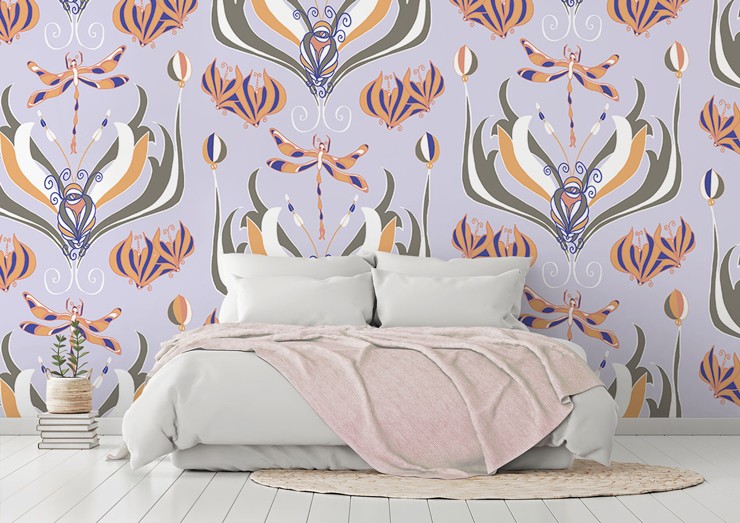 Rebecca Johnstone (alias Dainty Dora) är författare och designer med en förstklassig examen i textil- och modedesignhantering. Efter att ha tagit examen från Heriot-Watt University (tidigare Scottish College of Textiles) har Rebecca specialiserat sig på tryck.
Rebecca bor i Lanarkshire i Skottland och påverkas av sin lokala omgivning. Hon tolkar kulturen i Glasgow, Paisley, de skotska högländerna (där hon växte upp) och andra områden för att skapa sina djärva och färgglada handritade mönster och illustrationer.
"Min kollektion för Wallsauce bygger på influenser från den tidiga Belle Epoch-eran av Art Nouveau. La Belle Epoch - som betyder "vacker tid" - var en period av optimism, fred, välstånd och innovation i slutet av 1800-talet och början av 1900-talet, som lät den kreativa konsten blomstra och som avslutades först när första världskriget bröt ut.
Libellen är en symbol för visdom, förändring, förvandling, ljus och anpassningsförmåga i livet. Jag har också använt fjärilsmotiv i hela kollektionen, eftersom fjärilen också symboliserar förvandling, återuppståndelse och hopp när den fullbordar sin metamorfos. Dessa motiv passar väl in i art nouveau- och La Belle Epoch-eran, men känns också mycket passande för vår nuvarande tid av förändring när vi kämpar med konsekvenserna av den nuvarande pandemin.
Jag har valt en mjuk och dämpad färgpalett för att hålla mig till den här tiden, men designen fungerar också bra med ljusare färger - jag har experimenterat! Charles Rennie Mackintosh - en personlig designikon som jag har studerat i några år - använde fritillaryblomman i sina verk, vilket jag älskar. Den symboliserar majestät, stolthet och makt, vilket också är mycket betydelsefullt för vår tid."
Skulle du vilja se en av dessa konstnärer ingå i kollektionen av designtapetstapeter hos Wallsauce? Använd kommentarsfältet nedan för att ge oss namnet på din favoritkonstnär senast den 28 september 2020 (BST). Observera att endast en röst per person kommer att räknas och att det kan ta cirka 24 timmar innan din kommentar visas - oroa dig inte, vi kommer att ha tagit emot den! Glöm inte att kryssa i rutan och anmäla dig till vårt nyhetsbrev för att bli först med att få reda på vem som vinner!