If you're always looking for home inspiration, you'll have definitely noticed everybody's obsession for wood panel feature walls! Many of us are currently out there cutting plywood panels to accurate lengths and mounting them onto our walls to create the perfect panel wall. But are you one of those people who wouldn't know where to start or can't face the mess? Then you need wood panel wallpaper in your life!
In this blog, we will give you just a taste of our range of panel wallpaper available for you to enjoy in your own homes! From navy blue panel wallpaper or ones in candy-floss pinks, teal-green or classic white, our collection offers a wide range for all your styles and tastes!
Green wood panel effect wallpaper for a sophisticated feature wall
Mural in photo: Dark Green Panels
The world of interior design is loving a panel wallpaper in a luxurious dark shade, such as our Dark Green Panels wallpaper. This dark and moody shade of forest-green makes a striking feature wall in this lounge combined with leafy green plants and natural wooden furniture. As well as in a living room, this green panel wallpaper would look fabulous in all types of rooms, such as the hallway, paired with traditional black and white tiled flooring.
Pink wood panel wallpaper: not just for girls
Mural in photo: Pink Panels
Although many of you may think that a pink feature wall only belongs in a girl's bedroom, you are wrong. Pink is also a fabulous colour for a lounge for all the family! This sophisticated Pink Panels wallpaper oozes maturity and style in this beautiful retro lounge. By being paired with neutral and natural tones, this gorgeous wood panel wallpaper is really the star of the show.
If you want to embrace pink throughout the room, we recommend choosing rose gold décor to mirror the pink tones in this stunning wood panel feature wall.
Antique wall panel wallpaper to add vintage glam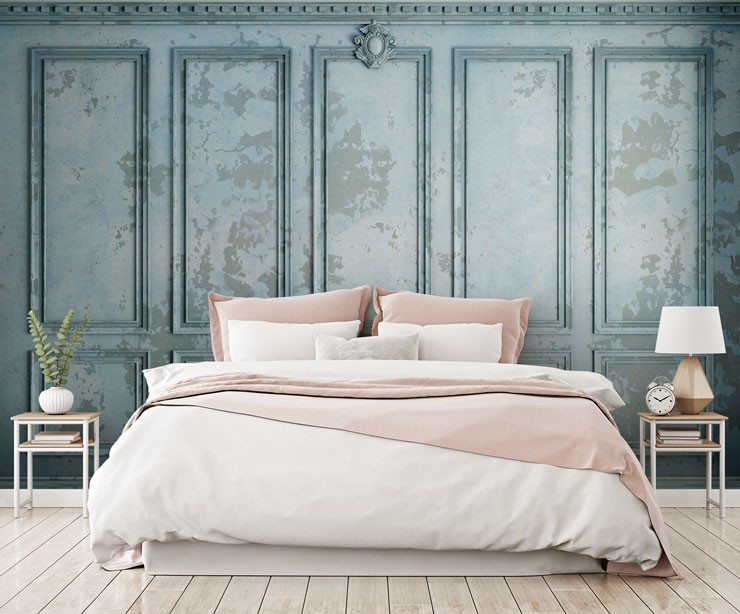 Mural in photo: Duck Egg Panel
If you're looking for a stunning 3D wallpaper that is a little different, then choose this gorgeous vintage Duck Egg Panel wallpaper. With a worn, preloved state and decorative mouldings, this ornate antique wallpaper is a big must for all lovers of bygone times.
Ideal for transforming a master bedroom into a romantic boudoir or making a lounge feel like a ballroom in an old French chateau, this blue on-trend wallpaper has so many different uses.
Dark panel effect wallpaper for those who love visiting the dark side…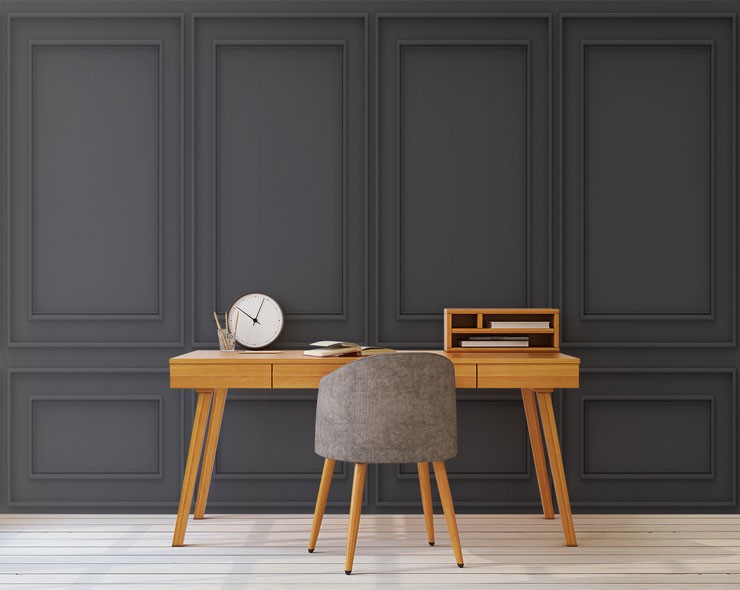 Mural in photo: Luxury Off Black Panel
Black is the colour to choose if you want timeless interior design. They may say that red, blue or green is the new black, but we all know that this stylish shade always wins if you want your home to scream sophistication and elegance. When you see this gorgeous wood panel feature wall, it's no surprise why everyone is in love with them!
Perfect for a range of rooms, this dark but certainly not moody, Luxury Off Black Panel wallpaper looks perfect in this sleek home office. Paired with natural wood and dark grey, this striking panel feature wall really brings a sense of professionalism into this space.
Minimalist white panel wallpaper: the perfect blank canvas
Mural in photo: Off White Wood Panel
If you prefer more of a subtle and minimalist look, then we highly recommend our vintage Off White Wood Panel wallpaper. With decorative moulding that resembles designs from the Victorian era, this antique-style wallpaper would complement a period property or bring a vintage edge to a modern home.
Because white walls act as the perfect blank canvas in a room, add pops of colour through your choice of décor. All colours work wonderfully with white, especially blue, as seen in the room above. I always feel that blue and white has a lovely seaside feel to it. Don't you?
Decadent teal-green texture walls in the bedroom
Mural in photo: Teal Wood Panels
Many are opting for a striking texture feature wall behind their bedroom headboards. Not only do they draw the eye to them as soon as you walk through the door, but they act as a great extension of the headboard of your bed.
We adore the pairing of green, grey and a very light pastel pink in this gorgeous master bedroom. Green and pink bedrooms have become a popular choice as the two tones really bring each other to life and are great calming colours for the bedroom.
Classic navy blue panel wallpaper to transform any space
Mural in photo: Dark Blue Panel
Panel wallpaper doesn't just look fabulous in the lounge, hallway or bedroom, but it also makes a fantastic statement in a bathroom. So if you want to notch up the luxury levels in the room where you bathe, then opt for this Dark Blue Panel wallpaper! Paired with crisp white bathroom units, bath, toilet and shower, this stunning blue wallpaper is utterly stylish. To bring more of a natural edge to the room, choose natural wood flooring and shelving, a wicker wash basket and bin as well as tropical plants.
Let us know which is your favourite! If you want to see more of our wood panel wallpapers, find them in our 3D wallpaper range.