A Huge Welcome To Shandra Smith
Canadian artist and surface and pattern designer, Shandra Smith is renowned for her vibrant, abstract patterns. Her collaborations with the interiors, hospitality and fashion industries are well-received and now we have the huge privilege of turning her beautifully bold designs into stunning wall murals.
Living in the mountainous Okanagan Valley, British Columbia, Shandra shares her home with her husband and two young children.
"Mein Lieblingsraum ist unser Wohnzimmer. Wir haben 2002 beim Bau unseres Blockhauses geholfen, und wir haben 22 Fuß hohe Decken im Hauptwohnbereich des Hauses. Es ist ein offener Raum, der sich zum Ess- und Küchenbereich hin öffnet. Es ist ziemlich farbenfroh und ein bisschen skurril"
Shandra continued: "To see one of my murals up in someone's home would mean a lot! A local hotel in Kelowna, Canada (Hotel Zed) did a massive reno and featured three of my Wallsauce murals.  It felt fantastic to walk in and see them taking up the whole wall!  It was the first time I'd seen Wallsauce's product up close and I was really impressed by the print quality and colour."
Shandra Smith's Career
Shandra ist Autodidaktin und gab uns einen Einblick in ihre bisherige Karriere. "Als ich vor 12 Jahren Mutter wurde, nutzte ich die Kunst als Flucht aus der Monotonie des Mutterschaftsdaseins und benutzte die Kreativität auch als Therapiemittel zur Bewältigung einiger Schwierigkeiten in meinem Leben. Kunst zu schaffen ist also wirklich therapeutisch für mich (billiger als zum Psychiater zu gehen!)", scherzt Shandra. "2009 begann ich damit, diese Entwürfe auf Wandkunst drucken zu lassen, und war Teil einiger Gruppenausstellungen, dann einer Einzelausstellung. Um 2014 begann ich, meine Entwürfe auf verschiedene Dinge zu lizenzieren - wie Schuhe, Lampenschirme und andere lustige Sachen
We asked Shandra about her influences: "I absolutely love American Rex Ray's work - the shapes and colours and depth to them is captivating.  Sadly, he died in 2015, and just months before, I saw his original work at a gallery in San Francisco - that was a big thrill for me.  I sent him a message saying how much I liked it - and was thrilled to get a 'thumbs up' sign back from him!  I'm also influenced by Native Canadian art, Mexican folk art and colourful textiles from around the world."
These influences, in particular, can be seen reflected within her 'Tribal' collection of murals. Shandra commented: "I was experimenting with creating patterns from some existing work I had.  And the results of some of them looked like tribal art to me.  I'm not sure from which tribe though - I guess a tribe that was funky, colourful and eclectic?!"
'Tribal 1' mural by Shandra Smith
Als wir Shandra nach ihren Lieblingsbildern aus der 27-köpfigen Sammlung fragten, sagte sie: "Ich denke, es müsste sein 'Fooling Around' or 'Shades of Blue & Green'.  'Fooling Around' has a playful quality to it, and I love the multicolour aspect of it.  To me, Blau- und Grüntöne hat eine hypnotisierende Wirkung, und ich könnte es ewig anstarren - und mich darin verlieren!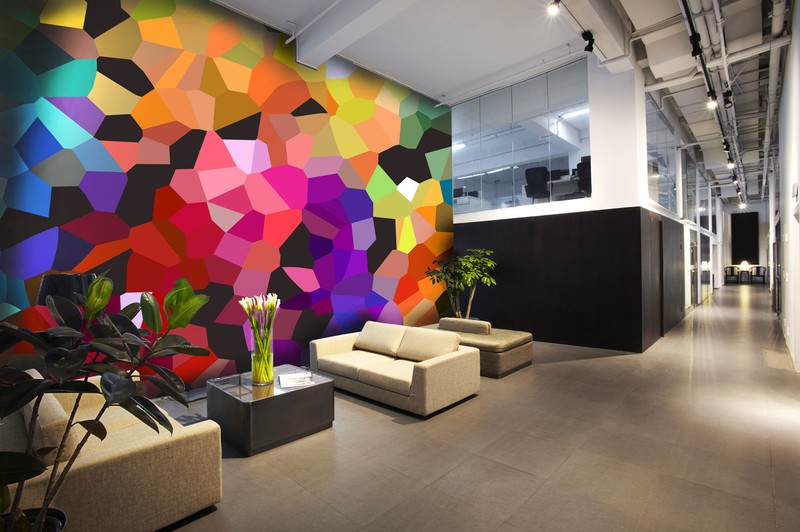 Wandgemälde 'Fooling Around' von Shandra Smith
Wandbild 'Shades of Blue and Green' von Shandra Smith
See Shandra Smith's Sammlung of vibrant murals and prepare to be mesmerised. Comments are welcome below for your opinions on your favourite print.