A nod to beauty's nature and a longing for the outdoors, botanical prints are one of those interior trends that aren't disappearing anytime soon. A reaction to our need for nature's beautiful simplicity after spending a lot of time indoors, botanical drawings feed vintage-lovers' passion for antique pharmaceutical plant illustrations.
From fronds and ferns, delicate insects and beyond-pretty florals, botanical art prints transform interiors. And luckily for us, there is a wide range of designs to choose from. Whether you love to adorn your home in all the colours of the rainbow or are more of a minimalist one-tone kind of person. Read on to see some of Wallsauce.com's favourite botanical wallpapers and metal plant prints.
1. Two-toned botanical prints for minimalist living
Mural in photo: Blue and White Garden Flowers
Looking for a blue and white wallpaper that showcases your love for plants but reigns in on colour? Then this cottagecore inspired Blue and White Garden Flowers wallpaper mural is a must. Perfect for those looking for more of a minimalistic approach to botanical wallpaper, this pretty floral design reminds us of vintage blue and white china, giving your lounge a cosy, antique touch. Marry this mural with a range of off-white and powder-blue room accessories. We can picture a blue vase, silver-grey couch and blue throw and scatter cushions.
2. Herbarium-inspired botanical metal wall art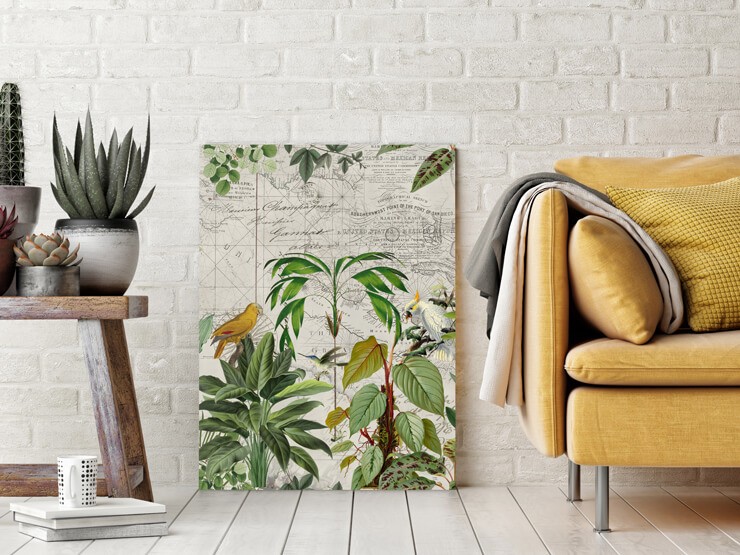 Metal print in photo: Exotic Birds Journey
Did you know that the craze for all-things plant related isn't anything new? Herbarium has been a thing for hundreds of years. What is herbarium, you ask? Herbaria/herbarium is the pressing of plants for study as well as aesthetic purposes. But let's be honest, that sounds like a big effort. Instead, why not enjoy a herbarium-inspired metal poster? It will undoubtedly last longer than a framed, squashed plant. This botanic Andrea Haase Exotic Birds journey is perfect. As well as having that leafy-green foliage look that is so current, there are a couple of parrots and a cockatoo thrown in there as well. Tropical as well as botanical. Two of our favourite -ical words in one.
3. Bright and cheerful meadow flower wallpaper
Mural in photo: Gathered Wildflowers
Do two-toned designs make you weep with boredom? Instead, are you a master of colour and wear a different shade every day to show your mood? Then it may be obvious to say, but a colourful flower wallpaper is your answer. Carol Robinson, the designer of this Gathered Wildflowers wallpaper, is a true floral queen. Most of her works have the perfect balance of bold and subtlety. Big and bold paintings created with watercolour media, an entire wall can be embraced with one large, beautiful flower. But this painting is more delicate. A mix of pretty flowers in every shade under the sun, they look like they are randomly placed onto the page. But the process is far from random. Careful consideration has taken place so that every individual plant works perfectly in one ensemble.
4. Stylish black and white botanical prints
Mural in photo: Wild Plants and Flowers
This Wild Plants and Flowers wallpaper couldn't be more different to the previous design. Instead, this black and white botanical print is detailed but simple at the same time. There is an undeniable tattoo feel to this artwork thanks to the folk-inspired drawings and delicacy. For those minimalist enthusiasts out there, pair a pretty floral design such as this with only black, dark grey and white accessories for a wow-factor bathroom. White tiles, flooring and towels, as well as a matte black bath tub and sink will look flawless.
5. Oriental botanical prints for Japanese flair
Metal print in photo: Irises Aluminium Print
Some of the most calming prints out there are oriental designs such as this Irises metal poster. Taken from our vast oriental metal prints range, this beautiful watercolour was created by the late 19th to 20th-century Japanese painter and printmaker, Ohara Koson. As well as vintage illustrations, Koson was an expert at painting native Japanese birds, animals and landscapes. Also available as wallpaper, this stunning floral watercolour will bring a sense of nature's tranquillity into any room.
6. Vintage-inspired botanical wallpaper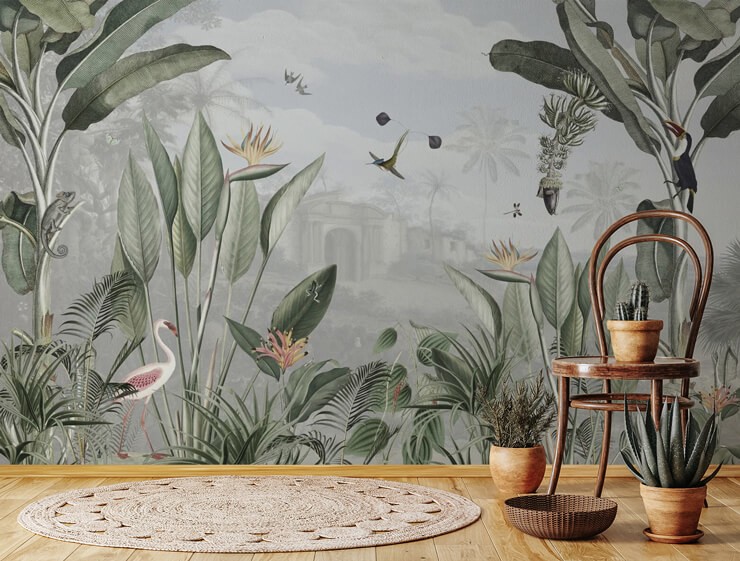 Mural in photo: Botanical Beauty
If you are looking for picture-perfect leafy green art, then this Botanical Beauty by the talented Sir Edward team is for you. Carefully crafted with toucans, flamingos and palm trees galore, this plant wallpaper will add a tropical touch to any room in the home. Paired with terracotta plant pots, succulents and cacti, you can create an exotic conservatory in your living room, bedroom and more with this jungle wallpaper.
7. William Morris Victorian botanical prints
Mural in photo: Daisy Pattern
Do you love Victorian interiors? Did you know that they weren't always dark and gloomy? When moving towards the Edwardian period, Victorian homes were becoming much lighter. This is when this Willam Morris floral design must have been at its height! Perfect for adding a vintage touch to this ultra-modern home office, vintage art like this Daisy Pattern, embrace all those on-trend tones that are circulating in the world of interior design: sage-green, orange and sundried-tomato-red.
8. Pretty in pink floral metal posters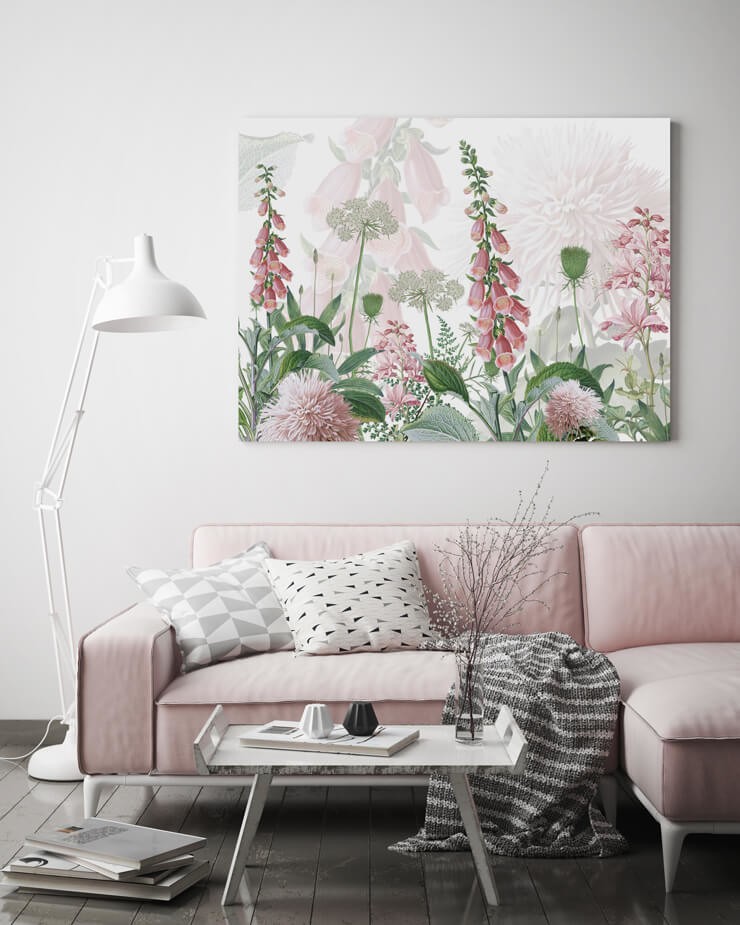 Metal print in photo: Foxglove Flowers
Although it's not always an obvious choice, pastel pink and green are one of the best colour combinations. Not a favourite amongst everyone, this colour pairing is still loved by many (including myself). You can't look in a home improvement magazine without seeing leafy green tropical plants paired with pink walls and accessories. And you don't have to go wild when it comes to these two tones. Why not tone it down by painting the walls in an off-white shade? Choose a pale powder pink couch and tasteful artwork like this Foxglove Flowers metal poster by Sir Edward.
9. Insect wallpapers that are far from creepy
Mural in photo: Protea Habitat
Sometimes when you hear the words, 'insect wallpaper' it can really put you off. Especially if you're the type to run away from flies and jump on a chair when you see a spider. But when it comes to Michelle Freer's Protea Habitat, insects are beautiful. SO beautiful that you want to adorn them on your walls on a big scale. The stunning dragonflies resting on the Australian-native Protea flowers work stunningly together in this design. So much so that one without the other wouldn't be as near as stunning.
10. Jungle-riffic botanical prints wall art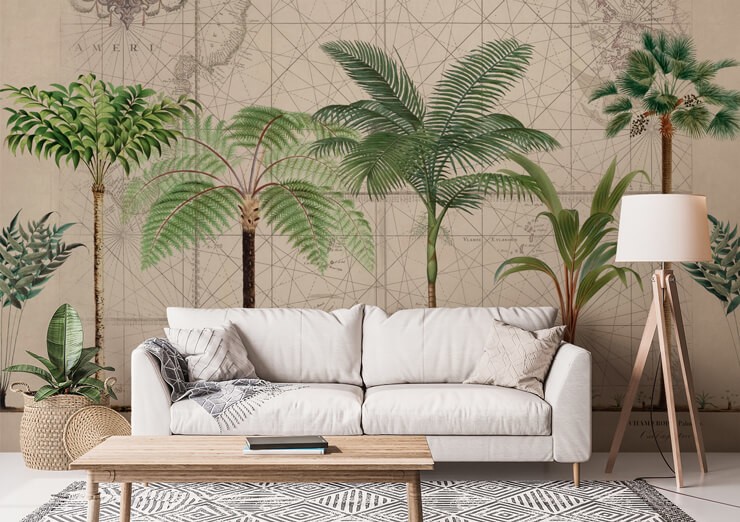 Mural in photo: Old Map and Trees
You've sadly reached our last botanical print. But isn't it a beauty? A gorgeous display of luscious green trees placed beautifully against a vintage African map, this Old Map and Trees by Andrea Haase is a classic plant print that will make the perfect wall mural. Installed behind an off-white couch and natural wooden furniture, you really can't get more safari than this botanical wallpaper.
Out of all of these botanical prints, do you have a favourite? Tell us which one by leaving a comment below!