Everyone can't stop asking questions about stick on wallpaper. It's probably down to the fact that this huge home interiors trend isn't going away anytime soon. Stick on wallpaper, also known as self adhesive wallpaper, peel and stick wallpaper and removable wallpaper, is making its own revolution in our homes.
Not only great for quickly updating a home owner's lounge or bedroom, this type of wallpaper is also renter-friendly where renters are able to add more of their style into their rented homes. Far gone are the days of putting up with blank walls!
From wanting to know how long they last to how to put them up, here are the top 5 questions all about stick on wallpaper. Ready to learn more?
1. How long does stick on wallpaper last?
Mural in photo: Dusty Pink Garden
How long does stick on wallpaper last, you ask? This all depends on the supplier. Contact them or read up on their information to see what they say.
When it comes to a Wallsauce self adhesive wallpaper, the durability is strong and will last for many years - just like a normal wallpaper! We do advise you don't use adhesive wallpaper in a bathroom as they do not cope as well in steamy situations. Instead, opt for our Premium Paste the Wall option. Otherwise, stick on wallpaper is just the same as any other wallpaper! As long as you are careful and look after your beautiful wall mural, it will last for many, many years.
2. Does peel and stick wallpaper damage walls?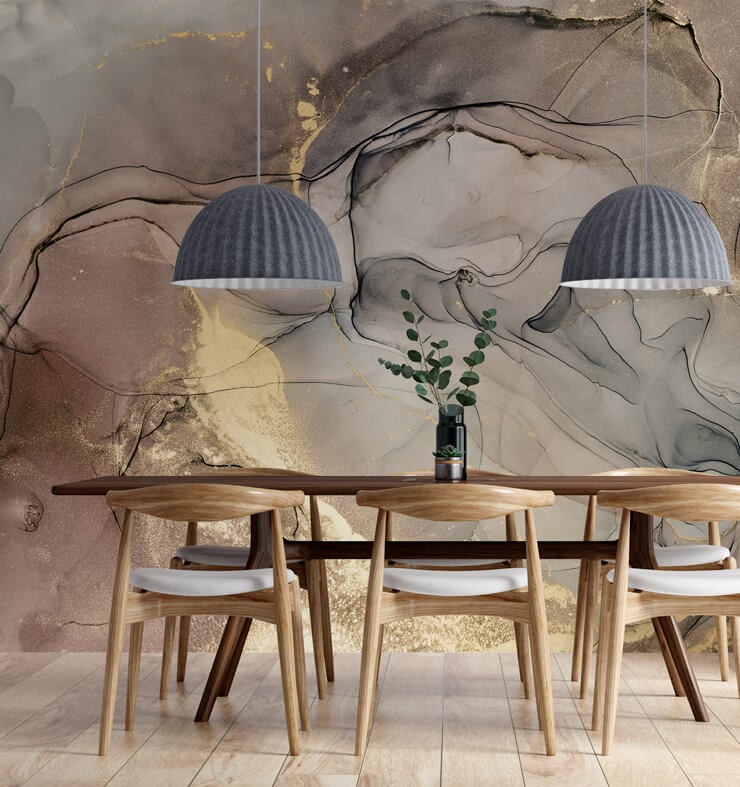 Mural in photo: Dark Beauty
Want to know if peel and stick wallpaper damages walls? It's an understandable question to ask – nobody wants a mess to deal with after they remove a wallpaper! But that is the beauty of Wallsauce stick on wallpaper. As long as you prepare the wall properly beforehand, there will be no damage made to your wall when it is removed!
To properly prepare a wall beforehand, make sure you:
Clean it and make it smooth by removing any bumps or flaky paint
Prime/seal the wall with a highly recommended primer
Allow the primer to dry out for at least 2 – 3 weeks before hanging the mural
As long as you follow these steps, your peel and stick wallpaper will easily come off the walls without making a mess. Remember to ask your wallpaper supplier what they recommend.
3. How to put up peel and stick wallpaper?
Mural in photo: World Political Blue
Want to know how to put up a peel and stick wallpaper? Then here's what you do with Wallsauce's self adhesive wallpaper. Before hanging any wallpaper, prepare the wall beforehand by following the bullet points above.
Next is the fun bit where you get to put it up! Remember to:
Apply the panels working from left to right
Get a friend to help you – one to hold the paper and the other to angle it into its place
Remove any air bubbles by flattening them out
Step back and take a look. If a panel is wonky, gently peel it off and reapply it (that's the beauty of removable wallpaper!)
Just remember to take your time when installing wallpaper and have fun with it. It's basically a big jigsaw for your wall!
4. Is stick on wallpaper removable?
Mural in photo: Pink Lake
The next question – is stick on wallpaper removable? Again, this all depends on where you have bought the wallpaper. Often, they are removable but it depends on how they have been made.
Wallsauce's Peel and Stick wallpaper is removable as long as you prepare the wall properly before hanging the wallpaper. Remember to make sure the wall is clean and bump-free. Then use a high-quality primer to paint over the walls and leave it to dry for at least 2-3 weeks. Once this has been done and the wallpaper has been applied, you will be able to take off the temporary wallpaper with ease. Just be careful when peeling off the paper panels - be slow, steady and gentle.
Removable wallpaper is handy if you have children. As they grow older and their interests change from unicorns to football, their bedroom needs to reflect the changes as well. By choosing a peel and stick option, you can gently remove it, cause no damage to the wall and then install another peel and stick wallpaper to be enjoyed for the next few years!
5. Is stick on wallpaper renter friendly?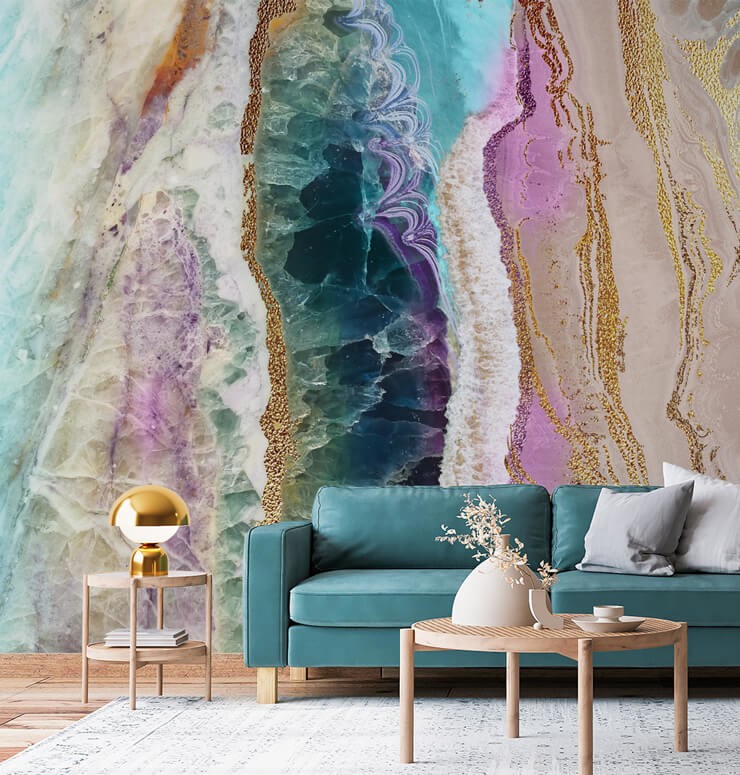 Mural in photo: Rock Pool Beach
This is the big question we all want to know – is stick on wallpaper renter friendly? Wallsauce's Peel and Stick wallpaper certainly is! If you have a different supplier, always check with them.
Wallsauce's renter-friendly, self adhesive wallpaper is ideal for a renter's home because not only are they easy to put up, but they can be removed without causing damage to the wall as well. Just make sure you have prepared the wall properly beforehand and all will be well. By doing this, you will avoid falling out with your landlord and make sure you get all your deposit money back.
Another reason why peel and stick wallpaper is renter-friendly is that it's a chance for renters to show off their sense of style at home. Blank walls are no longer acceptable now that peel and stick wallpaper is an option – there's no excuse! And because they are removable, you can change them up every other year to reflect your home's on-trend style. You could choose a floral peel and stick wallpaper this year and then move onto the next big thing in the following year! The opportunities are endless for self adhesive wallpaper.
Mural in photo: Heron Habitat
For more information about stick on wallpaper, visit our Peel and Stick wallpaper page. Remember, all of Wallsauce.com's wallpaper designs are available in peel and stick wallpaper. Simply choose this wallpaper option when making your order.
Do you feel like all your stick on wallpaper answers have been fulfilled? If you have any more questions, please leave a comment below!