In recent years, navy and gold wallpaper has flourished in interior design and has taken pride of place as one of Pinterest's favourite colour schemes. It holds a strong position in the two-colour combinations family: black and white, pink and grey and now, navy blue and gold! After all, these two colours have been two peas in a pod for years. The name 'navy blue' speaks for itself. This colour blue was named 'navy' when navy officers began to wear blue uniforms in the mid-1700s. Golden brass buttons were sewn onto the uniforms and, of course, the navy and gold look was born! Maybe not for interior design reasons... but it's certainly given us a fantastic colour combination to enjoy for years to come!
Although the gold on our wallpapers is printed and doesn't offer a shimmery gold effect, we have some great alternatives to get excited about. Read on to get a taste of what we have in store and how to embrace a sophisticated navy and gold wallpaper look in your home…
Enjoy an Art Deco golden sunrise every morning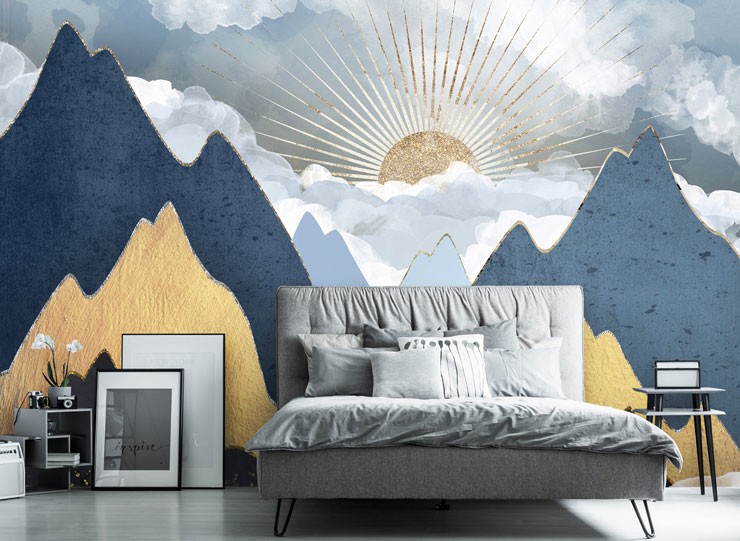 If you're anything like me, you'll absolutely fall in love with this Art Deco golden sunrise wallpaper. An art movement that began in the '20s, Art Deco completely took the world of interior design by storm. Especially in movie star-sprinkled Hollywood. Once installed in your bedroom, you'll feel like you've stepped into Carole Lombard's boudoir and Clark Gable is about to stride through the door!
The true beauty of this Art Deco wallpaper is that it's a celebration of old meets new. The iconic 'sunrise' feature is quintessentially Art Deco whilst the realistic clouds are a modern addition. This adds a fresh, new aspect to this beloved style.
Create the ultimate on-trend home with a navy and gold marble wallpaper
If Art Deco reminds you of your granny's house and you're more into the on-trend marble style, look at this mesmerising blue swirl mural. You may not have noticed, but this beautiful navy gold wallpaper isn't actually a marble-effect wallpaper. In fact, it's a stunning watercolour design!
Our fantastic marble wallpapers are absolutely stunning. Yet, unlike this blue swirl wallpaper, natural marbles don't offer a navy and gold option. So, we've basically cheated and found a watercolour design that gives a perfect navy blue and gold marble effect (we won't tell if you don't). The subtle gold hints threading through this hypnotic mural is tasteful and not overwhelming. Imagine pairing this stunning watercolour wallpaper with gold décor lamps and tealight holders - gorgeous!
A navy and gold wallpaper to ruffle your feathers with excitement
Calling out to all vintage lovers! If you love the idea of navy and gold wallpaper but want to stay away from a sleek modern look, a floral and animal-inspired mural is for you. This de-tailed Fantastic Peacock Kings wallpaper designed by Andrea Haase is a great combination of vintage plants and animal drawings.  It's inspired by nature and reminiscent of chinoiserie wallpaper. This stunning peacock mural is a striking bold print wallpaper. It will create the perfect feature wall for your master bedroom or lounge.
Travel to distant lands with navy, ochre and burnt orange tones
This oriental Fuji No Yukei wallpaper is an alternative look to navy and gold wallpaper. Instead of golden hues, this Fuji mural embraces ochre and burnt orange: two colours that are going to be big in 2020. Just as gold does, these warm colours provide the contrast needed to lighten up dark navy tones. In turn, they help to avoid darkening a room and making it seem cramp.
This relaxing oriental wallpaper would look ideal with gold or bronze décor. These carefully chosen room accessories will reflect the smattering of orange tones and make the colours flow throughout the room.
Artistic and calming navy and gold wallpaper for the bedroom
We are very excited about our new designer Elisabeth Fredriksson who has a fantastic range of on-trend, Scandi-raw wallpapers. They celebrate abstract art as well as the very popular concrete-industrial vibe. This raw Blue Mist wall mural is a perfect example of navy and gold wallpaper at its best!
As mentioned earlier, navy tones can be overwhelmingly dark. It takes skill to paint a navy wall and not darken up a room. Fredriksson has cleverly combined dark navy and gold shades with a light grey backdrop. This helps to achieve the much-desired navy gold look without casting a room into darkness. Find tasteful gold décor to stress the misty, metallic gold used in the mural. Choose tasteful golden lamps, cushions or even a gold blanket to place at the bottom of your bed. Why not? Use this stylish navy and gold wallpaper as a backdrop for your bedhead and your room will be a blissful yet trendy haven…
Perfect gold décor to add that last crucial touch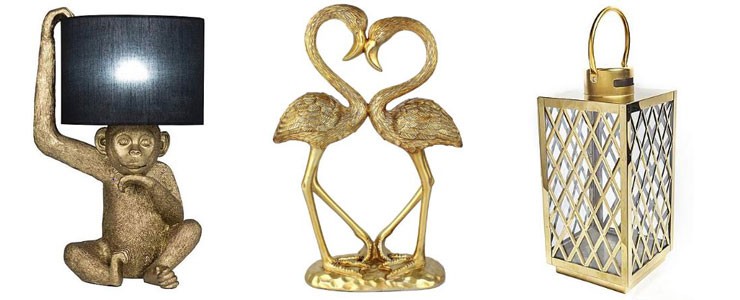 Speaking of tasteful pieces to bring out the gold tones in your wallpaper, Dunelm offers fun and fabulous gold décor for your home. Adaptable for your bedroom, lounge or dining rooms, these gold-effect ornaments will add a refined touch to any room.
This well-designed living room is a perfect example of introducing gold ornaments into your home. These golden accessories give a subtle nod to the entire navy and gold theme. But beware! Don't overdo that gold! There's a fine line between classy gold accessories and a tacky over-bombardment of them: more Del Boy and Rodney rather than Audrey Hepburn in Breakfast at Tiffany's!
Have we inspired you with our navy and gold wallpaper ideas? If you have any questions or want to share how you achieved the perfect navy and gold room, leave us a comment below and indulge us with your knowledge.