GET 15% OFF
YOUR ORDER
CLICK HERE
Designer Wallpaper Murals
If you're shopping for a unique piece of wallpaper art for your feature wall, look no further. Our collection of wall murals featuring artwork from inspirational artists, illustrators, pattern designers and talented fine art photographers will make a superb backdrop to any space. From the vivid colours of Shandra Smith's graphic art to the subtle, muted tones of SpaceFrog Designs, there's something for everyone in our designer wallpaper murals collection.
Custom Made Murals
Printed to fit your wall size
100% Quality Guarantee
A brand you can trust
Fast & Free Delivery*
On orders over $200
100% Secure Payments
Pay with confidence
SpaceFrog Designs
Lovell Johns
Judith Shapiro
Elisabeth Fredriksson
Anne Farrall Doyle
Lara Skinner
Laura Marshall
Nouveau Prints
GCC Artworks
Shandra Smith
Annette Schmucker
Nicola Evans
Studio Arterie
Sally Franks
Danielle Nelisse
Mike Labriola
Bring your interiors to life by adorning your walls with a stunning contemporary wallpaper mural! Create a unique look with the hypnotic abstract work from SpaceFrog Designs, bask in the beauty of a fluid marble print by designer Lara Skinner or surround yourself with the tranquil tones from Nouveau Prints. View our full collection to see more contemporary designs.
VIEW FULL COLLECTION
Carol Robinson
Uta Naumann
Sir Edward
Silvia Vassileva
Rebeca Lopez Gonzales
Andrea Haase
Marina Stupakova
James Wiens
Burcu Korkmazyurek
Ellila Designs
Siobhan McEvoy
Katy Clemmans
We Paint Houses
Julia Dreams
William Morris
Kelly Kratzing
Rosana Laiz Garcia
Di Brookes
Tashi Tsering
Nici Gabriel
Maria Glaybina
Bring the beauty of the outdoors into your interiors and browse our collection of beautiful botanical wallpapers. Explore the tropical jungles with Andrea Haase's and Sir Edward's designs, or immerse yourself in bold floral designs from Uta Nauman and Carol Robinson. Whatever your botanical style, you'll surely find a design to complete your decor.
VIEW FULL COLLECTION
Danny Flynn
Pierpaolo Rovero
Leonid Afremov
Philip Straub
Adrian Chesterman
Farida Zaman
Severine Pineaux
Ryan Fowler
Michael Mullan
Turine Tran
Let your imagination run wild with our fantastic collection of illustrative wallpaper murals. From magical landscapes by artist Danny Flynn to abstract and bold designs from Twisted Pixel Illustrations – it's safe to say your walls will never be boring again! View our entire collection to see more breathtaking designs.
VIEW FULL COLLECTION
Kikki Belle
Adrian Chesterman
Howard Robinson
Gabriela Larios
Jan Patrik Krasny
Jerry LoFaro
Philip Straub
Turine Tran
Laura Marshall
Colin Thompson
Farida Zaman
Dubravka Kolanovic
Transform their bedroom or playroom into a magical escape by adorning their walls with these stunning wallpapers from our best children's artists. Let them explore the great outdoors with Kikki Belle, get close up to fierce wildlife by Jerry Lofaro and help them plan their expeditions with Laura Marshall's beautiful map designs!
VIEW FULL COLLECTION
1X Photography
Assaf Frank
Design Pics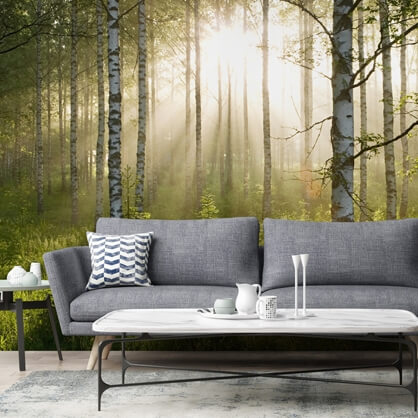 Image Source
Martin Sean
Nick Jackson
Anthony Bryant
Darren Heath
McKlein Classic Motorsport
Phil McMenemy
Darren Harbar
Feel like you are walking amongst majestic elephants with Martin Sean's fantastic photography. Be a part of breathtaking scenery with x1 Photography and marvel at the city life Assaf Frank's photographs capture. View our full collection to see more amazing photography.
VIEW FULL COLLECTION
Rock Roll
Ray&Co
Pierpaolo Rovero
Nicola Evans
Studio Arterie
Marc Pasternack
Marco Cavazzana
Suzanne Singleton
Simon Fetscher
Create an interior guaranteed to impress by browsing these fantastic designs by our graphic & digital designers! Be a rockstar every day by installing a band motif wallpaper from Rock Roll, or turn your interiors into a work of art with designs from Studio Arterie. Check out Simon Fetscher's awesome fantasy designs for gamers out there!
VIEW FULL COLLECTION
Nici Gabriel
Valentina Harper
Gabriela Larios
Tashi Tsering
The Wallsauce Collection
Inject colour into any room with our collection of stunning surface pattern designs, from intricate designs by artist Valentina Harper to the art deco style of designer Nici Gabriel. This beautiful collection comprises several talented artists, so you're guaranteed to find your perfect wallpaper mural!
VIEW FULL COLLECTION
Trevor Mitchell
Kevin Walsh
Steve Crisp
Nigel Chilvers
Garry Walton
Dominic Davison
Eduard
HR Vintage
Allow yourself to step back in time when you adorn your walls with these bygone-era designs. Embrace nostalgia from Steve Crisp's retro designs of sweet shops and vintage record stores, or feel the rumble of a spitfire engine when you install a mural by Nigel Chilvers. This collection of memory-lane-worthy designs will fill your heart and soul with warmth!
VIEW FULL COLLECTION
Select Your Currency
Australia $
New Zealand $
Canada $
Norway Kr
Denmark Kr
Portugal €
Europe €
Spain €
Finland €
Sweden Kr
France €
UAE $
Germany €
United Kingdom £
Italy €
United States $
Netherlands €
GET 15% OFF
YOUR MURAL ORDER
Enter your email address and we will send you a discount code straight to your inbox.
By clicking submit you agree to us sending you news and offers.
You can unsubscribe at any time.
Privacy Policy
.
No thank you