If we were to sum up Japanese interior design in one word, it would be – zen. Steeped in thousands of years of tradition, this ancient style, known as "Kanso", is not only calming but a cultural representation of the Japanese way of life. And with many years of experience, trial and error, this traditional home aesthetic has accumulated some solid and simple principles which we should all follow when it comes to our home's interior.
In questo blog esploreremo i 7 principi più importanti dell'interior design giapponese che si trovano nelle case giapponesi. E con l'aiuto di esperti di interior design, vi spiegheremo come farli funzionare a casa vostra. Sia che viviate in un appartamento di città, in un cottage di campagna o in una costruzione degli anni '70, tutti possono beneficiare di questi consigli di stile giapponese..
1) What is a Japanese style room? = Multi-functional and flexible
One of the main reasons why people are in love with Japanese interior design is that it is a huge space-enhancer. And who doesn't love to make their home feel bigger and airier? This is because many traditional Japanese houses embrace open-plan living areas.
Mural in photo: Delicate Chinese Landscape
Adoriamo l'apertura del salone soprastante. Senza dimenticare lo splendido e tradizionale Carta da parati giapponese in fiore di ciliegio.
Jen Stark, fondatore di Happy DIY Home, spiega la crescente popolarità degli ambienti flessibili.
"Con l'attuale necessità di ridimensionare o ampliare le case per consentire ai genitori anziani di far parte della famiglia, le stanze multifunzionali diventeranno sempre più popolari. Un ampio spazio abitativo può fungere da zona pranzo, salotto e camera da letto, mentre un futon viene riposto in un armadio durante il giorno"
Questo stile popolare, che migliora lo spazio, è un'ottima opzione se siete abitanti della città che capiscono l'opportunità di avere spazio a disposizione! Combinando la vostra cucina, la sala da pranzo e il salotto in un unico grande spazio, non solo vi darà più spazio per giocare, ma creerà un grande spazio socievole per voi da ospitare.
2) Il design d'interni giapponese è in sintonia con la natura e la luce naturale
In recent months, the need to become more in-tune with nature has vastly grown as we find ourselves stuck indoors more often than we would like. The rise of popular cultures, such as the cottagecore trend, are bringing the outdoors in and making us feel less claustrophobic in our own homes. However, cottagecore is maximalist and not popular amongst those who love more of a clean, minimalist look. The answer? Japanese interior design!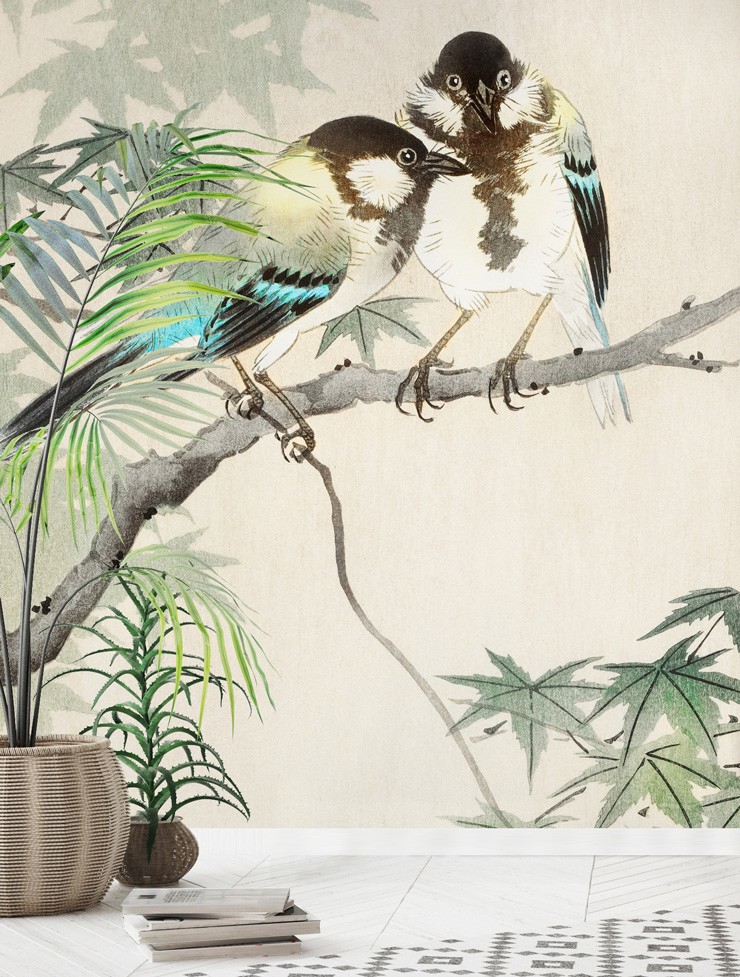 Murale in foto Grandi Tette su Ramo d'Acero
Questo stile antico e orientale si concentra molto sull'infondere natura e luce all'interno della casa giapponese. Questo lo rende una scelta popolare per gli amanti della natura. Helen White, Lead Designer e co-fondatrice di Houseof.com, spiega un'antica filosofia giapponese che è parte integrante della connessione tra le persone e la natura.
La filosofia "shizen" è un principio che riconosce l'armonia tra l'uomo e la natura ed è alla base di molti metodi di progettazione di mobili giapponesi che spesso utilizzano bambù e legni leggeri. Grazie a questa filosofia, molti designer usano la natura anche per onorare il mondo in cui vivono"
The ways to integrate nature and light into the Japanese home are endless...
Large windows for natural light
Firstly, large windows and sliding doors are crucial to allow natural light to flood into the room.
Scegliere grandi finestre in lamiera per massimizzare la luce e il collegamento con l'esterno insieme a tappeti e mobili in fibra naturale" – Jen Stark (Founder of Happy DIY Home)
One of the main reasons why many of the Japanese opt for sheeted window shutters is because they privacy di grande valore. Questi schermi di carta o "Shoji" permettono alla luce di entrare, ma tengono lontani gli occhi indiscreti.
Los Angeles Interior Designer, John Linden, explains more.
Infine, per ottenere il meglio dall'esterno della vostra casa, aggiungete una grande finestra o una porta scorrevole in vetro. Questo vi dà una visione dello spazio naturale al di là del vostro interno. Per ottenere il miglior schermo o porta scorrevole in stile giapponese, usate un pannello di vetro in un telaio di legno"
Fibre naturali e sostenibili
All Japanese homes mirror the outside world and often embrace sustainable materials mixed with natural fibres.
Legno, bambù e rattan sono materiali spesso utilizzati per diverse caratteristiche interne. Inserti, pareti, cornici, loft e griglie di schermatura sono di solito realizzati in legno naturale come il cipresso e il pino rosso. Il legno aggiunge consistenza, serenità e raffinatezza al vostro spazio" - John Liden (Designer d'interni di Los Angeles)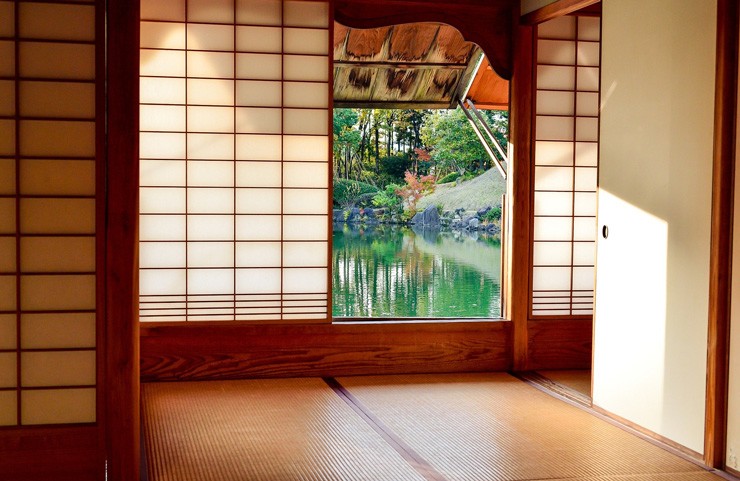 Interior Designer, Amira Johnson, definitely knows a thing or two about Japanese interior design and its love for nature.
I pavimenti sono in legno o in pietra grigia e la maggior parte delle pareti sono sostituite da schermi ricoperti di carta opaca. Questo design finisce in una tavolozza di colori naturali molto neutra"
Plants and water features
Uno dei modi più comuni per integrare l'esterno nella casa è l'utilizzo di piante. Ma quando si tratta di ottenere un aspetto giapponese, attenersi alle piante che hanno un aspetto orientale su di loro.
Le piante sono anche un ottimo modo per aggiungere la natura al vostro interno in stile giapponese. Un bonsai è una caratteristica comune in un interno di ispirazione giapponese. Si può anche prendere in considerazione una varietà di piante da casa verdi radicate. I muticani, l'aloe vera, le palme e le orchidee sono piante che potete usare. Le piante possono anche essere in vaso o appese, il che aggiunge eleganza" - John Liden (Designer d'interni di Los Angeles)
Mural in photo: Kanazawa Oki Nami Ura
Bringing water features into the home is always a good idea for achieving a zen space in your home. If they look so great outdoors, why not embrace them inside as well? As well as physical water features, a water-themed, oriental wall mural è un altro modo per aggiungere un elemento d'acqua alla casa.
I giochi d'acqua sono anche una componente fondamentale di questa filosofia di progettazione e possono costituire un fantastico elemento di base per una pratica di meditazione a casa"   - Helen White (Lead Designer and Co-Founder of Houseof)
3) Il minimalismo è fondamentale nell'interior design giapponese
Current Japanese design is recognised as one of the best versions of minimalism today thanks to its focus on "Shibui": simple beauty, detail and a love for natural materials.
'The Japanese perceive the basest form of simplicity as a form of luxury. Contemporary, uncomplicated furniture with clean lines from this part of the world often has extremely intricate engineering with complex joinery. You can easily integrate this look into your home by using simple furniture that eschews gaudy, ornate detailing in favour of form and function.'  - Helen White (Lead Designer and Co-Founder of Houseof)
Mural in photo: Carta da parati Dragonfly
De-cluttering goes hand in hand with a Japanese modern house. We only need to follow the famous Japanese Organising Consultant Marie Kondo to know that! Joe Flanagan is a fashion, entertainment and culture Blogger who lived in Japan for two years. He has a huge passion for Japanese culture and understands minimalism down to a tee.
Uno dei principi più importanti dell'interior design giapponese è che meno è più. L'austerità, il minimalismo, l'apprezzamento dei cimeli e delle tradizioni sopravvivono in un amalgama unico che adatta la tecnologia e il modernismo in modo che si inseriscano in un'estetica già consolidata e non il contrario"
Murale in foto Murale in bambù
Japanese minimalism is aesthetic, but more importantly, functional. Director of the vintage décor store Scaramanga, Carl Morenikeji explains how the simplicity of Japanese design has influenced many other styles.
'Many styles are influenced by the minimal aesthetic of Japanese interiors. So, it's no surprise that the style should become the forefront in 2020. Especially given there's been so much soothing minimalism. To us, Japanese interiors are all about beautifully crafted functional pieces of furniture made from natural materials with simple forms like origami fold style patterns mixed with organic decorative shapes and symbols.'
4) Come posso abbracciare lo stile giapponese? = Scegliere colori neutri
In close connection to nature, the most common colour schemes found in Japanese interior design are highly influenced by the outdoors.
Murale in foto Tempesta in arrivo
'Simplicity is essential when choosing your color palette. Look outside your windows to check what natural color elements you can incorporate in your home today… With the natural beauty of the outside world, Japanese homes typically contain simple colors from nature. Predominant colors are derived from the browns of wooden elements, and also the greens of plants.' -  Amira Johnson (Interior Designer)
More importantly, when it comes to a Japanese house interior, focus on simplicity and avoid maximalism at all costs. Keep it simple and focused.
La combinazione di colori deve essere neutra o semplice. Il marrone e il verde delle piante sono popolari accanto al grigio delle piastrelle di pietra" – John Liden (Los Angeles Interior Designer)
5) Japandi – a beautiful blend of two cultures
One aspect of Japanese interior design that we love is Japandi – a mix of Japanese and Scandinavian design. Both are beautifully minimalist, stylish and homely so a marriage of both is a match made in heaven!
Murale in foto Finitura naturale della struttura del legno
Here are some tips for achieving the Japandi look from Interior Designer Amira Johnson.
'Characterized by a love for all things minimalist and natural, Scandinavian emphasis on function over form and respect for the beauty of the imperfect inherited from Japanese design, Japandi will probably continue the trend for years to come… You can spice it up with a couple of handpicked accessories originating from Scandinavian and Japanese design, like authentic tatami mats, Oriental tapestries, woollen throws, ceramic pots and animal hides...
Dark leather upholstery will also check out the range in a Japandi room if used within moderation. So will vintage and mid-century modern pieces that can be utilized to define the backdrop for creative design experiments with colors, textures, and materials.'
6) Classic Japanese items to add authentic culture into the home
If you want to go big and embrace authentic Japanese décor into your home, then you must include the following items in your interior design.
Sostituire le porte con noreni e tappeti con tappeti tatami
Mural in photo:  Goten Yama Hill Shinagawa
'An easy way to incorporate Japanese style elements into a home is by replacing a wooden door by a Noren. A Noren (暖簾) is a fabric divider that is traditionally hung between rooms. It can be hung on walls, in doorways, or in windows. Usually, they have one or more vertical slits cut from the bottom to almost the top of the fabric that allows passage for a person and half viewing of the room beyond....  Se volete un'altra grande opzione, scegliete i divisori divisori shoji per le stanze. Non c'è nulla che dica il Giappone come queste pareti mobili di carta" -  Joe Flanagan (Interiors Blogger)
Another popular option for achieving the ideal Japanese living room style is to use "Tatami" mats. Not just for practising martial arts on, tatami mats are a popular choice for homes. Again, they can be folded away when not needed and are made from sustainable natural materials such as woven soft rush straw.
Futons, kotatsus and zaisus oh my!
A "Futon" bed has a padded mattress called a "Shikibuton", a quilt called a "Kakebuton" and a pillow filled with beans called a "Makura". Futons are easily rolled up off the floor when not needed – perfect for decluttering the room after bedtime!
'Another great option is to go for a raised platform bed that mimics a futon. You can achieve the look placing your bed on a raised wooden platform with a little ladder on the side.' -  Joe Flanagan (Blogger di interni)
Mural in photo: Stampa su legno di fagiani
If you love lying on the sofa with a blanket in the winter, then you NEED a "Kotatsu". A kotatsu is a stable piece of furniture in a Japan style living room. A kotatsu has the structure of a low wooden table frame which is covered with a futon or heavy blanket and topped with a tabletop. Underneath is a charcoal brazier or an electric heater built into the table. Just imagine lying underneath all that warmth in the middle of winter. Bliss!
Una grande aggiunta a un tavolo kotatsu sono le sedie "Zaisu" come si può vedere nell'immagine qui sopra. Spesso sono proprio come le normali sedie con cuscino e schienale imbottiti, ma non hanno le gambe! Sono perfette per sedersi sopra e per stare comodamente seduti sotto un tavolo kotatsu riscaldato.
7) Wabi Sabi – appreciating the beauty of imperfection
One important factor of Japanese interior design is Wabi Sabi. Rather than striving for utter perfection, this Japanese principle is unsophisticated and rustic in a beautiful way. Whether through a choice of hand-crafted ornaments or a room complete with Wabi Sabi interior, everyone can embrace imperfect beauty.
Image source: Garden Trading
"Il migliore di tutti gli interni giapponesi vintage è il Wabi Sabi, l'arte giapponese di apprezzare la bellezza del mondo naturalmente imperfetto. Si tratta di un'antica filosofia estetica che affonda le sue radici nel buddismo Zen, in particolare nella cerimonia del tè, un rituale di purezza e semplicità in cui i Maestri Zen apprezzavano le ciotole fatte a mano e di forma irregolare, con smalto irregolare e piccole crepe" - Carl Morenikeji (Direttore di Scaramanga)
Do you feel ready to transform your home with Japanese interior design? If you have any tips for us or have a question, simply leave a message in the comments box below!