In recent months, cottagecore has adorned every aspect of our lives! In this blog, we will explain the wonders of what this new culture is and how you can embrace its quaint, country look in every room. So, sit back, relax and get ready to become very much in touch with nature and the slower side of life… bliss.
Che cos'è il cottagecore?
So, you've been asking yourself, "What does cottagecore mean?" Well, the simplest way to describe it is this: it's a lifestyle choice that is very similar to the TV show 'Little House on the Prairie'.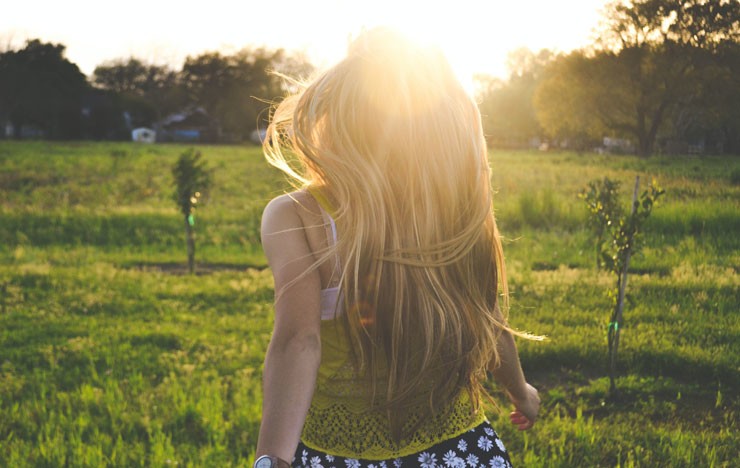 Il nucleo del cottage è un'estetica internet che rifiuta lo stress della vita moderna ed è nostalgica di una vita pastorale tranquilla e pacifica: cuocere il proprio pane, coltivare il proprio cibo, lavorare a maglia, foraggiare, interagire con gli animali.
Ma non si limita solo allo stile di vita: il cottagecore è un movimento visivo che viene celebrato sia nella moda che nell'interior design.
So, are you ready to learn how to incorporate cottagecore into your home life? Well, let's go...
Una graziosa e romantica camera da letto cottage
Un elemento di cottagecore è che celebra il romanticismo vecchio stile in cui due anime sono destinate a stare insieme. Quindi, portare questo design tranquillo e rurale nella camera da letto principale ha un senso.
Quando progettate la camera da letto del vostro cottage, pensate alla naturalezza, alla sostenibilità e alla semplicità. Scegliete materie prime come il legno, il vimini e il rattan e non dimenticate mai di tenere una pianta o dei fiori appena recisi nella stanza.
Mural in photo:  Blue Wild Meadow
This natural wooden bed and flooring blend beautifully together. Not forgetting this gorgeous Blue Wild Meadow mural created by the amazing Sir Edward design studio. E' la carta da parati cottagecore perfetta per questa dolce camera da letto.
The carefully illustrated botanicals on these bed covers are a beautiful choice for a pastoral bedroom. And if you're a handy DIY sort of person, why not have a go at building your own cat ladders and sleeping shelf? This owner has cleverly created their own with a recycled birch tree trunk!
In alternativa, appendete il fogliame verde o esponete le piante su uno scaffale sopra il letto, in modo da sentirvi in mezzo alla natura anche mentre andate a dormire. Pensiamo che l'aggiunta di luci fiabesche nella stanza sottostante aggiunga davvero un tocco magico e fiabesco. Le luci fiabesche non solo sono facili da installare, ma sono anche molto semplici da installare.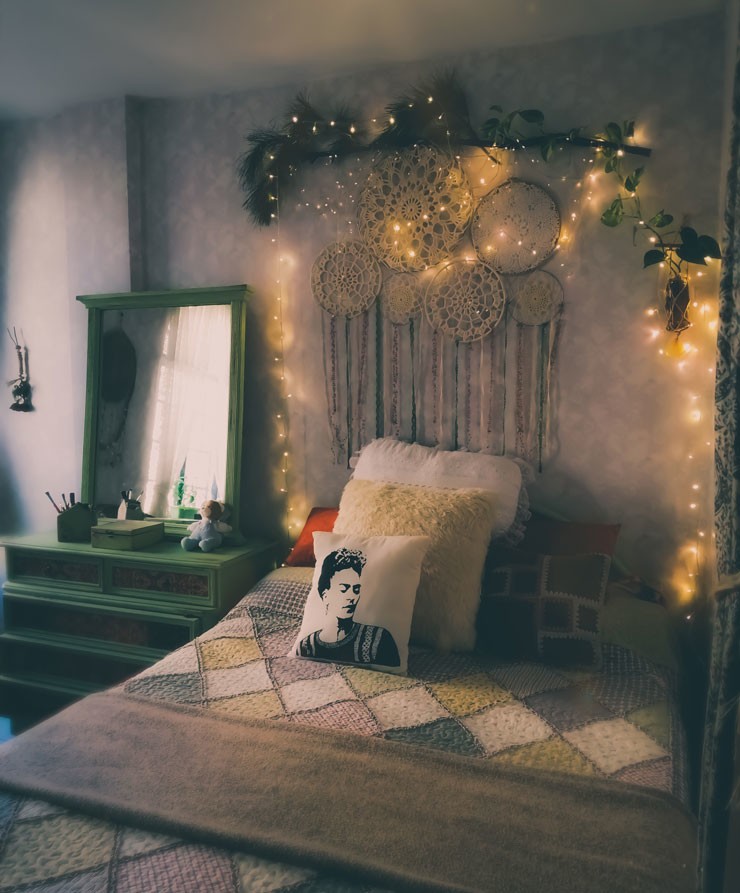 Lo sapevi? Cottagecore's popularity surged during social isolation in the global pandemic. It appears that many city-dwellers who have been held hostage in their apartments, with no outdoor space, have been left craving fresh, green, outdoor areas to roam in. (billiondollarboy.com)
The kitchen is the perfect spot for cottagecore aesthetics
Sappiamo che il cuore di ogni casa di cottagecore è la cucina. Dopotutto, è qui che si cuociono tutti quei deliziosi pani freschi e profumati, si preparano le conserve e le chutney e si cucinano le verdure fresche che si raccolgono direttamente dall'orto.
 

 

View this post on Instagram

 
Una delle scelte d'arredo più importanti da ricordare in cucina è il seguente: un piccolo tavolo da contadino con le gambe abbattute da utilizzare come zona di preparazione. Senza dimenticare una sedia d'epoca, con le gambe a molle, quando si ha bisogno di una meritata tazza di tè nel bel mezzo della cottura! Ma, cosa più importante, assicuratevi che la vostra cucina non abbia l'aspetto di una casa da spettacolo. Ci dovrebbe essere frutta e verdura fresca posata sui piani di lavoro, una brocca di fiori di campo sul tavolo e bottiglie e ciotole di ingredienti sparsi ovunque. La cucina è un'area di lavoro: non qualcosa da guardare e basta!
Mural in photo: Prato fiorito delicato
Ci piace l'antico lavello, il rubinetto e i ripiani in legno naturale di questa cucina di campagna, così come la bella carta da parati Delicate Floral Meadow. Adoriamo come questo carta da parati floreale estiva looks like the flowers are growing from the tiles!
Did you know? The principal concept of cottagecore isn't new . In the 18th century, European aristocrats would build ornamental farms on their countryside estates to basically play at living the pastoral life. In reality, their servants would actually look after the farms whilst they played as a farmer or milkmaid! (thespectator.co.uk)
A dark cottagecore lounge to wow your guests
Moody yet romantic, the dark cottagecore look is for those who love the country life but with more of a gothic edge. These ideas are perfect for goth cottagecore fans.
These vintage butterfly taxidermy frames really give this lounge a Victorian parlour feel. If you want cruelty-free versions, they are available to buy or you can get creative and visit your local craft store to make your own with wire and card.
Murale in foto Sketch Effect Forest
Questa carta da parati botanica sarebbe favolosa in una casa buia. Le succose bacche rosse dell'agrifoglio e il fresco fogliame verde sono così naturali. Queste bellissime illustrazioni aggiungono davvero un tocco bizzarro e boscoso a questo splendido salotto.
Lo sapevi? In the UK, the rise in purchases of rural properties has been phenomenal since the global pandemic. It appears that everyone wants to enjoy the pastoral life and stay away from the increased risk of contracting the illness in high-density cities. (independent.co.uk)
Una sala da pranzo e sala da pranzo in stile cottage
Le sale da pranzo in campagna sono luminose, ariose e salubri. Poiché la crescita del cibo e la preparazione dei propri pasti da zero è un fattore chiave, è necessario rendere davvero speciale il luogo in cui ci si siede e ci si gode il proprio duro lavoro.
 

 

View this post on Instagram

 
Con un tavolo da pranzo rustico e sedie d'epoca, qualsiasi sala da pranzo può avere un aspetto pastorale e pittoresco. Aggiungendo bottiglie di vetro riciclato e vasi d'epoca con fiori appena recisi, vi sentirete sicuramente a vostro agio e pronti per un pasto sostanzioso nella vostra casa di campagna.
Murale in foto Hanging Eucalyptus
Or add a simplistic yet beautiful wallpaper. Botanical prints will really create a wow feature wall that will impress guests as they dine with you. We adore our talented designer Carol Robinson's Hanging Eucalyptus wall mural with this natural wood and wicker dining set.
Did you know? Questa cultura popolare ha fatto tendenza su TikTok. Centinaia di persone pubblicano TikToks su come essiccare e pressare fiori, piante grasse e cucinare cibi sani e fatti in casa. (dazeddigital.com)
Bring the outdoors into your bathroom
Murale in foto Sketch Effetto foresta
Having a forest cottagecore wallpaper is not only gorgeous, but gli sfondi per il paesaggio portano l'aria aperta in. Many of us love this rural look but are put off by the mere fact that we live in an urban area. But with the help of a mood-boosting outdoors wallpaper, you really can feel like you're in your own cute cottage in the middle of nowhere!
Bathrooms are already great spaces to add tropical plants. Not only do they bring the outdoors in, but the green foliage (especially exotic species) are really content living in damp and humid environments.
Lo sapevi? Cottagecore è strettamente legata a nonnacore, goblincore, farmcore e faeriecore che sono altre culture estetiche nostalgiche (nytimes.com)
Avete domande su questa tendenza e cultura in continua crescita? O volete condividere come avete integrato il look cottagecore nella vostra casa? Lasciate semplicemente un commento qui sotto!