Spring is almost in the air! In the UK especially, the winter seems to have dragged on with snow still falling in March. There's no evidence of daffodils in fields and days are struggling to see sunlight. However, we're keeping positive and sharing our top tips for getting your home spring ready.
Spring is notorious for cleaning and re-inviting those bright colours back into your home. It's all about dusting off the cobwebs and feeling the energy lift, ready to bloom for summer. In this post, we'll share with you tips on refreshing every part of the home - even your garden! So read on if you're getting a bit fed up with this winter weather.
Begin with a good ol' spring clean
Did you know that researchers have traced 'spring clean' to signify the Persian new year? Nope? Me neither! Others date spring cleaning back to the ancient Jewish practise of thoroughly cleaning their house to coincide with Passover, whilst the Catholic church traditionally cleans the church alter and everything associated with it on Maundy Thursday, the day before Good Friday in the spring.
Moving on from the potential history of spring cleaning, there's something really satisfying about having a good deep clean.
So begin getting your home ready for spring by swinging open the windows to let the fresh air replace the staleness of winter, whilst you vacuum and dust every nook and cranny. Here's a great guide featuring 10 spring cleaning tips.
Invest in fresh fabrics
If spring is for cleaning, winter is definitely for snuggling and getting cosy. If you're anything like me, you've pretty much spent the last three to four months as a hermit under the throw. It's possibly a little whiffy and covered in pet hairs. What other excuse is there for treating your home to some new textiles?
Your duvet might also be a toggle too much for spring and your pillows a bit saggy from the lazy mornings. Go ahead and start the new season with fresh fabrics.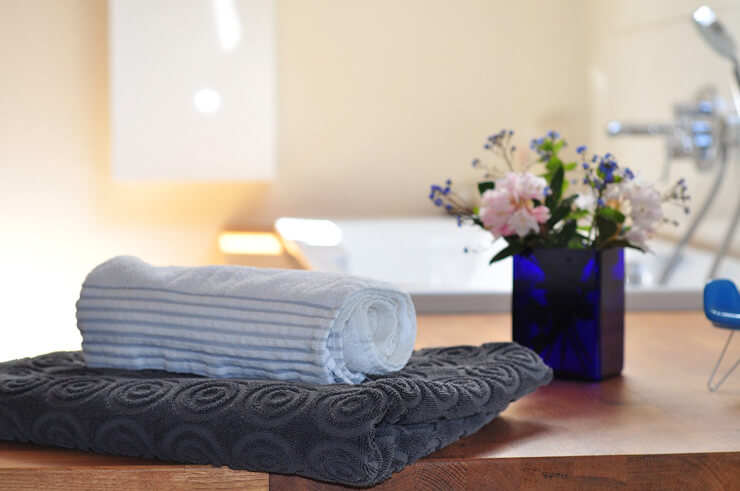 Bring the outdoors in
Spring is that first sighting of flowers emerging. The grass is looking greener and the birds are singing. There is no sweeter time. That's why making the extra effort of bringing the outdoors in is our next top tip for getting your home spring ready.
You could embrace the interior trend of introducing houseplants to your home, or you could go all out with a wall mural. Inspired by one of our lovely customers who did just that, read our post on new ways of bringing the outdoors in for ideas.
Mural: 'Forest Sun' wall mural
Talking of the great outdoors…
Snow, wind or rain, whatever the weather, it's time to prepare the garden. However, being the masters of made-to-measure wall murals, our speciality lies within the interiors and not the great outdoors. That's why we've done a little research and found this amazing article on getting your garden ready for spring. It talks you through the seeds that are worth sowing and how to get more from the veg in your fridge.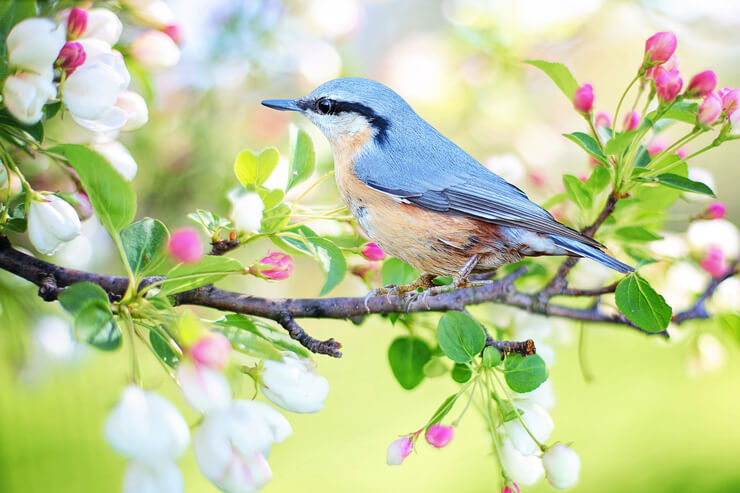 Make a statement with colour
Another way of getting your decor ready for spring is to introduce statement colours. This can be achieved by styling a bold lamp or colourful piece of furniture. But there's nothing bolder than creating a statement wall with contemporary wallpaper. 
At Wallsauce.com, we offer a peel and stick wallpaper option. It's simple to apply and just peels off when you're ready for a change. This may be the perfect solution to see you through the season. Find out more on our materials page.
Mural: 'Blue' wallpaper by Shandra Smith
Engage all five senses
So far we've spoken about getting your home spring ready with a deep clean (sight), with fresh fabrics (touch), by hearing the sweet singing of birds (hearing) and with options of bringing the outdoors, in or by introducing statement colours (sight again). Let's face it, after putting into practice all of our top tips, you're probably going to need some refreshing spring lemonade (taste. Ok, we may have cheated on this one!)
Finally, let's talk about the scent of spring and how to bring it into your home. Let the spring clean scent live on by placing scented pouches in wardrobes, read diffuses in every room and perhaps a candle for a little romance. Consider smells that make you familiar with spring, like fresh linen, citrus and fresh blooms like this beautiful soy candle by Lolly Rocket.
How will you be getting your home spring ready? We'd love to share your thoughts left in the comments box below. Alternatively, discover our full range of wall murals to begin the transformation.