That time of year is almost upon us! Family, friends, presents, food and drink are all huge parts of this festive holiday! Your dining room will host the main event which is why you've started to look at Christmas table décor that will have your guests over-come with Christmas cheer! It's a time to relax, catch up with friends and see your distant relatives and reminisce about those who are not there physically but always spiritually.
Once you gather around your table, all the troubles of the world melt away as you spend it surrounded by wonderful people, food and drink. So, whether you are hosting a Christmas dinner for your family, an elegant party for friends or an intimate dinner for two, you'll be sure to find some Christmas table décor ideas to suit your style!
Sink into the Scandinavian style
Image source: stylemepretty.com via Pinterest
Scandinavian design is a stunning trend which is sweeping throughout homes this year and will continue to grow well into 2023. So, it makes sense to embrace this 'hygge' style at your Christmas dining table. A wonderful aspect of Scandinavian design is how it utilises minimal and natural décor to create a powerful but uncluttered style.
Keep your items down to neutral colours such as muted gold and greens and exposed wood. If you opt for a tablecloth, go for cream, beige or a muslin material. Scandinavian Christmas decorations are the perfect choice of décor for those who don't want too much on their table, but still want to create a gorgeous setting.
Keep your traditional Christmas colours
Image source: modeandthecity.net via Pinterest
For those of you who strictly stick to the traditional Christmas colours, such as red, gold and green (if the thought of using purple tinsel on your tree makes you feel ill, then you're one of those people too!)
For a traditionally beautiful Christmas table décor, adorn your tale with a red tablecloth and mix your plates to be white and red. Throw in hints of green in the form of candles or small garlands to trail over your beautiful table setting. Hang a green wreath on your wall and serve your guests with beautifully folded napkins. Christmas dinner will never have looked so good!
Christmas table décor just in time for breakfast
Mural in photo: Winter Light
The first Christmas meal of the day is breakfast! (Unless you're like me and you save your appetite for dinner and chocolates) so why wait until the evening or the afternoon to get your table all dressed up? Whether you have friends or family staying over, or want to create an intimate breakfast experience for you and your partner, your Christmas table décor shouldn't have to wait.
For ease and simplicity,  choose festive bowls and cups with a sprinkling of presents, stars and pine cones and a garland to inject some Christmas vibes. This is a great way to start your day off in the Christmas spirit, but to also minimise how much clearing up you need to do before the main event! Small hints and odd trinkets are enough to create a pretty Christmas breakfast experience.
Dream of a pastel Christmas table setting!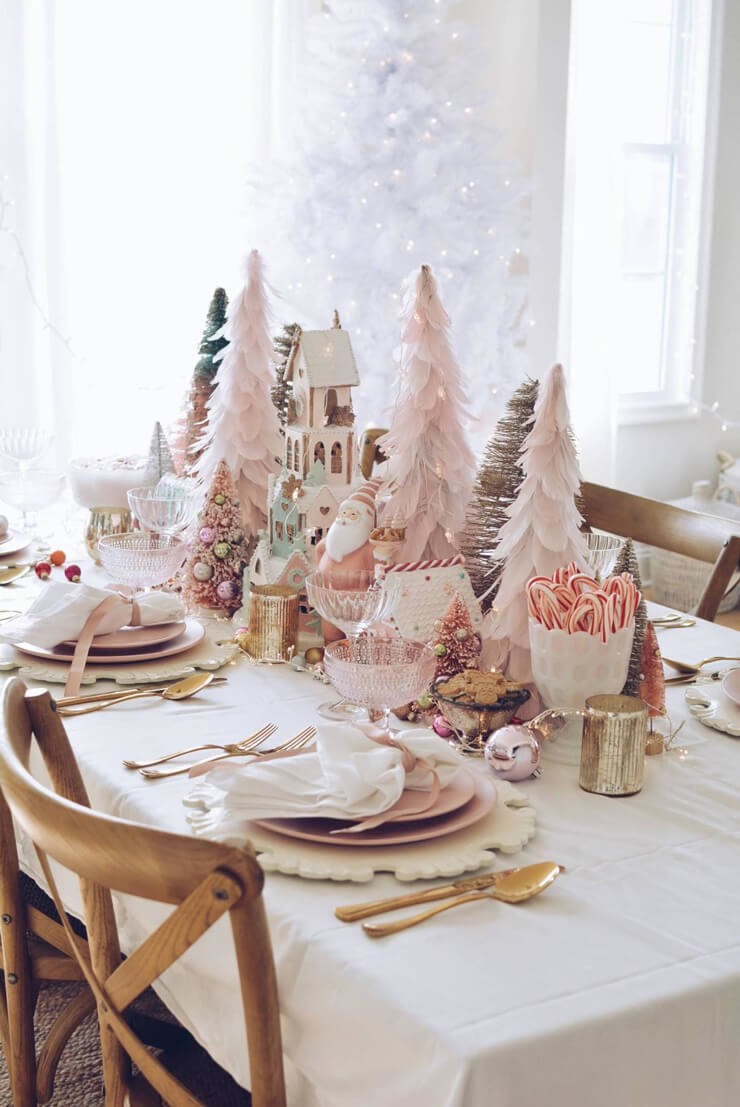 Image source: thepinkdream.com via Pinterest
Pastel Christmas decorations have been popular amongst the Christmas décor trends this year and even the traditionalist's out there have to admit, there is something innocently festive about pastel Christmas decorations. Don't worry about pastel decorations looking tacky or cheap, as when they are displayed correctly, they can look gorgeously elegant!
Pastel pink décor would combine perfectly with a white tablecloth and gold accessories in the form of plates and cutlery. Throw in hints of pale blue to mix up your pastel décor and voila! You now have a magical pastel Christmas table setting which looks beautiful.
Minimal design is beautiful
Image source: goldisaneutral.co.uk via Pinterest
If you are short on space, whether it be on your table or your actual table, you can still create a gorgeous Christmas table décor with a few specifically picked and placed pieces. A great place to start is with your lights. Weaving warm-white lights over your table will create a cosy glowing atmosphere but it will also act as an illusion to make your table appear fuller.
Choose golden or bronzed tall vases and candle holders, or candle sticks (as the light will reflect in a glorious way) and choose green or white candles. Fill your vases with pine branches and if you are able, hang decorations over your table to help create a cosy and intimate feel.
Christmas table décor with a romantic twist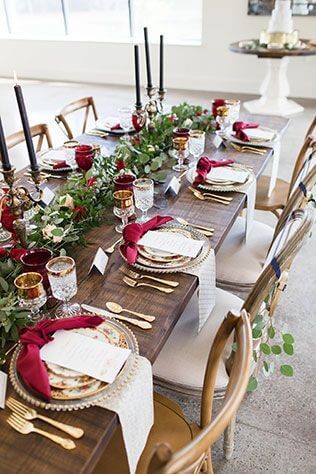 Image source: blog.nearlynewlywed.com via Pinterest
For an elegant and almost wedding-style table décor style, aim your decorations to focus on romantic design elements. These include rose-red items, such as napkins and candles. Mix these with golden knives and forks and weave beautiful red roses in the garland which you have placed in the centre of your table. Choose crystal effect glasses for an added air of sophistication for the finishing touch.
Get cosy with your rustic table décor
Image source: tribeofburton.com via Pinterest
Everybody dreams of escaping to a snow-covered log cabin in the middle of the wilderness as they warm their mulled wine on an open fire. Whilst not everyone is lucky enough to pack up and leave for this magical cabin, you can recreate the style with your Christmas table décor! The easiest way to mimic a rustic or farmhouse-style table setting is to keep all your wood bare! You may be tempted to invest in tablecloths and chair covers... but nothing says rustic more than an exposed wooden table and chairs, especially if they are a bit mismatched!
Mural in photo: Frosty Stag
Another way to mimic this style, especially if you have a neutral kitchen is to adorn your wall with a removable Christmas wall mural. Nobody wants tonnes of decorations in their way as they are cooking and serving dinner, more so if your table is in the kitchen! A green, frosted garland placed in the centre of your table with Christmas-themed napkins and table mats is all you need. Let your stunning wall mural do the talking for this Christmas table décor!
Peel-and-stick wallpapers are perfect for injecting Christmas cheer over the festive holidays and can be removed without damaging your wall! All you have to do is make sure your wall is correctly prepped before installation, then you can be transported into a winter wonderland!
A moody Christmas is a beautiful Christmas
Image source: vamvidnee.ru via Pinterest
The word moody and Christmas tend to not mix well, let's face it! But what if you could have a moody Christmas that will make everyone happy? A way to achieve this is with a beautifully dark Christmas table decor setting. A dark tablecloth, broken up by light grey placemats which are holding a combination of matching plates is the best place to start...
Next, place a dark green garland in the centre of the table and surround it with tall, black dinner candles. Use black, or anthracite serving bowls and keep your lighting low and mysterious. This style is perfect for those who wish to host a Christmas dinner party that oozes elegance and class!
If you're fully in the festive spirit and are looking to try one of our Christmas table décor ideas, let us know which you have chosen in the comments below!