Everyone is looking out for media wall ideas and it isn't surprising why! Media walls are a stylish and creative way to create a show-stopping statement in a living room, bedroom and even a gaming room. Experienced Interior Designers and DIY-ers at home are all joining in. Both are getting familiar with their joinery skills, finding the perfect sound system and creating the perfect layout to home their own high-tech TV walls!
Because of this ever-growing trend, we couldn't think of a more apt time to give you media wall ideas you have probably never seen before! From media walls with fireplaces, wall-mounted media consoles and even faux stone walls, get ready to see exactly what you need to do to achieve perfect media wall design.
Balanced media wall shelving
Mural in photo: 3D Geometric Cubes
One of the most sought-after features of a media wall is stylish shelving. They must be placed on either side of the television screen to mirror one another and create a sense of balance. And the trick is not to overfill the shelving. Choose a number of your favourite and most on-trend ornaments with a few family photographs thrown in there as well. Keeping the shelving as decluttered as possible will make sure the eye isn't too distracted from the main focus of the wall - the television!
Beautiful media walls with built-in credenzas
Mural in photo: Taken from Extended Range
Following on from storage, one of the most popular choices when it comes to media wall design is a built-in credenza. These fitted sideboards not only mean you gain extra storage but they help to build up your statement wall making it look compact and balanced. It acts like a base to the whole feature.
Choose a simply designed credenza in a neutral design, such as in the room above, to make sure the main focus isn't taken away from the screen. Make sure that all the compartments are covered with a door so that you don't need to see the clutter inside!
Easy faux stone walls (a must-have media wall idea)
Mural in photo: Granite wallpaper
One of the really big media wall design ideas is having a stone wall feature on or around your media wall. So many are building their own textured stone walls which look fabulous! However, this requires a lot of time and skill (and quite a bit of mess as well)!
If you want to create a stone effect wall but want the easy option, opt for a faux stone wallpaper instead. So much easier to install than real stone, simply provide your desired media wall's measurements and choice of wallpaper material. Choose from Classic or Premium Paste the Wall or Textured Peel and Stick! Paste the Wall is provided with a free paste and Peel and Stick is self-adhesive - you just peel off the backing and apply the wallpaper straight onto the wall!
Stylish media wall with fireplace
Mural in photo: Garden Sage
A huge must-have is a media wall with a fireplace! A modern and sleek roaring fire set symmetrically below the TV screen just oozes high-tech luxury and style. Something we absolutely love and evidently, everybody else does as well! Fitted perfectly below the screen, watch the warm glow of the hot coals glow as you view the latest films!
There is a wide range of media wall fires to choose from in different styles, textures and even colours! To go one step further and to really create a cosy log fire, add a storage area beneath the media wall fire to store small logs of wood inside.
Media walls with perfected sound
Image source: Home-cinema-design.com via Pinterest
As well as looking good, one of the most important media wall ideas is to make sure the sound is on point. And there are a few ways to achieve amazing sound whilst keeping the actual equipment subtle and out of the way. Again - always making sure there aren't too many distractions from the main purpose of the wall - to watch TV!
Two of the most popular options are to either install a soundbar or in-wall speakers. Soundbars are a really popular choice because of their discreteness and how they perfectly fit into the media wall design. As seen in the image above, the soundbar placed beneath the screen balances with the fireplace as well.
Otherwise, in-wall speakers on a media wall are the second most popular choice. Discreet and effective, they are ideal not only for living rooms but for high-tech gamer rooms as well. With such powerful and realistic sound, gamers will feel like they're really part of the game!
Simple media wall designs
Mural in photo: Grey with Gold Marble
Would you love a TV wall but are daunted by building shelving, fitting in a fireplace etc? Then go for more of a simple media wall design instead. One of the easiest ways to create a statement media wall is by installing a striking wallpaper mural behind your screen and choosing a credenza that isn't fitted so it's easy to place against the wall. We adore how impactful this Grey and Gold Marble wallpaper is in one of our customer's homes.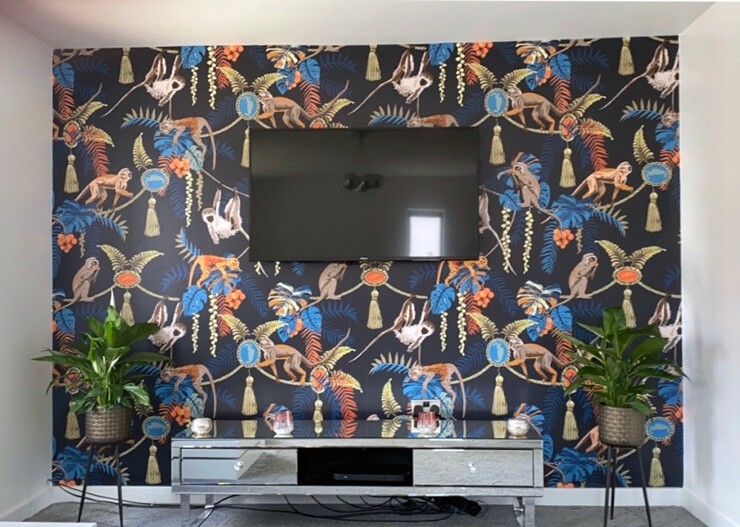 Mural in photo: Blue Monkey Puzzle
The same goes for how fantastic this media wall is in customer Rachael Ward's home. Completely different from the marble one, this Blue Monkey Puzzle wallpaper creates a completely different ambiance on their tropical-themed media wall. And instead of having shelving on either side to create a sense of balance, she has opted for identical potted plants instead!
Wall-mounted media consoles
Mural in photo: Leopard Landscape
Another one of the latest media wall designs is to have a wall mounted media console on your media wall. Literally installed onto the wall so that it looks like it is floating, these stylish console tables are just like built-in credenzas but act as an island for your television to live on or above! Some come as just consoles and others, like the one above, are attached to backing as well for the TV to be placed onto.
When choosing a backed wall-mounted console, go for as much texture as possible. Shiplap media walls such as the above are hugely popular choices. They add warmth, texture and an added feature to your beautiful media wall.
Which is your favourite media wall idea? Let us know by leaving a comment below!