First of all, congratulations on your wonderful news! Your little one is due to arrive in just a few months and the planning has begun! And the number 1 job that holds priority amongst all others is preparing for the nursery. From magical pixie and fairylands, glowing full moons, adventurous animal safaris or dainty florals, we have all sorts of nursery wallpaper to give your baby the best start in life!
Whether it's the excitement or the hormones that have got you nesting, we're here to show you our top collection of baby wallpaper that will help you to create the perfect nursery of your and baby's dreams.
Magical pixie land baby wallpaper to set the imagination on fire!
Mural in photo: The Meadow
Are you aiming to create a sense of whimsey in your baby's nursery? Or are you a huge fan of Enid Blyton's The Magic Faraway Tree? Well, this beautifully illustrated The Meadow wallpaper will definitely add a touch of magic to your baby's bedroom.
Designed by Vietnamese-born artist Turine Tran, this enchanting tree and pixie wallpaper is perfect for both little boys and girls thanks to its mix of greens, pinks, blues and more.
Animal map wallpapers for future explorers!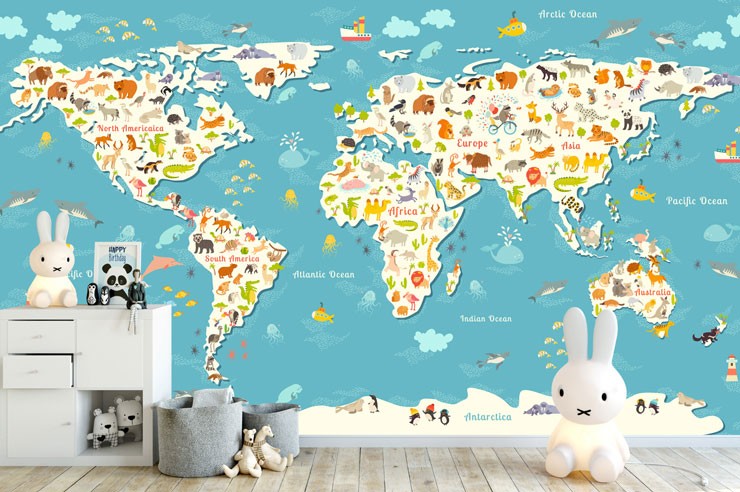 Mural in photo: Animals World Map
One of the biggest reasons why we love this Animals World Map wall mural is that it will stand the test of time. As your baby grows from a newborn to early school age, this adorable map wallpaper will still look age-appropriate. As they grow older, they could even learn to name all the animals and later read aloud the names of the continents and oceans – educational yet stylish.
Again this cute animal wallpaper is great for all babies – it's not just for a baby boy's bedroom. This design is colourful and full of detail so choose a subtle selection of white and grey furniture to go with it. Or if you love colour, bring out some of those beautiful shades in the map, such as yellow and green, and choose a baby mobile, armchair or rug in the same tones.
Delicate florals for your precious little baby
Mural in photo: Delicate Floral Meadow
Whether you're having a little boy or a little girl, a delicate floral wallpaper will look precious and bring the outdoors into your baby's nursery. If you like to be traditional and choose pink for girls and blue for boys, you can with this flower wall mural because of the mix of pink and blue shaded flowers in the design.
When designing your baby's room, first consider the colour scheme you want. Whether you choose to paint the walls or choose a wall mural, this will set the stage for the entire nursery. Everything else will build from there.
Acclaimed book illustrator baby wallpaper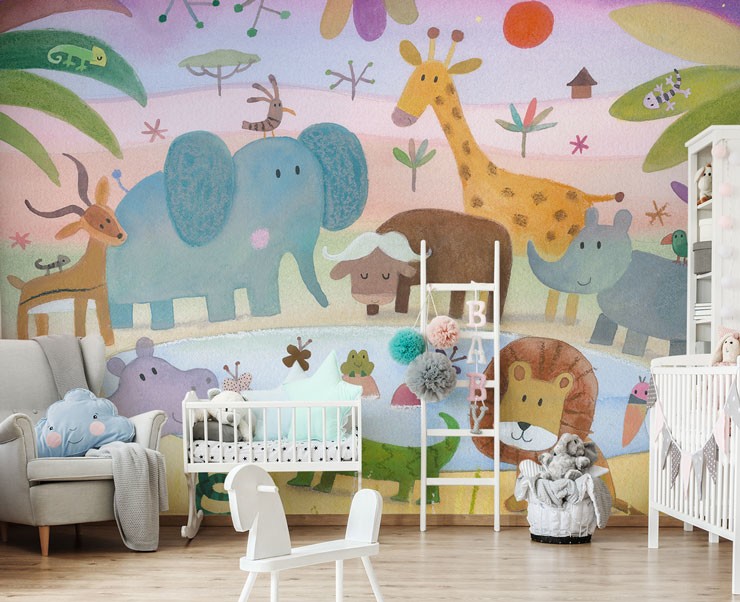 Mural in photo: Africa by Dubravka Kolanovic
This adorable African wall mural is designed by renown children's illustrator Dubravka Kolanovic. It is a totally roarsome baby wallpaper for any future vet or safari explorer!
You can really see why Kolanovic's illustrations are popular in children's literature. The friendly faces of her characters and the soft gentle strokes of paint are calming and simple - her work has even appeared on CBeebies!
On-trend navy and gold nautical designer wallpaper
Mural in photo: Bond II
If you're looking for a design that will look adorable in a nursery but flow well with the rest of your home's décor, then choose this spectacular Bond II wallpaper.
Its ultra-modern look adorned with beautiful navy and gold colour is completely on-trend but still sweet enough to be used in your baby's bedroom. Keep the nautical theme flowing throughout to create a calm and tranquil space for you and your baby. Or keep it subtle by opting for white furniture with touches of gold to mirror the golden colours in the design.
Vintage-inspired unicorn nursery wallpaper
Mural in photo: Me and My Unicorn
If you're a vintage fanatic like myself, then this Me and My Unicorn wall mural is perfect. Designed by children's illustrator Mimi Jobe, this fairy and unicorn wallpaper certainly brings a sense of magic and fantasy into the home. Just imagine reading a story to your little bundle of joy with this enchanting lake scene in the background- truly magical!
Because of its selection of calming colours, this beautiful fairy wallpaper would look great with white, pastel blue or pink décor. Place the cot against the mural so that your baby can look up at this magical land as they drift off to sleep...
Baby wallpaper you and bubba will be over the moon with
Mural in photo: Full Moon at its Perigee
Want a stunning nursery wallpaper that is out of this world? Then choose a serene and blissful moon wallpaper.
We adore our relaxing Full Moon at its Perigee wallpaper in this child's nursery. Placed anywhere in the room or next to your baby's cot, this moon baby wallpaper will create the ideal setting for the perfect night's sleep.
Safari wallpaper for a little one who is on the wild side!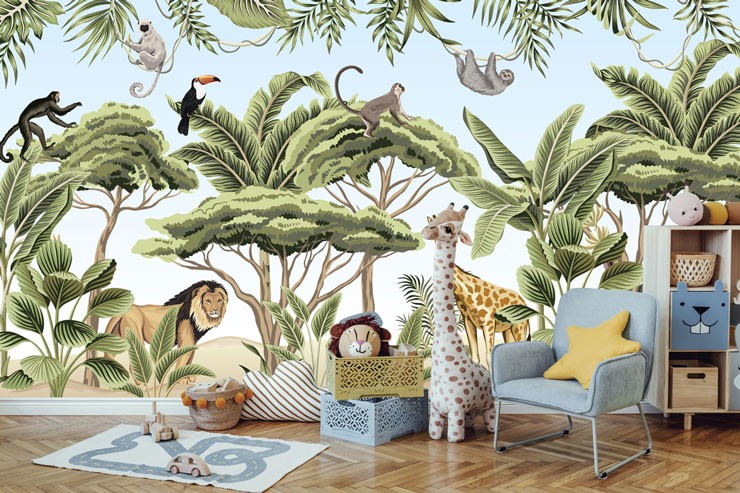 Mural in photo: Jungle Life Wallpaper
More than ever we are seeing a rush of palm leaf designs in the world of interior design. These tropical prints aren't only limited to adult spaces. Even your baby will love this exotic Jungle Life wallpaper!
Designed with a range of pastel tones, this animal and jungle wallpaper would look amazing with pale blue, grey, green or mustard décor choices. And don't forget to add more safari-themed décor into the room. A cute giraffe teddy and child-friendly animal wall mounts will really add to the safari feel!
Have you enjoyed looking at our stunning collection of baby wallpaper? If you want even more, why not take a look at our beautiful nursery wallpaper category? There's something to suit every baby! Or if you have a comment or a question, please feel free to write one below.