A Conversation with... Ellen Weinstein
Posted by Nicole Yeardley
08/11/2016
Award-winning New York illustrator, Ellen Weinstein has come on board at Wallsauce.com and shared some of her famous illustrations with us, creating work-of-art murals for your home or business.
Born and raised in New York City, Ellen graduated from the Pratt Institute and New York's High School of Art and Design before becoming internationally recognised. Not only has her work been featured in GQ magazine, The New York Times and The Wall Street Journal, she's won numerous prestigious awards including American Illustration, Society of Illustrators, Communication Arts Illustration Annual and Society of Publication Designers - to name a few.
Her work is often showcased in New York galleries as well as around the rest of the United States and Italy.  Although recognised as a commercial illustrator, Ellen has brought her talent to Wallsauce.com to transform living environments with bold illustrations.
We caught up with Ellen to see what has inspired her illustrations and where she sees the murals situated in your home.
"I'm excited to be featured on Wallsauce.com" says Ellen, "It's an honour to be featured in one's home or workplace.  When someone decorates their home or workplace they are choosing what they like and want to see on a daily basis. I see the illustrations as large living room murals but I think most would sit well in a child's room too."
"It's hard to pick a favourite (mural) because I have my own reasons for liking certain pieces," continued Ellen.  "I enjoy seeing the application of them in different environments which makes me see them differently as well."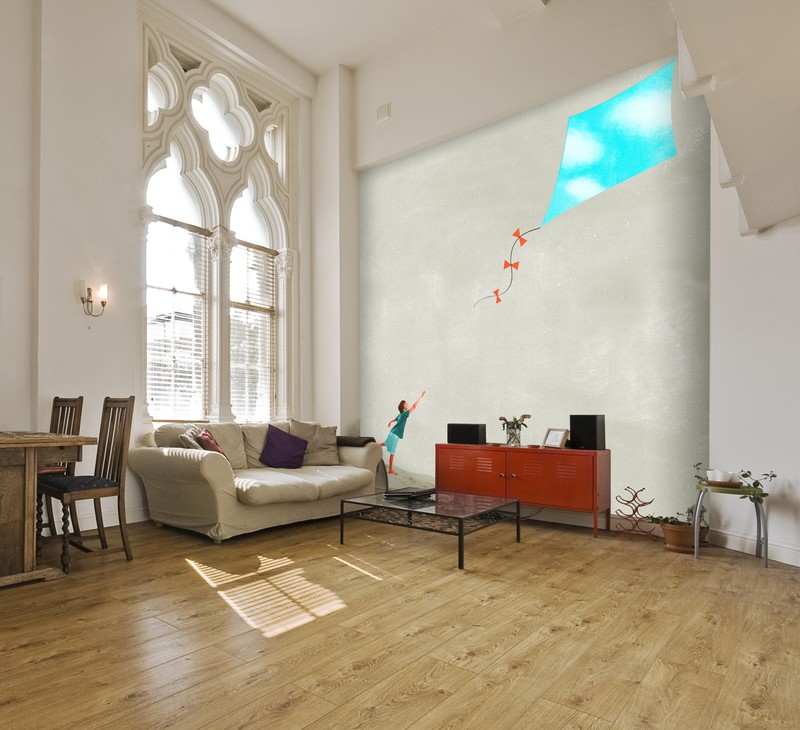 Interestingly, this illustration was originally created for Nautilus magazine, a science publication. Ellen created around twenty pieces for an issue titled 'The Unlikely'.  It published a series of articles based on chasing the odds.
We went on to ask Ellen what inspires her illustrations as we couldn't help but notice many of the murals are based outdoors.  "Although I live and work in New York City, I do spend a good amount of time exploring outdoors." Ellen and her illustrator husband, David Flaherty live with their mini long-haired Dachsund, Fritzie who often chooses their location! Ellen continued, "I also love to travel and teach and meet interesting people all over the world that way. But when I'm at home, my favourite room is the living room which has a spectacular view of the Williamsburg Bridge and East River. I am fortunate to see a horizon line in NYC."
So, what's next for this highly respected illustrator? "I don't think the journey ever ends! I am excited to be featured on Wallsauce.com and seeing how the work is applied."
Head on over to the Ellen Weinstein wall mural collection and feel free to leave feedback in the comments section below.
Leave a Reply