Defined by its lack of structure, carefree layers of texture and mixed patterns and colour schemes, boho design is the ultimate interior choice for all free spirits. However, whilst there are some stand out practices associated with bohemian style, there are actually no rules to what you can do with it!
From getting back to basics with minimalism and neutral colour schemes to brightly patterned feature walls mixed with tons of texture, bohemian interiors have a wide range of possibilities to suit your own style. The only rule is to be yourself, choose what makes you happy and have fun with layering up your décor choices!
Want to dip your toes into the world of boho interiors? Or are you already embracing the free spirit life and want to update your home? Read on to discover our top boho wallpaper picks…
Boho line art for minimalist interiors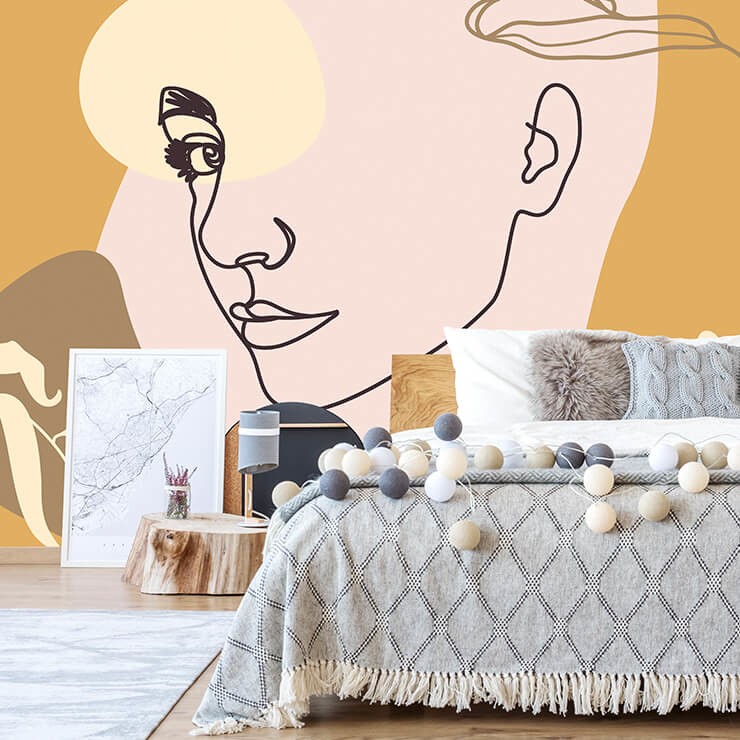 Mural in photo: Ochre Line Art
Boho design doesn't have to be complicated, in fact sometimes the simpler the better! Don't try too hard and your interior can take on a completely effortless boho look. Think neutral colours, natural wooden textures and minimal furniture, with an abstract twist.
If you love minimalist design where clean walls and clutter-free living are music to your ears, this abstract Ochre Line Art mural is the perfect choice for a minimal living room. Large-scale line drawings are a simple design choice with huge impact, and you can style them with just about anything. Inspired by modern Californian boho living, keeping your scheme relaxed means anything goes with this paired back boho wallpaper.
Mix patterns with your boho wallpaper
Mural in photo: Watercolour Tropical Palms
On the other end of the scale is maximalism where more is more. Achieving it means mixing patterns, colours and not being afraid to go all out with your décor choices! This kind of interior celebrates the beauty of pattern, whilst saturating the space with colour and a strong narrative.
Tropical leaf wallpaper is a perfect choice for this. Due to their lush greenery and simple motifs, pairing them with other patterns becomes an effortless task. Take this Watercolour Tropical Palms mural for a beach-inspired space that makes you want to kick your flip flops off and relax. Styled with an array of boho-esque geometric cushions, the two juxtaposing styles complement each other well. It creates an effortless beachy vibe, all through minimalist furniture, natural textures and tropical boho wallpaper.
Boho wallpaper inspired by nature
Mural in photo: Botanical Beauty
Celebrate the beauty of the great outdoors with your boho wallpaper. Opt for a nature-inspired scheme that will be a breath of fresh air in your home. Not only does this create a fun yet relaxing space in your home, but also embraces bohemian design's love for all things nature. As well as handmade items, boho style emphasizes all-natural elements, so, whilst bringing the outdoors in can mean house plants galore, this Botanical Beauty mural is the perfect boho wallpaper choice to NAIL that indoor-outdoor living vibe.
The subtle sage greens, paired with neutral grey and pops of peach and pink mean this jungle-inspired mural is a versatile choice. This subtle wallpaper is a great way to introduce the boho style into your home, especially if you're not quite ready to embrace bright colours yet.
Travel inspired boho wallpaper
Mural in photo: Terracotta and Blue Medley
It is known to many that boho design is inspired by free spirits and people who defy the norm like travellers. Emerging from early 19th century France, artists moved into the lower rent Romani communities, blending two cultures and embracing alternative ideals of beauty and style. Because of this, the boho style has evolved to be a celebration of culture, incorporating things from different parts of the world and ways of life.
This blending of cultures has resulted in us embracing patterns from countries such as Morocco and Turkey. Taking their traditional tiles they work beautifully to create beautiful boho kitchens. This Terracotta and Blue Medley mural takes the hustle and bustle of a Moroccan market and places it right in the heart of your home. Style this boho wallpaper behind the worktops in your kitchen and let the rich terracotta tones and inky blues combined with beautiful patterns create a warm and inviting kitchen space that oozes cultural style.
Textured walls for a scandi boho vibe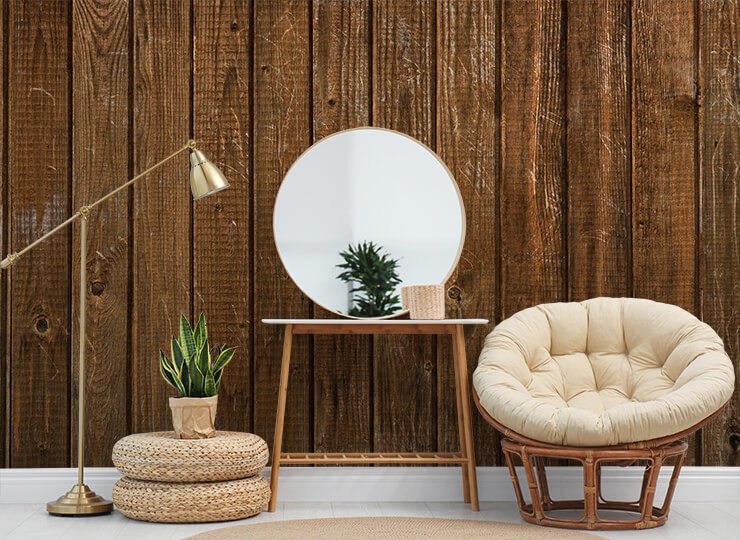 Mural in photo: Wood Natural Texture Finish
We know texture plays a massive part in making boho style work and layering those textures through your décor is a great way to incorporate this. Soft textured rugs, woven rattan furniture and an array of textile fabrics are all synonymous with the bohemian style. However, who's to say that texture is only confined to the furniture and accessories you choose?
Whilst going to town with rugs and pillows is great, you can balance this out with textured walls. This could be concrete for a more industrial boho look, brick if you like character or wood for a more Scandi style vibe. This Wood Texture Natural Finish wallpaper is a great space-saving trick if your boho living room is lacking in floor space! Moving the texture to the walls creates an all-natural look that the boho style is known for. It also takes inspiration from Scandi interiors to create a Scandi boho living room that revels in beautiful bohemian texture.
Which boho wallpaper would you adorn in your home? Let us know in the comments!