Suchen Sie nach Ideen für besondere Tapeten, die in jedem Raum fantastisch aussehen? Suchen Sie nicht weiter! 
Wallpaper murals can help you create many looks, themes and styles in your home. One of the looks that wallpaper can create, is the appearance of an expensive feature wall with the use of oberflächentextur-Tapete. From brick wallpaper and stone wallpaper to marble wallpaper and many more on trend feature wall ideas, we can help you create the feature wall your room deserves.
In this post, we show you how to easily create faux looks of traditional stone to expensive marble with our top picks of surface texture wallpaper.
Wood wallpaper
Eine Fototapete aus diesem collection of wood wallpaper ist eine großartige Wahl für jeden, der viele Looks mit Holz kreieren möchte, von rustikalem Dekor bis hin zu einer moderneren Version einer Holzwand (wie auf dem Bild unten zu sehen). Oft wird angenommen, dass sie für traditionellere Dekore geeignet sind, aber Holztapeten können auch sehr gut zu Scandi- oder contemporary decor, with distressed wood panel wallpaper and coloured wood wallpapers available as well as more traditional brown wood panels.  
Merkmal Hintergrundbild im Bild Alte lackierte Bretter
Realistic brick wallpaper
Alte Backsteintapeten sind eine großartige Möglichkeit, einen industriellen oder müheloser Stil in Ihrem Zuhause. Our selection of brick wallpaper murals is an easy way to achieve the look of any type of ziegelsteinmauer in your home. It is a lot easier to achieve than it would be to have an actual brick feature wall installed in your home and as it is applied just like wallpaper, is a lot less permanent - so it can be changed along with your tastes and trends.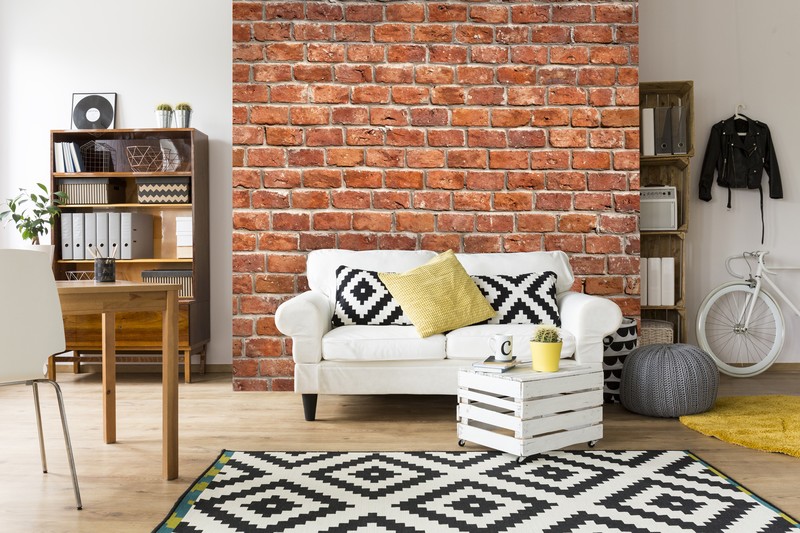 Rust effect wallpaper
Das von einem unserer Kunden als "50 Shades of Corrosion" bezeichnete Wandbild unten ist ein perfektes Beispiel dafür, wie metall-Effekt-Tapeten kann dazu beitragen, dass die Kombination aus Industrial und Scandi mühelos gelingt 
Merkmal Hintergrundbild im Bild Kern der Korrosion
Marmortapete
Marble decor is a huge trend this season! This marble wallpaper is an easy way to join in with the marble decor trend. Associated with luxury, marble is a timeless interiors trend that is achievable with our collection of marble wallpapers that have a trend-led twist. Create a look of grandeur by using on a full feature wall in any room.
Nude- und Weißtöne sind perfekt für Flure und Esszimmer, während die farbige Marmortapeten provide the classic look with a homely twist for living rooms and bedrooms.  
Merkmal Hintergrundbild im Bild Marmorwand mit blauem Wirbel
Stein Tapete
Erzeugen Sie das Aussehen eines teuren Steinbaus mit dieser Reihe von stein-Feature-Tapeten. Mischen Sie Traditionelles mit Modernem für einen entspannten und kantigen Look wie auf dem Bild unten, oder verwenden Sie einen hellen Stein, um ein klassisches und traditionelles Gesamtbild in Ihrem Zuhause zu schaffen 
Merkmal Hintergrundbild im Bild Charcoal Grey Stone Wall
Bücherregal Tapete
This selection of bookcase wallpapers schaffen ein entspanntes, friedliches und kultiviertes Gefühl in jedem Raum in Ihrem Zuhause. Wählen Sie von regulären dunklen Holz-Bücherregal-Tapeten bis hin zu ganz weißen oder modernen Stilen, die von aktuellen Trends beeinflusst sind. Die Bücherregal- und Kerzen-Tapete unten wird jedes Wohnzimmer mit Kerzen ergänzen, die für eine friedliche Atmosphäre im ganzen Raum sorgen.
Merkmal Hintergrundbild im Bild Bookcase and Candles
Wandbilder mit Log-Effekt
Stacked piles of logs will complement any communal room all year round. In summer they bring connotations of outdoors fires and barbeques, whilst in winter they imply thoughts of cold nights warmed by the fire. Available in a range of different sizes and colours of woods, these log wood wallpapers will complement almost any style of decor.  
Feature wallpaper in picture: Stapel von Baumstämmen
All of our texture wallpapers are supplied in panels and available in three different materials. Our classic and premium feature wallpapers are applied by adding paste to the wall, in a similar way to regular wallpaper. Our peel and stick material is a self-adhesive that is also supplied in panels, that is repositionable and doesn't require paste.  
Have your own tips for using these wallpapers? Or would like to share advice on how to style a particular mural? We'd love to hear your tips in the comments section below.