Oh Hirsch! Der Countdown bis Weihnachten hat begonnen! Sind Sie der Typ Mensch, der seinen Weihnachtsschmuck am 1. November aufhängt? Oder sind Sie jemand, der seinen Baum am Heiligabend aufpeitscht und am Tag nach dem Boxentag wieder abreißt?
Whoever you are, it's time to get those festive ideas flowing. Prepare your spare bedroom for your holiday guests. Pull on your boots and visit your local Christmas tree depot to find the most symmetrical Christmas tree. Step up that cold loft ladder and reach for your dust-coated decoration boxes. Re-discover those tatty, old family heirloom ornaments that you still don't have the heart to throw away. Although, all of us (most of us) adore these traditions that lead us up to the festive period, it's fun to experiment with different decorations every other year.
Egal, ob Sie Ihre Weihnachtsdekoration bis zum Jahreswechsel aufrechterhalten möchten oder es nicht erwarten können, die staubigen Ornamente am 27. Dezember abzubauen, hier sind sechs Tipps, wie Sie Ihre Weihnachtsdekoration in diesem Jahr perfektionieren können.
1. Wählen Sie eine Weihnachtstapete, um den Schnee ins Haus zu bringen
Wandbild auf Foto Central Park in Schnee bedeckt
This wonderful Central Park Covered in Snow wallpaper is perfect for giving that special Christmas feeling to any room in your home. The ice-laced branches and the glow of the street lamps are truly magical. You can almost imagine Santa passing by with his sleigh and reindeer!
Wir haben eine breite Palette von beautiful Winter & Christmas wallpapers for you to use as a backdrop for your Christmas tree. Wenn Sie möchten, dass Ihre festliche Tapete nur in der Weihnachtszeit hält, wählen Sie Tapete zum Abziehen und Aufkleben. Sie ist selbstklebend und wirklich einfach zu installieren. Wenn es an der Zeit ist, die Dekoration abzunehmen, entfernen Sie sie vorsichtig, ohne die Wand zu beschädigen.
Image source: Apieceofrainbow via Pinterest
To bring more of nature indoors, add pinecones, walnuts and holly to your Christmas décor. Picture having been out on a frosty winter's walk and coming back to your nature-inspired home. Get all cosied up with fluffy throws, make a hot chocolate and turn the fire on - perfect!
2. Perfektionieren Sie Ihr Weihnachtsfest mit klassischem Golddekor
Image source: Buyerselect.com via Pinterest
Bring on the bling! Bring on the glam! Bring on the glitz! It is Christmas, after all. What better time to embrace glitter and sparkle than using gold décor at this special time of year? Perfecting your Christmas tree decorations with glitzy, golden ornaments will add a certain je ne sais quois to your home.  
Bildquelle Ginger Ray
If you need Christmas tree decorations ideas, take a look at these classy, gold-effect candle holders. These glamorous, gold decorations will fill your home with warmth and wonder - not just for Christmas but all year round as well!
Image source: Winter-Wunderland
As well as gold ornaments, why not choose artwork with warm golden tones in them such as this stunning Winter Wonderland metal print? Currently only available in the UK, our beautiful winter aluminium prints are sure to set the scene during the holidays and can be brought out every December to celebrate this special season.
3. Laden Sie Jack Frost zu Weihnachten ein, um Frost über Ihr Haus zu streuen
Funkelndes Silber und weiße Accessoires sind letztlich festlich und erinnern an frostige Szenen aus dem Film White Christmas. Sie eignen sich hervorragend als Tafelaufsatz auf einem Esstisch oder als Mittelpunkt auf einem Kaminsims. Erzählen Sie Ihren Kindern, dass Jack Frost bei Ihnen zu Hause war und überall magischen Frost verstreut hat! Stellen Sie sich ihre staunenden Gesichter vor...
Image source: Rainandpine.com via Pinterest
You could even try and make your own frosted glass decorations. After all, we always treasure those homemade Christmas ornaments more than shop-bought ones. Why not turn it into a family-bonding session?
Image source: Modpodgerocksblog.com via Pinterest
4. Abkehr von der Tradition mit rosengoldenem Weihnachtsschmuck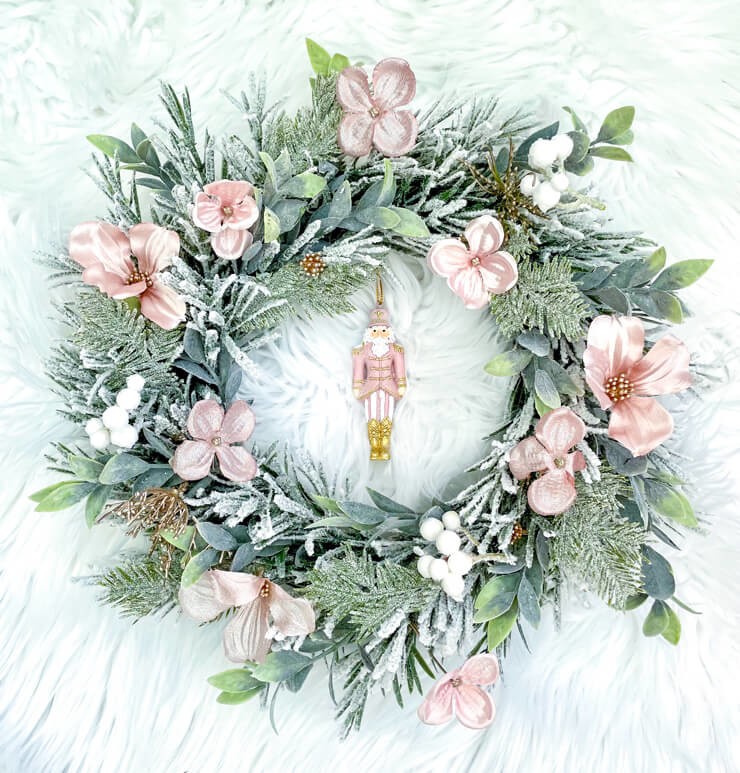 Bildquelle Woodland Wreath Company
Sind Sie absolut verliebt in Roségoldschmuck? Oder haben Sie die Inneneinrichtung Ihres Hauses auf diese umwerfende Farbe ausgerichtet? Dann wird es Sie freuen zu erfahren, dass Roségolddekorationen zu den großen Christmas décor trends jetzt sofort. Finden Sie einen Roségoldkandelaber, Teelichthalter, Laternen und Tischkonfetti als Alternative zum traditionellen Weihnachtsschmuck.
Image source: Homestoriesatoz.com via Pinterest
Don't forget your rose gold Christmas tree! Select tree ornaments that are beautifully designed with a combination of gold and dusty pink sequins and beads to get that luxurious rose gold effect. Your guests will certainly be in awe of your trendy Christmas décor when they come around for mulled wine and mince pies...yum!
5. Choose Christmas decorations for the unicorn-obsessed!
Calling to all unicorn lovers! Are you fed up with the traditional red, gold and green Christmas ornaments? Is a rose gold Christmas not out there enough for you? Well, now is the time to embrace all things unicorn at this special time of year. Make your child's (or your) unicorn dreams come true!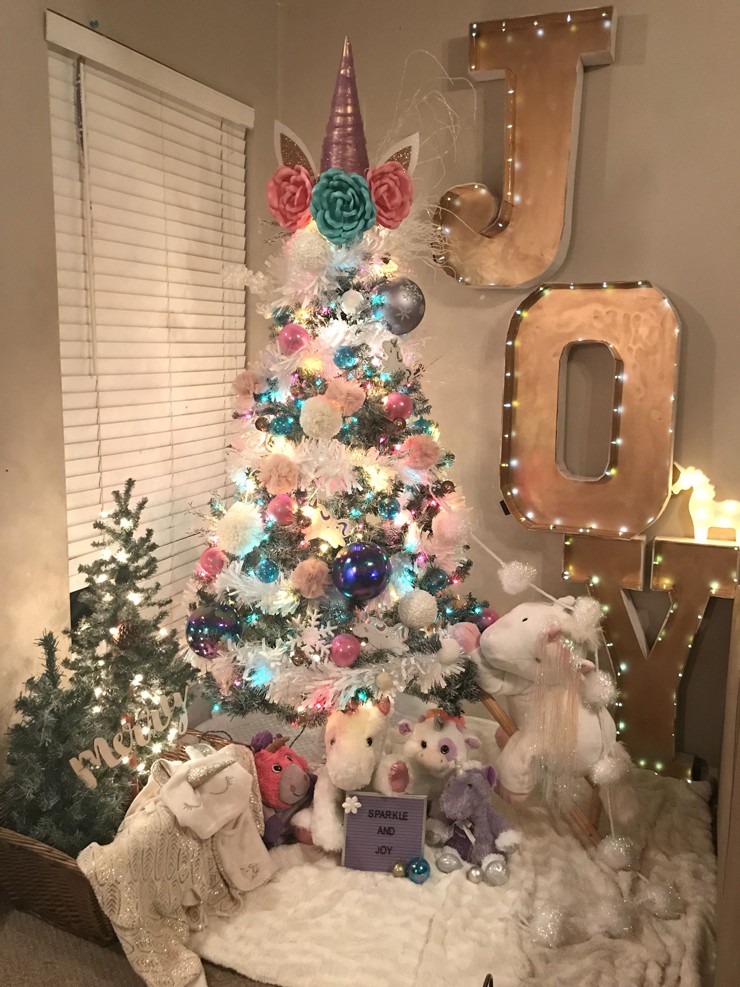 Select pink, white and sky-blue Christmas decorations to adorn your home: tinsel, baubles, candles, anything that oozes the unicorn look. Take a look at these adorable unicorn baubles. They will be the perfect unicorn addition to your tree!
Image source: Notonthehighstreet
Your children (or yourself) won't be able to stop jumping around with glee with a unicorn Christmas! If you want to make it even more special, why not add a peel and stick abnehmbare Einhorn-Tapete?
6. Machen Sie es sich mit rustikalem Scandi-Weihnachtsschmuck gemütlich
Lassen wir die Einhörner, das Glitzern und Glitzern hinter uns. Warum nicht in diesem Jahr auf skandinavischen Weihnachtsschmuck setzen? Es geht um Einfachheit und die Auswahl einiger weniger klassischer Ornamente. Schmücken Sie Ihr Zuhause mit rustikalen Hölzern, Weiß und Cremes. Fügen Sie einen kleinen Spritzer Waldgrün und -rot hinzu. Wählen Sie von der Natur inspirierte Dekorationen wie Stechpalmen, immergrüne Blätterkränze und Kerzen für Ihren Tischschmuck. Oder warum kreieren Sie nicht einen Scandi-Weihnachts-Gästezimmer für Ihre Freunde und Familie zu genießen? Es ist ein Stil, der den meisten Geschmäckern gefällt und dafür sorgen wird, dass sie sich zu Hause fühlen, wenn sie in den Ferien vorbeikommen.
Image source: Ginger Ray
These simplistic wood and metal leaf tree decorations are natural and warm: perfect for a Scandinavian Christmas tree. They bring nature indoors and help create the ideal setting for a cosy Christmas. The perfect spot where you can warm yourself by a burning log fire.
Wandbild auf Foto Schnee Tapete
To go that extra mile, why not install a temporary peel and stick wallpaper for the perfect Scandinavian Christmas? This beautiful Snow wallpaper is simple but really effective in bringing that sense of festive cheer to your home. Find classic cream décor to accentuate its beauty to go with this stunning winter wallpaper.
Haben wir Sie mit unseren Weihnachtsdekorations-Ideen inspiriert? Hinterlassen Sie unten einen Kommentar, um Fragen zu stellen, oder lassen Sie uns wissen, wie Sie Ihre Weihnachtsdekoration dieses Jahr aktualisiert haben!