Tree murals are without a doubt a firm Wallsauce customer favourite!
Month after month our lovely customers send us photos of their #WallsauceMakeover on Instagram, Twitter, Facebook and email, showing us how they've transformed their room with a tree mural. 
Our forest and tree mural category hosts a vast 195 images that are available for print onto a choice of wallpapers – this is not including our extended range! If you're fairly new to decorating or don't find that you have the eye for interior décor, we understand choosing one could be quite overwhelming! That's why we've put together this handy guide!
We'll walk you through the home, explaining which of our 195 tree and woodland themed wallpapers could suit each room depending on your style.
Tree Murals for Living Rooms
Starting off with the most popular room in the home, that's most likely seen by all guests, the living room. Our collection is so varied, there really is something for every style! For those looking for the magazine style living room, bear in mind our tropical wallpapers featured in our latest trend update. To combine this interior update with your love of tree murals, we'd suggest you'd go for something bright like this 'Into the Blue' wall mural by Phil Mcmenemy. 
Team a tree mural like this with young, playful colours (and a pineapple or three!) and you're sure to achieve a living room worthy of a magazine feature!
For traditional style living rooms, opt for a mural with muted tones. Along with vibrant greens, we also have murals in sepia tones that will create a mystical atmosphere.
Forest Bedroom Wallpapers
Forest bedroom wallpapers must be the most popular tree mural for customers! We receive many #WallsauceMakeover photos featuring tree and forest mural wallpapers in bedrooms. Just like the living room, green forest wallpapers are a show stopper!
One of our most captivating is this aptly titled 'Canopy' wallpaper mural. Install it behind your bed and almost feel the branches wrap around you and create a protective snug.
Influenced by our post, '6 sexy bedroom murals that would intrigue Christian Grey', here are some alternative forest & tree bedroom wallpapers sure to create romance.
Dining Room Tree Murals
Just like living rooms, dining rooms and kitchens need to be just as welcoming. Opt for a green tree mural as not only is green the colour of the year, but it can also be refreshing, revitalising and clean – exactly what you need when hosting dinner parties!
Green tree murals are also incredibly versatile with kitchen designs. As we show you here, they are a great component with a variety of coloured cabinets.
Forest Murals for Children's Rooms
Forest murals are great for little ones who are always seeking adventure. Specific styles can evoke mystery and a sense of wanderlust and are also great for children who don't want a 'young' bedroom.
An alternative to photographic imagery is our illustrated murals. Take this 'Forest Folklore' mural, the illustrations are light-hearted and the colours are fairly neutral, but the design is of-the-moment, Scandinavian.
Woodland Wallpaper for Nurseries
Gone are the days where nurseries were painted blue for boys and pink for girls! This year, we're seeing nurseries that are gender neutral with a grown up twist. According to Brit and Co, "woodland nurseries are totally on point for this year and will slay 2017".
Here are some of our favourite woodland scene wallpapers that are gender neutral and invite the outdoors in.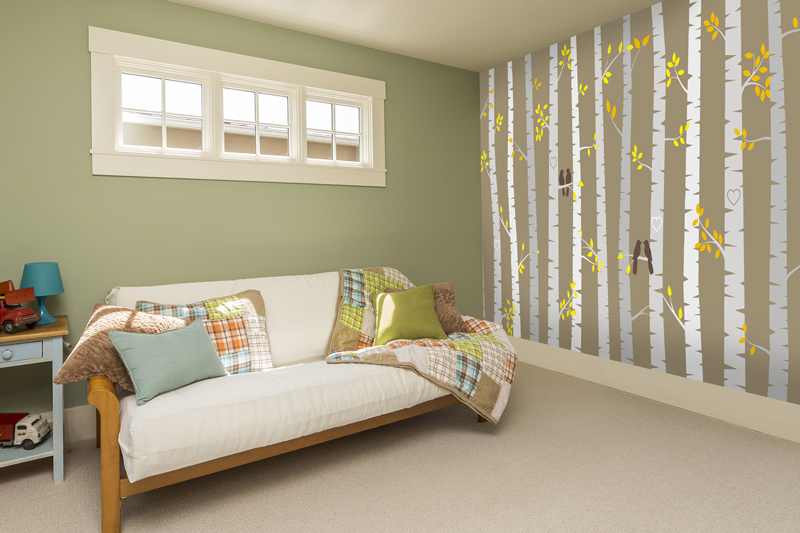 Forest Wallpapers for Home Studies
It's never healthy to mix work and home. Separating the two can be difficult, making it easy for your home study to become dull and unloved. Forest wallpapers for home studies can breathe life back into a room where productivity is key. 
With 195 images available in our tree and forest murals collection, it would've been a pretty long post to show you how they can all work in your room! If you've fallen head over heels for a tree mural, but are still undecided, speak to one of our designers who are ready to help you.
Alternatively, let us know what your thoughts in the comments box below. We'd love to hear them!