When we think of gold, we think expensive, precious and dazzling... Almost since the beginning of time, it has been used for our enjoyment. One of the first sightings were found in Spanish caves and the gold was thought to be from around 40,000 BC!
After all this time, this precious metal is still so sought after by many. So, it isn't a surprise to discover that it has become a favourite in the world of interior design. And recently, decadent gold wallpaper has become a number 1 must-have in our homes.
From swirling marbles and dazzling glitter wallpapers to metallic dark sea life designs and fabulous Art Deco geometric patterns, beautiful "Au" always wins when it comes to luxury and style. Here are some of our top gold wallpaper designs to help you decide if you're ready for a luxurious feature wall in your home. 
Good as gold marble wall murals
Mural in photo: Creamy Caramel Geode
A recent and already extremely popular design in our gold collection, this mesmerising Creamy Caramel Geode wall mural is a fabulous choice for those who love modern and sleek interiors. Created by the fabulous Lara Skinner, this decadent marble swirl design will completely transform any home.
The unique swirls and shades of this gold wall mural hypnotise our minds into feeling utterly calm and relaxed and the floor of the patterns will also create a sense of flow and energy throughout the home.
We recommend keeping the rest of the room as minimal as possible by opting for creamy walls and furniture. But do add some metallic décor to show a relationship between your stunning wall mural and the rest of the room.
Artistic designer gold wallpaper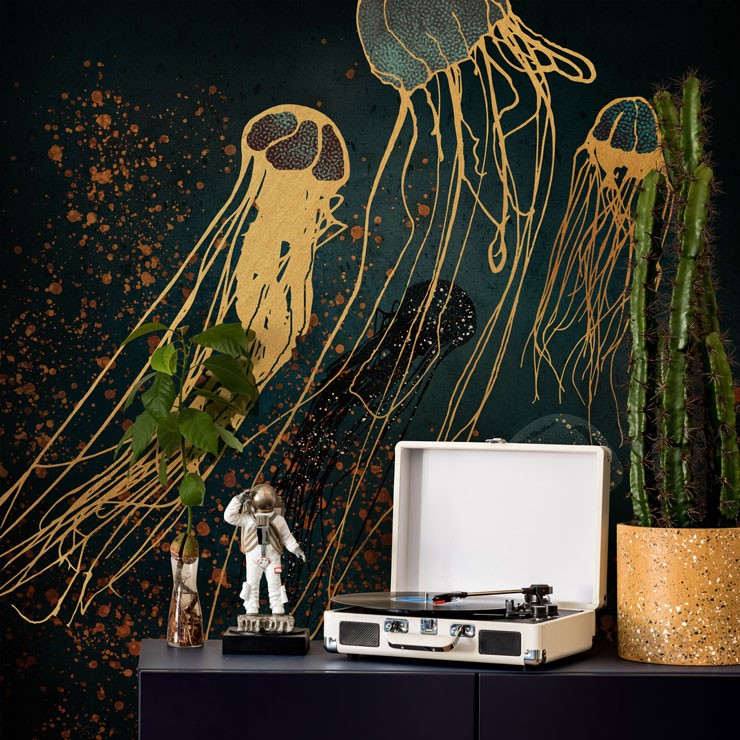 Mural in photo: Dancing Jellyfish
Once seen as an indication of wealth, now gold interior design is accessible for all. You no longer need to take out a second mortgage to achieve this luxurious look! One of the easiest ways is to install a gold wallpaper such as this artistic Dancing Jellyfish wall mural.
A stunning mix of yellows and copper tones, this dark and moody sea life wall mural will completely transform any room into a relaxed, adult space. We imagine this fabulous wall décor with dim lighting and bursts of yellow colour through a choice of metallic décor. Although not a blue and gold wallpaper, there are some hints of inky blue and black tones which mix beautifully with the contrasting bright yellow colours from the jellyfish.
This on-trend work of art was designed by SpaceFrog Designs. They host a jaw-dropping array of landscape and nature-inspired pieces that are embellished with rich metallics and marbles.
Au-some Art Deco black and gold wallpaper
Mural in photo: Artistic Symmetry
If you were supposed to be alive in the 1920s or you simply love geometrics, then you will love this Art Deco Artistic Symmetry wall mural!
Although rose gold wallpaper has made a huge impression in interior design, yellow gold décor has always held a strong position in the home. And in recent years, we've seen a huge influx of metallic geometric décor flood into trendy homes. So rather than just opting for a stylish bronze geometric candle holder or a succulent centrepiece, why not adorn an entire wall with a geometric black and gold wallpaper?
The above room really shows living room gold décor at its best. The yellow tarnish of the sofa's legs and the brass lamp are all subtle touches to mirror the warm tones in this opulent marble and gold geometric wallpaper.
Magical gold dust walls for your child's bedroom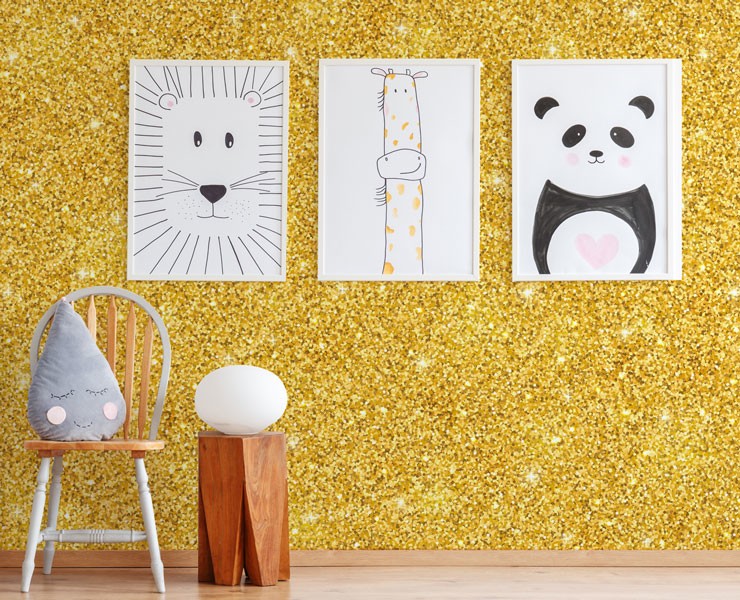 Mural in photo: Gold Glitter
Rather than going for unicorns and mermaids, why not install a gold glitter wallpaper in your child's bedroom? Although this gold wallpaper is printed and has no glitter effect, the results are still just as impressive (and you don't need to hoover up lots of glittery bits all the time)!
The gold glitter background of this stunning child's wallpaper means you are quite open to choosing a wide selection of décor to go with it. Whites, woods, yellows and greys are all fabulous choices to go with this trendy glitter wall mural.
Gold abstract wall art
Mural in photo: Black Mist
If you love minimalism and a touch of art in your home, any work by designer Elisabeth Fredriksson is a high contender for you. This black gold wallpaper named Black Mist is a fabulous work of abstract art. From these steamy blacks and bronze tones, do you picture steam from an old train, dark mist on a rainy day or the smoke and flames of a roaring fire? That is the beauty of abstract art: you see what the work makes you feel.
Because of the strip of powdery tones, we recommend keeping décor away from this gorgeous feature wall so you don't cover up the most focal point of the design. Choose a mix of white, black and gold décor items to bring out those smoky tones.
Pretty monochrome gold floral wallpapers
Mural in photo: Monochrome Blossom
Also new to our collection, this pretty Monochrome Blossom wallpaper has been a firm favourite amongst our customers.
This floral white and gold wallpaper looks fabulous on the wall in a master bedroom. Place this fantastic wall art behind the headboard of the bed and have a range of white furniture with gold furnishings throughout. Imagine white bedside cabinets with brass lamps on top, an ornate white dressing table and soft white duvet covers – gorgeous!
Have you found your favourite new gold wallpaper? Tell us which has been your favourite or if you have any questions, simply leave a message in the comments box below!