What's beautiful about contemporary wallpaper is that it's not just a certain pattern or even colour. It's a spectrum of designs that all happen to be in fashion. This wide range of styles is great, as it means there's something for everyone! However, choosing the right contemporary wallpaper for your home is critical. Get it wrong and it could be an expensive mistake!
But never fear, Wallsauce is here to help you choose the perfect contemporary wallpaper in five simple steps. Simply ask the following questions to your self and take note of our style suggestions along the way.
Mural: 'Patterned Marble'
1. How big is the room you're looking to decorate?
First things first, determine the size of your room before even thinking about the style of your contemporary wallpaper. For large rooms, with lots of light, they'll easily withstand a busy pattern and vibrant colour, but smaller rooms will require a wallpaper that will make them seem bigger.
You'll also want to account for any large pieces of furniture you want to include in your room as these can make a large room appear small. Beginning with a blank canvas when choosing wallpaper won't always work in your favour.
Mural: 'Anemonies and Ranunculus' by Carol Robinson
2. What is the style of your other rooms?
For smaller houses especially, it's essential to consider any themes pre-existing around your home. Having the same colour running throughout your smaller house is great for creating the illusion of space.
If you're considering contemporary wallpaper for a new home, perhaps this could be your influence for the rest of home so choose wisely.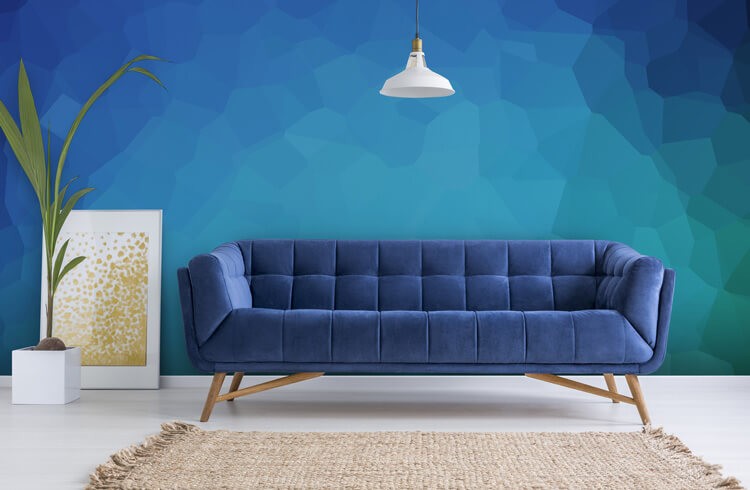 Mural: 'Blue' by Shandra Smith
3. Are you looking for a wallpaper that won't go out of date?
The whole point of contemporary wallpaper is to create a home that's ready to be photographed for the next issue of House Beautiful. But if you're not conscious of what next season's trends may bring, then opting for something neutral that won't become outdated like a brick wall mural may be your option.
Mural: Taken from our extended range
4. Considering the amount of wall you'd like to cover
As you may or may not know, here at Wallsauce, we print made-to-measure wall murals. That means you don't have to purchase a mural to cover an entire wall. So going back to step one, if your room is small but you would prefer a design more suited for a large room, look at covering an alcove or chimney breast instead of an entire wall. Painting the additional walls a lighter colour will not only make your small room bigger, it will make your wallpaper POP!
For the rooms that are extremely large, why not consider adorning more than one wall? Think about perpendicular walls and panoramic images that could wrap around the walls. In particular, Forest murals are great for this scenario!
Mural: 'Birch Forest Sunlight' by Image Source
5. How are you going to style your contemporary wallpaper?
This takes us back to our statement in step one about considering the kind of furniture you are planning to use in the room. If you're intending on choosing a style like a landscape wall mural, it's best to plan for it to go on a wall where the image won't be blocked by the sofa.
Mural: 'Farewell to Anger' by Leonid Afremov
For special effect wallpaper, to tone them down if they overpower the room, you may want to consider accessorising them with framed photos or artwork and put a sofa in front of it.
Mural: 'Blue and Black Watercolor'
There you have it! Five simple questions to ask yourself before choosing your contemporary wallpaper. We'd love to hear in the comments section below, how you chose your contemporary wallpaper.
Enjoyed this blog post? Then you may want to delve a little deeper into interior design trends for 2018.