Step into Autumn: Autumn Forest & Forest Illustrations Wallpaper
As much as we might not want to admit it, Summer is almost over and Autumn is just around the corner. Luckily Autumn is probably the most beautiful season of the year,softening the blow that summer is coming to an end. Fallen leaves, bright colours, woodland creatures and forest walks remind us of how stunning the season really is.
Stay ahead of the trend and take a look how these Autumnal illustration wallpapers can fill your home with the most beautiful season all year round.


Forest Silhouette wallpaper shows Autumnal fallen leaves
This monochrome forest with fallen leaves will fit into most styles of existing decor but still make a huge transformation in the room. The monochrome style makes for a timeless mural that won't become outdated with trend or season changes. The neutral colours used in the mural make it a great choice for bedrooms.
Wallpaper in picture: Forest Silhouette
Shades wallpaper uses beautiful Autumn colours
A timeless twist on the ombre trend, this night time autumnal forest wallpaper will work well with neutral decor infused with one or two of the colours featured in the wallpaper.
Wallpaper in picture: Shades
Dweller Cottage complements rustic decor
Nothing feels cosier than a rustic looking living room. Perfect for family gatherings all seasons round; let in the evening sunlight or watch the autumnal rain fall. This wallpaper by Vermont based artist Michael Mullan uses animal and forest prints and rustic colours to complement neutral colours, greens, browns and oranges and different types of wood.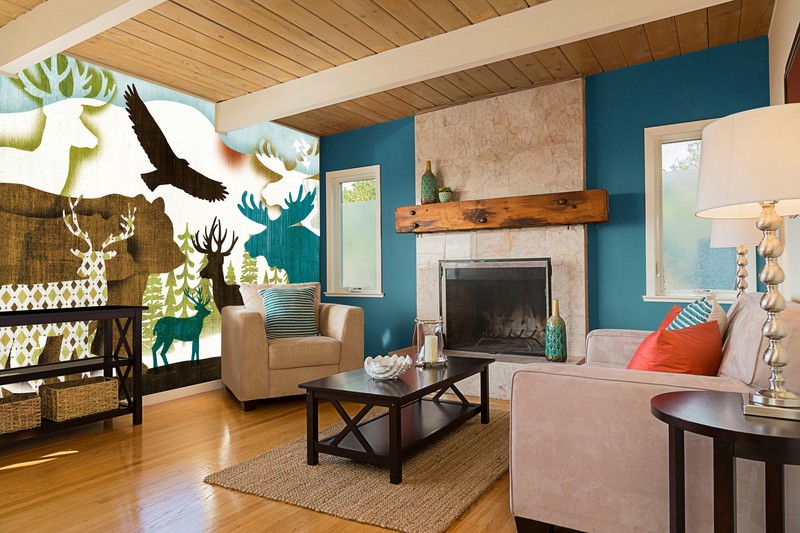 Mural in picture: Dweller Cottage
More Autumn Wallpaper Suggestions
Say Cheese Mr Wolf is rustic with a modern twist
This cheeky take on a forest wall mural is perfect for creating a modern, rustic look. Suitable for use in any room in the home, the dark tree branches will match well with dark woods and light colours.
Stack of Logs makes autumnal decor easy
Log effect wallpaper is a simple and effective way to take your home into the autumn season and beyond. The wallpaper will easily match with most decor styles whilst still making a huge impact on the room. 
What is your favourite season of the year and why? We'd love to hear your answers in the comments section below.
Do you have any feedback or questions? Please leave us a comment and we'll get back to you.