It's the year of the home cinema. In fact, it's the year of home everything. Home cocktail bars, home entertainment, home schooling, home picnics. As much as we're excited to get back out there, recent events have made us appreciate our humble abodes more than ever.
These days, getting your culture fix doesn't have to mean leaving the house. If you have the room, creating a home movie theatre could be a great way to transform your space, while potentially boosting your property value.
Here are some amazing home theatre ideas that will amaze your whole family, wow your guests, and give your place a serious point of difference.
Go plush on the seating
Image source: Loomah.com via Pinterest
When it comes to home movie theatres, there's nothing more important than seating. Comfort is everything, so make this your number one priority and allocate a good portion of the budget to sofas or lazy chairs.
Cushions are your best friend too… the more the merrier! Be sure to choose the right inner materials to suit your comfort preference, whether that be duck feather, down, wool, soft foam or luxury synthetic filling.
To really ramp up the cosiness, go extra plush on the upholstery. Fabrics such as crushed velvet, velveteen (cotton velvet) and velour are perfect for enhancing the home theatre experience. You can complete the look with some textural effect wall coverings.
Make your home cinema super luxe
Image source: Reddit.com via Pinterest
Home cinemas are a luxury, there's no doubt about it. If you have the space (and the cash), you can really give it the wow factor. Comfort is key, but lavish finishes can add to the aesthetic appeal and overall experience of watching movies at home.
We're talking oversized sofa configurations, luxe light fittings, art deco wallpapers, gold or brass finishing touches, splashes of terrazzo or marble, a mix of high-end minimalism and bold prints (such as geos), as well as those designer elements that are worth every penny of investment!
Budget and boho home theatre idea
Image source: Wooden-furniture-store.co.uk via Pinterest
Beautiful doesn't have to cost the earth. If you're looking for a budget-friendly version of the home cinema, boho interior concepts are the way forward. This is because bohemian interior design is very much about the soft furnishings. Therefore, it's entirely possible on a shoestring!
Not only will you find so much variety of boho décor, but a boho cinema is guaranteed to be Instagram gold. If you follow interior influencers and enthusiasts, you'll find plenty of inspiration on your feed. And what we love is that this is a trend with serious longevity.
Boho interiors are here to stay, and there are so many different versions of boho to explore. From oriental and Japandi boho to Scandinavian, there's a style to suit everyone.
Take your home theatre alfresco
Image source: Lustliving.co.uk via Pinterest
Another area that's garnered a lot of attention since the pandemic is the garden. We've had to make the most of our outdoor space, and this means multi-purpose functionality and taking a little extra care and attention with horticulture.
It's a fact that plants make us happy, so it makes sense to spend more time caring for our flowerbeds. But you can also turn any unused areas into a cosy garden movie theatre. There's something very romantic about an outdoor cinema, and all you need is the following:
A projector and a screen
Garden furniture
Lots and lots of fairy lights
Some outdoor candles
Cushions and blankets to keep warm
Get galactic for movie time
Image source: Iqfurniture.co.uk via Pinterest
Star effect ceiling lights are magical in the bedroom (especially children's bedrooms), but also work well in a purpose-designed home theatre room.
If you love the galactic look, space and galaxy wallpapers are the perfect finishing touch. Lights turned up or down, your theatre is going to look out of this world! The colours used in galaxy wallpapers bring enough darkness for a cosy cinematic feel too.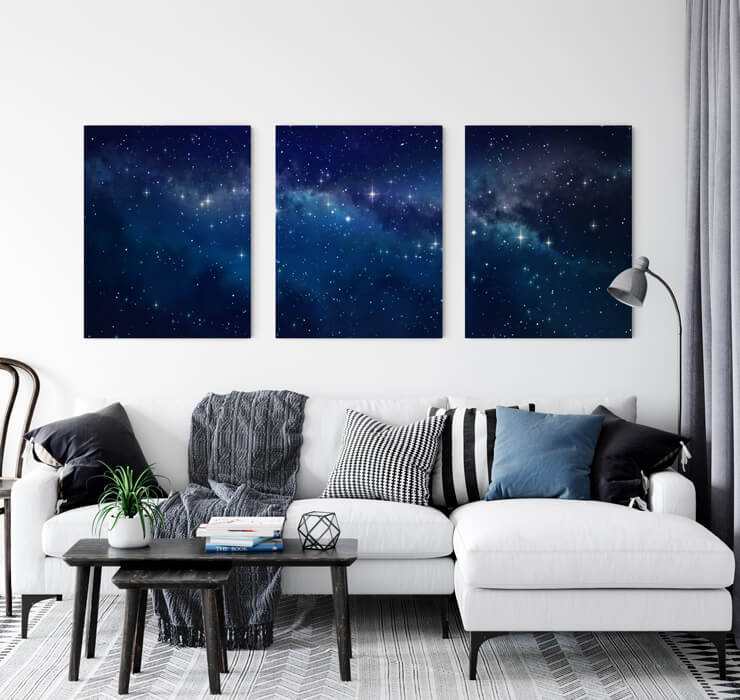 Metal prints in photo: Star Cloud
For sci-fi movie fans, you can even experiment with different sci-fi metal prints (currently only available in the UK) as decorative wall art. There are so many ways you can elevate vertical real estate, instead of just turning to dark paint.
Make it hybrid
Image source: Designingidea.com via Pinterest
Is it a bar? Is it a games room? Is it a man cave? This hybrid cinema/sports/entertainment zone is the coveted home theatre on steroids. It's multi-purpose and it's all about escapism, making it the perfect love child of nights in.
If you need a comfortable little den to escape from the everyday stresses of life, a home movie or sports viewing room is a great addition to your house, and can even boost your property value for when you're ready to sell.
Keep the bar stocked, invest in quality armchairs, have some sports/movie memorabilia (such as our metal prints) on the wall – and you'll have an entertainment hub that everyone will love spending time in.
Turn up the retro!
Image source: Twothirtyfivedesigns.com via Pinterest
If you're a movie buff, there's nothing more comforting than the cosiness and quintessential design of a classic cinema building.
The art deco movie theatre is a great base for inspiration. Bold red walls, big black and white features, leather seats, Great Gatsby fonts, dim lighting and framed movie posters (of your favourite films of course).
Mural in photo: Red Curtain
The key to getting this style right is to be as thematic as possible. A red curtain mural can help you build that theatre feel – and dark wall paint is a good contrast. Don't worry if there's not a lot of light coming in. Lamps and wall sconces are excellent for creating atmosphere and will be there to set the mood. Cinema rooms are supposed to be slightly shadowy, so opt for warm white or soft white when shopping for bulbs.
What do you think of our home movie theatre ideas? Has Covid made you rethink the different entertainment spaces in your home? If you've got a home cinema, let us know how you did it in the comments below!