Looking for feature wallpaper ideas that will look amazing in any room? Look no further! 
Wallpaper murals can help you create many looks, themes and styles in your home. One of the looks that wallpaper can create, is the appearance of an expensive feature wall with the use of surface texture wallpaper. From brick wallpaper and stone wallpaper to marble wallpaper and many more on trend feature wall ideas, we can help you create the feature wall your room deserves.
In this post, we show you how to easily create faux looks of traditional stone to expensive marble with our top picks of surface texture wallpaper.
Wood wallpaper
A wallpaper mural from this collection of wood wallpaper would make a great choice for anyone looking to create many looks that involve wood, from rustic style decor to a more modern take on a wood feature wall (as seen in the picture below). Often assumed to be suitable for more traditional looking decor, wood wallpaper can also be very complimentary to Scandi or contemporary decor, with distressed wood panel wallpaper and coloured wood wallpapers available as well as more traditional brown wood panels. 
Feature Wallpaper in picture: Old Painted Boards
Realistic brick wallpaper
Old brick wallpaper is a great way to create an industrial or effortless style in your home. Our selection of brick wallpaper murals is an easy way to achieve the look of any type of brick feature wall in your home. It is a lot easier to achieve than it would be to have an actual brick feature wall installed in your home and as it is applied just like wallpaper, is a lot less permanent - so it can be changed along with your tastes and trends.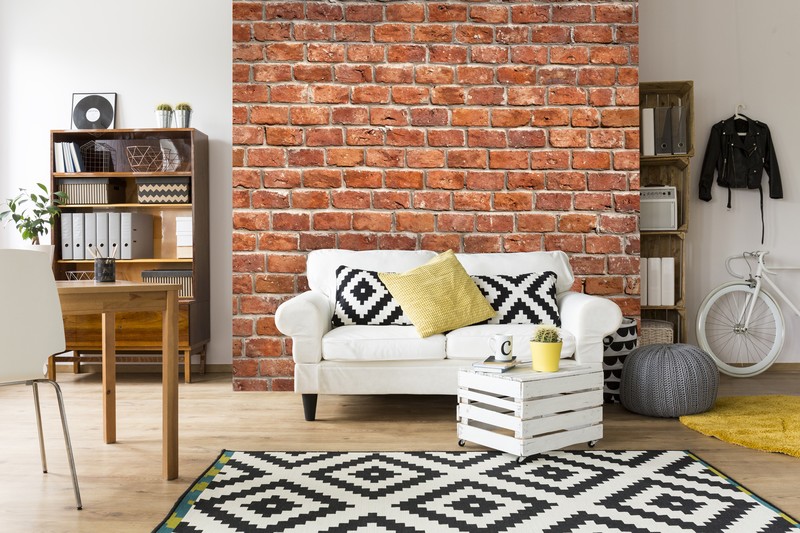 Rust effect wallpaper
Named by one of our customers as '50 Shades of Corrosion' the mural below is a perfect example of how metal effect wallpapers can help achieve that industrial/ Scandi combo effortlessly. 
Feature Wallpaper in picture: Core of Corrosion
Marble wallpaper
Marble decor is a huge trend this season! This marble wallpaper is an easy way to join in with the marble decor trend. Associated with luxury, marble is a timeless interiors trend that is achievable with our collection of marble wallpapers that have a trend-led twist. Create a look of grandeur by using on a full feature wall in any room.
Nude and white tones are perfect for hallways and dining rooms whilst the coloured marble wallpapers provide the classic look with a homely twist for living rooms and bedrooms. 
Feature Wallpaper in picture: Blue Swirl Marble Wall
Stone wallpaper
Create the look of an expensive stone build with this range of stone feature wallpapers. Mix traditional with modern for a relaxed and edgy look like the picture below, or use a light stone to create an all-over classic and traditional feel in your home. 
Feature Wallpaper in picture: Charcoal Grey Stone Wall
Bookcase wallpaper
This selection of bookcase wallpapers will create a relaxed, peaceful and cultured feel in any room in your home. Choose from regular dark wood bookcase wallpapers to all white or modern styles influenced by current trends. The bookcase and candles wallpaper below will complement any living room with candles that provide a peaceful atmosphere throughout.
Feature Wallpaper in picture: Bookcase and Candles
Log effect wall murals
Stacked piles of logs will complement any communal room all year round. In summer they bring connotations of outdoors fires and barbeques, whilst in winter they imply thoughts of cold nights warmed by the fire. Available in a range of different sizes and colours of woods, these log wood wallpapers will complement almost any style of decor. 
Feature wallpaper in picture: Stack of Logs
All of our texture wallpapers are supplied in panels and available in three different materials. Our classic and premium feature wallpapers are applied by adding paste to the wall, in a similar way to regular wallpaper. Our peel and stick material is a self-adhesive that is also supplied in panels, that is repositionable and doesn't require paste. 
Have your own tips for using these wallpapers? Or would like to share advice on how to style a particular mural? We'd love to hear your tips in the comments section below.