I think it is fair to say that many of us dream about the perfect laundry room and welcome any laundry room ideas. If not, you're going to change your mind very soon. Whether you have a substantially sized room or just a corner of your kitchen, you can transform any space into the perfect laundry room area.
From different types of drying racks, the benefits of a sink, wallpaper and color ideas to even dog showers, we have a vast range of diy utility room ideas for you to use in your own home!
Choose a clothes drying rack
Image source: Thisoldhouse.com via Pinterest
Having a drying rack is not only a good laundry room idea if you don't own a tumble dryer, but it's great for airing out those delicate items. If you have room, a free-standing drying rack is fine, but if you want to keep the floor clear and create more space, opt for a hanging drying rack, or a wall-mounted drying rack. Both of these will be practical but are also the perfect farmhouse laundry décor item - inspired by the cottagecore trend that has arisen in the past year.
Image source: Decorpad.com via Pinterest
However, if you have space and want to get really fancy, then install fitted slide-out drying shelves to air out your garments. Not only are these super sleek, but they are one of the best small laundry room ideas as they don't take up extra space.
Soak items in a laundry room sink
Image source: Elabobak.com via Pinterest
If you have space and appropriate plumbing, have a laundry room sink. Great for soaking stained items, or handwashing delicate clothing, a sink is a super handy laundry room idea.
For those of you who want farmhouse laundry décor, choose an old fashioned, deep farmhouse sink that will allow you to soak many items at once (plus they look just the part)! If you can, pair your deep sink with a cabinet so that it is a quaint utility room sink cabinet. Not only fabulously vintage, but a laundry room sink with cabinet also provides added storage – something we all need to hide away that mountain of odd socks!
Stack that washer and dryer!
Image source: Onekinddesign.com via Pinterest
Make the most of your laundry room space by choosing a stackable washer and dryer. Either choose ones that can already be stacked or install cabinetry with units to store them on top of one another. Or, if you can't install your laundry machines under built-in countertops or behind a closed door, just add an extended shelf on top of them. This will give you more space so that you can pull out your ironing board and iron in your laundry room as well!
Choose smart shelving and storage
Image source: Garden Trading
Shelving is oh-so-important when it comes to laundry room ideas. After all, you need somewhere to store all those bits and bobs (a box just for what has been left in pockets, for instance)! We highly recommend a shelf for your laundry room or laundry room wall cabinets. Remember to use all available walls when installing storage to make the most of the space!
If you have plenty of countertops or shelving space, use large, fancy glass jars to store your detergent pods, cleaning powders, wooden pegs and conditioning beads: such a cute laundry room idea!
Get organized with laundry baskets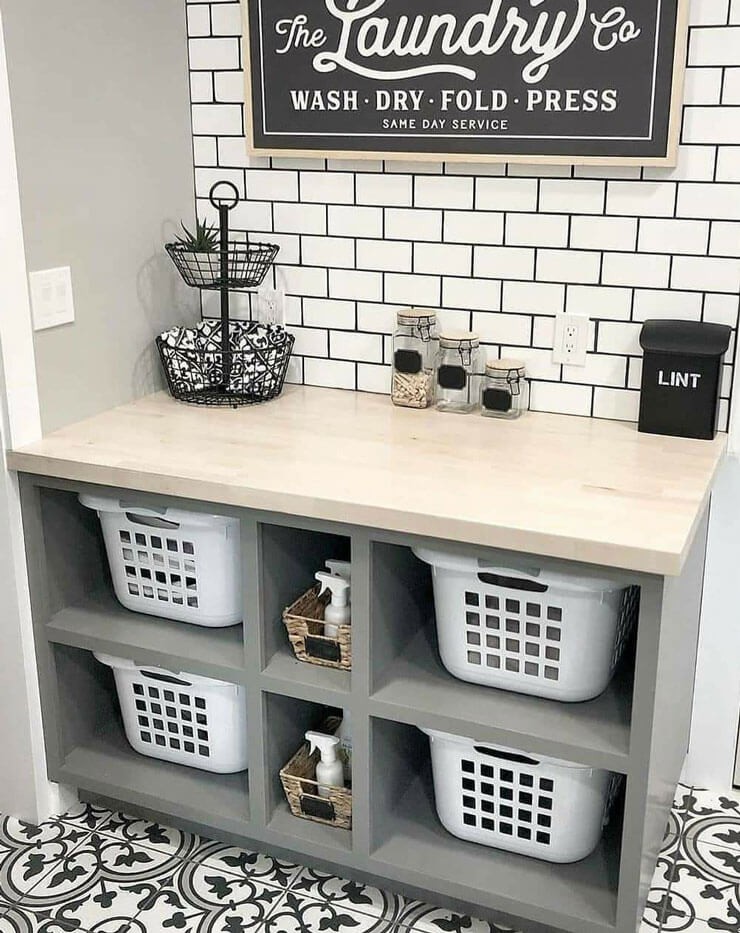 Image source: Amanda Worden via Pinterest
If you have the space, we recommend baskets for everyone in the household to cut down washing sessions or to encourage the whole family to do their own laundry – we can at least try! A working laundry system for both adults and children is your answer to laundry organization. Sort items into baskets: a basket for towels, dark colors, whites, bright colors and miscellaneous items. Add stylish labels to your baskets, such as blackboard stickers, to make it more child-friendly.
Think carefully about laundry room paint colors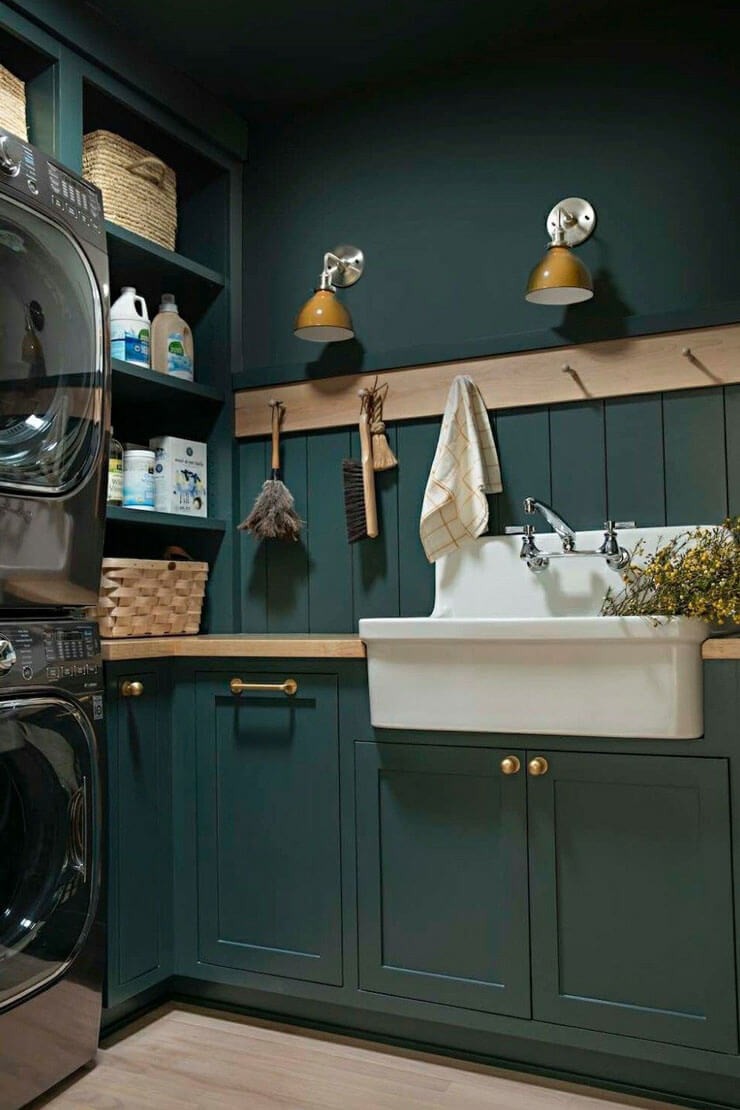 Image source: Domino.com via Pinterest
What color is best for a laundry room? Well, that depends on a number of factors. What color are your units and what color are your washer and your dryer? To avoid over expense by buying completely new items, choose a paint color to complement your current laundry room.
Secondly, where abouts is your laundry room placed in your home? If it is south facing, then you are free to go for a dark, rich color, such as emerald-green, as it will gain the most out of the day's sunlight. If your laundry room is dark, choose a light shade such as white or colors with pastel tones. Thirdly, if you love colour, why not have fun by choosing a shade such as pink or yellow?
Hide everything away with closed cabinetry
Image source: Decorpad.com via Pinterest
If you love a minimalist look, and hate a lot of clutter, choose closed cabinetry in your laundry room. This doesn't have to be throughout the entire room as open shelving can still look minimalist with a few items. However, closed cabinetry is great for when you'd rather forget about all that washing you have to do by just hiding it away! Warning: this is a temporary fix! Always keep on top of your washing to avoid laundry-overload– we all know how that feels!
Get creative with laundry room wallpaper
Mural in photo: Blushing Bouquet
Just because a laundry room is functional doesn't mean it has to be boring. Decorate it with a fun wallpaper pattern – it's only a small space so have fun with it! And you really need a stunning wallpaper for a laundry room if you feel like you spend all your time there! Choose a colored or patterned, floral wallpaper that makes you feel happy or calm! The tones of blush pink in our Blushing Bouquet wallpaper by Carol Robinson look beautiful in this ultra-minimalist laundry room.
Mural in photo: Nouveau Reflection
If you want a striking wallpaper for laundry room, or are struggling for laundry room wall ideas, then how about this retro Nouveau Reflection wallpaper mural from our designer range? To mirror the vintage feel of this retro wallpaper, you definitely need to purchase an antique, deep sink!
Mural in photo: Black Ink Leaves
Or why not go for a sleek black, white, grey and gold theme in your laundry room? We love how great this Black Ink Leaves wallpaper looks in this on-trend wash room! The patterned rug, cushions and black washing machine all look perfect with this black and white wallpaper.
Utility room ideas for dog owners: a dog shower!
Photo credit: Tile Club
Yes, it may seem a little far-fetched (get it), but a woof-derful dog shower actually oozes luxury! After all, if you have the space to install a dog shower in your laundry room, your home must be quite luxurious.
With the necessary plumbing, a dog shower is so worth it if you have a dog who loves to roll in the mud on their walks! And if your laundry room is near an outside door, even better! Those muddy paws will never trail through your house again… If you want a doggy-themed laundry room, why not install a dog wallpaper mural as well? Wouldn't that be grrr-eat?
To sum it up: what should a laundry room have?
Image source: Garden Trading
A laundry room should have:
A washing and drying machine
A countertop to organise and fold
A sink to hand wash or soak delicate items
A clothes drying rack
Fun decoration: strong colors or fun wallpaper
Shelving and cabinetry
Laundry baskets
Now that you've read our laundry room ideas, are you ready to do a laundry room makeover? Let us know how it goes by leaving a comment below!