Oh deer! The countdown to Christmas has begun! Are you the type of person who puts their decorations up on the 1st November? Or are you someone who whips their tree up on Christmas Eve then rips it down the day after boxing day?
If you haven't already, it's time to get those festive ideas flowing. Prepare your spare bedroom for your holiday guests. Pull on your boots and visit your local Christmas tree depot to find the most symmetrical Christmas tree. Step up that cold loft ladder and reach for your dust-coated decoration boxes. Re-discover those tatty, old family heirloom ornaments that you still don't have the heart to throw away. Although we all (most of us) adore these traditions that lead us up to the festive period, it's fun to experiment with different Christmas decorations every other year.
So, whether you love to keep your Christmas décor going through to New Year or can't wait to tear down those dust-collecting ornaments on the 27th December, here are six tips for perfecting your Christmas decorations this year.
1. Transform your home into a winter forest with a temporary peel and stick wallpaper
This wonderful Snow Covered Trees wallpaper is perfect for giving that special Christmas feeling to any room in your home. The ice-laced branches and sunlight pouring through the tree trunks are truly magical. You can almost imagine Santa passing by with his sleigh and reindeer.
We have a wide range of beautiful Winter & Christmas wallpapers for you to use as a backdrop for your Christmas tree. If you only want your festive wallpaper to last for the Christmas period, choose peel and stick wallpaper. It's self-adhesive and really easy to install. When it's time to take down the decorations, you can gently remove it without causing any damage to your wall.
To bring more of nature indoors, add pinecones, walnuts and holly to your Christmas décor. Picture having been out on a frosty winter's walk and coming back to your nature-inspired home. Get all cosied up with fluffy throws, make a hot chocolate and turn the fire on– perfect!
2. Invite Jack Frost over for Christmas to sprinkle frost over your home
Beautiful silver and white sparkly accessories are ultimately festive and reminiscent of frosty scenes from the movie White Christmas. They're great to use as a centrepiece on a dining table or as a focal point on a mantlepiece. You could tell your kids that Jack Frost has been and spread magic frost over your home. Imagine their wonder-struck faces!
You could even try and make your own frosted glass decorations. After all, we always treasure those home-made Christmas ornaments more than shop-bought ones. Why not turn it into a family-bonding session? Take a look at these instructions on how to make snow-frosted jar candle holders.
3. Perfecting your Christmas decorations with classic, glamorous gold
Bring on the bling! Bring on the glam! Bring on the glitz! It is Christmas, after all. What better time to embrace glitter and sparkle than using gold décor at this special time of year? Perfecting your Christmas decorations with glitzy, golden ornaments will add that dazzling je ne sais quois to your home.
Image source: Next
Take a look at these classy, gold-effect ornaments from Next. They have a fantastic collection of glamorous, gold decorations that will fill your home with warmth and wonder.
4. Move away from tradition and choose rose gold this Christmas
Are you absolutely in love with rose gold jewellery? Or, have you based your home's interior design around this stunning colour? Well, perfecting your Christmas decorations with rose gold and copper will create the ideal festive haven. Find a rose gold candelabra, tealight holders, lanterns and table confetti to give an alternative, modern-look to your home this Christmas.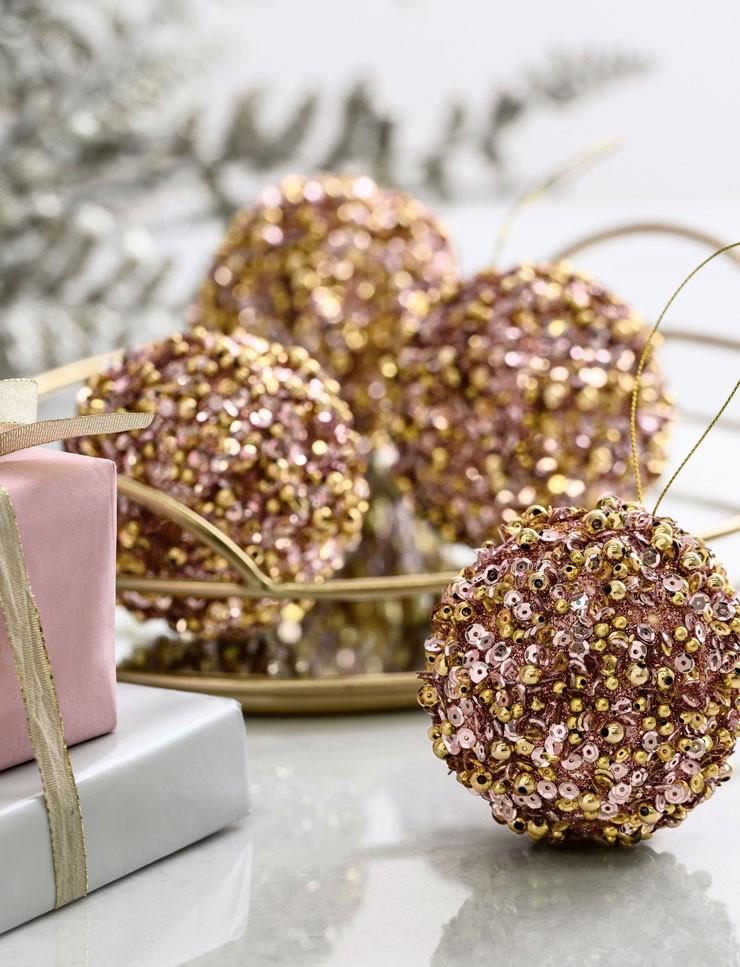 Image source: Next
Don't forget your rose gold Christmas tree! Select tree ornaments like these stunning, set of 4 gold baubles from Next. They have beautifully combined gold and dusty pink sequins and beads to get that luxurious rose gold effect. Your guests will certainly be in awe of your trendy Christmas décor when they come around for mulled wine and mince pies.
5. Christmas trees for unicorn-obsessed children (and adults)
Calling to all unicorn lovers! Are you fed up of the traditional red, gold and green Christmas decorations? Is a rose gold Christmas not out there enough for you? Well, now is the time to embrace all things unicorn at this special time of year. Make your child's (or your) unicorn dreams come true!
Select pink, white and sky-blue Christmas decorations to adorn your home: tinsel, baubles, candles, anything that oozes the unicorn look. Take a look at these adorable unicorn baubles from Esty. They will be the perfect unicorn addition to your tree!
Image source: Etsy
Your children (or yourself) won't be able to stop jumping around with glee with a unicorn Christmas! If you want to make it even more special, why not add a peel and stick removable unicorn wallpaper?
6. Perfecting your Christmas decorations with a simple and rustic Scandinavian look
Let's move away from unicorns, glitter and sparkle. Why not go for a Scandinavian style Christmas this year? It's all about simplicity and choosing a select few classic ornaments. Adorn your home with rustic woods, whites and creams. Add a little splash of forest green and red. Choose nature-inspired decorations such as holly, evergreen leaf wreaths and candles for your table centrepiece.
Image source: Urbanara
These simplistic wood and metal leaf tree decorations from Urbanara are natural and warm: perfect for a Scandinavian Christmas tree. They bring nature indoors and help create the ideal setting for a cosy Christmas. The ideal place where you can warm yourself by a burning log fire.
To go that extra mile, why not install a temporary peel and stick wallpaper for the perfect Scandinavian Christmas? This beautiful Deer in Winter wallpaper is simple but really effective in bringing that sense of festive cheer to your home. Find classic cream décor to accentuate its beauty.
Have we inspired you with our Christmas décor ideas? Are you excited to change your usual decorations to something new? Leave a comment below to ask any questions or let us know how you have updated your Christmas decorations this year.