Utter the word "dark" in interior design and a lot of people cower away. Notoriously, dark interiors can be hard to pull off. This has long been believed by home design fans who love the look in glossy magazines and celebrity homes – but don't have the confidence to try it for themselves. But dark wallpaper and dark paints are a lot easier than you might think, and there are many ways you can make dark murals appear warm, cosy, bright, light, atmospheric, or even romantic.
In fact, dark walls don't = dark room. Not always. Done right, and dark walls can elevate your space, giving you a grown-up twist to an ordinary colour palette. The result is ultra-luxe and stylishly modern. As long as you know how to balance lightness and darkness, shadows and highlights, bright and muted tones, you can get this tricky trend just right.
Here are some examples of beautiful and rich dark murals that will instantly add an air of sophistication to your design narrative.
Dark leafy wallpaper
Mural in image: Dark Wonders
Greenery – but the dark kind. This 'Dark Wonders' wallpaper brings a leafy jungle into your home at dusk. The striking midnight hues create a moody effect, while the draping leaves deliver a feeling of calm into your space. Ideal for any room in the house, but particularly effective as a backdrop for your main dining area where visual peace and calm will be appreciated from morning 'til night.
Pick out the sage-grey hues in the mural by matching similar coloured fixtures and fittings – and run with the organic theme by furnishing the space with light coloured woods and other natural materials.
Dark oriental wallpaper
Mural in image: Crane Moonlight
Who said dark interiors had to be sombre or dull? This 'Crane Moonlight' mural is anything but giving you a magical scene to take in and creating a beautiful talking point when guests come over.
Oriental art was hugely popular in the 1960s. If you love the interior stories from this decade, match this mural with mid-century modern furnishings, and create layers and layers of interesting textures with cushions and luxury fabric throws.
Romantic florals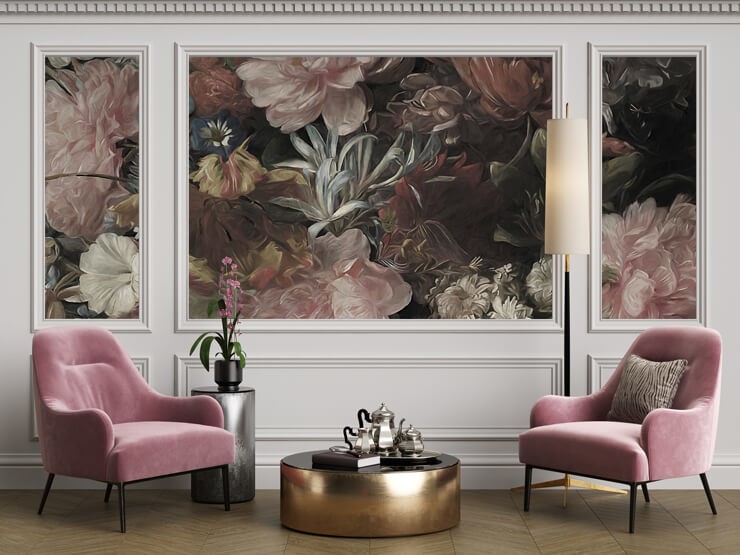 Mural in image: Dark Floral Bouquet
Add a bit of gothic romance to your home with these moody florals, designed to strike a soft yet edgy balance in the room. Our Dark Floral Bouquet wallpaper makes dark interiors easy and accessible – because everyone can get on board with the floral trend – and florals instantly add a feeling of light into your space by bringing the outside in.
You can explore endless dark botanical wallpapers at Wallsauce if you love the dark mural trend but want to keep things feminine. The elegant blush tones add instant warmth too, so you never have to worry about your dark wallpaper choice looking cold.
Shapes that soothe the soul
Mural in image: Earthy Cells Medley
Opting for dark walls can create a slightly austere feel, so juxtapose this with calming shapes. Instead of choosing wallpaper designs with harsh lines, angular silhouettes and sharp geos, go for rounded forms instead. Both interior designers and psychologists agree that smooth contours are good for the soul.
They create a nice flow and are easy on the eye, helping you feel calm and relaxed. Round shapes also follow the same visual movement as floral fractals in nature, so they make sense to the brain and are highly pleasurable to look at.
Dark wallpaper with gold highlights
Mural in image: Forest Moon
If you're afraid of your room looking too dark and dingy, a dark mural with gold highlights can really help to brighten up your home. Gold highlights in interior design can do a multitude of things…
Firstly, they can help you balance lightness and darkness, creating clear contrasts and helping bounce light around the room. Secondly, gold tones can be instantly warming, making it an excellent choice for north-facing windows. And thirdly, gold represents luxury and opulence, meaning you can elevate your space and create a high-end finish for less.
To embrace the metallic theme, add decorative elements such as a gold lamp or vase to a desk, table, or sideboard against the mural.
Navy deco wallpaper
Mural in image: Deco Feathers
If you're looking to dip your toes into the dark décor trend, navy can be a good colour compromise. Deep blue hues have been a big hit in recent years and it's easy to see why when navy walls can be both modern and classic.
Darker and richer blues signify class and sophistication, giving you an easy way to make your home a more stylish and grown-up version of its former self. If you're tired of your living room giving you student digs vibes, dark navy walls can be key to levelling up. Combined with a gold art deco design, this wallpaper can give your space an expensive finish.
Vintage florals
Mural in image: Vintage Garden
This 'Vintage Garden' mural by Burcu Korkmazyurek offers a trip to the dark side, but with the brightness and warmth of a full bloom summer. These vintage florals almost have a sepia overlay, making them an easy addition to any living space with creams, greys, browns and other timeless colours.
The perfect feature wall to go with rustic design elements such as solid oak and raw, organic materials such as seagrass and rattan, we think this wallpaper is ideal for a country cottage or a suburban home where old meets new.
What do you think of our collection's dark interior trend and all the different dark murals? Let us know in the comments below whether you could see these wallpaper designs in your home…
Looking for inspiration? Find your perfect image