If you're like me, Halloween décor takes me back to when stick-on witches' fingers, an itchy pointy hat and a make-shift cape using a black trash bag would suffice as a witch's costume! It reminds me of mine and my brother's home-carved pumpkins whose crooked smiles would glow proudly from our front window. And I remember the excitement of being out of the house so late at night (probably only 7pm) while we went trick or treating!
But the most magical part of Halloween were the amazing decorations. The extra efforts made by our parents and neighbours made all the difference. Whether shop-bought or homemade, decorations always made this spooky season even more exciting (and terrifying)!
In this spook-alicious blog, we have provided you with some fa-BOO-lous Halloween décor ideas which are sure to make this creepy time of year even more spine-chilling for your kids (and big kids)!
Pumpkin Halloween decorations
Pumpkins have forever been the go-to decoration for Halloween. And we've all had a go at carving our own Jack-o'-lantern. Just the sweet smell of a pumpkin's insides brings back those treasured childhood memories from All Hallows' Eve. Both traditional and new, we have some great pumpkin Halloween home décor ideas…
Carved pumpkins and warty pumpkin displays
Carving your own pumpkin isn't just about creating great homemade Halloween decorations. It's about the experience of doing it as well. Halloween wouldn't be fulfilled without a friendly pumpkin carving competition! Who is the best carver in your family? Or for more laughs, who is the most useless at carving?
As well as carving, others are getting really creative with stunning Halloween pumpkin displays. And we're not just talking about orange pumpkins here. We're talking about warty and marbled pumpkins that come in green, red, yellow and even white shades!
Image source: Lights4Fun.co.uk
All these weird and wacky pumpkins have been perfectly arranged on porch steps and mantelpieces. Some have even been used for trendy Halloween table decorations! There are so many gorgeous pumpkins available in most local grocery stores and supermarkets. As well as nice to look at, they make excellent cheap Halloween decorations.
Adorable pumpkin lights to decorate your mantel or stair handrail
Image source:  Lights4Fun.co.uk
If you don't have the patience to create your own fresh pumpkin display, why not hang up these cute pumpkin lights on your mantel or staircase handrail? Easy to put up yet effective, these adorable little faces will really get you cackling with Halloween mischief!
Pretty glass and ceramic pumpkins
Image source: Lights4Fun.co.uk
Beautiful ceramic pumpkins are a big hit. They are the new, stylish alternative to traditional carved pumpkins. As well as ceramic, you can buy pretty glass pumpkins which look fabulous with lights lit up inside. They aren't scary, but they are definitely chic. And what's more, they don't have a 'use by' date and can be enjoyed every year.
Halloween skeletons to leave your bones rattling in fear
Don't be a lazy bones! A carved pumpkin isn't enough when it comes to Halloween décor. Another classic spooky decoration that you need this Halloween is the skeleton! And you DON'T want to forget asking him to your Halloween party or else he will haunt you forever! Eek!
Life-size Halloween skeletons (great for pranking)!
Image source:  my-furniture.com
There's a lot of fun to be had when you own a life-size skeleton. Enjoy constantly pranking on those you live with. Stand him behind their bedroom door, hang him over the banister, stick him in your ottoman, or squash him into a kitchen cupboard. The opportunities are endless (muahahaha). But don't forget that you hid him somewhere and then accidentally give yourself a fright!
Cute skeleton decorations
If your home is too small for a life-size skeleton friend, there are many smaller alternatives which are great for scattering around the home. Dangling skeleton Halloween ornaments are perfect for an empty shelf.
Skulls for you to practice your lines from Hamlet!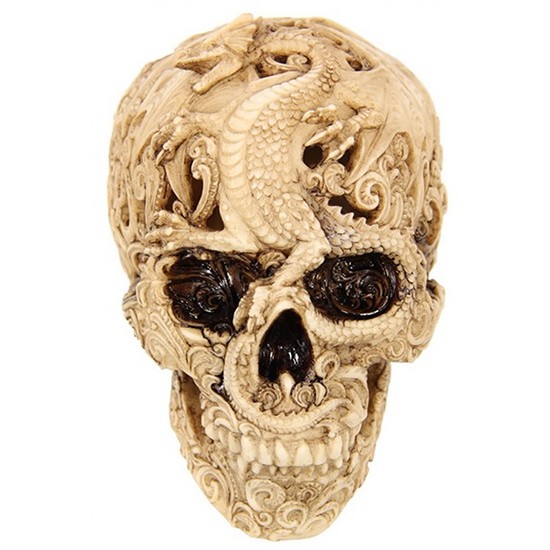 Image source: www.ThePartyPeople.com.au
Scattering skulls around the home is a great way to spook up any room! Available to purchase in all shapes, sizes, colours and designs, skulls have always been a great choice when it comes to Halloween decoration. Why not have a go at making your own sugar skulls inspired by The Day of the Dead? These Mexican festival skulls are simply made with sugar and icing!
Festive Halloween trees – yes, we're not tricking you
Christmas isn't the only time of year when you can get your tree out of storage! It's now a HUGE trend to decorate your own Halloween Christmas tree!
Buy your Halloween tree decorations, like these adorable glass ornaments, or create your own homemade ones!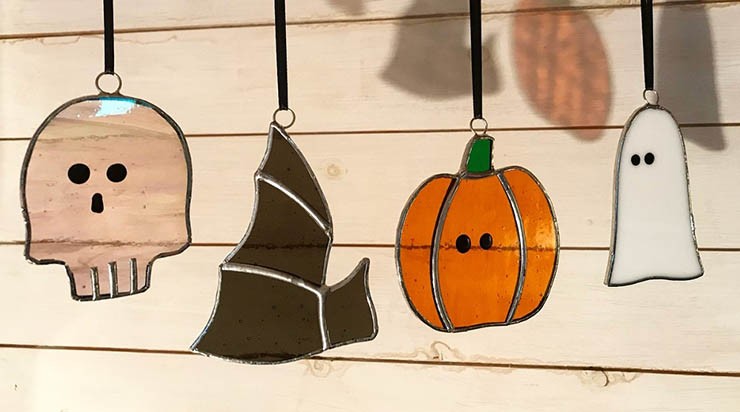 Image source: Crafty Glass London
Do you have lots of old Christmas baubles you were going to give away? Don't! Recycle them by covering them in paper mâché and decorating them with painted skulls and witches so that they become cute Halloween baubles. Or use black or orange card to create your own bunting to wrap around the tree! We love cheap Halloween decorations.
(Trick or) Treat yourself to a Halloween wall mural
Mural in photo:  Witch and Bats Wall Mural
Pumpkins, skeletons and Halloween trees are all very nice (or shall we say spooky), but if you REALLY want to have your guests under your spell, choose a Halloween wallpaper mural. From the eery smiles of pumpkin lanterns, misty graveyards with hidden spirits, howling werewolves to terrifying zombie apocalypses, our creepy collection of freaky feature walls will certainly spook you up when you walk into the room!
Mural in photo:  Wolf Howling Wallpaper
If you want to keep your Halloween wallpaper for just the scary season, we recommend choosing our textured peel and stick wallpaper. This fabulous removable wallpaper has been specifically designed so that it will cause no damage to your wall when gently removed.
A Halloween wreath to welcome trick or treaters to your door
Although they don't have to hang on your front door, these on-trend Halloween wreaths will certainly have the kids knocking for candy! Even though you can buy some fab scary wreaths, why not have a go at making your own Halloween or Fall wreath? Use fallen red leaves and conkers to make a quaint wreath to enjoy in your home! Homemade Halloween decorations are always so special!
What were your favourite decorations at Halloween when you were growing up? Have you carried on any traditions in your own home? Whatever Halloween décor gets you excited at this spook-tacular time of year, we'd love to hear about it. Simply leave a message below - IF YOU DARE!!!!!!!!!!!!!