Abbiamo incontrato Kevin Walsh per parlare della sua collaborazione con Wallsauce.com
Yorkshire born, Kevin Walsh may have had a challenging start to his career, but his art has since featured on Harrods Christmas biscuit tins and cards along with licenses with other recognised household names across the world.
.
What influenced your unique style?
"I work traditionally in oils, so really appreciate the compositions and skill of artists of the Victorian period. I also like classic car motoring artists like Roy Nockolds and also Terrance Cuneo who could paint anything. He would paint some of the most difficult subjects successfully."
Qual è il tuo pezzo preferito della nostra collezione e perché?
"Uno dei miei pezzi preferiti è VE Day Celebration. Ci sono circa quaranta persone. È un quadro piuttosto grande e mi ci sono voluti più di due mesi per realizzarlo. È stata una delle mie opere di maggior successo"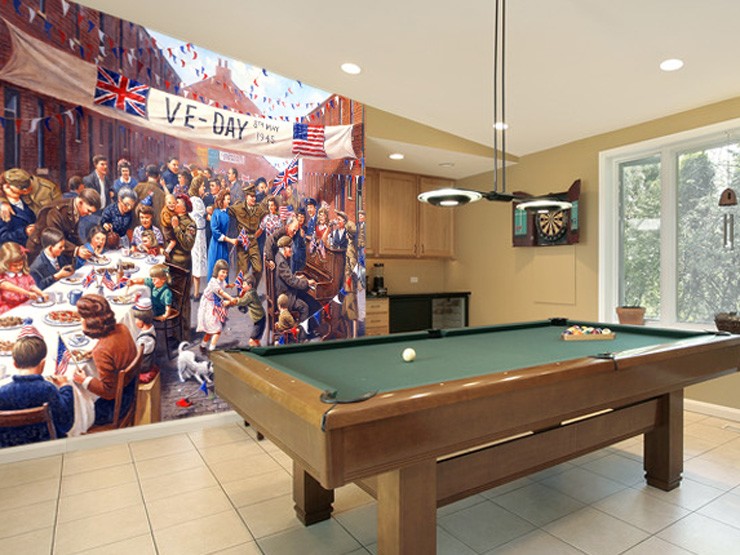 'VE Day Celebration' mural by Kevin Walsh
Chi sono le tue influenze nella vita?
"My parents, who always encouraged my art from an early age. I used to like knights in armour, soldiers you could buy in Woolworths. I used to spend hours drawing and colouring armies of them.
Alla fine mi è stato permesso di rilevare la nostra stanza migliore come studio. È stato un bel sacrificio da parte loro, perché da grandi ne avevamo solo due al piano di sotto. Anche mia moglie, Sharon, che mi ha sostenuto nei momenti difficili della mia prima carriera, quando ho deciso di diventare un artista a tempo pieno" 
Where do you see the murals being installed? Is there a specific one that you think belongs in a specific room?
"A lot of my work features my interest in classic cars and other modes of transport, so I could see them fitting in a study or hobby room perhaps."
'Flying Scotsman at Kings Cross' mural by Kevin Walsh
Qual è la vostra stanza preferita nella vostra casa e perché?
"I have to say my studio. It's where I spend most of my time and where I escape. I have mountains of books, photos and pictures that inspire me. I also have boxes of reference from different periods that has taken me years to collect."    
How would you detail your journey into becoming such a successful artist?
"Hard work and persistence! I always work in the premise of producing the best work I could do.  Spending many hours on a painting when the financial reward was not that great. In the long term it paid off."
'Balloons Over Bristol' mural by Kevin Walsh
Visita il sito completo Kevin Walsh wall mural collection e condividi i tuoi preferiti nella casella dei commenti qui sotto.