Using a universe wallpaper in your home can make you feel like you've travelled across space – something that may not be an option for all of us (despite how much we'd like to go)! From colourful nebula clusters, artistic depictions of space, actual NASA photography of galaxies and mesmerizing views of our planet, there are so many space wallpapers to make you feel like you're an astronaut on a mission!
Des peintures murales de l'espace qui plairont aux physiciens, aux aspirants pilotes de fusée de la NASA ou aux personnes qui trouvent les planètes et les étoiles relaxantes, tout le monde et toutes les pièces peuvent bénéficier d'un papier peint galaxie. Alors qu'attendons-nous ? Lançons-nous dans cette collection spatiale !
1. Un fond d'écran design sur le système solaire pour les astronautes en herbe !
Murale en photo Notre système solaire
Si vous avez la chance de connaître un futur astronaute, pourquoi ne pas lui offrir la fresque Notre système solaire ? Bien qu'il ne s'agisse pas d'une représentation réaliste du système solaire, ce papier peint fascinant n'en est pas moins impressionnant. Conçu par le illustrateur de talent Adrian ChestermanLes textures et les couleurs des planètes, des étoiles et des voies lactées sont vraiment magnifiques. Parfaitement placé le long ou derrière le lit de votre enfant et associé à un décor aux tons neutres, ce papier peint planètes fera tomber la mâchoire de ses amis lorsqu'ils viendront dormir chez vous !
2. Un fond d'écran lunaire qui vous fera craquer !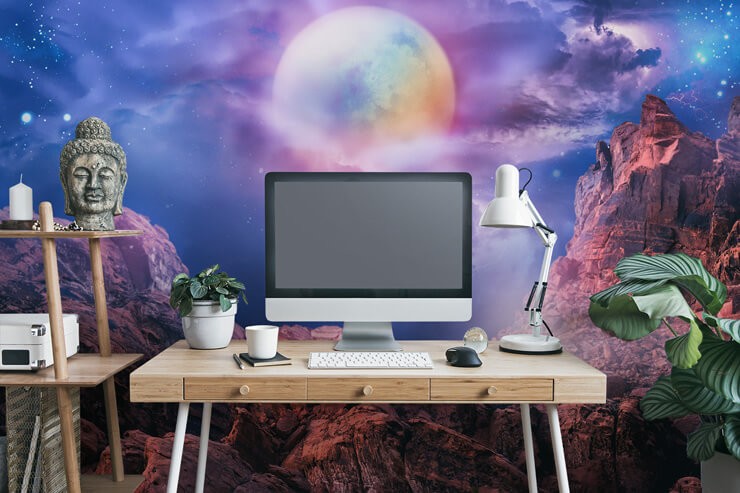 Murale en photo Lune de rêve
Soyez sur la lune avec cette peinture murale Dreamy Moon (désolée pour la fromage jeu de mots - mais c'est de cela qu'est faite la lune, après tout) ! Nous pensons que la représentation du satellite permanent de notre planète par Tenyo Marchev est vraiment magique. Encadrée par un paysage rocheux rouge et poussiéreux, on a vraiment l'impression d'avoir mis le pied sur Mars et de regarder la lune d'un point de vue totalement différent..
En raison de l'ambiance calme et rêveuse de cette fresque murale violette, nous pensons qu'elle est idéale dans ce bureau à domicile branché. Associée à des plantes vertes, des meubles en bois et un ornement inspiré du bouddha, vous ne pourrez que vous sentir zen dans cet espace créatif et productif.
3. Papier peint terre de science-fiction pour un salon futuriste [Spock approuverait] !
Murale en photo Realistic Planet Earth in Space
A sci-fi inspired lounge that even Spock would be impressed with, this futuristic green space really brings out the green tones in this Realistic Planet Earth in Space wall mural. By choosing sleek furniture made with clean lines and metal accents, this amazing earth wallpaper would look at home in Captain Kirk's space pad (or Jean-Luc Picard's depending on which era of Star Trek you love the most)! All this living room needs now is a transporter in the corner of the room. You'd never be late for work again!
4. Inspirez les jeunes physiciens avec un fond d'écran de planètes
Murale en photo Planets Orbiting Sun
If you or your child are serious physicists and want your surroundings to represent your passion, then a colourful planets wallpaper like this Planets Orbiting Sun is perfect. We love how this solar system wallpaper has totally brought this teenager's study room to life! The bright orange tones of the sun contrasted against the deep purple atmosphere is a colour sensation – great for finding room accessories to go with! With such an espace d'inspiration, mur de caractéristiques ainsi, votre enfant sera certainement motivé à travailler dur pour pouvoir un jour se permettre de voyager dans l'espace (on ne sait jamais) !
5. Faites exploser la couleur sur les murs avec un papier peint de l'univers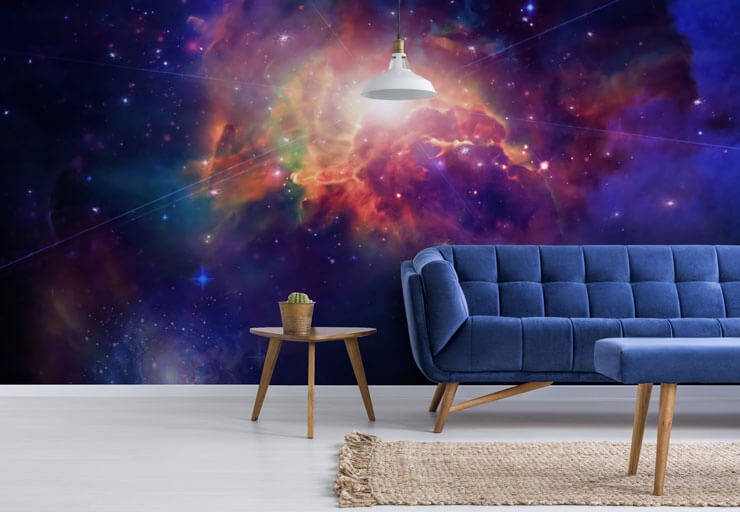 Murale en photo Murale de l'espace
In every home, there is at least one room that lacks colour and style. That's why a colourful nebula wallpaper can really come in handy. And you don't need to be a sci fi or space fan to enjoy one! As you can see, the burst of rainbow shades in this Space wall mural have totally transformed a room that was lacking in colour beforehand. If you wanted to add even more shades, use the pink, orange and green tones in this bright nebula wallpaper – scatter cushions, rugs, curtains and more.
6. Marble or space wallpaper? Which is it?
Murale en photo La nébuleuse de la Carina : Naissance des étoiles à l'extrême
Que pouvez-vous voir ? Un papier peint en marbre gris et bronze ou une scène spatiale ? C'est vraiment difficile à dire quand on regarde ce papier peint nébuleux de loin ! Un design de papier peint qui est hors du monde, our The Carina Nebula: Star Birth in the Extreme mural is so unique compared to the other space wallpapers in our range. With bronze and silver tones, it almost looks metallic! Great paired with exposed bricks, tropical plants and boho furniture, this warm-toned star wallpaper would also look great in a futuristic space with lots of metallic accents and grey tones.
7. Decorate YOUR way with a milky way wallpaper
Mural in photo: Galaxie spirale Voie lactée
Space wallpaper isn't always an obvious choice for a home office. But why not? If you're passionate about the universe and don't want to follow the crowd, then this Spiral Galaxy Milky Way wall mural could be your answer. This office space has opted to keep the room as simple as possible so that this universe wallpaper is always the star of the show. If you'd like to inject more colour into the room, paint the walls with a shade of purple to mirror the tones in this design.
8. Sentez-vous comme une superstar avec un papier peint de star !
Murale en photo Star Cloud
What's more luxurious than sitting back in the tub looking up at your own cluster of stars? That's why you will feel like a superstar with this Star Cloud wall mural in your home! A unique choice for a dark navy wallpaper, this galactic design looks great with natural wood and wicker décor. Or, why not choose navy and white room accessories for a classic look? For bathrooms, we always recommend our Premium Paste the Wall wallpaper – it has anti-mould and anti-microbial properties.
9. Calming universe wallpaper for the bedroom
Mural in photo: The Majestic Sombrero Galaxy (M104)
Si vous recherchez un papier peint d'espace simpliste pour votre chambre à coucher relaxante, alors notre murale The Majestic Sombrero Galaxy (M104) est aussi apaisante que belle. A genuine photograph taken by NASA Space Images, this silver-toned galaxy is a marvel to behold. We love how it sits tilted above the bed in this boho styled room. It is quirky, mesmerizing and utterly cool! Just watch the thick dust lanes as they swirl around the bulbous core as you lie in bed...
10. Un papier peint galaxie pour inspirer la palette de couleurs de votre maison
Mural in photo: Galaxy wall mural
Whether a true photograph or one that has been inspired by space, a colourful universe wallpaper is all you need to inspire your colour scheme choice. That's why we love this space-inspired lounge. The purple-toned throw and vases perfectly match the lilac tones in this dreamy Galaxy wall mural. Choose a pastel grey couch, flooring and even paint the walls in a similar shade. Grey is a great colour to combine with purple tones.
We hope you love our universe wallpaper collection! Which one makes you feel on top of the world?