What conjures up in your mind when you think of peacock mural ? Do you feel transported to far-away-lands? Love their luxurious display of pattern and colour? Or simply want to embrace your inner peacock? Whatever it is that makes you a peacock fanNous sommes sûrs que vous aimerez au moins un de nos dix dessins de paon. Des illustrations marines et dorées aux gribouillages colorés, nous avons des peintures murales de paons qui vous feront certainement secouer les plumes de votre queue.
1. Des aquarelles douces pour une touche délicate et féminine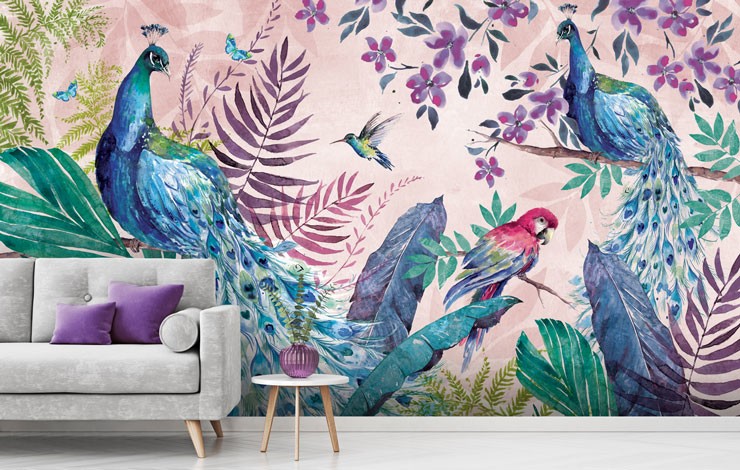 Murale en photo Paon des tropiques
Let's start off with a bang with our Tropical Peacock wallpaper by Di Brookes from our collection de papiers peints de créateurs. Brookes décrit son travail comme étant féminin, classique et décoratif. Elle utilise une gamme d'aquarelles, de plumes et d'encres ainsi que Photoshop pour créer ses magnifiques et vibrants dessins.
Le fait du paon : Only the males are "peacocks". The females are called "peahens" and the chicks are called "peachicks". Easy peasy to remember! (mentalfloss.com)
2. Bird wallpaper for a room with a view
Murale en photo Fenêtre sur les oiseaux tropicaux
Stunning views aren't something we are all lucky enough to own, but creating your own view isn't as difficult as you think. Why not try a DIY room with a view by installing this Window with Tropical Birds wall mural in your home? A stunning creation by Andrea Haase, this elegant peacock mural will also open up any small room creating the illusion of more space.
Le fait du paon : Peacocks can be used as guard dogs instead of dogs. If they see an unfamiliar person or animal, they will holler! (hobbyfarms.com)
3. Boho feathers peacock wallpaper
Murale en photo Large Peacock Feathers
Chaque fois que je vois du papier peint imprimé de plumes, j'imagine des capteurs de rêves soufflés par le vent et j'entends des guitares acoustiques. J'ai envie de m'asseoir dans un fauteuil en osier suspendu et de me frotter les orteils dans un tapis à motifs bohémiens. Si vous cherchez un design intérieur bohème différent, une peinture murale en plumes de paon peut être votre réponse.
Ne vous contentez pas de murs blancs pour aller avec ce papier peint de plumes haute définition. Pourquoi ne pas opter pour une peinture bleu marine ou vert émeraude pour ajouter cette touche riche et décadente ?
Le fait du paon :  Did you know that peacocks are one of the largest flying birds? (softschools.com)
4. Invite texture effect with an exotic bird wallpaper
Mural in photo: Multi Oriental Jungle Peacock
Texture is one of the biggest trends to follow in interior design right now. So by choosing a peacock wall mural with texture effect in it, you will definitely be on top of the latest styles! This Multi Oriental Jungle Peacock wallpaper is full of just that. From luxurious leopard print, florals bursting with colour, tropical leaves and so much more, this exotic bird wallpaper has an abundance of beautiful textures and layers to enjoy.
Le fait du paon : Peacocks (male peafowl) can reach the length of 5 feet and  weigh between 8 to 13 pounds! (softschools.com)
5. Invite chinoiserie inspired elegance into the room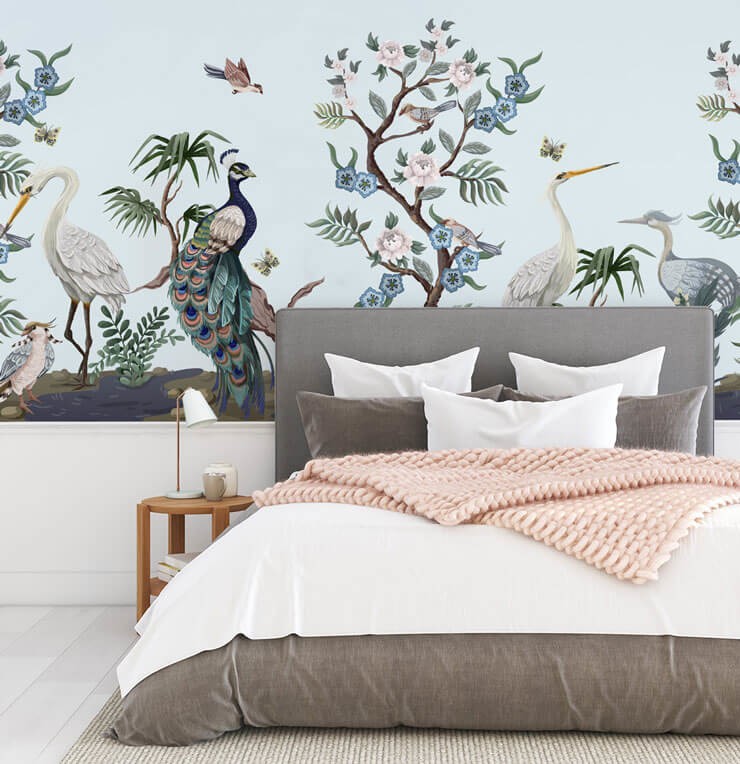 Murale en photo Bird Paradise
Do you love the chinoiserie look? Then bring vintage elegance into your home with a peacock mural such as this Bird Paradise. With gorgeous pastel tones in blue and pink, this exotic bird mural will bring a touch of serenity as well as antique style into a relaxing bedroom. Paired with simple, neutral, pastel-toned decor, this chinoiserie wallpaper is a sure winner for a home.
Le fait du paon : Only male peacocks have a beautiful display of feathers. Females only have brown feathers. (yocover.com)
6. Be transported to exotic and sultry lands
Mural in photo: La jungle du paradis des paons
Travel across the oceans to exotic lands with our exotic Peacock Paradise Jungle wall mural. Don't you just adore the rich green tones of the leaves and the pearly-blue of these beautiful creatures' necks?
En parfaite adéquation avec le look floral sombre en vogue, cette sultry jungle wallpaper changera à jamais votre point de vue sur la décoration intérieure. Nous vous suggérons de faire couler le reste de la pièce avec les tons riches et profonds du design. Peignez les murs environnants d'un bleu paon et optez pour des sièges en velours vert émeraude. Pour encore plus de glamour, ajoutez des accents dorés dans votre choix d'ornements et d'éclairage.
Le fait du paon : Peafowl est le nom collectif des paons. (facts.net)
7. Designer doodles to bring whimsy and colour into your space
Murale en photo Puzzle du paon
We adore the eclectic range of colour in this stunning peacock mural: it's totally psychedelic! When installing this gorgeous bird wallpaper in your home, try not to add too much extra colour. This design by Valentina Ramos can easily speak for itself! But don't be worried about adding more pattern. The world of interior design is all about mixing patterns. We love the addition of the black and white zig-zag rug in this trendy loft lounge.
Peacock Fact: Il existe 3 variétés de peafowl : l'Indien, le Vert et le Congo. (sciencekids.co.nz)
8. Navy gold and blue peacock wallpaper
Murale en photo Le roi paon
Pour un look riche et décadent, cet élégant papier peint Roi Paon d'Andrea Haase est idéal. Nous adorons les touches d'effet or dans le design, des mouchetures des plumes de ce magnifique oiseau aux couronnes excentriques perchées sur leurs têtes !
Une parfaite papier peint marine et orPour la décoration de la salle, optez pour un décor aux accents dorés. Pourquoi ne pas inclure des accessoires chic de la marine comme des coussins de dispersion en velours ? Vous pourriez même peindre les murs environnants dans une profonde nuance de bleu marine.
Peacock Fact: Saviez-vous que les paons domestiqués peuvent vivre jusqu'à 50 ans ? (newsbytesapp.com)
9. Bird wallpaper you are going to be a big fan de !
Mural in photo: Portrait d'un paon
Although we have some gorgeous illustrated and feather peacock wallpaper, you can't beat the beauty of the real creature itself. This beautiful photo of a peacock with its wings fully fanned out just shows how stunning this breed of bird is. Isn't it fantastique ?
Une fois installé dans votre maison, profitez des nuances luxueuses du reste du décor de la pièce. Peignez les murs en bleu et optez pour des ornements vert émeraude dans toute la pièce.
Le fait du paon : Une famille de paons est appelée "troupe" et un groupe de paons est appelé "fête". (momjunction.com)
10. Vintage style tropical wallpapers
Murale en photo Rêves de paon
We adore this antique-styled peacock mural. Spend hours looking at the layers of handwritten notes, oriental florals and jungle life.
Parfait pour n'importe quelle pièce, ce papier peint bleu exotique ferait particulièrement bien dans votre chambre à coucher placée derrière votre tête de lit. Choisissez une gamme de décors bleus et blanc cassé pour refléter ces magnifiques nuances.
Le fait du paon : Les paons font partie de la même famille d'espèces que le faisan. (animaux.maman.moi)
11. Colourful and psychedelic feathers
Murale en photo Gros plan sur la plume de paon
Pour un papier peint paon contraire à la tradition, choisissez ce superbe papier peint à plumes ! Il se délecte non seulement des bleus et des verts paons, mais aussi des turquoises, des oranges, des violets et même un soupçon de jaune ! Il s'agit en fait d'un arc-en-ciel en forme de plume !
This macro-shot feather wallpaper is so highly defined that you can enjoy every line of each individual feather strand. A completely unique and slightly abstract peacock design, this on-trend  papier peint animal print rendra chaque pièce unique et pleine de vie.
Peacock Fact: Peacocks lose their beautiful feathers after every mating season. (newsbytesapp.com)
12. Create an opulent bathroom with an exotic bird mural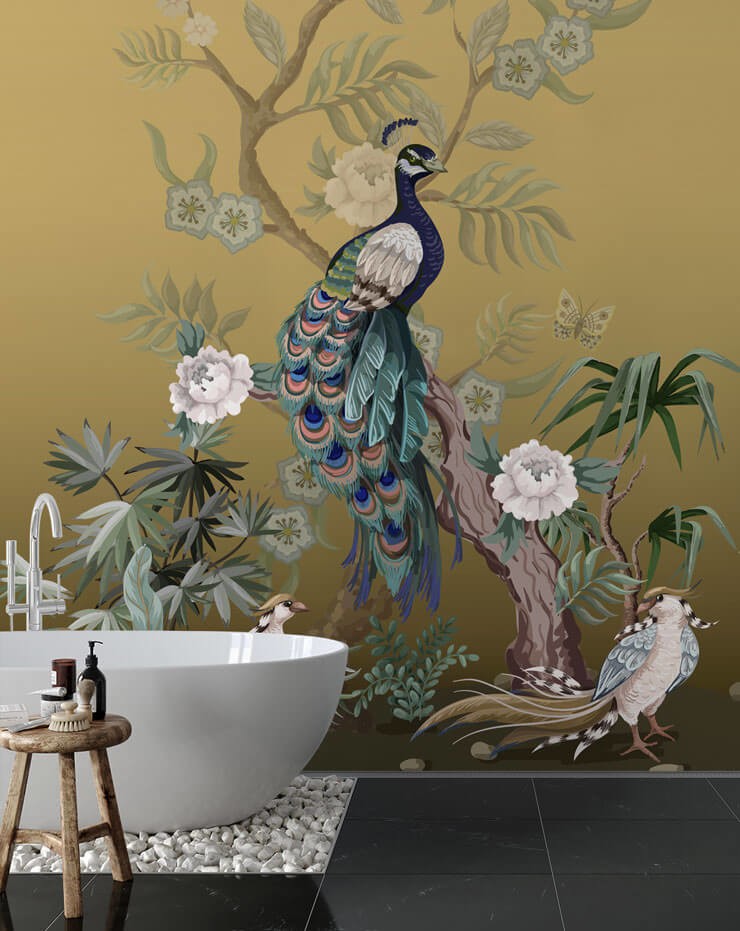 Murale en photo Le pouvoir du paon
Who wouldn't love a luxurious bathroom adorned in exotic bird wallpaper? And when you see this stunning Peacock Power mural, it's even harder to see who wouldn't! By simply adding this decadent peacock mural to this minimalist bathroom, immediately the luxury levels have been notched up to 100%! For even more glamour, pair this warm yellow design with gold accents such as gold tap faucets for both the sink and bath as well as gold hooks to hang your silk dressing gown from.
Le fait du paon : The large, beautiful tail that male peacocks have is called a "train". (thefactsite.com)
13. Peacock wallpaper = decadence and class
Murale en photo Peacock Jungle
Nous ne pouvions pas ne pas vous montrer l'un de nos motifs de paon préférés. Ce superbe papier peint de la Jungle du Paon respire le style et la classe. Nous aimons les plumes des feuillages tropicaux qui se superposent à l'écriture ancienne. Et nous ne pouvons pas nous empêcher de penser à l'aspect majestueux et fier de ce magnifique oiseau. Quel magnifique papier peint d'oiseaux!
Le fait du paon : Lorsque les plumes d'un paon sont étalées, elles occupent plus de 60 % de la longueur totale du corps de l'oiseau. (nationalgeographic.com)
14. Charcoal grey tropical murals
Murale en photo Clan des paons 4
Our last but certainly not least peacock design is our on-trend Peacocks Clan 4 wall mural. We love the smoky-greys in this stunning design. If installed in your lounge, include dark-grey furniture to mirror those earthy shades. Picture a charcoal-grey, velvet armchair and dark metal accents with your choice of lighting and ornaments.
Si vous voulez ce dessin en bleu, il y a aussi notre belle Murale du clan des Paons à apprécier.
Le fait du paon : Although you might think peacocks are slow and tend to dawdle, they can actually run up to 16km per hour! (thestar.com)
Avez-vous apprécié notre flapping merveilleuse gamme de papier peint paon ? Laissez un commentaire ci-dessous pour poser vos questions ou nous faire part de vos commentaires !