La marine est une couleur qui s'est imposée au fil des ans dans tous les aspects du design. Elle est tout à fait intemporelle et classique. Il n'est donc pas surprenant de découvrir que le bleu marine est actuellement l'une des couleurs les plus en vogue dans la décoration intérieure.
Nous assistons à la réapparition de blancs contrastés et de bleus profonds qui suintent le style et la sophistication des demeures seigneuriales. Sans oublier les murs sombres et lugubres de la marine qui ont émergé de notre nouvel amour pour les murs sombres et dramatiques.
Là-haut, avec les murales florales, le papier peint marine est totalement actuel mais a l'avantage supplémentaire de la longévité. Lisez la suite pour découvrir nos motifs de papier peint marine préférés pour ajouter de la classe et du style à votre maison.
Papier peint blanc et marine pour des espaces clairs et aérés
Pour moi, le bleu marine et le blanc sont la combinaison de couleurs parfaite pour les intérieurs. Non seulement le contraste entre le bleu foncé et le blanc vif est net et élégant, mais ce mélange de bon goût séduit toute la famille. Il n'est ni trop masculin ni trop féminin et peut facilement être associé à votre décor actuel. C'est pourquoi c'est une excellente idée d'avoir un salon de la marine. That way the most communal area in your home is liked by everyone!  
Colin Haentjens, architecte et expert en design d'intérieur, recommande un papier peint blanc et bleu marine si vous avez une grande surface de mur.
For large expanses of wall in a living room, only use navy-blue in a mural or pattern wallpaper that has lighter colors mixed in; otherwise the navy-blue will feel oppressive due to its heavy "weight".
Take this beautiful Blue Vintage wallpaper. It definitely isn't overbearing. In fact, this stunning living room looks light and airy. We absolutely love how old meets new in the choice of furniture chosen to go with this antique style wall mural. The pastel grey Scandi sofa and armchair work excellently with the navy wallpaper. The touches of white through the lamp, coffee table and ornaments are a gentle nod to the white tones used in the design. Beautiful!
Dark marble feature walls for a modern twist
Pour être totalement dans la tendance, choisissez un papier peint en marbre. It is often difficult to find a marble in such a stunning shade of navy. That's why this gorgeous Dark Blue Marble wallpaper is perfect!
Souvent, les murs sombres peuvent être dominants, mais les lignes bleu pâle qui traversent ce marbre décadent brisent les tons les plus sombres.
We also love the versatility of this marble wallpaper. It can be installed in any room, paired with any type of décor and it would still be the main focal point of the room.
Personally, when I think of marble, I imagine ancient Greek temples scattered with huge marble pillars. Or, I picture rustic French chapels with walls completely adorned in rich and luxurious swirls of marble. But this beautiful living room has taken a twist on traditional views of marble. It is utterly modern, showing how much marble has endured the test of time! So you needn't worry about this navy wallpaper quickly becoming out of date!
Did you know that darker shades of blue symbolise wisdom and truth? So if you're thinking of updating your home office, a navy wall mural is your answer to productivity and success!
Designer mountain landscapes to transport you to dreamland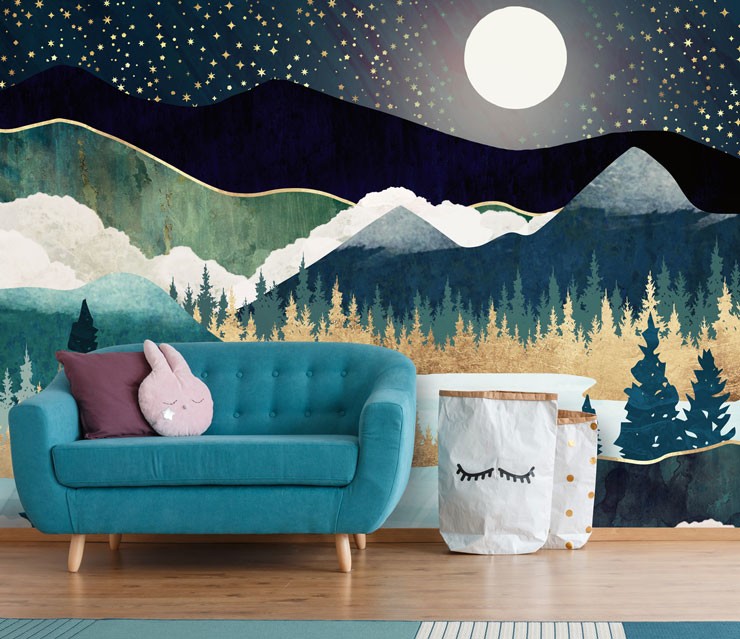 If you're looking for fabulous blue wallpaper, but can't decide which shade to embrace, then this Star Lake wall mural is for you!
This mountain wallpaper is an absolute celebration of pattern and colour. This year is all about breaking the rules and mixing patterns and our designers, SpaceFrog, are doing exactly that! From rich, dark shades to teals, turquoises and bluey-greys. Not forgetting the cocktail of marbles blended with shards of gold and the froth of white clouds!
Un autre fond d'écran de la marine, parfait pour tous les membres de la famille, est ce fond d'écran de montagne, très tendance. Que vous l'installiez dans la chambre de votre bébé ou même dans votre chambre principale, il fera l'affaire !
Si elle est installée dans une chambre à coucher, embrassez des housses de couette blanches pour refléter la lune et les nuages. Faites parsemer des touches de bleu marine dans la pièce en ajoutant décor  such as navy curtains or scatter cushions. Don't forget to celebrate those gold-effect trees with golden lamps or candle holders!
You'll be over the moon with this navy wallpaper!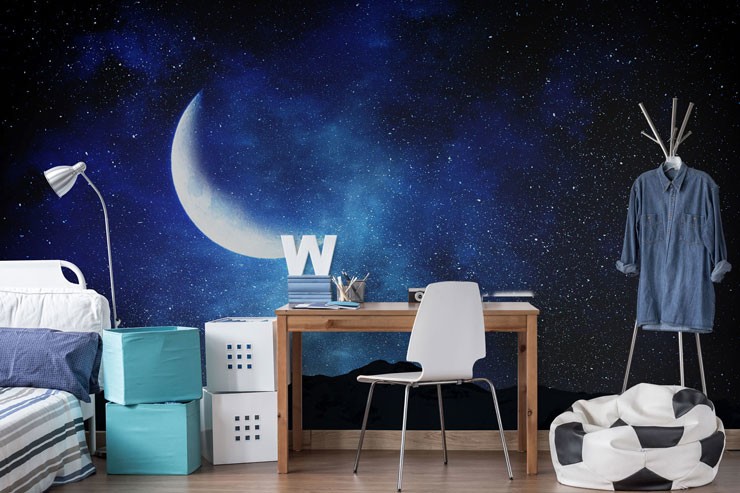 As the Pantone Colour of the Year, navy blue is emerging in every room of the home – even in your teenager's den. How good does this versatile Star Studded Moon Galaxy wallpaper look in this adolescent's bedroom?
If your child is absolutely obsessed with Sci-Fi film or gaming, then this relaxing moon wallpaper is a definite nod to their passion. At the same time, it won't give you a headache every time you come in to get their dirty laundry!
Bien que ce papier peint spatial de rêve ait l'air étonnant dans la chambre de cet adolescent, il ferait également un excellent mur d'accent pour une chambre à coucher principale. Imaginez simplement une tête de lit blanche placée contre la fresque et des tables de chevet blanches placées de chaque côté. Placez des coussins de couleur marine au-dessus des oreillers et peignez les murs environnants en blanc. Imaginez la sérénité et la tranquillité que vous ressentirez avec cette peinture murale en forme de lune qui brille au-dessus de votre tête lorsque vous vous endormirez...
Gold and navy wallpaper for decadence
As well as looking stunning paired with white, navy is really brought to life when mixed with gold. One of our most popular navy and gold wallpapers is our stylish Fantastic Peacock Kings mural designed by Andrea Haase.
Les avantages sont nombreux navy and gold wallpaper. Not only will it add instant decadence and class to your home but it is great fun to decorate with! We recommend luxurious deep-blue velvet fabrics combined with gold lighting and furnishings to make the gold-effect in the mural pop! Colin Haentjens also thinks that light, bright tones suit navy.
Because of navy-blue's heavy saturation and dark shade, it is a dominant color. Rather than fight this, it's better to embrace it and use less saturated, lighter colors around it. Whites are a common pairing, but don't be afraid to use colors like pastels, especially yellows and reds.
En plus d'opter pour quelques ornements en or, cette propriétaire a choisi le jaune moutarde pour donner vie à son salon de la marine !
Un papier peint botanique marine pour créer une chambre de maître sereine
Vous aimez l'idée d'un mur d'images de la marine, mais vous avez peur des tons sombres et dramatiques ? Alors ce joli papier peint Indigo Garden 2 ajoutera une ambiance lumineuse et gratuite à votre chambre principale. Le magnifique effet aquarelle et les tons pastels sont apaisants pour l'œil. De plus, le style crée un mur de caractéristiques artistiques sans pour autant envahir toute la pièce.
Conçu par l'une de nos designers les plus populaires, Carol Robinson, ce papier peint floral transformera à coup sûr n'importe quelle pièce. Pour reproduire l'aspect naturel de ce papier peint botanique, optez pour des meubles en bois naturel comme cette tête de lit et cette bibliothèque. N'oubliez pas une petite collection de plantes vertes feuillues pour que la pièce reste fraîche.
Turkish tiles to bring that vacation feel into the home
In mind of this year's obsession with mixing patterns and breaking the rules, this White and Blue Pottery tile wallpaper is ticking all those boxes!
The gorgeous combination of sky blue and navy works perfectly and the 3D tile-effect wallpaper is a great alternative to real tile.
We also love how this room is put together. The natural wood of the drawers and plant stand break up the blue and the creamy grey sofa mirrors well with the white in the design.
Nous vous avons aidé à trouver le parfait papier peint de la marine ? Veuillez laisser un commentaire ci-dessous pour nous dire lequel est votre préféré ou si vous avez d'autres conseils pour la décoration intérieure de la marine !