En août de l'année dernière, nous étions ravis d'annoncer que la talentueuse Julia Fonnereau était la gagnante de notre concours de papiers peints 2020. Aujourd'hui, son magnifique motif Dynasty Fishes and Dishes, et bien d'autres, font leur apparition sur les murs du monde entier.
Lors du dernier concours, nous n'avons pas pu croire au talent des designers qui ont participé. C'est pourquoi nous n'avons pas hésité à présenter le travail de deux des autres designers sur Wallsauce ! Merci à Nici Gabriel et Rebecca Johnstone ! Pour découvrir le travail de toutes ces femmes talentueuses, jetez un coup d'œil à notre fabuleuse collection de papiers peints.
Ainsi, en raison du succès de nos concours précédents, nous n'avons pas pu résister à l'envie d'en organiser un autre - et ce, même pas un an après le dernier ! Nous aimons toujours voir de nouveaux talents, afin que nos clients aient le choix entre les designs muraux les plus uniques qui soient ! Une fois de plus, nous nous sommes associés à la fabuleuse équipe de Make It In Design qui inspire les designers en herbe à "apprendre, grandir et prospérer". Et ce groupe de personnes formidables a proposé une gamme étonnante d'œuvres d'art provenant d'un grand nombre de designers. Nous avons pris beaucoup de plaisir à regarder la sélection et, croyez-nous, il n'a pas été facile de choisir nos 9 préférés ! Mais nous avons besoin de votre aide ! D'après vous, qui devrait gagner The Next Designer Wallpaper Collection 2021 ?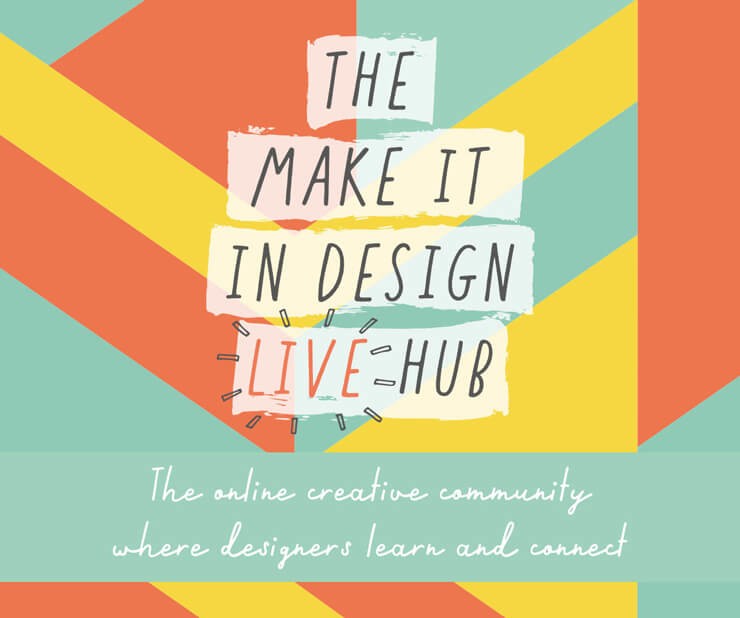 La brève : Les choses s'améliorent
Nous connaissons tous les effets que les 12 derniers mois ont eus sur nos vies, c'est pourquoi nous voulions promouvoir une gamme positive de designs qui ont une vision optimiste de l'avenir ! Avec l'augmentation du nombre de personnes travaillant à domicile, nous avons spécifiquement demandé des designs qui créeraient une atmosphère positive dans un bureau à domicile.
Voici quelques-uns des détails que nous avons demandés :
Deux motifs muraux pour un bureau à domicile ou un espace de travail
Créer des dessins de placement et ne pas répéter des modèles
Être prêt à fournir quatre dessins ou modèles supplémentaires si vous êtes retenu.
Se concentrer sur ces thèmes : paix, couleur, positivité, déclaration, motivation, calme, tranquillité, élévation.
Votre vote pour la prochaine collection de papiers peints design
Pouvez-vous nous aider à trouver notre prochain top designer chez Wallsauce.com ? Si oui, jetez un coup d'œil aux créations ci-dessous ainsi qu'à quelques détails sur l'artiste lui-même ! Il a été très difficile de réduire le nombre de créations, mais nous sommes certains d'avoir trouvé des designs que vous allez adorer.
Faites défiler la page vers le bas pour voir les entrées présélectionnées et votez en commentant leur nom au bas de l'article du blog.
Sally Franks
Principalement graphiste indépendante, Sally Franks est passionnée par le mélange de couleurs vives et douces et de formes simples et plates. Inspirée par les voyages, la nature, la musique et l'art, son travail est développé en partie par l'observation et l'intuition. Toutes ses œuvres ont des racines dans quelque chose de réel et de tangible, mais elles sont simplifiées et rendues abstraites. Une forme amusante et joyeuse, elle décrit son travail comme "ludique" et "enfantin". C'est en se qualifiant comme praticienne des arts et du bien-être qu'elle a développé cette technique et qu'elle enseigne désormais à ses élèves à se défaire de la perfection et à créer librement, comme le ferait un enfant.
Sally Franks nous en dit plus sur ses peintures murales tendance : "Les deux peintures murales ont été inspirées par des photographies que j'ai prises au cours de mes voyages, alors que je me promenais dans les rues en admirant les paysages et les sons. Les couleurs ont été prises directement sur les photos et la composition et les formes ont été inspirées par celles-ci. J'aime les considérer comme des œuvres multisensorielles, où ce que vous voyez, entendez, sentez ou ressentez est mélangé et étalé sur la toile. J'ai créé ces pièces dans Adobe Fresco avec un mélange de vecteurs et de pinceaux vivants. J'aime l'aspect pictural des pinceaux d'aquarelle, mais tous les éléments pourraient être recréés en vecteurs pour une meilleure mise à l'échelle et une meilleure qualité d'impression."
Amy Onuchi
Après avoir travaillé dans la conception de costumes pendant plus de dix ans, Amy Onuchi souhaitait se lancer dans de nouvelles activités créatives. Et depuis qu'elle a découvert la conception de motifs de surface, elle n'a pas regardé en arrière ! Passionnée par les couleurs et les motifs audacieux, Amy se concentre sur un large éventail de techniques de studio, notamment l'impression, le dessin à la main, la couture, la peinture et le collage ! Avec toutes ces compétences étonnantes mélangées à des méthodes numériques, elle a produit des designs ludiques qui sont équilibrés avec des motifs raffinés dessinés à la main.
Sur le thème de la création d'un environnement de travail positif, Amy a déclaré : "L'idée qui se cache derrière ces créations est une explosion de joie pour faire disparaître le blues du lundi. Des géométries aux couleurs vives, superposées à des fleurs éclatantes et à des gribouillis joyeux, pour stimuler la positivité dans la maison et faire en sorte que les gens se sentent encouragés et prêts à affronter la journée."
https://amyonuchi.com/abstract/
Edie Bryan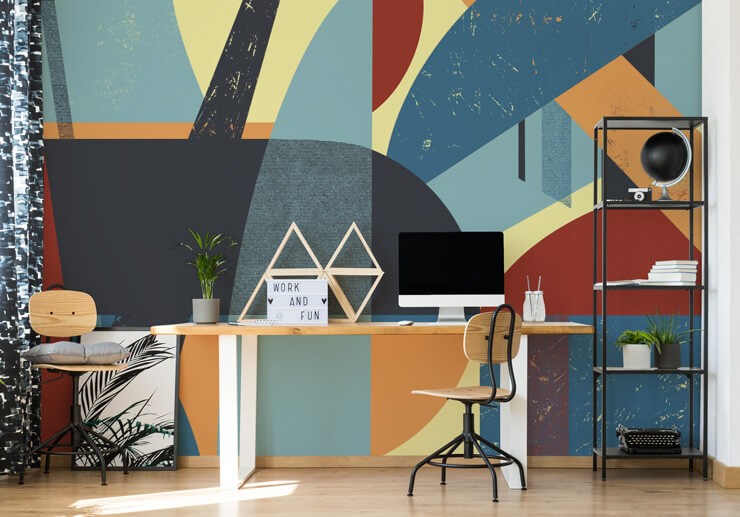 Basées dans le nord du Pays de Galles, les créations d'Edie Bryan correspondent parfaitement au cahier des charges : elles sont colorées, audacieuses, stimulantes et inspirées par la beauté de la nature. Les principaux thèmes qu'elle suit dans son travail sont un lien profond avec la nature et le bien-être.
Edie explique ce qui l'a inspirée pour créer ces magnifiques modèles : "En m'adaptant au travail à domicile l'année dernière, j'ai remarqué qu'il était de plus en plus difficile de faire la différence entre mon environnement de travail et mon domicile. Un changement de décor aide toujours à changer mon humeur et à stimuler mon énergie. J'ai donc eu envie de créer une collection de peintures murales qui aideraient à combattre la fatigue et à concentrer les esprits fatigués et distraits.
Je voulais capturer le sentiment d'être dans un endroit nouveau et excitant. Remarquer toutes les différences qui vous entourent, le paysage, l'architecture, les curiosités et les odeurs. Mes créations sont des abstractions géométriques audacieuses, utilisant des palettes de couleurs frappantes, choisies pour stimuler, dynamiser et inspirer."
Julia Clayden
Patroniste et illustratrice indépendante passionnée par les motifs, Julia Clayden est connue sous le nom de "The Pattern Lady" (la dame aux motifs). Après avoir obtenu une licence (avec mention) en design de mode et de textile à l'école d'art de St Martin, son amour pour le graphisme n'est apparu que plus tard (lorsque l'internet a enfin été inventé) ! Après avoir appris les joies de tout ce qui est "Mac" alors qu'elle était graphiste, elle aime maintenant utiliser Illustrator pour concevoir une large gamme de produits tels que la décoration intérieure, les tissus, l'art mural, les cartes de vœux et la papeterie. Son travail s'inspire du vintage, de l'art populaire et du style scandinave, ainsi que du design moderne du milieu du siècle dernier. Elle est passionnée par les palettes de couleurs et ne se lasse jamais de trouver la combinaison parfaite de couleurs et de motifs pour transformer complètement une surface en beauté et en joie.
Julia a déclaré : "J'ai eu envie de participer au concours Wallsauce car je pense qu'à l'heure actuelle, nous avons tous envie et besoin de croire que "les choses s'améliorent", et que l'art mural peut jouer un rôle énorme dans cette conviction en apportant un élan de positivité sur notre lieu de travail ou à la maison. J'ai voulu utiliser une palette lumineuse sur un fond sombre pour que le dessin soit vraiment très contrasté. Ces dessins sont destinés à apporter une bouffée d'air frais avec un zing ! Oh, et en plus, j'aime aussi les paons et leur élégance, et la plupart des oiseaux si je suis honnête, car ils m'apportent le calme."
Zinia Redo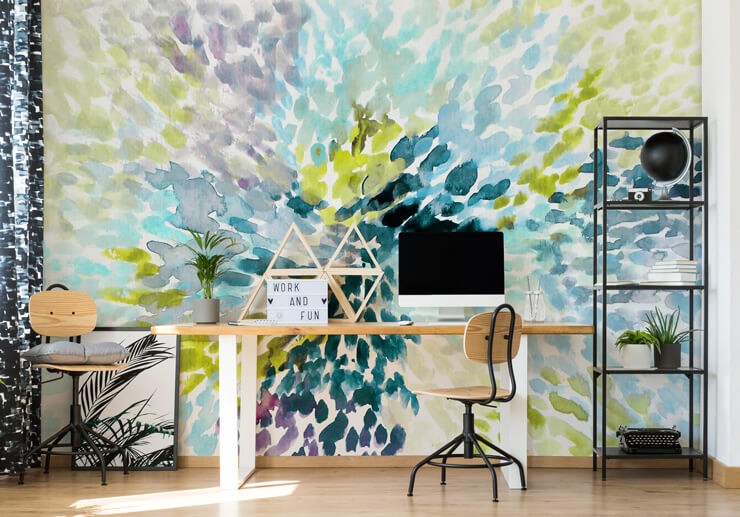 Basée en Grèce, la créatrice de surfaces Zinia Redo est une grande amatrice de couleurs et d'énigmes. Aussi loin qu'elle se souvienne, la résolution créative de problèmes a toujours été une seconde nature pour elle. Son travail se compose de tous les types de médias, des dessins vectoriels numériques aux aquarelles libres. Et comme elle a toujours cru au Père Noël et à la réalisation de l'impossible, toutes ses créations ont un aspect innocent, rêveur et féerique.
Zinia nous donne plus d'informations sur ses superbes motifs aquarellés : "Les motifs de cette collection sont inspirés par la beauté et la sérénité de la nature. En mettant l'accent sur la couleur et la forme, les modèles de cette collection tentent de déclencher les mêmes sentiments de calme et d'immobilité que ceux que nous éprouvons lorsque nous profitons des magnifiques paysages naturels. L'utilisation de l'aquarelle crée des formes douces mais inattendues qui ressemblent à la version floue que vous verriez en plissant les yeux en regardant un coucher de soleil, en ouvrant les yeux dans l'eau ou en virevoltant dans un champ d'herbe."
Justinah Kay
Née en Pologne, Justinah Kay a vécu dans plusieurs pays depuis et se considère comme une citoyenne du monde, ce qui est évident dans ces magnifiques dessins abstraits. Son travail coloré est inspiré par la beauté de la nature, les tendances actuelles et, surtout, les voyages. Elle peint soigneusement ses œuvres à la main avec des aquarelles et combine cela avec son talent pour l'art numérique. C'est une femme amusante qui est connue pour sa passion pour l'art et le design, son obsession pour le thé chai et son amour pour les caniches jouets !
Justinah explique le contexte de ses étonnantes créations murales pour bureaux à domicile : "Les amoureux du voyage savent ce qu'est la lutte contre l'enfermement et ces peintures murales ont été créées spécialement pour eux. Paris, Londres, Moscou, Barcelone et d'autres villes avec leurs points de repère caractéristiques sont là pour leur rappeler les endroits qui valent la peine d'être visités/visités lorsque nous serons autorisés à voyager à nouveau."
Rita Patel
Artiste multimédia et créatrice de motifs de surface, Rita Patel s'inspire des méthodes, des motifs et des matériaux. Elle est un bâtisseur où les matériaux avec lesquels elle travaille deviennent l'art. Son processus créatif s'inspire de son expérience personnelle de la beauté, de son lien étroit avec la créativité ainsi que du bien-être. Rita s'est consacrée entièrement à son travail lorsqu'elle a déménagé dans le Michigan, aux États-Unis, il y a 14 ans, pour se donner plus de temps et un plus grand espace de studio. Elle s'efforce de présenter son travail dans des lieux où les gens sont invités à faire l'expérience de la beauté et de la positivité. Son travail pose la question suivante : "Et si nous pouvions transformer le monde en faisant l'expérience de la beauté ?"
Rita a déclaré : "J'ai choisi d'utiliser la couleur et la forme pour évoquer une atmosphère d'espoir, de tranquillité, de paix et d'étendue. La pandémie a imposé un sentiment d'enfermement pour beaucoup d'entre nous et le sentiment de se sentir enfermé n'est ni porteur d'espoir ni inspirant. Être dans la nature a le pouvoir de guérir et lorsque nous sommes à l'intérieur, même les paysages abstraits peuvent évoquer un sentiment d'espace et de possibilité. J'espérais créer des visuels simples, ondulants et en couches qui rappellent aux gens des lieux et des expériences dans la nature qui les libèrent de la complexité quotidienne. La qualité relaxante de ces peintures murales a pour but de donner un répit à un espace mental conduisant à un état calme et créatif. J'espère pouvoir partager la collection complète en explorant différents paysages (montagnes et mers avec lever et coucher du soleil)."
Sarah Fowlis
Créatrice de motifs de surface vivant au Royaume-Uni, Sarah Fowlis est originaire d'Afrique du Sud, où elle a étudié le design textile avant de voyager. Elle a toujours aimé les choses colorées et la nature, ce qui se voit dans ses créations lumineuses et gaies. Son objectif est d'égayer les journées des gens avec son travail !
Sarah nous a expliqué ce qui l'a motivée à participer au concours : "L'inspiration derrière ces créations est mon jardin, car j'y ai passé beaucoup plus de temps l'année dernière. J'ai utilisé une palette de couleurs vives et positives, et si vous ne pouvez pas toujours avoir un vase de fleurs dans votre maison, pourquoi ne pas en avoir sur votre mur tous les jours ?".
Michelle Freer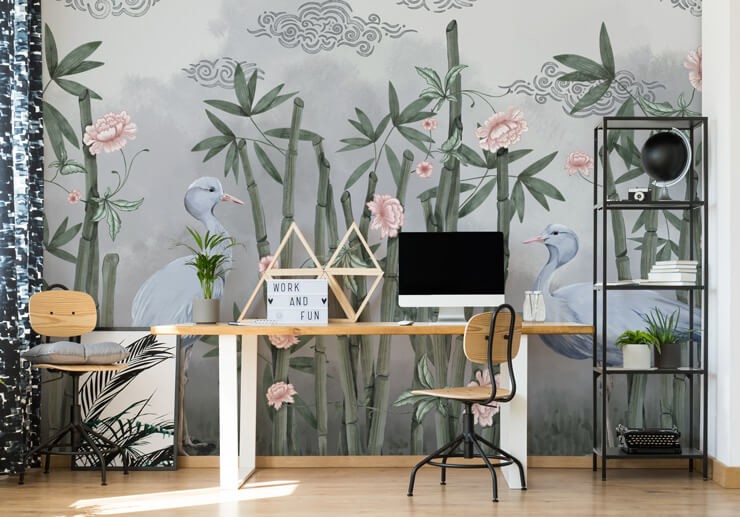 Designer et illustratrice d'origine australienne, Michelle Freer vit et travaille désormais au Royaume-Uni. Elle a commencé sa carrière dans la conception graphique, l'illustration et la pratique de la conception multidisciplinaire, et s'est maintenant tournée vers le monde de la conception de motifs de surface. Elle est spécialisée dans les papiers peints botaniques qu'elle a dessinés et peints à la main de manière complexe. Créatrice passionnée de motifs uniques, artistiques et illustratifs, le travail de Michelle célèbre principalement la nature et notre lien avec elle.
Michelle explique le contexte de ces deux superbes créations : "J'adore créer des motifs botaniques et l'un d'eux est basé sur mon amour de la flore indigène australienne. Le motif comprend des fleurs de banksia et de grevillea dessinées à la main, avec des roses corail vifs contre les tons doux et sourds du feuillage argenté et des cosses de graines. Pour créer une scène à la cime des arbres, j'ai inclus des cacatoès roses nichés. J'espérais créer un design qui soit à la fois positif et stimulant, mais aussi suffisamment apaisant pour un espace de travail à la maison.
L'autre dessin a été inspiré par un récent voyage dans un sanctuaire naturel, où mon imagination a été saisie par la rencontre d'une grue bleue enchanteresse. J'ai immédiatement voulu la dessiner dans cet habitat de bambou brumeux. Avec ce dessin, j'ai voulu créer une peinture murale de style chinoiserie, avec une scène aquarelle de bambou tranquille et apaisante, et j'ai également inclus quelques éléments floraux et nuageux orientaux stylisés."
Quel artiste souhaiteriez-vous voir ajouter à notre superbe collection de créateurs chez Wallsauce ? Faites-le nous savoir avant le dimanche 18 avril 2021 à 23.59 GMT en laissant un commentaire avec le nom de votre designer préféré ci-dessous.
Veuillez noter qu'un seul vote par personne sera comptabilisé et que votre commentaire peut prendre environ 24 heures pour s'afficher - ne vous inquiétez pas, nous l'aurons reçu ! N'oubliez pas de cocher la case et de vous inscrire à notre newsletter pour être le premier à connaître le nom du gagnant !