Lorsqu'il s'agit de maîtriser une maison avec un équilibre parfait entre la féminité et la masculinité, les intérieurs roses et gris sont la réponse. Des roses doux combinés à des nuances de gris apaisantes sont sûrs de nous plaire à tous. Ensemble, ces tons sont apaisants et ajoutent une ambiance classique et de bon goût à votre maison.
As popular as navy and gold wallpaper interiors, the pink and gold look can be achieved in a number of ways. Read on to see our top pink and grey wallpapers that are trending right now. Not forgetting an array of pink and grey décor and accessories that will transform any plain room into an on-trend oasis.
1. Des papiers peints à fleurs roses et grises foncées pour donner de la profondeur à n'importe quelle pièce
Les papiers peints et les décors floraux sombres prennent d'assaut le monde de la décoration intérieure. Bien que floral designs date back to ancient Egypt, they remerged last year and are confidently striding into 2020. Bold and passionate, this striking Light and Shadow wallpaper will make a fantastic pink and grey feature wall in your home.
Contrairement à nos papiers peints rose et gris plus clairs, cette peinture murale de fleurs, sensuelle et évocatrice, est d'humeur changeante et séduisante. Il s'agit sans aucun doute d'une déclaration qui nécessite un choix de décor minimaliste pour la compléter.
2. Calming pink and grey wallpapers that will leave you humming happily
Si vous menez une vie trépidante, le choix de votre décoration intérieure est extrêmement important. Vous voulez vous sentir détendu dès que vous franchissez la porte. C'est une raison essentielle pour laquelle vous devriez choisir des papiers peints roses et gris. Les nuances subtiles de gris et de rose poussiéreux sont tout à fait apaisantes et paisibles.
This beautiful Wisteria Lane wall mural offers just that. It's ideal for the workaholic to come back home to.
Nous disposons d'une abondante sélection de gorgeous floral wallpapers. However, this soothing designer wallpaper gives the perfect balance of pattern and doesn't overwhelm the room.
Choose grey cushions and a throw to stress the shades of grey in the swaying leaves. Would you like a splash more colour? Choose a dusty pink sofa or rug to stress the tones from the butterflies and hummingbirds in this serene flower wallpaper.
Source de l'image : Housecosy
On ne se lasse pas de ce magnifique canapé Archer, nu et rougissant, de Housecosy. Ne pensez-vous pas qu'il serait magnifique dans ce salon inspiré de la nature ?
3. Industrial concrete feature walls that add warmth and texture
Les fleurs, ce n'est pas votre truc, mais vous voulez quand même obtenir cette ambiance minimaliste et apaisante ? Jetez un coup d'œil à cette tendance Pale Pink Concrete wallpaper. Il offre cette magnifique ambiance industrielle/brut tout en nous rappelant des cieux gris ornés de nuages rose vif...le bonheur !
We think touches of pink and grey décor would certainly bring out the subtle tones in this gorgeously zen wallpaper. When out shopping, either online or on your local high street, keep your eye open for pink and grey gems.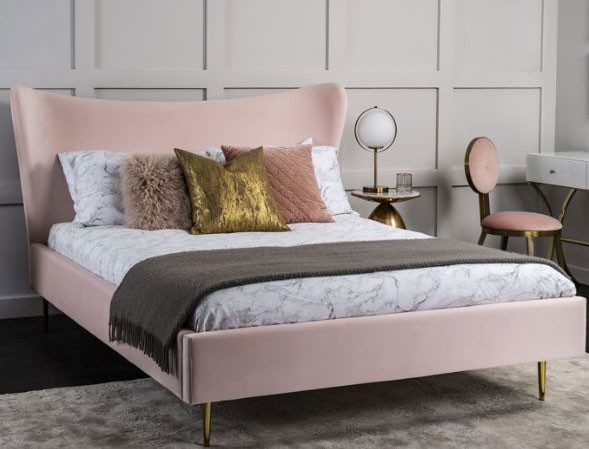 Source de l'image : Mes meubles
This stunning pink Tretton Duluxe bed from My Furniture is perfect. Its soft pastel pink covering will bring out the warm, gentle hues of the pink in the gorgeous, concrete mural.
4. Designer floral wallpaper as pretty as a blushing bouquet
Pour quelque chose de léger et de gai, mais aussi de plein de motifs et d'effets de texture, l'élégante Carol Robinson Blushing Bouquet wallpaper coche toutes les cases.
We love the light blush sofa and natural wood elements from the chair legs, coffee table and picture frame. They really complement the natural feel of the room. Why not add a selection of tropical green plants and succulents to bring more of the outdoors in?
Source de l'image : Sue Ryder
Don't forget those grey elements. The majority of this painted floral wallpaper is pink and white. To bring out the shades of grey, add a grey footstool, some cushions or a rug. Take this classic Sue Ryder Pouffe avec stockage in grey. It's perfect for bringing out those charcoal strokes of watercolour in this beautiful flower mural.
5. Des fonds d'écran roses et gris avec une touche de poussière d'or
If you desire darker pink and grey wallpapers, this stylish Pink Sky wall mural is a solid contender. The sprinkling of gold leaf effect adds to the illusion of texture. This dreamy watercolour wall mural is perfect for the bedroom and will help you nod off at night.
Source de l'image : Sue Ryder
A master bedroom isn't complete without a bedroom chair (just try to avoid making it a clothes' dumping ground). To enhance the beautiful shades of pink, buy this art deco Sue Ryder Chaise de baignoire en velours festonné en rose.
6. Shake your tail feathers for feathery pink and grey wallpapers
Although not actually made from real feathers (what a pain that would be to clean) this serene Ash Pink Feather wallpaper would look absolutely stunning in any room. The high definition of the feather lines is mesmerising. At the same time, the purposely out of focus feathers give it a calm, faraway feel. The perfect setting for sitting back and relaxing after a hard day at work.
Choose grey furniture to achieve the ideal pink and grey interior but avoid too much pattern. This will take the focus away from the gorgeous feather wallpaper which deserves its position at centre stage!
Not only amazing for the home, but it's also easy to imagine this relaxing animal print wallpaper dans un studio de yoga. Il suinte complètement la tranquillité. Imaginez que vous déroulez votre tapis de yoga, que vous fermez les yeux et que vous méditez - parfait !
Achieve pink and grey bliss with complementing décor
We absolutely love this pink and grey lounge! The owner has carefully chosen grey shades for their stable pieces of furniture such as the sofa, rug and lampshade. This is a great choice for those who enjoy changing up their home décor regularly. What a difference the dusty pink cushions and pouffe have made to the feel of this home. One tip: accent pillows always go a long way.
De même, le propriétaire de cette adorable chambre (et de son chien) a maîtrisé l'aspect rose et gris. Les murs, la tête de lit et la table de nuit peints en blanc constituent une fantastique toile blanche pour la chambre. En ajoutant des touches de rose et de gris à travers les housses de couette et les coussins, ils ont injecté de la couleur et de la personnalité dans la chambre. N'aimez-vous pas les marches de ce chien jusqu'au lit ? Adorable !
Do you feel ready to take the plunge and enjoy one of our stunning pink and grey wallpapers? Or do you have some handy tips on how you achieved the pink and grey look in your home? Leave us a message below to share your experiences. We'd love to hear from you!