Viime vuoden elokuussa olimme innoissamme ilmoittaessamme, että lahjakas Julia Fonnereau oli vuoden 2020 suunnittelijatapettikilpailumme voittaja. Nyt hänen kaunis Dynasty Fishes and Dishes -suunnitelmansa ja monet muutkin ovat ilmestyneet ihmisten seinille eri puolilla maailmaa.
Viime kilpailuun osallistuneiden suunnittelijoiden lahjakkuus oli uskomaton. Tämän vuoksi meidän oli pakko esitellä Wallsaucen sivuilla myös kahden muun suunnittelijan töitä! Kiitos Nici Gabriel ja Rebecca Johnstone! Voit tutustua kaikkien näiden lahjakkaiden naisten töihin tutustumalla upeaan suunnittelijatapettikokoelmaamme.
Aiempien kilpailujen menestyksen vuoksi emme voineet olla järjestämättä toista kilpailua - eikä edellisestä ole kulunut edes vuotta! Haluamme aina nähdä tuoreita, uusia lahjakkuuksia, jotta asiakkaamme voivat valita kaikkein ainutlaatuisimmat seinäsuunnitelmat! Jälleen kerran teimme yhteistyötä upean Make It In Design -tiimin kanssa, joka inspiroi aloittelevia suunnittelijoita oppimaan, kasvamaan ja menestymään. Tämä upea joukko ihmisiä on keksinyt upean valikoiman taideteoksia lukuisilta suunnittelijoilta. Meistä oli todella mukavaa käydä läpi valikoima, ja usko pois, ei ollut helppoa karsia yhdeksää suosikkiamme! Mutta tarvitsemme teidän apuanne! Kenen mielestäsi pitäisi voittaa The Next Designer Wallpaper Collection 2021?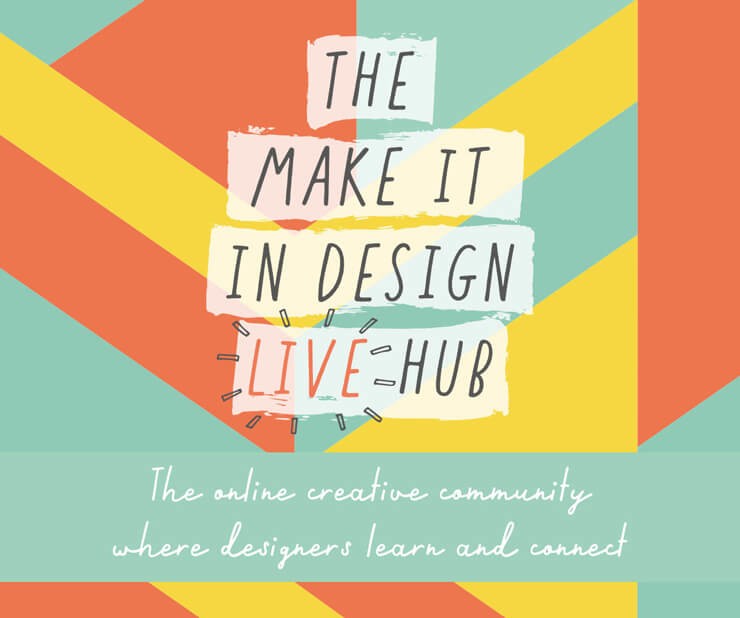 Toimeksianto: Asiat näyttävät paremmilta
Me kaikki tiedämme, miten viimeiset 12 kuukautta ovat vaikuttaneet elämäämme, joten halusimme tuoda esille positiivisen valikoiman malleja, joissa suhtaudutaan tulevaisuuteen optimistisesti! Kotona työskentelevien ihmisten määrän lisääntyessä pyysimme erityisesti malleja, jotka loisivat positiivisen ilmapiirin kotitoimistoon.
Seuraavassa on joitakin pyytämiämme yksityiskohtia:
Kaksi seinämaalausta kotitoimistoon tai työtilaan
Luoda sijoittelumalleja eikä toistaa kuvioita
Varaudu toimittamaan neljä lisämallia, jos menestyt.
Keskittyä näihin teemoihin: rauha, väri, positiivisuus, lausunto, motivaatio, rauhallisuus, hiljaisuus, piristys.
Sinun äänesi seuraavalle suunnittelijan tapettikokoelmalle
Voitko auttaa meitä löytämään seuraavan huippusuunnittelijan Wallsauce.comiin? Jos vastaus on kyllä, katso alla olevat kilpailutehtävät sekä joitakin yksityiskohtia taiteilijasta itsestään! Oli NIIN vaikeaa karsia näitä töitä, mutta olemme varmoja, että löysimme joitain malleja, joita rakastat.
Selaa alaspäin nähdäksesi ehdolla olevat työt ja äänestä kommentoimalla niiden nimellä blogikirjoituksen alareunassa.
Sally Franks
Pääasiassa freelance-graafisena suunnittelijana työskentelevä Sally Franks on innostunut kirkkaiden ja pehmeiden värien sekä yksinkertaisten, litteiden muotojen yhdistämisestä. Matkustaminen, luonto, musiikki ja taide inspiroivat häntä, ja hänen työnsä syntyvät osittain havainnoimalla ja intuition kautta. Kaikkien hänen töidensä juuret juontavat johonkin todelliseen ja konkreettiseen, mutta niitä yksinkertaistetaan ja tehdään abstrakteiksi. Hän kuvailee töitään "leikkisiksi" ja "lapsellisiksi", koska ne ovat hauskoja ja iloisia. Kun hän valmistui Arts and Wellbeing Practitioneriksi, hän kehitti tämän tekniikan, ja nyt hän opettaa oppilaitaan päästämään irti täydellisyydestä ja luomaan vapaasti - kuten lapsi tekisi.
Sally Franks kertoo lisää trendikkäistä seinämaalauksistaan: " Molemmat seinämaalaukset ovat saaneet inspiraationsa valokuvista, jotka olen ottanut matkoillani vaeltaessani kaduilla ja nauttiessani nähtävyyksistä ja äänistä. Värit on otettu suoraan valokuvista, ja sommittelu ja muodot ovat saaneet inspiraationsa niistä. Haluan ajatella niitä moniaistisina teoksina, joissa kaikki näkemäsi, kuulemasi, haistamasi ja tuntemasi on sekaisin ja levitetty kankaalle. Loin nämä teokset Adobe Fresco -ohjelmalla, jossa käytin sekä vektori- että eläviä siveltimiä. Pidän vesivärisiveltimien maalauksellisesta tunnelmasta, mutta kaikki elementit voitaisiin luoda uudelleen vektoreina, jolloin niiden skaalaus ja tulostuslaatu olisivat paremmat."
Amy Onuchi
Yli kymmenen vuotta pukusuunnittelun parissa työskennellyt Amy Onuchi halusi siirtyä uusiin luoviin tehtäviin. Pintakuviosuunnittelun löydyttyä hän ei ole katsonut taakseen! Amyn intohimona ovat rohkeat värit ja kuviot, ja hän keskittyy monenlaisiin studiotekniikoihin, kuten painettuihin, käsin piirrettyihin, ommeltuihin, maalattuihin ja kollaaseihin! Kaikki nämä upeat taidot yhdistettynä digitaalisiin menetelmiin ovat saaneet Amyn tuottamaan leikkisiä malleja, jotka ovat tasapainossa hienostuneiden käsin piirrettyjen kuvioiden kanssa.
Myönteisen työympäristön luomiseen liittyen Amy sanoi: "Ajatuksena näiden mallien takana oli räjähdysmäinen ilo, joka huuhtoo pois kaikki maanantaibluesit. Kirkkaanväriset geometriset piirrokset, jotka on kerrostettu elinvoimaisilla kukilla ja iloisilla doodleilla, lisäävät positiivisuutta kodissa ja saavat ihmiset tuntemaan olonsa pirteäksi ja valmiiksi ottamaan päivän vastaan."
https://amyonuchi.com/abstract/
Edie Bryan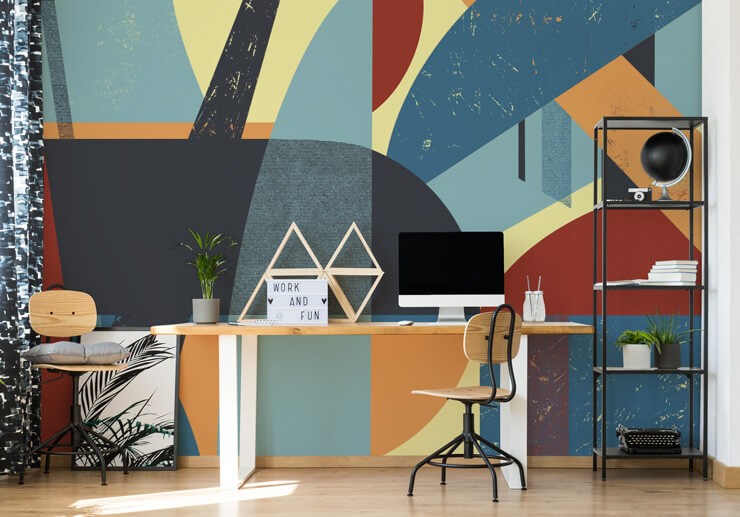 Pohjois-Walesissa asuvan Edie Bryanin mallit sopivat täydellisesti toimeksiantoon: ne ovat värikkäitä, rohkeita, piristäviä ja luonnon kauneuden inspiroimia. Tärkeimmät teemat, joita hän noudattaa työssään, ovat syvä yhteys luontoon ja hyvinvointiin.
Edie kertoo, mikä häntä inspiroi näitä kauniita malleja luodessaan: "Kun sopeuduin kotona työskentelyyn viime vuoden aikana, huomasin, että oli yhä vaikeampaa erottaa koti- ja työympäristö toisistaan. Maisemanvaihdos auttaa aina muuttamaan mielialaani ja lisäämään energiaani. Tämä innoitti minua luomaan seinämaalauksia, jotka auttaisivat torjumaan väsymystä ja keskittymään väsyneisiin, hajamielisiin mieliin.
Halusin vangita tunteen siitä, että olet jossakin uudessa ja jännittävässä paikassa. Huomata kaikki erot ympärilläsi, maisemat, arkkitehtuuri, nähtävyydet ja tuoksut. Suunnitelmani ovat rohkeita, geometrisia abstrakteja, joissa käytän silmiinpistäviä väripaletteja, jotka on valittu kohottamaan, energisoimaan ja inspiroimaan."
Julia Clayden
Julia Clayden on freelance-kuviosuunnittelija ja kuvittaja, jolla on intohimo kuvioihin, ja hänet tunnetaan nimellä "The Pattern Lady". Valmistuttuaan muoti- ja tekstiilisuunnittelun BA (Hons) -tutkinnosta St Martin's School of Artista, hänen rakkautensa graafiseen kuviosuunnitteluun heräsi vasta myöhemmin (kun internet vihdoin keksittiin)! Opittuaan graafisena suunnittelijana kaiken Mac-maailman ilot, hän nauttii nyt Illustratorin käytöstä suunnitellessaan monenlaisia tuotteita, kuten kodin sisustusta, kankaita, seinätaidetta, onnittelukortteja ja paperitavaroita. Hänen töitään inspiroivat vintage, kansantaide ja scandi-tyyli sekä vuosisadan puolivälin moderni muotoilu. Hän suhtautuu intohimoisesti väripaletteihin eikä väsy koskaan saavuttamaan täydellistä väri- ja kuvioyhdistelmää, joka muuttaa pinnan täydellisesti kauniiksi ja iloiseksi.
Julia sanoi: " Innostuin osallistumaan Wallsauce-kilpailuun, koska uskon, että nykyaikana me kaikki haluamme ja tarvitsemme uskoa, että "asiat ovat vihdoinkin kääntymässä ylöspäin", ja että seinätaiteella voi olla suuri merkitys tässä uskossa, sillä se voi tuoda positiivisuutta työpaikalle ja kotiin. Halusin käyttää kirkkaita sävyjä ja tummaa taustaa, jotta muotoilu todella korostuisi terävällä kontrastilla. Näillä malleilla on tarkoitus tuoda tuulahdus raitista ilmaa, jossa on säväys! Niin, ja lisäksi rakastan myös riikinkukkoja ja niiden eleganssia, ja jos olen rehellinen, niin useimpia lintuja, sillä ne tuovat minulle rauhallisuutta."
Zinia Redo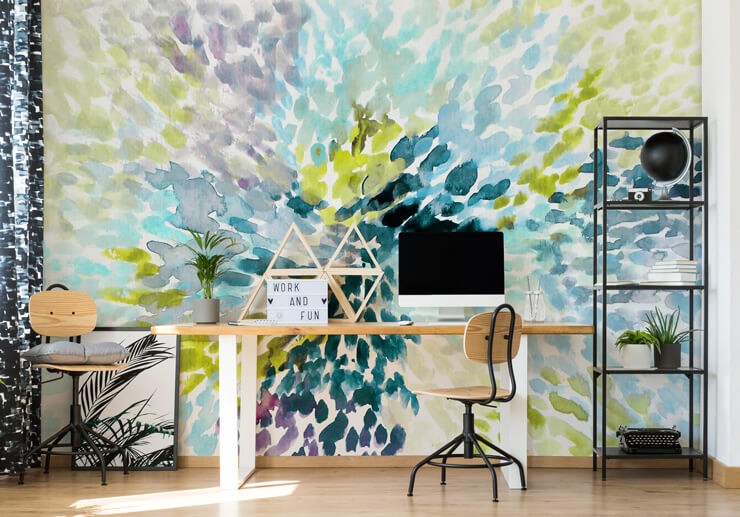 Kreikassa asuva pintasuunnittelija Zinia Redo on suuri värien ja arvoitusten ystävä, joten luova ongelmanratkaisu on aina ollut hänelle toinen luonto niin kauan kuin hän muistaa. Hänen työnsä koostuu kaikenlaisista välineistä, kuten digitaalisista vektorimalleista irtonaisiin akvarelleihin. Ja koska hän on aina uskonut joulupukkiin ja mahdottoman saavuttamiseen, kaikissa hänen töissään on viaton, unenomainen ja satumainen piirre.
Zinia antaa meille lisätietoja upeista, akvarelliväreillä toteutetuista malleistaan: "Tämän malliston mallit ovat saaneet inspiraationsa luonnon kauneudesta ja tyyneydestä. Malliston malleissa on keskitytty väreihin ja muotoihin, ja ne pyrkivät herättämään samoja rauhallisuuden ja hiljaisuuden tunteita, joita koemme nauttiessamme kauniista luonnonmaisemista. Akvarellivärien käytöllä luodaan pehmeitä mutta odottamattomia muotoja, jotka muistuttavat sumeaa versiota, jonka näkee, kun siristää silmiään katsellessaan auringonlaskua, avaa silmänsä veden sisällä tai pyörähtelee nurmikentällä."
Justinah Kay
Puolassa syntynyt Justinah Kay on sittemmin asunut useissa maissa ja pitää itseään maailmankansalaisena, mikä näkyy näissä kauniissa, abstrakteissa kuoseissa. Hänen värikkäitä töitään inspiroivat luonnon kauneus, nykyiset trendit ja ennen kaikkea matkustaminen. Hän maalaa teoksensa huolellisesti käsin vesiväreillä ja yhdistää tämän digitaalisen taiteen lahjakkuuteensa. Hän on hauska nainen, joka tunnetaan intohimostaan taiteeseen ja muotoiluun, pakkomielteestään chai-teetä kohtaan ja rakkaudestaan leluvillakoiriin!
Justinah kertoo upeiden kotitoimistomuuriensa taustoista: "Matkailun ystävät tuntevat kamppailun lukituksen keskellä, ja nämä seinämaalaukset on luotu erityisesti heitä varten. Pariisi, Lontoo, Moskova, Barcelona ja muutamat muut kaupungit tunnusomaisine maamerkkeineen ovat täällä muistuttamassa heitä paikoista, joissa kannattaa käydä/käydä uudelleen, kunhan saamme jälleen matkustaa."
Rita Patel
Sekatekniikkataiteilija ja pintakuviosuunnittelija Rita Patel inspiroituu menetelmistä, kuvioista ja materiaaleista. Hän on rakentaja, jonka materiaaleista tulee taidetta. Hänen luova prosessinsa kumpuaa hänen henkilökohtaisesta kokemuksestaan kauneudesta, sen läheisestä yhteydestä luovuuteen sekä hyvinvointiin. Rita omistautui täysin työlleen muutettuaan Michiganiin, Yhdysvaltoihin, 14 vuotta sitten saadakseen enemmän aikaa ja suuremman studiotilan. Hän pyrkii siihen, että hänen työnsä ovat paikoissa, joissa ihmiset kutsutaan kauneuden kautta kokemaan positiivisuutta. Hänen teoksissaan kysytään: "Mitä jos voisimme muuttaa maailmaa kokemalla kauneutta?" "Mitä jos voisimme muuttaa maailmaa kokemalla kauneutta?"
Rita sanoi: Rita: "Päätin käyttää värejä ja muotoja herättääkseni tunnelman, joka sisältää toivon, rauhallisuuden, rauhan ja avaruuden. Pandemia on aiheuttanut monille meistä rajoittavan tunteen, eikä tunne sulkeutuneisuudesta ole toivoa herättävä tai innostava. Luonnossa olemisella on voima parantaa, ja kun olemme sisällä, jopa abstraktit maisemat voivat herättää tunteen avaruudesta ja mahdollisuuksista. Toivoin voivani luoda kerroksellisia, aaltoilevia ja yksinkertaisia visuaalisia kuvia, jotka muistuttavat ihmisiä paikoista ja kokemuksista luonnossa, jotka vapauttavat heidät arjen monimutkaisuudesta. Näiden seinämaalausten rentouttavan laadun on tarkoitus antaa hengähdystaukoa ja antaa henkistä tilaa, joka johtaa rauhalliseen ja luovaan tilaan. Toivon jakavani koko kokoelman tutkimalla erilaisia maisemia (vuoret ja meret auringonnousun ja -laskun kanssa)."
Sarah Fowlis
Yhdistyneessä kuningaskunnassa asuva pintakuviosuunnittelija Sarah Fowlis on alun perin kotoisin Etelä-Afrikasta, jossa hän opiskeli tekstiilisuunnittelua ennen matkailuaan. Hän on aina rakastanut värikkäitä asioita ja luontoa, mikä näkyy hänen kirkkaissa ja iloisissa malleissaan. Hänen tavoitteenaan on piristää ihmisten päiviä töillään!
Sarah kertoi meille motivaationsa kilpailuun osallistuneiden suunnitelmiensa takana: " Inspiraationa näiden suunnitelmien takana on puutarhani, koska olen viettänyt siellä paljon enemmän aikaa viime vuonna. Olen käyttänyt kirkasta ja positiivista väripalettia, ja jos kotonasi ei aina voi olla kukkamaljakko, miksi et voisi pitää niitä seinälläsi joka päivä?"."
Michelle Freer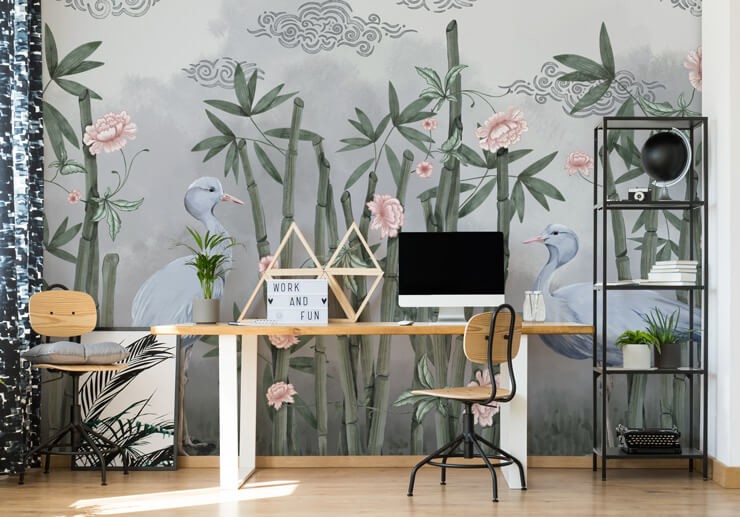 Australialaislähtöinen suunnittelija ja kuvittaja Michelle Freer asuu ja työskentelee nykyään Yhdistyneessä kuningaskunnassa. Hän aloitti uransa graafisen suunnittelun, kuvituksen ja monialaisen suunnittelun parissa ja on nyt siirtynyt pintakuvioiden suunnittelun maailmaan. Hän on erikoistunut kasvitieteellisiin tapettitaideteoksiin, jotka hän on piirtänyt ja maalannut taidokkaasti käsin. Michelle luo intohimoisesti ainutlaatuisia, taidokkaita ja havainnollisia malleja, ja hänen työnsä iloitsevat useimmiten luonnosta ja yhteydestämme siihen.
Michelle kertoo näiden kahden upean mallin taustoista: "Rakastan luoda kasvitieteellisiä malleja, ja toinen perustuu rakkauteeni Australian alkuperäiskasveihin. Suunnitelmassa on käsin piirrettyjä banksia- ja grevillea-kukkia, joissa on kirkkaita korallipinkkejä hopeisten lehtien ja siemenkoteloiden pehmeitä ja hillittyjä sävyjä vasten. Luodakseni puiden latvustotyylisen maiseman olen lisännyt muutamia pesiviä vaaleanpunaisia kakkiaisia. Toivoin luovani mallin, joka olisi sekä positiivinen ja piristävä että tarpeeksi rauhoittava kodin työtilaan.
Toisen mallin inspiraationa oli äskettäinen matka luonnonsuojelualueelle, jossa mielikuvitukseni heräsi, kun kohtasin lumoavan sinisen kurjen. Halusin heti piirtää sen tähän sumuiseen bambuympäristöön. Tämän mallin avulla halusin luoda chinoiserie-tyylisen seinämaalauksen, jossa on rauhallinen ja rauhoittava akvarellimaisema bambusta, ja otin mukaan myös joitakin tyyliteltyjä itämaisia kukka- ja pilvielementtejä."
Minkä taiteilijan haluaisit lisätä Wallsaucen upeaan suunnittelijamallistoon? Kerro meille sunnuntaihin 18. huhtikuuta 2021 klo 23.59 GMT mennessä jättämällä kommentti ja suosikkisuunnittelijasi nimi alla.
Huomaathan, että vain yksi ääni per henkilö lasketaan, ja kommenttisi näkyminen voi kestää noin 24 tuntia - älä huoli, olemme saaneet sen! Muista rastittaa ruutu ja tilata uutiskirjeemme, niin saat ensimmäisenä kuulla voittajasta!