Designer Wallpaper Murals
If you're shopping for a unique piece of wallpaper art for your feature wall, look no further. Our collection of wall murals featuring artwork from inspirational artists, illustrators, pattern designers and talented fine art photographers will make a superb backdrop to any space. From the vivid colours of Shandra Smith's graphic art to the subtle, muted tones of SpaceFrog Designs, there's something for everyone in our designer wallpaper murals collection.
Custom Made Murals
Printed to fit your wall size
100% de garantía de calidad
A brand you can trust
Fast & Free Delivery*
On orders over
€125
Pagos 100% seguros
Paga con confianza
Diseños de SpaceFrog
Lovell Johns
Lara Skinner
Elisabeth Fredriksson
Anne Farrall Doyle
Obras de arte de GCC
Shandra Smith
Annette Schmucker
Nicola Evans
Rita Patel
Studio Arterie
Sally Franks
Danielle Nelisse
Katy Smeets
Mike Labriola
Own your wall with a contemporary feature wall and bring your home to life! Relax in the flowing and hypnotic shapes of Kathy Shimmield's artwork, create a raw and modern feature wall with one of Elisabeth Fredriksson's designs or surround yourself in dreamy and colourful cityscapes with the help of Annette Schmucker.
VER LA COLECCIÓN COMPLETA
Carol Robinson
Uta Naumann
Sir Edward
Andrea Haase
William Morris
Kelly Kratzing
Katy Clemmans
Rosana Laiz García
Di Brookes
Tashi Tsering
Michelle Freer
Michael Zindell
Nici Gabriel
Siéntase floral y fragante con uno de nuestros hermosos papeles pintados botánicos de diseño. Viaje a través de una selva exótica con uno de nuestros diseños de Sir Edward o haga un gran impacto en la pared con nuestras populares acuarelas florales de Carol Robinson. Adora las ilustraciones antiguas de Andrea Haase de la vida salvaje o transpórtate a Oriente con los intrincados diseños chinos pintados de Tashi Tsering.
VIEW FULL COLLECTION
Philip Straub
Danny Flynn
Twisted Pixels Illustration
Adrian Chesterman
Severine Pineaux
Leonid Afremov
Ryan Fowler
Michael Mullan
Mapas de la ciudad de Russ North
Do you appreciate the high level of talent needed to create beautiful illustrations? We certainly do. And that's why we have curated a stunning range for you to enjoy. Be amazed at Adrian Chesterman's artwork where he brings nature and fantasy scenes to life. Enter a colourful and abstract world through Leonid Afremov's artistic designs or step into a fairyland with one of Turine Tran's dreamy and whimsical illustrations.
VER LA COLECCIÓN COMPLETA
Adrian Chesterman
Howard Robinson
Kikki Belle
Philip Straub
Colin Thompson
Jerry LoFaro
Jan Patrik Krasny
Patrick Brooks
Simon Fetscher
Mimi Jobe
Amanda Hall
Haga el año de su hijo instalando uno de nuestros fabulosos murales artísticos infantiles en su dormitorio, guardería o sala de juegos! Entra en el mundo de unicornios y princesas de Mimi Jobe, conoce a un hada o a un amistoso trol en una de las tierras de fantasía de Philip Straub o acércate a un bebé t-rex en uno de los diseños de Jerry Lofaro!
VIEW FULL COLLECTION
Rock Roll
Transport for London
Píxeles retorcidos
Tenyo Marchev
Nicola Evans
Studio Arterie
Marco Cavazzana
Suzanne Singleton
Simon Fetscher
Guillem H. Pongiluppi
Yani Mengoni
Enjoy one of Simon Fetscher's sci-fi, snowy landscapes, Colin Thompson's eclectic fantasy worlds or one of Howard Robinson's adorable selfie animals. Or why not transport yourself into a new dimension, rock on alongside your favourite album cover or create an artistic feature wall with one of our graphic and digital designs?
VER LA COLECCIÓN COMPLETA
1X Fotografía
Assaf Frank
Fotos de diseño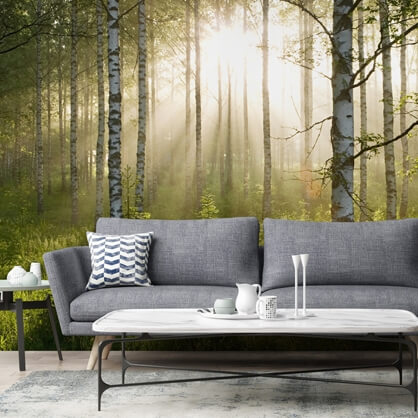 Image Source
Nick Jackson
Anthony Bryant
Darren Heath
McKlein Classic Motorsport
Phil McMenemy
Darren Harbar
Chad Powell
Ollie Taylor
We certainly have a wide range of stunning photography that will transport you across the world! Feel the buzz of the streets of New York with our amazing shots by Assaf Frank or hear the silence of the empty Lockdown streets of London by Nick Jackson. Appreciate how Darren Harbar captures the graceful beauty of fighter planes in flight or be dazzled by the stars in Chad Powell's beautiful photos of the night sky.
VIEW FULL COLLECTION
Gabriela Larios
The Wallsauce Collection
Valentina Harper
Tashi Tsering
Julia Fonnereau
Nici Gabriel
Rebecca Johnstone
Ilumina cualquier habitación con un papel tapiz con un patrón de superficie y transforma completamente la sensación de cualquier habitación! Déjese hipnotizar por las coloridas ilustraciones de Valentina Harper, siéntase desmayado por las románticas flores de Uta Naumann o disfrute de los vibrantes colores de los patrones Art Nouveau de Nici Gabriel.
VER LA COLECCIÓN COMPLETA
Trevor Mitchell
Kevin Walsh
Steve Crisp
Nigel Chilvers
Garry Walton
Dominic Davison
Eduard
HR Vintage
Retrocede en el tiempo y recuerda los buenos tiempos con uno de nuestros conmovedores murales de la época pasada. Siéntete como un niño otra vez cuando veas tu juguetería favorita con una maravillosa fachada de Garry Walton ¿Por qué no cruzar el cielo en un Spitfire de la Segunda Guerra Mundial en uno de los nostálgicos diseños de Nigel Chilver? O bop y jive junto a la rocola en un restaurante americano de los 50 en una de las increíbles creaciones de Steve Crisp.
VIEW FULL COLLECTION
Encuentre su imagen perfecta aquí