With the King's Coronation coming up, we wanted to celebrate the occasion with some of our favourite regal wall murals. As one of the most mild-mannered and gentle Royals, King Charles III is expected to become a great leader.
By others, he's also been described as a deep-thinking, spiritual man, and someone who is deeply aware of those around him. This doesn't come as a surprise when you think of all the great work he has done through The Prince's Trust – a youth charity dedicated to changing the lives of disadvantaged people in the UK.
The celebrations will take place on 6th May at Westminster Abbey, kicking off from Buckingham Palace for The King's Procession. If you're looking for a way to celebrate, why not decorate your home with royal theme? Here are six regal wallpapers fit for a king – or anyone who is a fan of the Royal Family!
mural in photo: Honeysuckle
1.Union Jack Wallpaper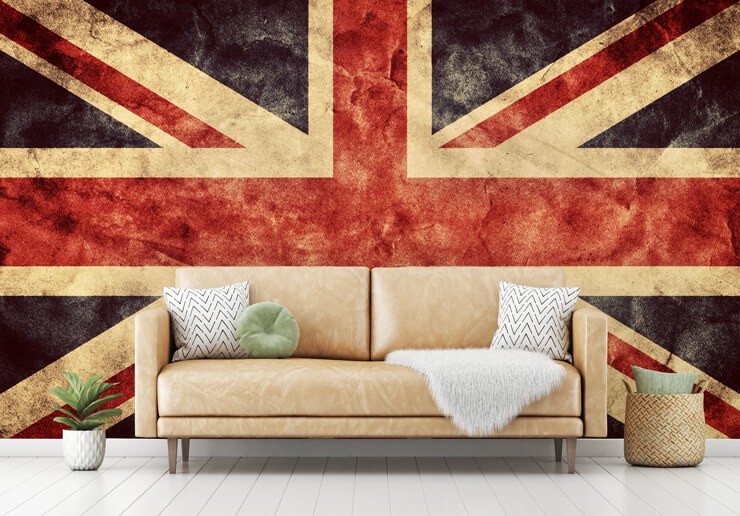 mural in photo: Vintage Union Jack
Regal wallpaper designs don't get any more quintessential than this 'Vintage Union Jack' mural. An ode to all things British, this wallpaper is ideal for rooms in need of a stand-out feature wall. Royalists and Anglophiles will love showing this wallpaper off during the Bank Holiday Weekend – and if you have guests staying over, why not give your spare room the ultimate Brit makeover?
Wallpaper murals like this are also ideal for cosy living spaces, dining areas, home offices, or even a music room where Brit pop memorabilia can slot right in. After the King's Coronation, there will be plenty of King Charles x Union Jack products on sale, but nothing quite beats a Union Jack wallpaper when expressing your appreciation for the Royal Family.
2. William Morris Wallpaper
mural in photo: Tulip Pattern
If you're looking for a Royal-household-approved wall covering, you'll love our collection of William Morris wallpapers. These prints are truly timeless in their appearance, with Morris & Co dating all the way back to the mid-1800s.
William Morris was a highly influential figure of the Arts & Crafts Movement at the time, and Morris & Co designs were used at royal properties such as Buckingham Palace and Balmoral Castle.
One of the most famous designs for Balmoral Castle featured thistles, crowns and the initials 'VRI', and was created using woodblock printed on paper.
3. Delphinium Wallpaper
mural in photo: Pink and Grey Meadow
As a big fan of nature, King Charles knows how to appreciate an English garden. Not only does he enjoy gardening as a hobby, but he has spent his entire working life championing environmental initiatives.
He's a Patron of the National Gardens Scheme and he's probably the most green-figured of all the Royals to date. With him being such a hands-on gardener, there's no better time to celebrate botanical interiors than his Coronation.
Personally, he has worked on the gardens of Birkhall, at the grounds of Balmoral, at his Welsh property in Carmarthenshire, and also at Clarence House in London. His favourite flower is the Delphinium, which can be seen on this 'Pink and Grey Meadow' wallpaper in our collection.
4. Swiss Alps Wallpaper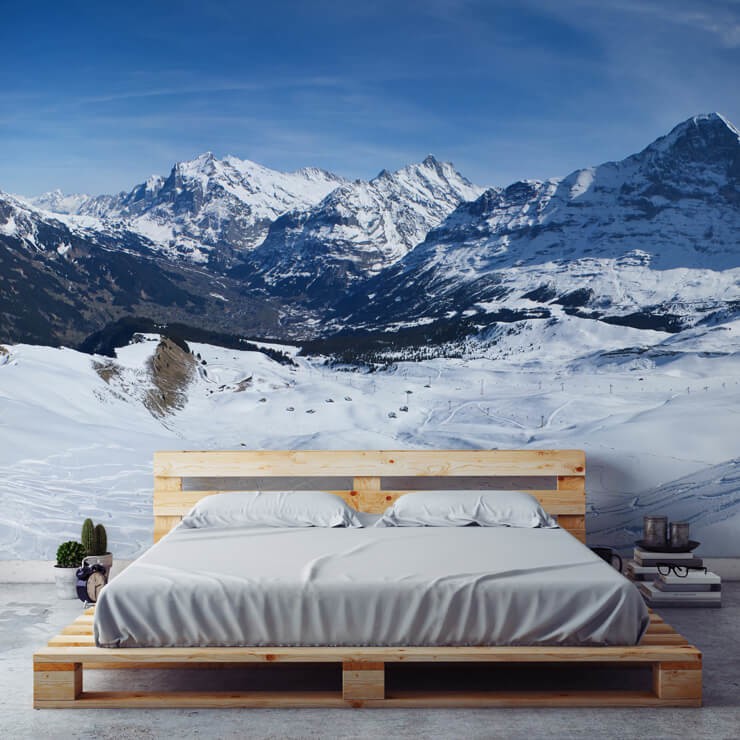 mural in photo: Swiss Alps Ski
When it comes to Royal destinations around the globe, the Swiss Alps is a favourite for the Royal Family, with Prince Charles taking Prince William and Prince Harry there since they were little boys.
If you've watched The Crown, you will also now that Klosters is the resort where he spent a lot of his free time accompanied by friends in his younger years – and it's also where he famously escaped an avalanche but sadly lost his dear friend Major Hugh Lindsay in 1988.
Whether you love this story or not, we're sure you'll love the fresh feeling that mountain wallpaper such as this one can add to your living or dining space. 
5. Aston Martin Wallpaper
mural in photo: Tunnel Speed
Another passion of Prince Charles is his cars, which he manages to combine with another passion of his – the environment. While he is known to own and drive quite a few cars (including his Jaguars, an Audi and Range Rover), he runs them on 100% biodiesel made from used cooking oil. 
If you're a car enthusiast like Charles, be sure to check out our range of car wallpapers and murals for any room in the house.
Fun fact: Prince Charles runs his four-decade-old Aston Martin, which was a gift from The Queen, on bio-fuel made from surplus English wine!
6. London Skyline Wallpaper
mural in photo: London Bus on Lambeth Bridge
For city abodes, a black-and-white city skyline can instantly modernise any room. But we think it works particularly well for an open-plan living room or a large kitchen/dining area – especially when combined with the bare plaster wall trend. The finished look is edgy, slightly grungy, and ultra-contemporary.
If you love this concept but want to add your nod to the King's big day, opt for a slick and stylish London skyline like this one – a celebration of his home capital. The 'London Bus on Lambeth Bridge' photographic mural features a subtle sepia backdrop, with a red colour splash for added drama. Complete the space by adding your own mix of neutrals and colour pops in the soft furnishings.
 Is your home ready for the King's Coronation in 2023? Do you have your eye on some regal wallpaper to decorate with? Let us know what your plans are in the comments below...