Plettet jaguar, stripet zebra, vilde lodne katte eller majestætiske fjer af en afrikansk ørn… dette er mønstre, udskrifter og teksturer, der hjælper dig med at trylle frem billeder af at være på safari. Fra at fange de mest magiske øjeblikke af dine rejser til at vække dit indre dyr, vores safari dyr tapet samling  er som intet, du nogensinde har set før.
Vi er glade for at introducere en splinterny trend til 2019/2020 - safari print tapet overtager designverdenen. Dette interiørdesign er mangfoldigt, glamorøst og kræver mod. Du kan se dette interiørkoncept aflytte hvert værelse i huset. Opret vilde og vildtlige vibber, mens du også hylder de mest bemærkelsesværdige væsener i naturen. Fra Afrikas sletter til Sri Lankas jungler fejrer vi alle ting dyreholdige og firbenede.
Hvis du vil trykke på opdateringsknappen på kedeligt, træt interiør, skal du oprette et safari-vægmaleri med vores sjove safari-tapeter! Ikke overbevist? Her er nogle fantastiske ideer til at vri din arm ...
Lav en erklæring med et fedt tapet på jaguar-udskrivning
Få dine kløer ind i dette slående Jaguar Print tapet. Det er den perfekte baggrund for et hus fuldt af grønne omgivelser. Uanset om du vælger ægte eller faux, er planter en match lavet i himlen til farverne i dette vægmaleri. Fantastiske plantearter at investere i er fiklebladet figen, den schweiziske osteplante, komodo papaya blad vinstokke og stagorn bregne. Disse planter stammer alle fra tropisk jungle regnskov, hvor jaguaren tilbringer sin tid.
Som den tredjestørste af de store katte (efter tigeren og løven) er jaguarer en stor erklæring, hvis du vælger at have dets tryk i dit hjem. Men glem ikke at tone det ned med nogle neutrale toner, hvis du vil holde dit interiør ser elegant og sofistikeret ud.
Jaguars fakta: Jaguarkatte findes kun i Amerika, og selvom pelsen meget ligner en leopard (findes i Afrika og Asien), er den meget større i størrelse og har færre pletter.
Hyggeligt med vild kattepels i din stue
Leder du efter det perfekte safari tapet til efteråret / vinteren? Hold frosten i skak med dette sød og overdådigt Wild Cat Fur tapet  fra vores nye sortiment. Det skrig "luksus", så snart du går ind og tilføjer en smuk tekstur til ethvert glødende rum. Harmoniserer det godt med køligt tonede gråtoner, det er en hurtig måde at omdanne et kedeligt farveskema til noget specielt.
Byg op interessante lag med puder, kast og tæpper. Træk op pejsen og sæt fødderne op. Dette smukke safari vægmaleri handler om inspirerende hyggelig komfort.
Vilde kattefakta: Den vilde kat kan bruges til at beskrive to arter: den afrikanske vilde kat og den europæiske vilde kat. Begge har fabelagtig pels og er væsener om natten.
Kanal sofistikeret zebra med farven brun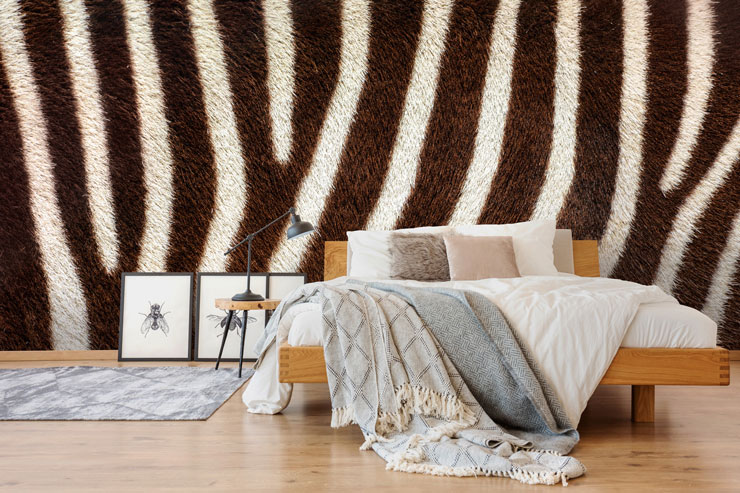 Hvis du elsker dyreprint, men bekymre dig om at være for 'derude', dette stripey Brown Zebra Print tapet  er slags skabt til dig. Ja, dette safari dyretapet er fedt. Der nægter ikke, at det er et showstopper. Men brugen af brun i stedet for sort / hvid monokrom tilføjer bare et dejligt voksent touch. Det blødgør det for interiørkoncepter, der stræber efter raffinement.
Udover, varme pink og browns er en stor farvetendens  at vide for 2020. Så der er ikke noget bedre tidspunkt at integrere denne opvarmning nuance i dit soveværelse eller stue.
Zebra fakta: En zebras pels ligner en kæmpe stregkode, og du kan endda scanne den (slags). Forskere sporer zebras efter deres unikke tryk. De er i stand til at identificere besætninger eller individer med deres egne scanningsmekanismer.
Vælg et solnedgangsafari tapet for at indstille stemningen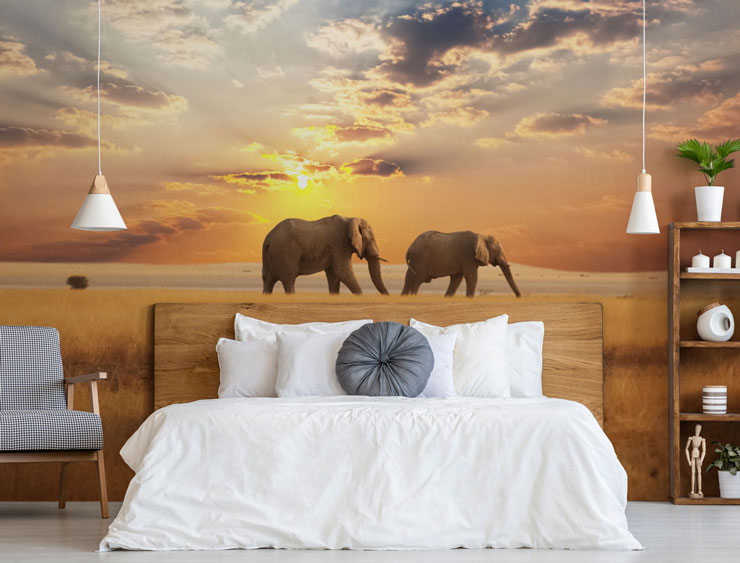 Skab en beroligende og afslappende atmosfære i dit hjem med denne smukke vægmaleri fra Elephants At Dusk. Det sætter scenen for god vibes og godt humør. Det åbner dit rum med illusionen af afrikanske sletter i den mest magiske tid på dagen.
Hvis du vil have skønhed og romantik af solnedgang tapet  med safari-touch markerer dette tapet alle kasser. Transformer et fælles opholdsrum og få rummet til at se mere indbydende ud. Eller gør dit soveværelse til et inspirerende rejsearbejde.
Elefantfakta: Venlige kæmpe elefanter  er verdens største (og en af de blideste) pattedyr på landet. Mandlige afrikanske elefanter kan komme op til 3 meter høje og kan veje op til 7.500 kg!
Bliv vild med en tigerprintfunktionsvæg
Dette er et fantastisk safari-tapet for dem, der ønsker at skabe øjeblikkelig effekt. Det er en af disse "wow" -baggrunde, der kan få folk til at tale eller opdele skarer. Men hvis du ikke kan lide at vige dig væk fra risikable tendenser, er dette iøjnefaldende Tiger Print-tapet dit, du skal se.
Vær ikke bange for at eksperimentere med dette look som stigningen i tapeter med fedt print  seriøst sætter deres mærke for 2020. Jo højere, hårdere og hårdere, jo bedre. Hvad er mere magtfuldt end den hårde og rovdyr tiger?
Tiger fakta: Den smukke tiger  er den største af alle kattearter. Voksne tigre er kendt for at være ensomme i deres forskellige levesteder, herunder regnskove, græsarealer, savanner og endda mangrovesvampe.
Design en fantastisk safari tapet børnehave
Opret et legende, spændende og stimulerende børnehave til safari tapet til din lille. Giv dem et unikt miljø til at vokse, lege og lære. Dette spektakulært vandhullet vægmaleri bringer sjove uddannelser frem og kan bruges til børn i alle aldre. Det er ikke kun perfekt til et børnehaveværelse, men det er også ideelt til børnenes soveværelser, legerum, musikværelser og hjemmearbejde / studierum.
Transport dine børn til en verden langt væk, hvor de kan vandre rundt med deres yndlings safaridyr og sætte deres fantasi op. Se mere af vores vidunderlige dyretapet  designet til små mennesker.
Elsker du vores safari-vægmaleri-tendens lige så meget som vi gør? Fortæl os om dine favoritter nedenfor, eller del dine ideer til, hvordan du har forvandlet dit hjem ved hjælp af dyreprint og safari tapet.