What conjures up in your mind when you think of peacock wallpaper? Do you feel transported to far-away-lands? Love their luxurious display of pattern and colour? Or simply want to embrace your inner peacock? Whatever it is that makes you a peacock fan, we're sure you will love at least one of our 10 peacock designs. From navy and gold illustrations to colourful doodles, we have peacock murals that are definitely going to get you shaking your tail feathers.
1. Gentle watercolour designs for a delicate, feminine touch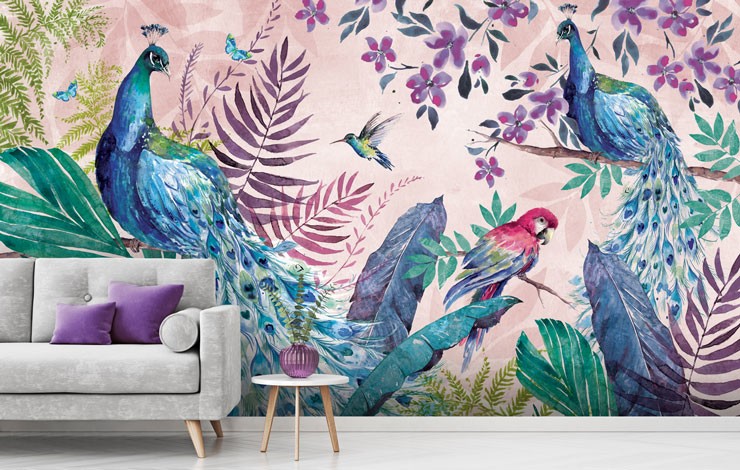 Mural in photo: Tropical Peacock
Let's start off with a bang with our Tropical Peacock wallpaper by Di Brookes from our designer wallpaper collection. Brookes describes her work as feminine, classic and decorative. She uses a range of watercolours, pen and ink as well as Photoshop to create her beautiful and vibrant designs.
Peacock Fact: Only the males are "peacocks". The females are called "peahens" and the chicks are called "peachicks". Easy peasy to remember! (mentalfloss.com)
2. Boho feathers peacock wallpaper
Mural in photo: Large Peacock Feathers
Whenever I see feather print wallpaper, I imagine wind-blown dream catchers and can hear acoustic guitars. I want to sit in a hanging wicker chair and rub my toes in a bohemian patterned rug. If you are aiming for a boho interior design with a difference, a peacock feather wall mural may be your answer.
Don't just settle with white walls to go with this high-definition feather wallpaper. Why not go with navy blue or emerald-green paint to add that rich, decadent touch?
Peacock Fact: Peacocks are one of the largest flying birds. Their length (including their tail) can reach up to 5 feet and they can weigh between 8 to 13 pounds. (softschools.com)
3. Be transported to exotic and sultry lands
Mural in photo: Peacock Paradise Jungle
Travel across the oceans to exotic lands with our exotic Peacock Paradise Jungle wall mural designed by Andrea Haase. Don't you just adore the rich green tones of the leaves and the pearly-blue of these beautiful creatures' necks?
Completely in line with the on-trend dark floral look, this sultry jungle wallpaper will change your view on interior design forever. We'd suggest making the rest of the room flow with the rich, deep tones of the design. Paint the surrounding walls in a peacock-blue paint and opt for velvet, emerald-green seating. For even more glamour, add gold accents in your choice of ornaments and lighting.
Peacock Fact: Peafowl is the collective name for peacocks. (facts.net)
4. Designer doodles to bring whimsy and colour into your space
Mural in photo: Peacock Puzzle
We adore the eclectic range of colour in this stunning peacock mural: it's totally psychedelic! When installing this gorgeous bird wallpaper in your home, try not to add too much extra colour. This design by Valentina Ramos can easily speak for itself! But don't be worried about adding more pattern. The world of interior design is all about mixing patterns. We love the addition of the black and white zig-zag rug in this trendy loft lounge.
Peacock Fact: There are 3 varieties of peafowl: the Indian, the Green and the Congo. (sciencekids.co.nz)
5. Navy gold and blue peacock wallpaper
Mural in photo: Peacock King
For a rich and decadent look, this stylish peacock king wallpaper by Andrea Haase is ideal. We adore the hints of gold-effect in the design from the speckles of this gorgeous bird's feathers to the quirky crowns perched on their heads!
A perfect navy and gold wallpaper, opt for gold-accented décor throughout the room. Why not include chic navy accessories such as velvet scatter cushions? You could even paint the surrounding walls in a deep shade of navy blue.
Peacock Fact: Did you know that domesticated peacocks can live up to 50 years? (newsbytesapp.com)
6. Bird wallpaper you are going to be a big fan of!
Mural in photo: Portrait of a Peacock
Although we have some gorgeous illustrated and feather peacock wallpaper, you can't beat the beauty of the real creature itself. This beautiful photo of a peacock with its wings fully fanned out just shows how stunning this breed of bird is. Isn't it fantastic?
Once installed in your home, make the most of the luxurious shades in the rest of the room's décor. Paint the walls in a shade of blue and opt for emerald-green ornaments throughout.
Peacock Fact: A family of peacocks is called a "bevy" and a group of peacocks is called a "party". (momjunction.com)
7. Vintage style tropical wallpapers
Mural in photo: Peacock Dreams
We adore this antique-styled peacock wallpaper. Spend hours looking at the layers of handwritten notes, oriental florals and jungle life.
Perfect for any room, this exotic blue wallpaper would look especially good in your bedroom placed behind your headboard. Choose a range of blue and off-white décor to mirror those gorgeous shades.
Peacock Fact: Peacocks are in the same species family as the pheasant. (animals.mom.me)
8. Colourful and psychedelic feathers
Mural in photo: Peacock Feather Close Up
For a peacock wallpaper that is contrary to tradition, choose this stunning feather wallpaper! It not only revels in peacock blues and greens but also turquoise, orange, purple and even a hint of yellow! It's basically a rainbow in feather-form!
This macro-shot feather wallpaper is so highly defined that you can enjoy every line of each individual feather strand. A completely unique and slightly abstract peacock design, this on-trend  animal print wallpaper will make any room unique and full of life.
Peacock Fact: Peacocks lose their beautiful train of feathers after every mating season. (newsbytesapp.com)
9. Peacock wallpaper = decadence and class
Mural in photo: Peacock Jungle
We couldn't not show you one of our favourite peacock designs. This stunning Peacock Jungle wallpaper oozes style and class. We love the feathering of the tropical foliage layered against vintage handwriting. And we can't get over how regal and proud this beautiful bird looks. What a gorgeous bird wallpaper!
Peacock Fact: When a peacock's feathers are spread out, they take up more than 60% of the bird's total body length. (nationalgeographic.com)
10. Charcoal grey tropical murals
Mural in photo: Peacocks Clan 4
Our last but certainly not least peacock design is our on-trend Peacocks Clan 4 wall mural. We love the smoky-greys in this stunning design. If installed in your lounge, include dark-grey furniture to mirror those earthy shades. Picture a charcoal-grey, velvet armchair and dark metal accents with your choice of lighting and ornaments.
If you'd like this design in blue, there is also our beautiful Peacocks Clan wall mural to enjoy.
Peacock Fact: Although you might think peacocks are slow and tend to dawdle, they can actually run up to 16km per hour! (thestar.com)
Have you enjoyed our flapping marvellous range of peacock wallpaper? Please leave a comment below to ask any questions or let us know what you think!