People often say that their home is their castle and the place they feel most comfortable. We spend a lot of money redecorating our homes every single year and we generally consider it to be a worthwhile investment. Not only can a fresh lick of paint or a beautiful wallpaper print make us feel content in our environment. It also makes a great impression on our guests too.
Leider gilt der gleiche Aufwand nicht immer für das Büro. Viele Geschäftsinhaber lassen Renovierungspläne auf der Strecke bleiben. Sie lassen oft anderen wichtigen Ausgaben den Vorrang. Aber wenn man bedenkt, dass wir mehr Stunden am Arbeitsplatz als zu Hause verbringen, ist das genauso wichtig. Wir müssen eine komfortable und nährende Umgebung schaffen, die die Produktivität fördert. Was könnte also besser sein als die Belegschaft zu motivieren als mit einer Bürotapete? So, read on for some office interior design tips to raise morale, boost production and make winning impressions on clients.
1. Bleiben Sie nicht bei einfarbig weißen Wänden (gähn)
Es kann verlockend sein, auf Nummer sicher zu gehen, aus Angst, bei der Einrichtung etwas falsch zu machen. Aber dann laufen Sie Gefahr, ein Büro zu schaffen, das kalt, klinisch - und am schlimmsten von allen - langweilig ist. Langweilig ist wahrscheinlich das größte Talentabwehrmittel für die anspruchsvollen Millennials von heute.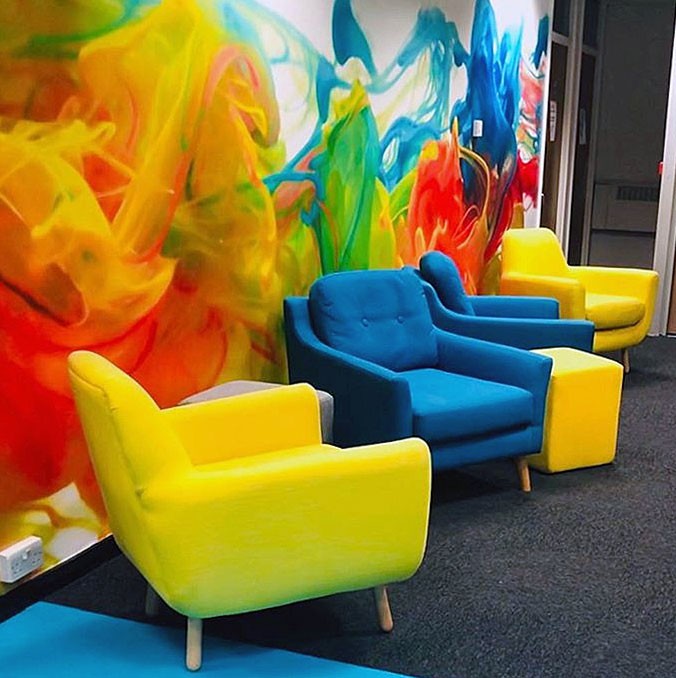 White is classic, but only when applied in the right way. The classic minimalistischer Trend ist nicht so mühelos, wie es scheint. Es ist einer dieser Tipps für die Büroeinrichtung, die ein kniffliges Dilemma sind, besonders für diejenigen, die nicht wissen, wie sie die Balance angehen sollen. Aber mit ein paar einfachen Tricks können Sie Ihrem Arbeitsplatz ohne große Kosten ein bisschen Spaß und Kreativität hinzufügen. Wie zum Beispiel diese atemberaubende Bunte Tinte im Wasser Tapete in this minimalistic office waiting room. All this customer needed to do was add a few chairs reflecting the colours in the mural and they've achieved the perfect look.
Here's how to get it right:
Tapeten sind eine gute Wahl für das Büro, da sie jederzeit nachträglich geändert werden können. Schön feature wall designs können große, leere Flächen kostengünstig füllen und Sie brauchen keinen Profi, um sie anzubringen. So können Sie Kosten für Arbeit sparen.
Einer unserer Lieblingstipps für die Büroeinrichtung ist die Installation eines 3D-Wandbildes. Sie sind fabelhaft, um jeden kleinen Bürobereich zu öffnen. Dieses Architekturbüro installierte diese erstaunliche Unendliche Korridor Tapete in ihre industriellen Büroräume, um die Illusion eines viel größeren Raumes zu schaffen.
We love this customer's hypnotic 3D mural in his office. This alluring 3D wallpaper is sophisticated and not overbearing, making it perfect for any productive workspace. We can't help but feel that this customer's stance is alike to a certain famous billionaire…
Play around with monochrome
Don't want your office to look like a hospital, but unsure about bright colours? Adding stylish monochrome wallpaper an Ihren Wänden ist einer der besten Tipps für die Inneneinrichtung von Büros, um sofortige Raffinesse zu erreichen. Dieses hypnotisierende Stormy Ocean Wave Barrel ist absolut beruhigend und belebend zugleich.
This stunning office's use of the striking Tyne Bridge Fototapete is really clever. They have ordered this amazing mural in black and white: an option that can be made on any one of our products.
As well as spicing up a plain white wall, it adds an injection of interesting pattern to help bring the room's interior to life. It also provides a fabulous talking point for clientele and guests when they visit the office.
2. Office interior design tips to create a stunning focal point
Möchten Sie die kreativen Säfte in Ihrem Team zum Fließen bringen? Die Gestaltung eines Raums, der ihnen hilft, konzeptionell zu denken, effektiv zusammenzuarbeiten und die nächste große, bahnbrechende Idee zu entwickeln, erfordert ein wenig Fingerspitzengefühl. Vor allem für kreative Berufe ist ein schön gestaltetes Büro so wichtig. Die Menschen wollen das Gefühl haben, für ein Unternehmen zu arbeiten, das sie inspiriert - Artex aus den 1970er Jahren oder ein trister Büroteppich werden wahrscheinlich nicht den Nerv der Zeit treffen.
Here are ways to create a focal point that truly inspires:
Ein weiterer unserer Einrichtungs-Tipps für das Büro ist die Installation eines Kunst-Wandbildes. Kunstdrucke und deren Einrahmung können kostspielig sein, vor allem, wenn Sie viel Wandfläche zu füllen haben. Ein inspirierende Kunst Wandmalerei  can give you a fantastic feature wall that centres the focus in one area of the office. Whether you love Monet, Van Gogh or something more modern, make sure it's a talking point.
Photographs capture moments in time and they can be interpreted in a multitude of ways.  Trendige Fototapeten kann Menschen in eine völlig andere Stimmung versetzen. Verwenden Sie Bilder der Natur, um den Stress in Ihrer Belegschaft zu reduzieren, oder eine Stadtskyline, damit sie sich zielgerichtet fühlen. Oder warum wählen Sie nicht Bilder von Menschen, um das freie Denken anzuregen?
3. Wenden Sie sich für Designideen an Mutter Natur
Einer unserer anderen erfolgreichen Tipps für die Büroeinrichtung ist die Nutzung der Natur, um die Arbeitsmoral der Mitarbeiter zu steigern. Die Farbe Grün wirkt beruhigend und besänftigend und wird oft als Symbol für Gesundheit verwendet. Einfache Farben haben die Kraft, Menschen glücklich zu machen Schöne Landschaft Tapeten, misty forests and big juicy leaves are also good for us. They do wonders for the soul. This soothing Smokey Misted Forest wallpaper is ideal for calming the nerves and focusing the workforce on productivity.
If you want to improve office productivity, first work on the things that improve wellbeing. Here are some things you can do to incorporate nature in your office décor:
Frische botanische Tapeten kann der perfekte Weg sein, um die Natur ins Haus zu holen. Etwas wie eine Blattdrucktapete oder eine Dschungeltapete kann wirklich ein Gefühl der Ruhe an den Arbeitsplatz bringen. Dies hilft den Menschen, Stress zu bewältigen und fördert gleichzeitig die Kreativität.
Flucht an einen besseren Ort
No matter how much we enjoy our jobs, few people would turn down a trip to The Alps or a beautiful lakeside retreat in Canada if they could be there instead. Everyone needs a bit of escapism to stay sane. Sadly, we don't live in a world where we have the income nor time to take constant vacations. So, an  belebende Bergwandmalerei wird die nächstbeste Lösung sein müssen.
4. Nutzen Sie die Farbpsychologie, um zu motivieren
Wie wir bereits festgestellt haben, sind Farben unglaublich mächtig und können unsere Stimmung und unseren Gemütszustand beeinflussen. Laut farbpsychologie-Experten, blue is the most productive colour for the workplace. It has the ability to rid the mind of distracting thoughts and helps to calm you. But blue doesn't work for everyone. For designers, writers, artists and creative thinkers, colours like yellow would be more productive. Stunning shades of yellow have the ability to stimulate and get the creative juices flowing. Red can stimulate and motivate people in a physical way, making it a good colour for certain types of labour. On the other hand, green has a fantastic balance that can work in a lot of settings.
Oder wenn Sie alle Farben kombinieren möchten, wählen Sie diese regenbogen Fröhlich Tapete für Ihr Büro.
Es gibt eine Menge zu bedenken, aber hier ist, wie Sie es angehen sollten:
Designate different areas for different things and apply colours that way. For instance, use green in the admin zone, relaxing blues and neutral colours in the breakroom and yellow in creative meeting rooms.
Experimentieren Sie mit Geometrien
Bringen Sie verschiedene Farben zusammen mit einem stilvollen und moderne geometrische Tapete. This designer Fooling Around wallpaper is cool and contemporary. Perfect for impressing clients or attracting new talent.
Add colour with small décor items
Kleine Dekorationsstücke sind eine gute Wahl, da sie nicht so dauerhaft sind. Wenn Sie sich nicht auf Wandfarbe oder Tapete festlegen möchten, entscheiden Sie sich stattdessen für ein paar kleinere Dekorationsgegenstände für den Schreibtisch. Diese wunderbaren schreibtisch-Accessoires von Etsy are perfect! They add style and colour to a work section with minimal effort.

Image source: Etsy
Ready to get refurbing? Let us know what you think of our office interior design tips and share your ideas in the comments below.