Whether you have a gym in a public space, in your home or in a residential block, gym design is key to creating the perfect ambience as well as utility in any workout area. The design of a gym needs to make the experience of going there a good one: it has to be easy to use and a desirable place to spend free time. There's no point in creating a dark, cramped, stuffy workout area that you'd rather stay miles away from: especially on those days when you'd rather sit in front the of the telly and eat half of a Victoria Sponge!
Instead, gym design must take into consideration the main factors addressed below. That way you will create a space that is presentable, on-trend as well as inviting. Before you know it, you or your clients will want to spend more time there and as a result, start to reap from magnificent health and fitness benefits.
1. Nutzen Sie intelligente Aufbewahrungsmöglichkeiten, um den Trainingsraum in Ihrem Fitnessstudio zu vergrößern
Eine intelligente Lagerung ist für die Schaffung eines erfolgreichen Trainingsraums von entscheidender Bedeutung. Dies gilt sowohl für ein Fitnessstudio zu Hause als auch für öffentliche Einrichtungen. Wenn Sie nur 5 Zoll mehr Platz zum Bewegen haben, können Sie Ihre Trainingseinheit wirklich verändern.
One of the best ways to store hand weights, kettlebells and more is to opt for raised or wall shelves to make sure the floor is as clutter-free as possible. This again adds more space to work out in, makes it easier to keep the floor clean, safer because of fewer trip hazards and easier to use as a whole.
2. Entscheiden Sie sich für raumfüllende Spiegel und Beleuchtung bei der Gestaltung Ihres Fitnessstudios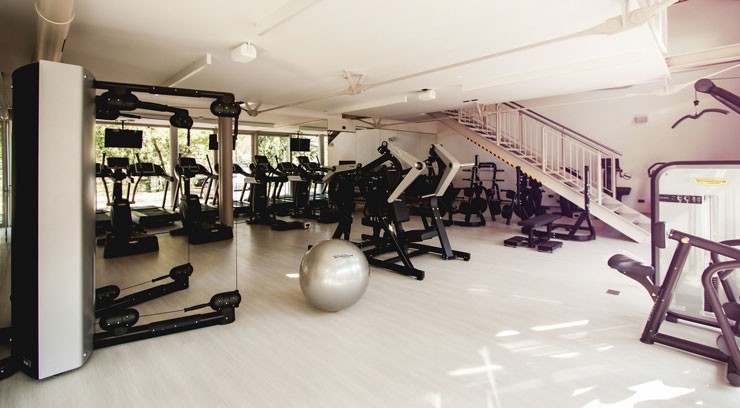 Often, gym design has to deal with the problem of making the most out of tight spaces. Two ways of tackling this are lighting and mirrors.
Ein Zustrom von erfrischendem natürlichem Licht wirkt auf das gesamte Design, nicht nur im Fitnessstudio. Es erhellt den ganzen Raum und schafft positive Energie: ein entscheidender Faktor beim Training!
Another important tip is to avoid harsh, man-made lighting. Choose softer options to create the illusion of natural light - especially if the space you are working with has a lack of windows.
One of the oldest tricks in the interior design book is using mirrors to maximise space. By placing a mirrored wall on one side of the room, you create a corridor effect. This draws the eye forward and, as a result, creates the illusion of having more space.
3. Lassen Sie Ihr Fitnessstudio durch Tapeten zum Leben erwecken
More than anything, when you are working out in the gym, you need to feel motivated to meet your goals. One way of creating an inspirational atmosphere is avoiding blank walls. Instead, choose a stimulating gym wallpaper.
Motivational sports wallpaper
Wandbild auf Foto Snowboarding
Wir lieben es, wie einer unserer Kunden, Mike, diese coole Snowboarding-Tapete in seinem Fitnessstudio installiert hat. Die eisige Landschaft muss helfen, seine Kundschaft abzukühlen, wenn sie mitten im Training ist! Außerdem ergänzen die Weiß- und Grautöne der Fitnesstapete die Farben im übrigen Raum.
Durch die geschickte Platzierung einer Spiegelwand neben diesem Luxus sports wall mural, they have elongated it and made it appear twice as large than it actually is!
Mood-boosting quotes wall murals
One way to keep your clientele or yourself motivated when breaking out a sweat is by installing an inspiring quotes wallpaper! Just a few words such as 'Success trains, failure complains' could be just the ticket to making you do that extra 10 minutes on the rowing machine! We love this bespoke quote wallpaper created by one of our customers and our design team. You can do the same by choosing which image and quotes you would like and then the team will create the typography and the layout of the design.
Not only does this invigorating quote wallpaper motivate and inspire the users of this personal trainer space, but it opens up this small workout room as well.
4. Halten Sie Ihr Fitnessstudio zu Hause organisiert und getrennt
We all love to work out but most of us also like to separate that time from the rest of our day. That's why it is so important to keep a home gym separate from the rest of the house. We love how our customer, Nathan, chose this snowy mountain wall mural in his home gym. Find a similar wintry mountain wallpaper in our landscape wallpaper category.
Wandbild auf Foto Weltkarte Monochrom
Möglicherweise haben Sie den Luxus eines freien Zimmers, das für alle Dinge im Zusammenhang mit dem Fitnessstudio genutzt werden kann. Oder Sie haben einen großen Raum, der mit einer Trennwand in der Mitte ausgestattet werden kann, so dass eine Hälfte als Ihr persönliches Fitnessstudio genutzt werden kann. Wie auch immer Sie es erreichen, versuchen Sie, es vom Rest Ihres Lebens zu Hause getrennt zu halten. Stellen Sie sich vor, Kettlebells in der Ecke Ihres Wohnzimmers sitzen zu haben. Sie brauchen wirklich keine Erinnerung daran, dass Sie an diesem Tag nicht trainiert haben, während Sie Netflix genießen!
5. Gestaltung von Fitness-Studios in Wohngebieten: Verlocken Sie die Bewohner zum Training (und zum Geldausgeben)!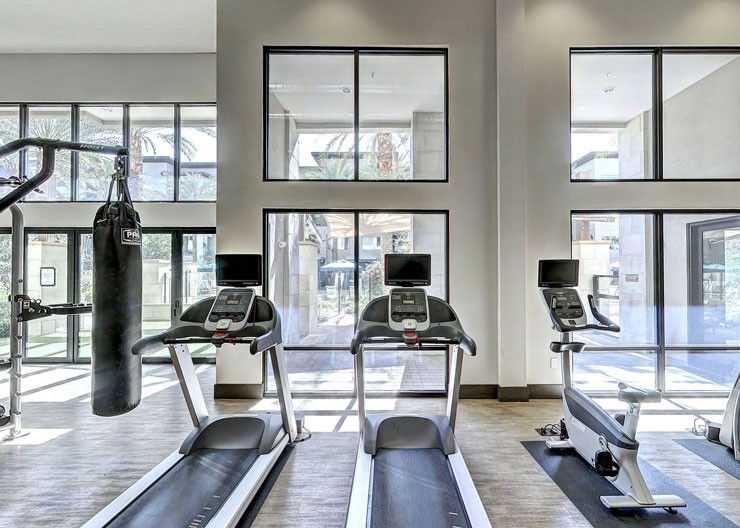 If you own a residential gym that is built into apartment blocks or a communal living space, making the gym inviting and fresh is crucial to get the custom in.
Already residential gyms have an advantage over public gyms when it comes to the tenants. It's literally on their doorstep, making prioritising time to workout much easier. However, that doesn't mean you can get away with dark and dank gym design.
To keep customers happy, residential gyms must be bright, well-aired spaces with optimum workout space and top-flight equipment.  
Fühlen Sie sich jetzt, nachdem Sie unsere Ideen zur Gestaltung von Fitness-Studios gesehen haben, für ein Training aufgepumpt? Wenn Sie sich nach mehr sehnen, warum lesen Sie nicht mehr über luxuriöse Wandbildideen für fitness- und Freizeitzentren?