Eltern können das Schlafzimmer ihres Sohnes nach seinem persönlichen Geschmack, seinen Interessen und seiner Persönlichkeit dekorieren, indem sie eine coole Fototapete auswählen.
Whether you're decorating a nursery for a new arrival or redecorating to keep up with your boy's latest hobby, we have plenty of fototapeten Designs für Jungen including wildlife, gaming, sports, space and sci-fi.
Eine Wandtapete wird eine fabelhafte Wand darstellen und wenn Ihr Kind von einem kleinen Jungen zu einem ungestümen Teenager heranwächst, können Sie sie leicht durch etwas Neues und Angemesseneres ersetzen.
Es gibt viele Möglichkeiten, wie Sie Ihre boy's bedroom stylish and you can have heaps of fun decorating his room with him and make it a team effort. You can pick out the perfect wallpaper mural together and buy the coolest accessories to match his awesome wall mural.
Schaffen Sie einen coolen Raum, den Ihr Sohn absolut lieben wird, mit einer erstaunlichen Wandtapete mit Hilfe unserer Do's und Don'ts für die Wahl der richtigen Tapete.
Do pick a colour to complement the rest of the room
When choosing a wall mural for a feature wall it's important that you take the rest of the surroundings into account. If the room already has storage units, duvets and accessories that you aren't replacing then pick a wall mural that will go with the existing colour theme rather than against it. For example, if the bedroom has shades of bright blues and yellows then pick a wall mural that has the same colours in it.
Do take the size of his bedroom into account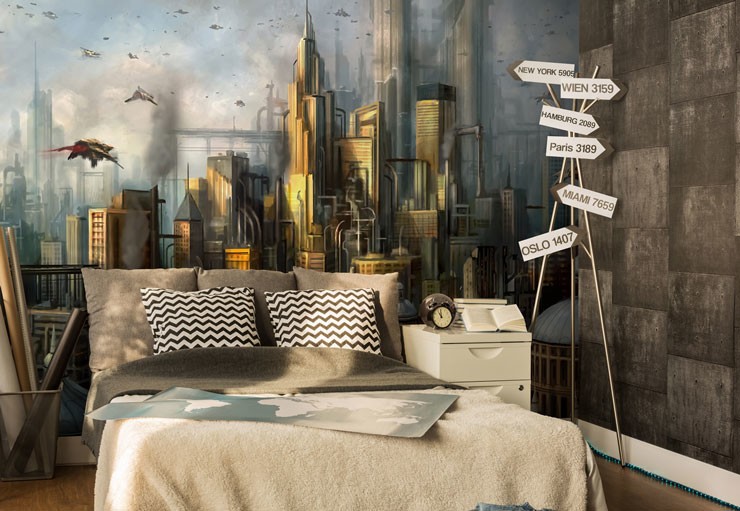 The size of a bedroom is extremely important when it comes to picking the right wall mural. If your son has the small box room then be bold with striking wallpaper and complement it with neutral bed linen and accessories so the overall décor doesn't look too busy in the small space. However, if his room is big and spacious then you can play around with colours and textures while bringing the room together to make it cosier. Include some complementary accessories in a different colour to create a cool contrast in the room.
Entscheiden Sie sich für eine zeitlose Wandtapete
Although wallpaper murals are easy to install and take down you still want to get good use out of it. So if you'd rather get five years use rather than five months out of your chosen wall mural it's best to opt for something timeless. By that we mean don't be tempted to decorate the room based on a particular trend or TV show. If your son loves animals for example then a generic mural related to animals will last a lot longer than something like a Peppa Pig wallpaper. When he's five he may very well love the TV show but fast forward to 10-years-old and he won't want to invite his friends over with that wallpaper in his room! So play it safe with your wallpaper mural while also listening to what he likes.
Übernehmen Sie nicht den Designprozess
If you're decorating a bedroom for a newborn or a toddler then it's fair to say you can decorate the room as you please. However, for young boys and teenagers, the last thing they want is their parents going all interior designer in their personal space. Inevitably decorating your child's bedroom will bring out the inner child in you. However, remember it's not YOUR room that you're decorating and give your son the chance to be creative and pick out the designs he likes.
Don't wallpaper his entire room
Sie könnten in Versuchung geraten (oder von Ihrem Kind überredet werden), alle vier Wände mit einem Wandbild zu bedecken. Tun Sie es nicht! Der Geschmack Ihres Sohnes in Bezug auf Wandbilder wird sich genauso schnell ändern wie sein Geschmack in Bezug auf Turnschuhe. Sparen Sie sich also den Ärger, alle Möbel umzustellen und die Tapeten von allen vier Wänden zu entfernen, wenn Sie nur eine Wand als Hauptwand dekorieren und trotzdem eine supercoole Atmosphäre in seinem Zimmer schaffen können. Wenn Sie damit zufrieden sind, alle zwei Jahre neu zu dekorieren, dann nur zu! Aber für die Eltern, die sich für ein zeitloses Wanddesign entschieden haben, werden Sie wahrscheinlich auch bei einer Wand bleiben wollen.
Wählen Sie nicht wahllos eine bestimmte Wand aus
If you've never decorated a feature wall then be sure you don't just stick the wall mural on any wall. A feature wall should be used to highlight the room's existing focal point. For example, in a bedroom, the wall behind the bed's headboard in is usually the best for a feature wall. The whole point is that the eye should be drawn to one particular spot in the room and if the feature wall is anywhere other than the focal area it can look unflattering, to say the least.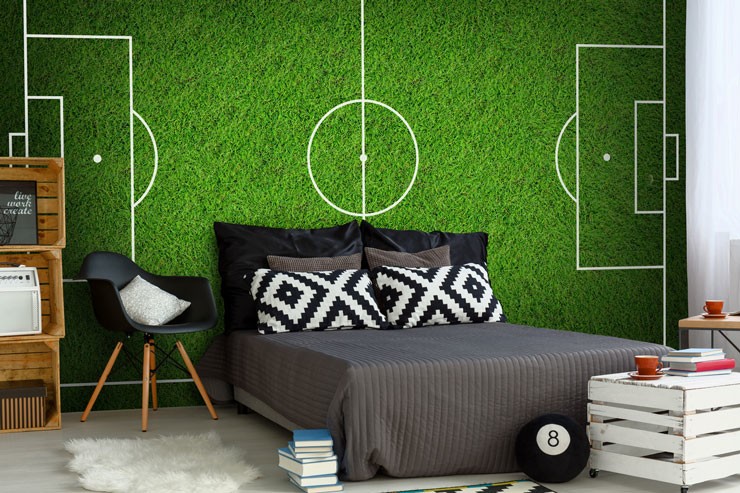 Wir hoffen, dass unsere Liste der Do's und Don'ts für die Auswahl einer coolen Wandtapete für Jungen Ihnen bei der Entscheidung geholfen hat. Alle unsere Kindertapeten sind maßgefertigt und können in drei verschiedenen Tapetenarten bestellt werden: Klassisches 'Paste the Wall'-Wandbild, Premium 'Paste the Wall'-Wandbild und strukturiertes 'Peel & Stick'-Wandbild.
If you need more inspiration or simply want to see what other murals we have for children then check out this blog post on children's walls. Wenn Sie einige Wandbilder ausgewählt haben, sich aber nicht für eines entscheiden können, können Sie gegen eine geringe Gebühr auch ein Muster bestellen. Wir können das Muster auch in dem Tapetenmaterial Ihrer Wahl drucken und wenn Sie uns den Auftrag erteilen, wird Ihnen die Gebühr zurückerstattet. Bitte contact our team wenn Sie Proben vereinbaren möchten.
Haben Sie das Zimmer Ihres Kindes schon einmal mit einer Fototapete als besondere Wand dekoriert? Teilen Sie nützliche Deko-Tipps, die Ihnen geholfen haben, unten in den Kommentaren mit.