If you're not shy when it comes to interior design, then it's time you made a statement with some fabulous colourful wallpapers. Not only will one bring a room to life, but it will also add a sense of cheer and positive energy into the room – both are things we all need whether in the home or workplace!
With modern depictions of classic art, multicoloured smoke, abstract paintings of cities and rainbow geodes, this multi-coloured blog will give you a taste of the wide range of colour wallpapers we have available for you to enjoy! It's time to splash some colour onto those walls with one of our top 10 colourful wallpapers…
1. Colourful modern art wallpaper
Wandbild auf Foto Herumalbern
If you love to embrace lots of colour and enjoy abstract art, we would definitely suggest something like this Fooling Around wall mural designed by our colour expert Shandra Smith. All Shandra's designs are vibrant, colourful and unique. She says that her work cannot be categorised into a certain style, "I don't want to live inside a box, and neither does my work."
2. Rainbow wallpaper that you won't be able to get over!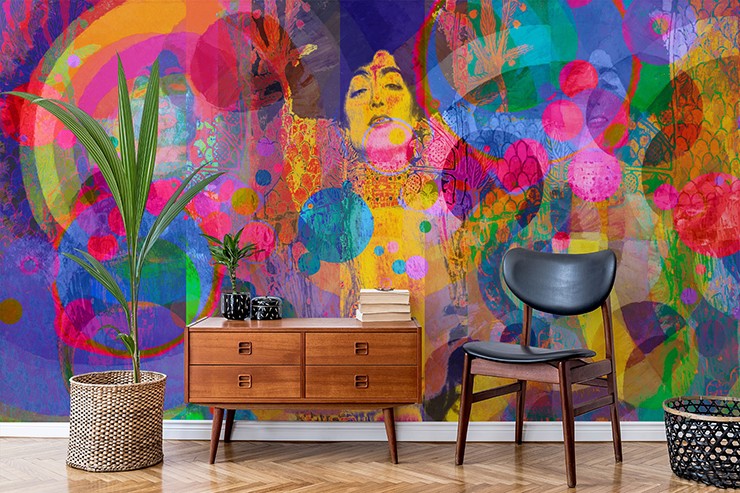 Wandbild auf Foto Verrückter Regenbogen
Choosing a bright and cheery wallpaper is the answer to completely changing the feel of any room. And deciding on a multicoloured, regenbogen-Tapete, will undoubtedly promise you happy feelings! We all love to feel happy!
As well as brightening up any space and filling it with vitality, an eclectically toned wall mural like this fabulous Crazy Rainbow by Studio Arterie will allow you to have fun choosing an array of brightly coloured décor to go with it!
3. So-fishticated colourful wallpapers
Wandbild auf Foto Dynasty Fishes and Dishes
Nowhere near as bright as a rainbow wallpaper, this gorgeous Dynasty Fishes and Dishes, designed by our talented Julia Fonnereau, is more subtle in colour but certainly not in presence.
The way in which the golden koi fish have been illustrated makes it appear they are swimming across the wall! We adore the range of colours in this intricately drawn blue colour wallpaper: golds, oranges, terracottas… All are warming and enriching for the soul.
4. Colorful smoke background murals
Wandbild auf Foto Vision einer abstrakten Landschaft
When you see this fabulous Vision of Abstract Landscape wallpaper, it's clear to see how colour in interiors is transformative. Prior to adding this colorful smoke background, this room was lacking in character. Now, with this fabulous rainbow wallpaper, this minimalist green and grey lounge has been brought to life!
5. Colourful world map wallpaper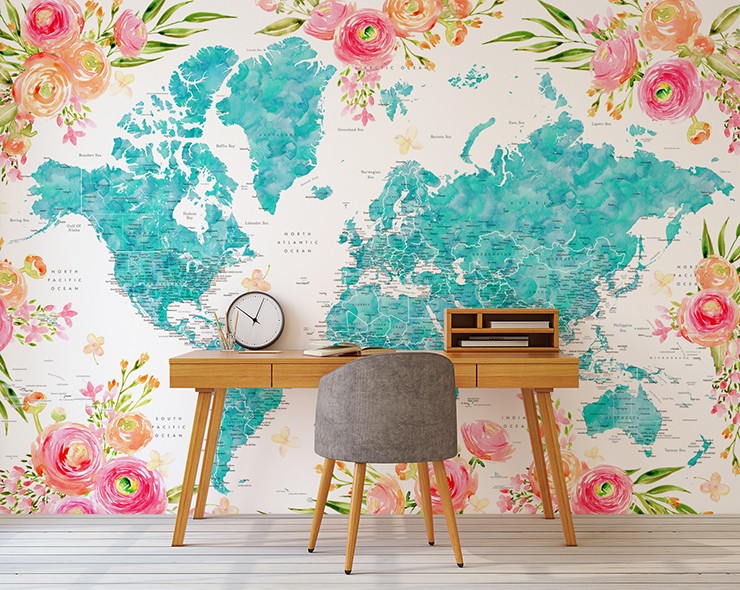 Wandbild auf Foto Leuchtend blühende Weltkarte
Designed by our gifted Rosana Laiz Garcia, this Bright Floral World Map is a beautiful wallpaper that will add beautiful tones of colour into any room. Rosana has a gorgeous collection of map wallpapers in a range of shades to suit any current colour scheme.
Ideal for a teen or adult who loves to travel, this delicately drawn world map wallpaper would look exquisite in a bedroom or home office. You won't be able to stop yourself from planning your next adventure around the globe.
6. Abstract cityscapes  
Wandbild auf Foto Blaue Stadt
Annette Schmucker is certainly one of our masters of colour. Her collection of abstract city paintings is invigorating. Some embrace all the colours of the rainbow whilst others revel in moody blues and purples or autumnal reds and oranges.
This multicoloured wallpaper, named Blue City, is one of our favourite of Annette's paintings. The more you look, the more colour you see.
7. Beautiful liquid colours
Wandbild auf Foto Bunte Tinte in Wasser
There is something so beautiful about our Colourful Ink in Water wallpaper. An extremely popular choice amongst our customers, this stunning multicoloured wallpaper has captured the flowing beauty of ink dropping into water or the movement of smoky incense as it swirls in the air.
This fantastic color splash wallpaper is ideal for a home office or study. Whilst creating a calming ambience in this desk area, the reds and yellows are highly energising. Both factors are the perfect combination for a work or study area where staying motivated but remaining calm are key.
8. Tropical coloured wallpapers
Wandbild auf Foto Tropisches Paradies
Colourful backgrounds in the home really do bring colour into your life. And this gorgeous Tropical Paradise wallpaper is no exception. Designed by Andrea Haase, this beautiful jungle wallpaper comes from her wide collection of bright tropical wallpapers.
We recommend two ways of styling an exotic jungle wallpaper: keep the room minimal by choosing only white and gold such as the room above. Or go maximalist by adding a wide selection of contrasting patterns and colours. Choose animal print and zig-zag room accessories and bring out the colours in the design in your choice of décor such as pink curtains and a green sofa!
9. Colourful wallpapers with abstract palette knife art
Wandbild auf Foto Abschied von der Wut
Mainly crafted with a palette knife and oil paints, you can enjoy a wide selection of eye-catching wallpapers in Leonid Afremov's depictions of landscapes and city scenes. Abundant with colour and texture, these beautiful works of art will utterly transform any room. Not only this, but these colourful backgrounds will make a great discursive piece for when you have friends over to wine and dine!
10. Mesmerising geode colourful wallpapers
Wandbild auf Foto Regenbogen-Achat-Marmor
Last, but certainly not least, is our fabulous Rainbow Agate Marble wallpaper designed by the fabulous Lara Skinner. All her wonderful designs are abundant with colour and charm.
Decadent, luxurious and glamorous, this beautiful marble wallpaper will set off any room. The splash of colour mixed with the golden shades are exquisite. Although not made with shimmery gold, this on-trend geode wallpaper is definitely one of our favourite colourful wallpapers.
Have we brightened you up with our selection of colourful wallpapers? Let us know which is your favourite by leaving us a message before. Or take a look at our wide selection of colour wallpapers to see if any go with your current colour scheme!