As another season comes to an end and 2019 draws closer (14 weeks until Christmas, just saying!) it's time for us to mention the interior trends you need to know about. Now, we say 'mention' because for sure, we aren't trend experts! At Wallsauce.com, we like to bring a little bit of everything so that all interior styles are covered – literally.
However, rest assured, for those of you who are keen to know about the interior trends for 2019, we've had a little help from a celebrity interior designer. Read on to hear about the trends you've been lovin' and what to expect for the new season.
Die bisherigen Interieur-Trends im Jahr 2018
To kick start 2018, we were feeling electrified by Pantone's colour of the year, Ultra Violet. It was supposed to replace 2017's colour, Greenery, but with the tropical trend taking over homes, we can't help but realise that Ultra Violet just hasn't pulled through.
Wenn wir schon bei den tropischen Einrichtungstrends sind: Sie können einfach nicht genug davon bekommen! Mit seinen gewagten Blattprints und satten Grüntönen hat der Tropen-Trend eine Fülle von Styling-Möglichkeiten mit sich gebracht.
Up next, wallpapering ceilings no longer became a convenience to hide imperfections. You guys were feeling brave and started to machen Sie eine Aussage über Ihre fünfte Wand.
Von Sternenhimmel bis hin zu luxuriösem Marmor, wir haben die viktorianische Ära wiederentdeckt und verschönern unsere Decken mit kühnen Wandtapeten, aber wird sich dieser Trend in diesem Jahr und in 2019 fortsetzen?
Wenn Sie auf der Suche nach einem sofortigen Update sind, um das Jahr 2018 mit einer schönen Herbstdekoration abzuschließen, dann sollten Sie sich den Blogbeitrag von Top Reveal ansehen fantastische Herbstdekorationsideen die viele schöne herbstliche DIY-Ideen enthält.
Um die Einrichtungstrends für die neue Saison zu verstehen und zu entwickeln, haben wir mit Mark von Mark Cutler Design, eine prominente Inneneinrichtungsfirma mit Sitz in Los Angeles. Wenn Sie dachten, ihr Promi-Status sei beeindruckend, dann ist die Firma auch eine der Top 40 Inneneinrichtungsfirmen des Robb Report in den GANZEN USA. In diesem Sinne können wir mit Fug und Recht behaupten, dass die Ratschläge, die er uns gegeben hat, höchstwahrscheinlich goldrichtig sind! Lesen Sie weiter, um mehr über die Einrichtungstrends zu erfahren, die unserer Meinung nach 2019 anhalten werden.
Tropische Drucke werden sich 2019 fortsetzen
Wahoo! We were really pleased to hear that tropical vibes will continue throughout homes. So far, our customers' have LOVED our exotic jungle wallpapers. Kürzlich wählte die Innenarchitektin Emma Fishman unsere "pinke Dschungeltapete" für ihren Beitrag im HomeStyle-Magazin vom Oktober aus. Leider können wir ihr Endergebnis nicht mit Ihnen teilen, aber Sie können auf die Seite unsere Instagram-Seite um uns auf dem Foto markiert zu sehen 
70s revival
According to celebrity designer, Mark Cutler, "We are finally done with mid-century and are starting to embrace more and more of the 70's.  Think wood panelling burnt orange and deep shag carpet."
Eine großartige Möglichkeit, diesen Trend in Ihr Zuhause zu integrieren, ist mit einem unserer geometric wallpapers. This one in particular by Greg Mably, not only creates a consuming pattern that a home in the 70s would've had, but it's got that statement burnt orange.
Step aside, boho chic!
"Boho chic is being pushed aside for an unabashed luxury look," advised Mark. "You will see more velvets and mohair, and lots of detail, such as fringe and buttoning. More is more at the moment, so look to refill those shelves and layer on the collections".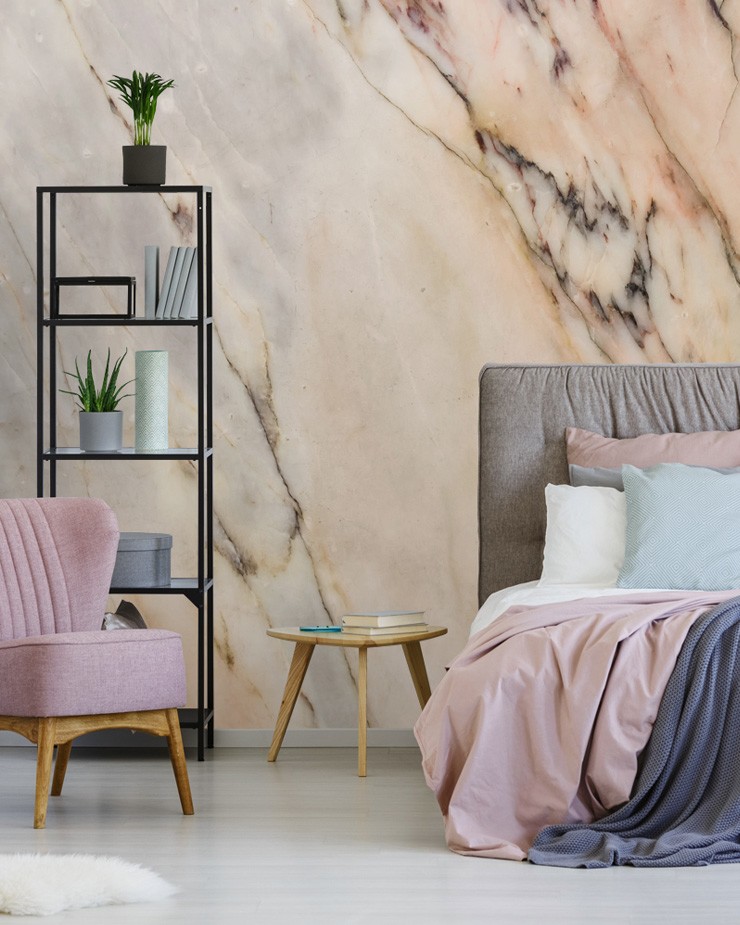 A great mural to help you achieve this interior trend is one from our marble wallpaper collection. Sie sind eine großartige Möglichkeit, ein luxuriöses Gefühl zu einem Bruchteil der Kosten der realen Sache hinzuzufügen!
Der gemütliche Club
For a portion of the world, it's almost time to hibernate for Autumn. But if you're in the part of the world that's rolling into Spring, we're sure you'll find an excuse to create a cosy corner to relax in.
Wenn es darum geht, Ihr gemütliches Clubhaus zu gestalten, denken Sie an natürliche Texturen und warme, erdige Töne, wie Sie sie von einem forest wall mural.
Loud and proud with maximalism
This trend has caught our eye. For many seasons, homes have been perfecting the minimalist look with a clean Scandi style. Now, we're following the rule of more is more but without the clutter.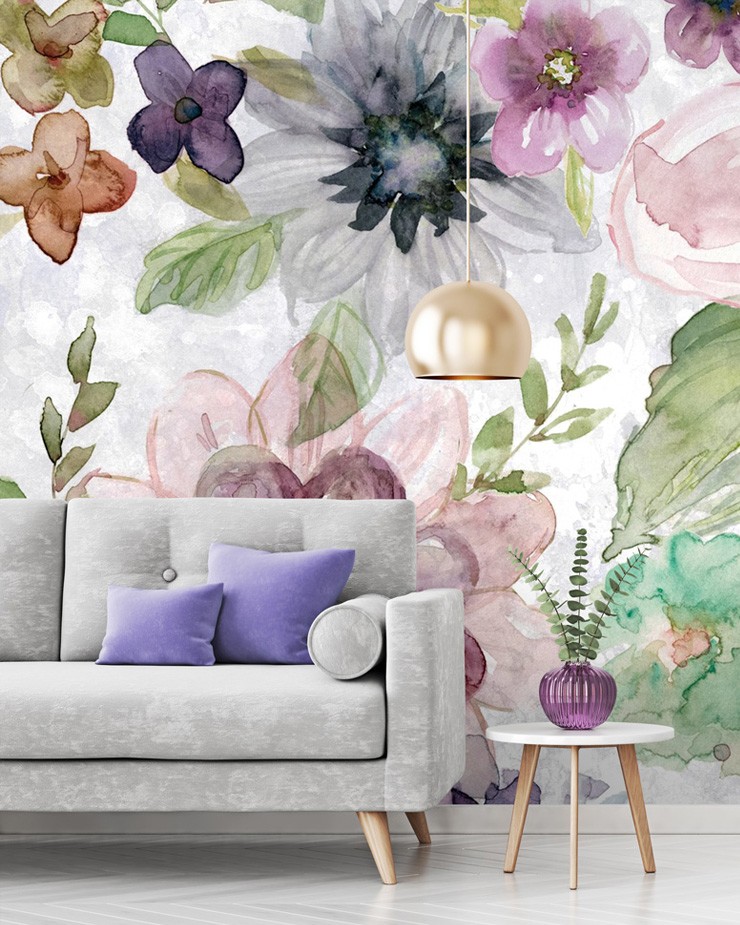 Mark said: "Colour is back in a big way. People are looking to make their homes more dramatic and rich feeling. The age of white and pops of colour has been instagrammed to death, there is a search for a new palette, look for it in traditional fall colours that will carry all the way into next year."
Check out our colourful range of blumentapeten. Sie werden immer beliebter und sind sowohl als Fototapete als auch als Illustrationstapete im maximalistischen Stil erhältlich.
A huge thank you to Mark Cutler at Mark Cutler Designs for sharing his expertise. We hope we've inspired you with the interior trends you need to know about for 2018/ 2019! If you think we've missed any out, please leave your suggestions in the comments box below.