Almost everyone appreciates culture, whether it is the work of fine artists from the 1800's, dishes from the middle east or the music of famous rock bands and pop stars. In this post, we'll show you some of our favourite ways to add a touch of culture to your home.
1. Stunning locations from around the world
Wall murals of stunning locations around the world are a great way to add a touch of culture to your home. Choose from peaceful lake retreats to exotic buildings far and wide, you'll be able to find architecture that suits your style whatever your taste in decor.
Mural in picture: Lisbon Old Town and Tram
2. Fine art
Everyone is able to appreciate at least one form of art! Display the work of the most appreciated artists of all time in your home to add culture throughout. With work from artists from the 1800's and onwards you will be able to incorporate a sense of history and art into your home.
Fine art wall murals are also an excellent way to add a sense of luxury to your home.
3. Scents from around the world
An easy way to bring a small reminder of your favourite place in the world into you home is with a scent commonly associated with that place. Try using an incense burner and fill it with a scent from your chosen place. Finding these is very easy as the scents are usually named by the country they are typically associated with.
Mural in picture: Windswept Beach Boardwalk
4. Religion
Religion can be a big part of culture and the stunning symbols, buildings, patterns and icons that represent different religions can bring beauty and a sense of culture into the home. These religious wallpaper murals will fill your home with this beauty and will often create a calming environment in your chosen room.
Mural in picture: Santorini with Traditional Church in Oia, Greece
5. Great literature
Great literature from different periods in history and from around the world is one of the first things that comes to mind when thinking of culture. Fill your home with the work of literary greats to add a sense of culture to your study, dining room or even bedroom.
Another way to achieve this look is with a faux bookcase mural.
Mural in picture: Bookcase and Candles
6. Travel decor
Reminisce about the places you have visited, or look over the places you one day wish to visit with a map wall mural. They're available in a big range of styles, from colourful globe like maps to vintage map wall murals. There's something for every taste and style of decor.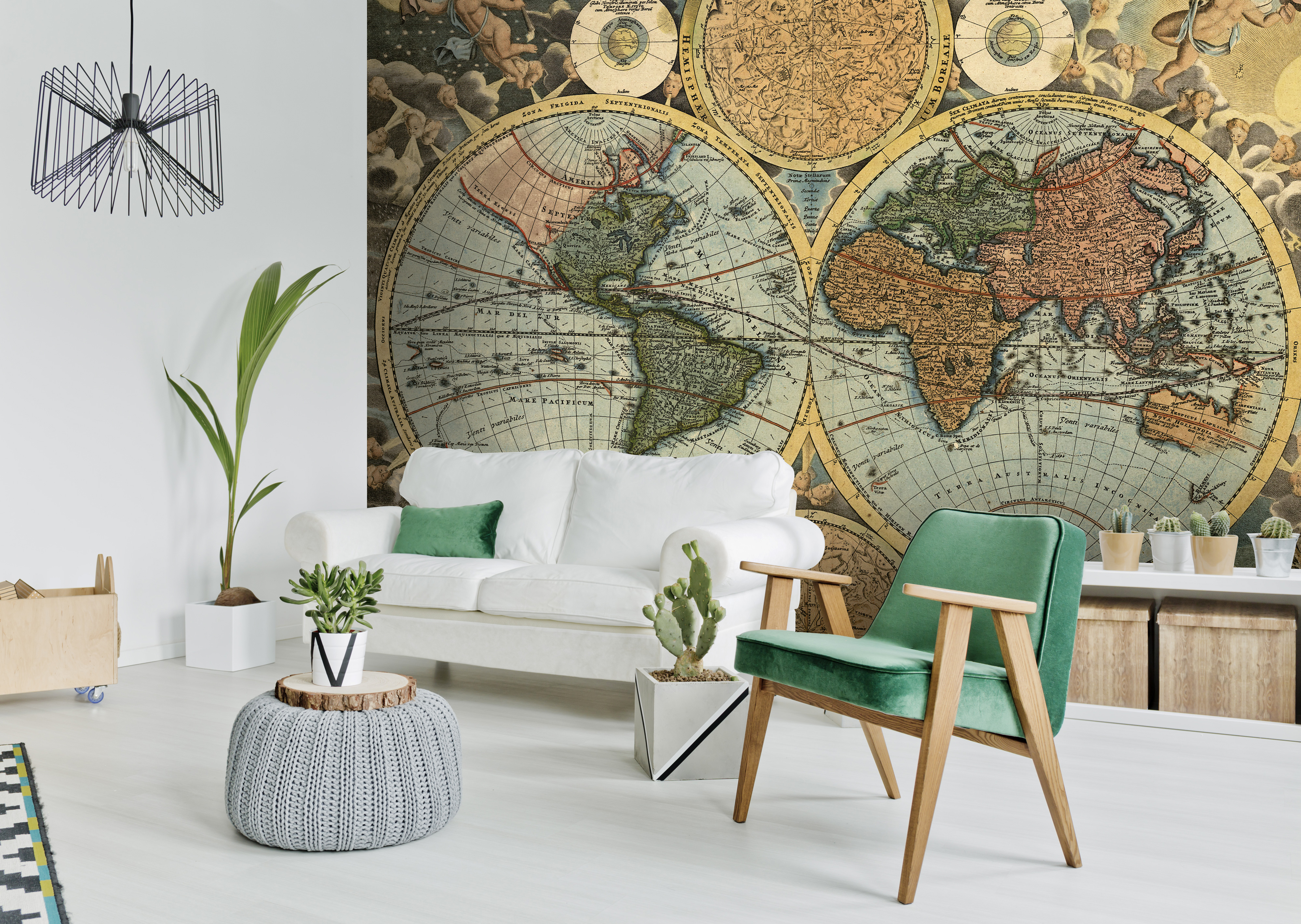 Mural in picture: Ancient Map
7. Educational decor
Educational wall murals will make your home a encouraging place to live. Make learning a part of your child's everyday life and create an environment for them to thrive in with an educational wall mural. They're fun, bright and colourful but offer your child the chance to learn through play. Help them remember a huge range of important cultural information such as famous landmarks, places on the map or planets in the solar system.
Mural in picture: Dippy from the Natural History Museum Collection
We'd love to know what your favourite destination of all time is? Share with us in the comments section below.