Whether it's winter, spring or summer, it is always the perfect time to give your teen daughter's bedroom a style overhaul. If she's had the same rainbow wallpaper since the age of 10, or if the outdated furniture is cramping her style, then it really is time to commence the makeover.
They grow up so fast and while there's no manual for surviving those teenage years, we do have ideas for giving her a safe haven to go to when things get tough. From squad spats and heartbreak to school exam stress, every teenager needs a comfortable, calming escape at the end of each day. Let's face it… The more Instagrammable her bedroom, the more likely she is to keep it clean (even if it is just for social media).
Ready to get started? Here are some teen girl bedroom ideas that will make tidying her room a pleasure instead of a chore!
Design a calming space with her own private beach
Mural in photo: Sea and Sand
Life as a teenage girl is a lot of things. It's exciting, it's fun, it's sometimes scary and it's a big learning curve. Some days are easier than others. For those days when things just aren't going her way, a beautiful beach mural can provide the ultimate escape.
This Sea and Sand wall mural combines colour therapy with photorealistic imagery to transport her to a beautiful place in her mind. Colours such as soft blue are known to enhance wellbeing and combined with light furnishings this teen girl room will be totally calming.
Inspire her everyday with motivational teen girl wallpaper
Mural in photo: Inner Sparkle Quote
Quote wallpaper designs are one of the best teen girl bedroom ideas for those who need help with their confidence. You can easily find quote wall murals for any colour scheme, or you can even create your own wallpaper design with our image upload feature.
This Inner Sparkle quote mural matches seamlessly with the hottest colour trend, grey. Channel Scandi vibes for a grown look and embrace whites and natural woods to keep the room looking spacious and airy. Because of the subtlety, we think that this room is one of our favourite older girl bedroom ideas.
Raise her street cred with a graffiti feature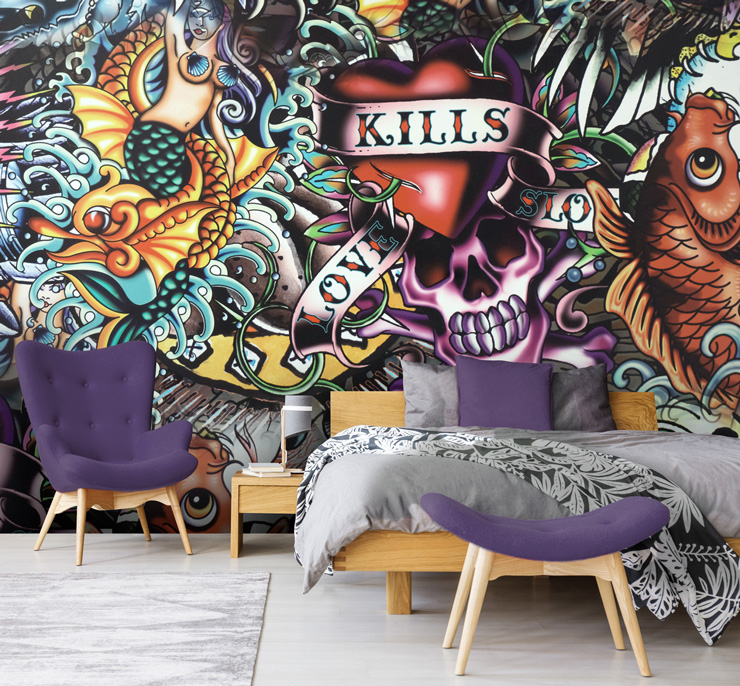 Mural in photo: Epic wallpaper
If your teenager considers street style fashion her bible and has more creps than curlers, a splash of graffiti on her walls could be exactly what she needs to keep her bedroom tidy. We love the "Love Kills" scribblings on this tattoo effect Epic mural – words spoken like a true lovelorn teenager.
Make the space pop with a big dose of contrasting purple and opt for clean lines, simple designs, and light-coloured flooring. Lacking floor space? Try teenage bedroom furniture that will provide great storage. For instance, under bed storage solutions will keep the room free from chaos. As well as this, provide plenty of boxes and 'mess baskets' so she can throw her miscellaneous bits into one place.
Turn her room into a creative art studio (our fav teen girl bedroom idea)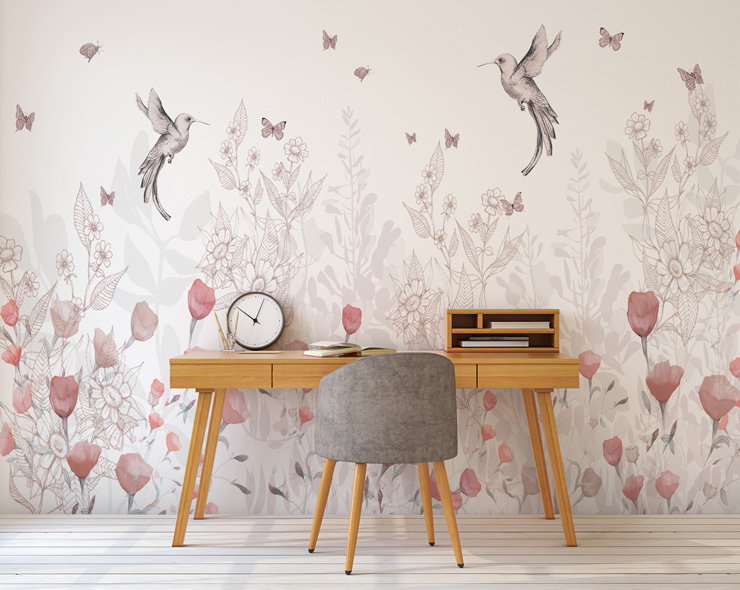 Mural in photo: Sweet Blooms
Does she love to draw, paint, design or sew? Whether she's a pro at arts and crafts or a Photoshop whizz, having a dedicated space can do wonders for her creativity. Inspire her to do what she loves most with a well-designed, artistic and nurturing space with a desk.
Wallpaper designs like this Sweet Blooms mural by Kelly Kratzing is a great example of how nature and floral designs can be good for the soul. 
Make her friends feel welcome with a selfie wall
Mural in photo: created on our upload your own image page
If there are two things that teenage girls love, it's got to be a) their friends and b) selfies with their friends. With our create your own wallpaper service, you can transform her corner of the house into a squad-friendly zone. With her pals being made to feel welcome, she'll want to keep it looking as clean and tidy as possible. Throw in a foldaway sofa-bed if there's space and she'll be #squadgoals all over Instagram.
Help her channel the hottest trend colours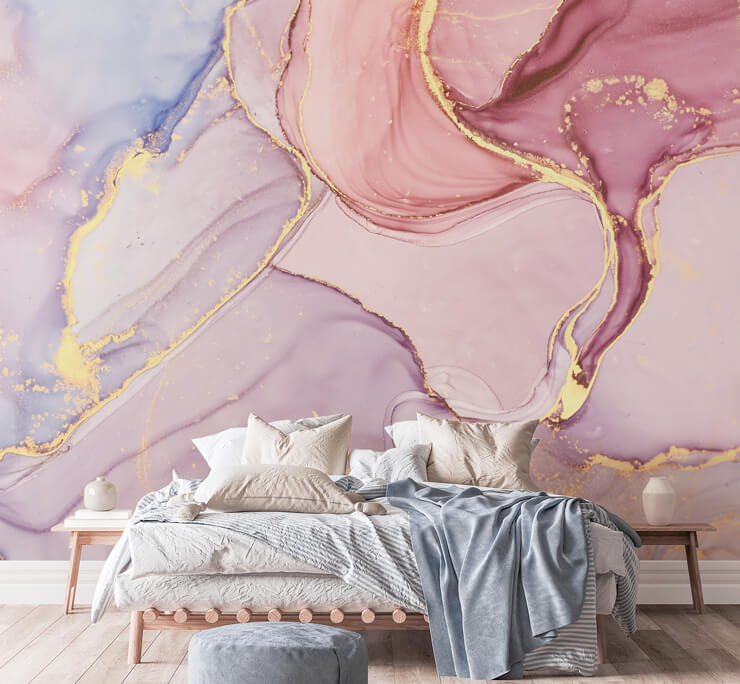 Mural in photo: Pink Swirl
As mentioned in our Interior Design Trends Predictions, purple is the new pink. Millennial pink has dominated social media feeds for too long now and it's time to pave the way for the next 'it colour'. This pastel toned Pink Swirl fully embraces the latest hot hues and features beautiful metallic colours.
Mellow out the bold design with some soft greys and keep it as a feature wall to avoid overcrowding the space.
Grown-up teen girl bedroom ideas with the Scandi touch
Mural in photo: Brick Wall
There's no better motivation for keeping tidy than minimalist interiors that just don't mix with clutter. Make her space amazing and provide her with all the drawers, cupboards and boxes she needs, and it will be impossible to mess up.
With Scandi-inspired simplicity, she'll have a calming space to think, reflect, study, and get her beauty sleep - the perfect ingredients for a cosy teenage girl room. This Brick Wall mural from our realistic brick wallpaper range is a match made in heaven for a chic minimalist bedroom.
Create flamingo fever with a tropical paradise
Mural in photo: Flamingo Rendezvous
Is there anything more uplifting or smile-inducing than a flock of pretty pink flamingos? This fun Flamingo Rendezvous mural by Andrea Haase is a colourful and on-trend design that's fit for an Instagram Queen. Not only is it a total mood booster, but it's also a great backdrop for all those selfies. With this cute teen girl bedroom wallpaper, she'll be the envy of her friends.
Turn her room into a pink tropical paradise and furnish with organic woods and stylish vinyl flooring. Don't forget ample shelving and storage to keep the place clutter-free - one of the best teenage girl bedroom ideas for small rooms.
Brighten up her room with a fun pineapple print
Mural in photo: Floral Pineapple
Have you ever wondered why pineapples are so popular in interior design? The fruit was first discovered by Christopher Columbus in 1493 and was later brought over to Europe. Perhaps their significance in history reminds us of sunnier days and something more exotic than our own reality. Escapism is something that we see a lot of in interiors.
Whatever the reason for their popularity, every millennial or Gen Z seems to have (or want) a pineapple in their bedroom. So it's a great teen girl bedroom design idea if you want to impress your adolescent.
This fun Floral Pineapple mural is bang on trend, is perfect for the 'gram, and looks fantastic with modern furnishings. Decorate with a mix of sustainable material decor, such as wicker, rattan and jute.
Do you like our teen girl bedroom ideas for? Let us know in the comments below which teenage girl bedroom trends inspire you the most this year.